How much currency you need to go on vacation to Bangkok, Thailand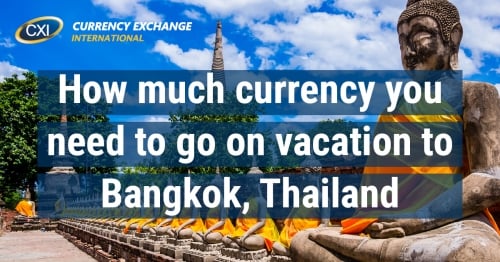 Ordering Thailand baht is easy with OnlineFX.
Planning your trip to Bangkok? Know how much currency you need to make sure you have a great trip! Don't forget to check out our guide for your stay in Indonesia, too.
Transportation
In our how much currency to bring abroad chart below, you'll see a 10-mile cab ride is on average about $4.91 USD in Bangkok, Thailand. Having this information on hand will give you a good idea of how much you would need to get around the city.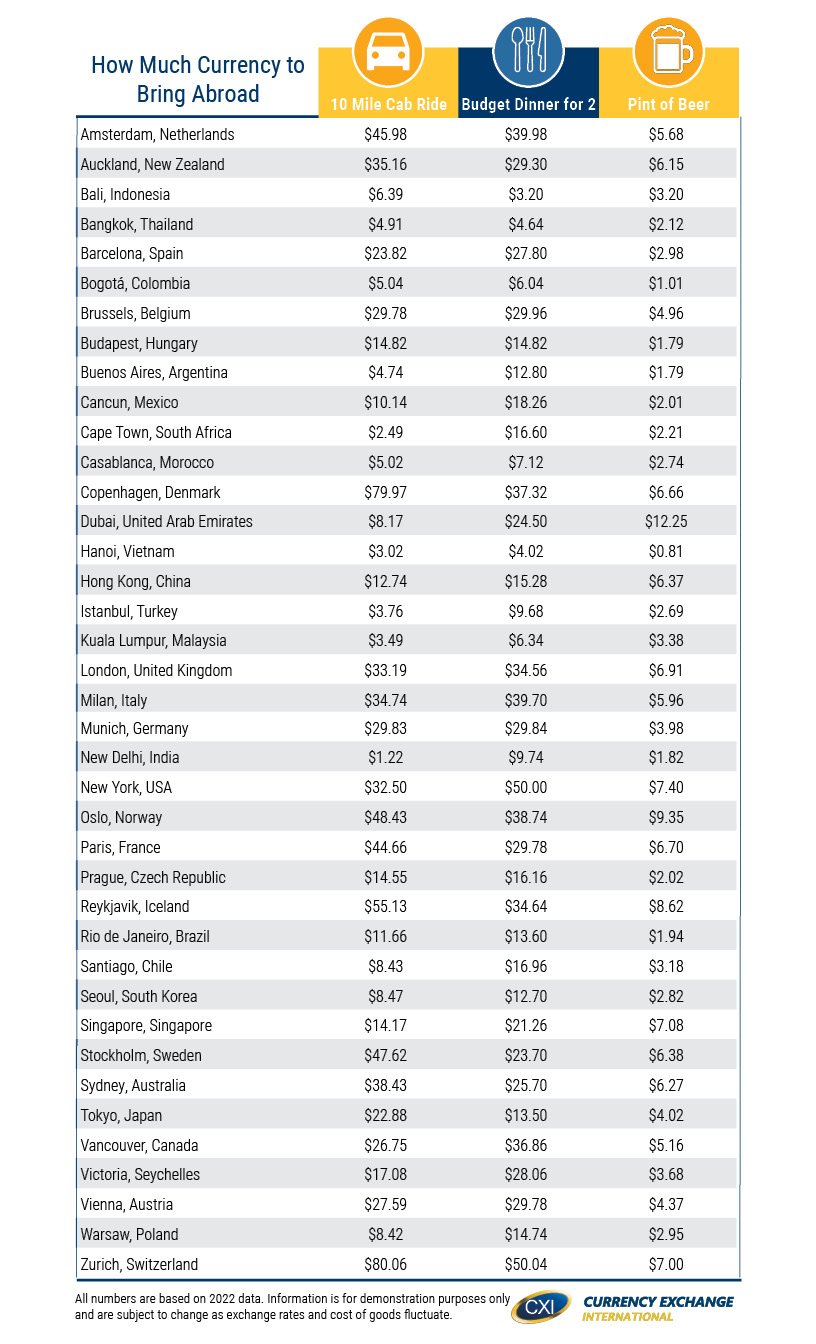 Food
In Thailand, you're sure to eat some delicious cuisine. We recommend the restaurant Eat Me, where you can enjoy delicious Thai dishes.
As shown in our how much currency to bring abroad chart above, it costs on average $4.64 USD for a budget dinner for two and $2.12 USD for a pint of beer.
Currency: Thailand baht (THB)
The Thailand baht have denominations of ฿20, ฿50, ฿100, ฿500, and ฿1,000. It is customary in Thailand to never keep your banknotes in your back pocket because it is considered disrespectful to sit in the image of the king. Learn more about the Thailand baht.
If you have leftover THB after your trip to Thailand, CXI will buy them back from you. If you originally received this foreign currency from CXI, then with the currency receipt we do not have any exchange fee to buy it back! Order your Thailand baht now.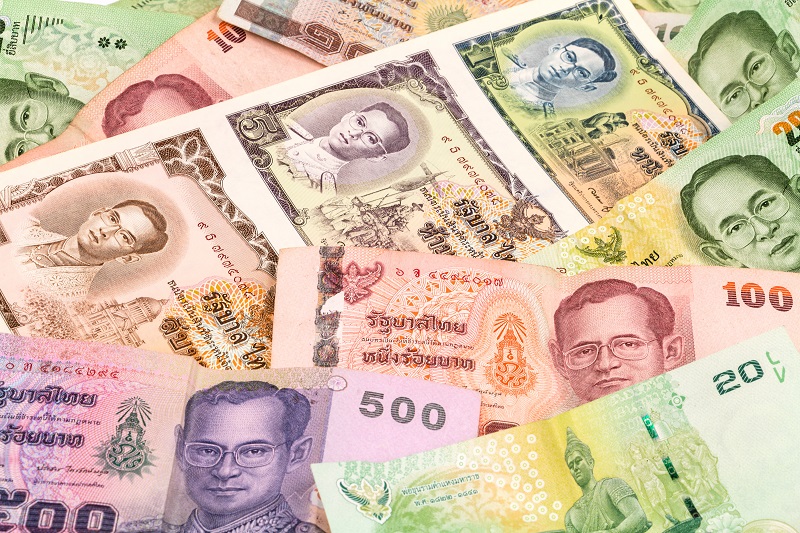 Flights
Roundtrip tickets to Bangkok, Thailand typically range from about $458 USD to about $6,100 USD, depending on where you leave from, the airline you fly with, and when you are taking your trip, according to Expedia.
November is the best month to fly to Thailand in order to get cheaper flight prices, according to 20 Destinations Where You Will Get the Most Value for US Dollar There, you can find the best days of the week and the best time of year to book flights for your trips to other countries!
Vacation rentals
Instead of staying in expensive hotels, you should consider trying something a little different to experience the city like a local. Take a look at some of the best-rated super host places to stay in Bangkok, Thailand from Airbnb.



About Currency Exchange International
Currency Exchange International, CXI, is the leading provider of comprehensive foreign exchange services, risk management solutions and integrated international payments processing technology in North America. CXI's relationship-driven approach ensures clients receive tailored solutions and world-class customer service. Through innovative and trusted FX software platforms, CXI delivers versatile foreign exchange services to our clients, so that they can efficiently manage and streamline their foreign currency and global payment needs. CXI is a trusted partner among financial institutions, corporations and retail markets around the world. To learn more, visit: www.ceifx.com