7 Tips You Need to Know for International Travel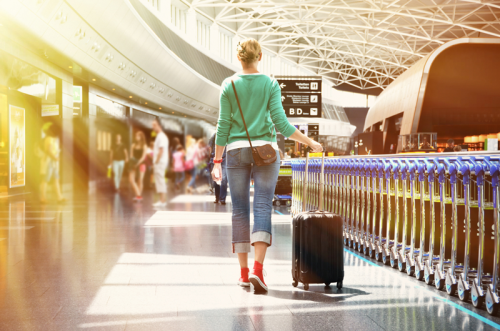 Ordering foreign currency online is easy with OnlineFX.
International travel does require some extra preparation in comparison to other trips. While some of these may seem obvious, they can be forgotten among all the planning for your big trip. We've listed the most important steps for you to save money and be prepared when planning a trip abroad.
Check Your Passport Expiration Date
The first thing to check for when planning an international trip is the expiration date of your passport! While passports are usually valid for ten years, it can be easy to lose track of when you need to renew it.
Applying for passport renewal can take up to eight weeks, so this is something you need to consider well in advance of your trip. If you find yourself scrambling at the last minute, you can expedite the process, just keep in mind doing this comes with additional government fees.
Avoid International Call Fees
When you're travelling abroad, we know how important it is to keep in touch with your friends and family at home. However, making calls internationally can be extremely costly.
There are a variety of apps such as WhatsApp and Viber that allow you to call and text for free to other users of the app as long as you are on Wi-Fi. This can also be a great way to keep in touch with anyone you may meet abroad even once you return home.
Putting Mail on Hold
When planning a big trip, it can be easy to forget the little details. If you are going to be away for a long time, it's always a good idea to put your mail on hold.
Not only will your mail pile build up in your mailbox, but it can also pose as a security threat as outsiders could observe the pile up and realize that the house has been vacated for some time. Putting your mail on hold is a very simple process you can complete right before you leave on your trip.
Navigating Around a Foreign Country
With technology and smartphones aiding our daily routine, we can sometimes forget how often we rely on our devices. If you haven't added an international data plan to your phone during your trip, you will need to rely on planning to make up for the lack of resources at your fingertips.
When you are somewhere with Wi-Fi, such as your hotel, map out some places you plan to go and take screenshots. This will allow you to use the convenience of a GPS without incurring data charges.
Exchange Your Currency Before You Leave
Many times, if you wait to exchange currency until you reach your destination, you will be faced with exorbitant exchange rates in airports and local hotels. Waiting to withdraw money at local ATMs in your destination country can also result in high fees.
Reserving your currency online with a local currency exchange company, such as CXI before you leave for your trip can not only save you money, but ensures you get the currency you need exactly when you need it.
Pick Up an Outlet Adapter
Familiarize yourself with what the electrical outlets are like in your destination country. This can vary all over the world and bringing the right outlet adapter will help ensure that your electronics will work during your trip.
Notify Your Bank Before You Leave
It is important to let your bank know when you will be traveling, so that any charges you make do not appear suspicious. With the high level of fraud detection today, banks and credit card companies closely monitor your spending and can end up freezing your account if they detect suspicious activity.
You don't want to end up in a foreign country without access to any money, so this is definitely an important step to take before you leave.
As you can see, there is a lot of planning that goes into taking an international trip beyond picking your destination and accommodations. From passport planning to getting the right currency, there are some very important steps to take before you leave home.
About Currency Exchange International
Currency Exchange International (CXI) is a leading provider of foreign currency exchange services in North America for financial institutions, corporations and travelers. Products and services for international travelers include access to buy and sell more than 90 foreign currencies, multi-currency cash passport's, traveler's cheques and gold bullion coins and bars. For financial institutions and corporations, our services include the exchange of foreign currencies, international wire transfers, global EFT, the purchase and sale of foreign bank drafts, international traveler's cheques, and foreign cheque clearing through the use of CXI's innovative CEIFX web-based FX software www.ceifx.com