Bank of Canada keeps rates on hold, but signals nothing with regard to rate cuts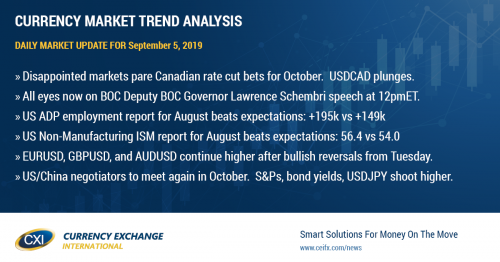 Take control of your international payments with CXI FX Now.
• Zero transfer fees & great rates
• Fast international payments
• Safety and security
• Unparalleled customer service
• Consultative approach
Learn more about CXI's international payment services for businesses or call our trading desk directly at 1-833-572-8933.
Get real-time market coverage on twitter at @EBCTradeDesk or sign up here.
SUMMARY
•
Disappointed markets pare Canadian rate cut bets for October. USDCAD plunges.
•
All eyes now on BOC Deputy BOC Governor Lawrence Schembri speech at 12pmET.
•
US ADP employment report for August beats expectations: +195k vs +149k
•
US Non-Manufacturing ISM report for August beats expectations: 56.4 vs 54.0
•
EURUSD, GBPUSD, and AUDUSD continue higher after bullish reversals from Tuesday.
•
US/China negotiators to meet again in October. S&Ps, bond yields, USDJPY shoot higher.
ANALYSIS
USDCAD
The Bank of Canada killed rate cut speculation yesterday, and it did so by largely saying nothing with regard to forward guidance in the press release following its expected hold to interest rates. After six weeks of not hearing anything from the Canadian central bank (six weeks that had everything from escalating US/China trade tensions to increased global growth fears manifesting itself in global bond markets), traders were expected them to sound more concerned about these global developments, especially considering this has all led to the Canadian yield curve inverting by 20bp since July (which signals recession). Instead, all we got was "the current degree of monetary policy stimulus remains appropriate" and the "Governing Council will pay particular attention to global developments and their impact on the outlook for Canadian growth and inflation. This was a shocking, head-in-the-sand type, press release for the markets in our opinion, and largely explains the violent reaction we saw in the OIS and USDCAD markets afterwards. October rate cuts odds collapsed from 70+% pre-meeting and now stand at just 44% while USDCAD plunged all the way down to the 1.3200 figure. All eyes will now be on Deputy BOC Governor Lawrence Schembri, who will be giving a speech titled "Economic Progress Report" at the Canadian Museum of Immigration at 12pmET. We think the market's recent uptrend (which really found it legs after the less dovish than expected Fed rate cut at the end of July) is now completely shot. Odds are we see a new trading range develop between 1.31 and 1.33, but it's still a bit early to tell. Near term, we think traders will be focused on whether or not the market can climb back above the 1.3215-25 level. The US just reported its ADP employment report for the month of August and the numbers beat expectations (+195k vs +149k). The US Non-Manufacturing ISM report for August also just came out above consensus (56.4 vs 54.0). The EIA will report its weekly oil inventory report at 11amET, with traders expecting a 1-2mln barrel build after last night's surprise build from the weekly API report. October crude oil prices are on the verge of a technical breakout to the upside, should traders rally the market above the 56.60s.
USDCAD DAILY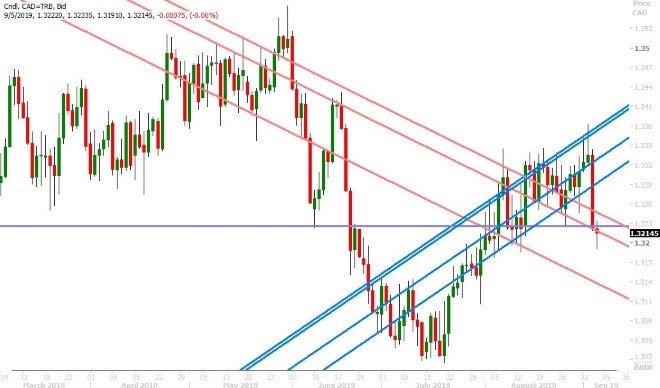 USDCAD HOURLY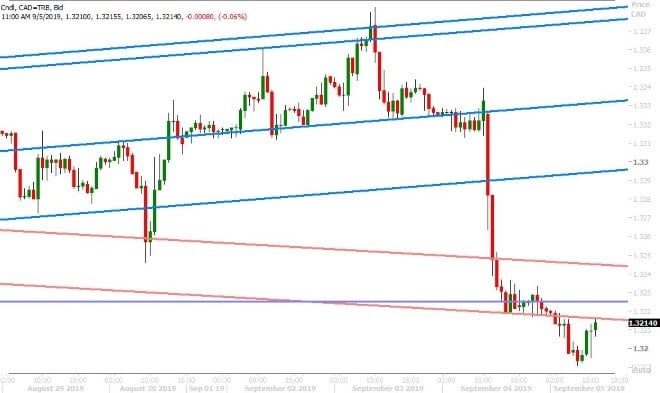 OCT CRUDE OIL DAILY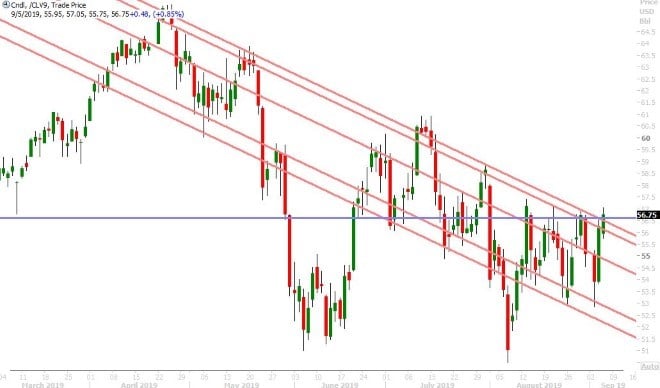 EURUSD
Yesterday's barrage of Fedspeak and the Fed's Beige Book report turned out to be non-events for the markets, with EURUSD traders seeming more content to ride the wave higher in GBPUSD. This pattern largely continues today, with buyers evident on the dip to 1.1010s chart support in the European AM. There's also an air of "risk-on" to markets this morning following news last night that the US and China will hold another round of talks in October, and this is lifting global bond yields broadly. The German bund yield has rallied back up to the -0.61% level this morning and we'd argue this is supportive for EURUSD right now as well. We got more bad economic news out of Germany today (Factory Orders -2.7% MoM in July vs -1.5% expected) but traders seem to be shrugging this off for now. We think EURUSD simmers down a bit here after the beat on the US Non-Manufacturing ISM.
EURUSD DAILY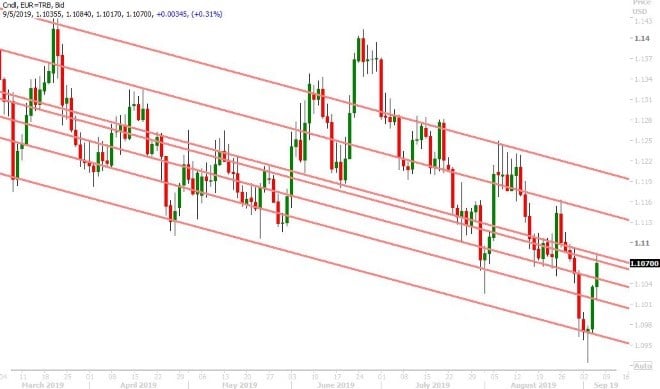 EURUSD HOURLY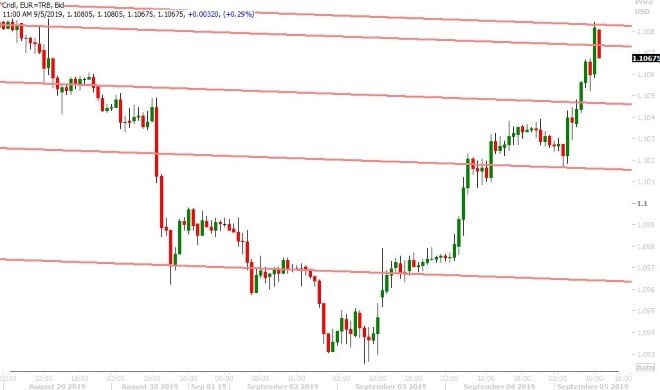 DEC GOLD DAILY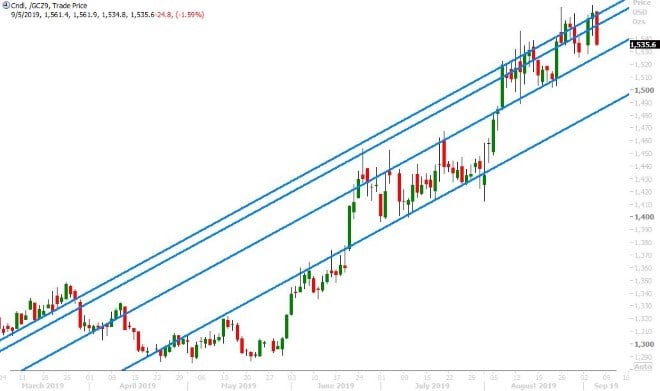 ---
GBPUSD
Sterling continues to rock it this morning as traders continue to price out "no-deal" Brexit risks. Lawmakers in the UK House of Commons voted late yesterday to outlaw a "no-deal" Brexit (the same thing they did to Theresa May back in March) and to, make matters worse for Boris Johnson, they voted down his motion for a snap election on Oct 15. So what does Boris Johnson do now? He's either going to leave the prospect of asking the EU for another Brexit extension to last minute and see if Brussels flinches in our opinion, or he's going to try to find some other way to call for new elections (so his rivals can do it). A truly horrible position to be in. GBPUSD now trades solidly above chart resistance in the 1.2290s and it continues to find buyers at 1.2320 (the next resistance level that was surpassed overnight and now becomes support). One could argue nothing has changed over the last few days seeing as the EU has still not expressed any willingness to renegotiate, therefore the default legal result would still be "no-deal" on Oct 31, no matter how much senseless "it can't happen" formality UK lawmakers try to create around the issue, but it's hard to argue with the market's desire to take some negative chips off the table here. Tuesday's bullish hammer reversal pattern and a crowded fund short position just added fuel to fire in our opinion. We think GBPUSD could extend all the way back to the 1.2400 if NY trade holds prices above the 1.2320s.
GBPUSD DAILY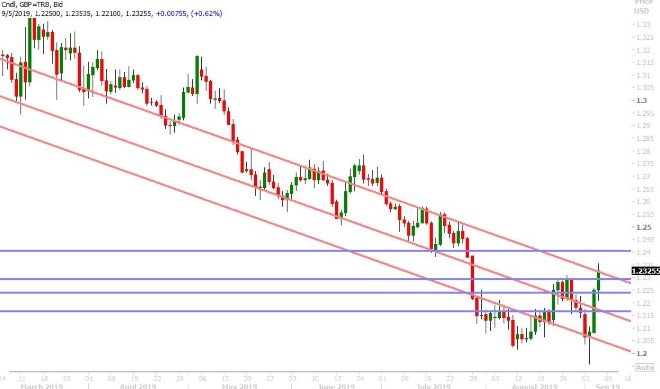 GBPUSD HOURLY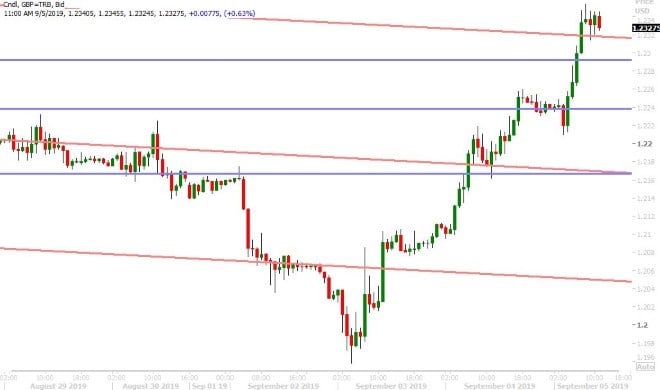 EURGBP DAILY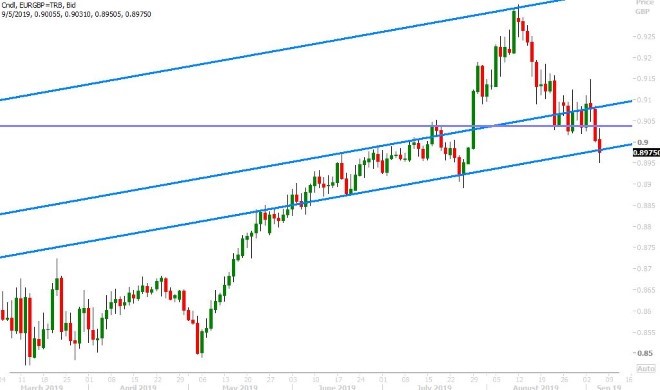 ---
AUDUSD
The Aussie continues its rip roaring rally, with today's burst of buying coming from last night's positive US/China trade headlines. We think the funds, who continued to be positioned net short AUDUSD, might start to freak out should the market close NY trade above the 0.6820s. My oh my what a difference Tuesday's bullish outside reversal has made for AUDUSD.
AUDUSD DAILY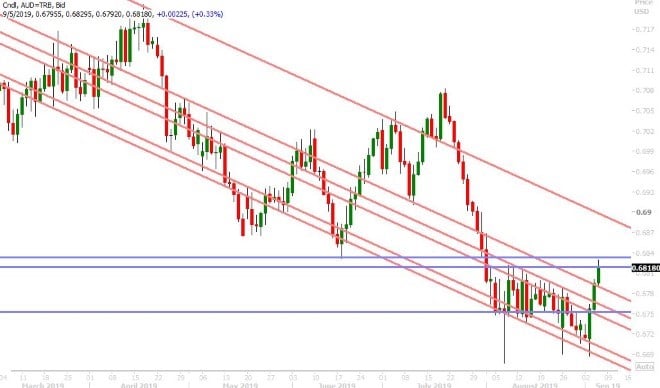 AUDUSD HOURLY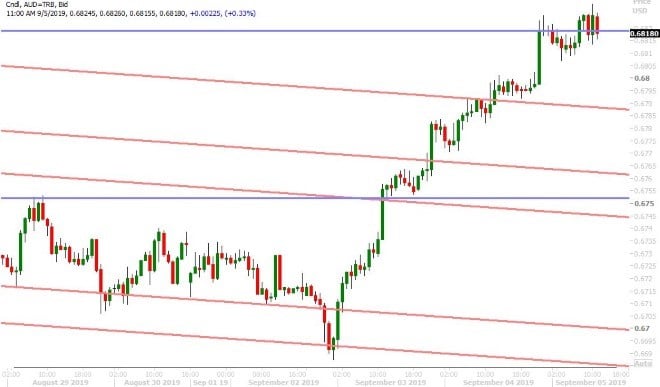 USDCNH DAILY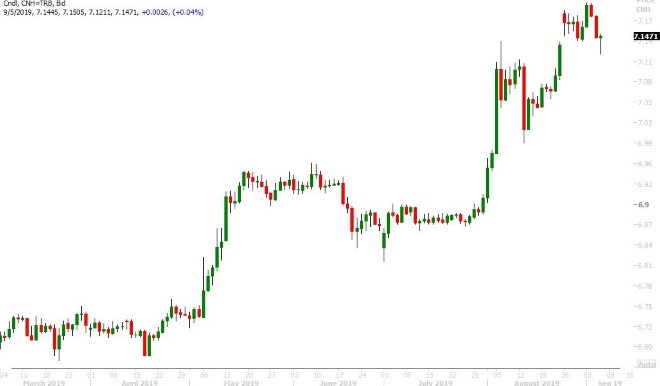 ---
USDJPY
Dollar/yen is breaking higher this morning and today's "risk-on" mood to global markets is providing the catalysts. Everything is moving higher (stocks, bond yields, US 10s2s yield curve now firmly back above zero) and while you could argue last night's headlines, about US and China trade negotiators meeting again in October, could be another false positive for markets that have been through this trade war song and dance before, the trading algorithms are being and it's a tough wave to fight at this hour. We think the 107.00 level will now be pivotal for USDJPY heading into the US jobs report tomorrow. This morning's strong Non-Manufacturing ISM figures have seen the market shoot past this level and we think a NY close above here could open up the door for some panic buying from the funds (who remain net short USDJPY) should tomorrow's numbers surprise to the upside.
USDJPY DAILY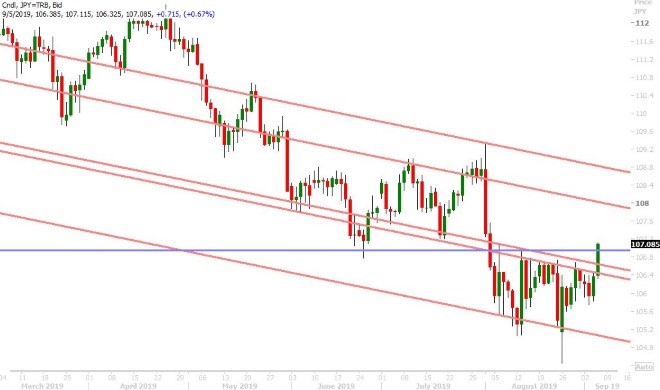 USDJPY HOURLY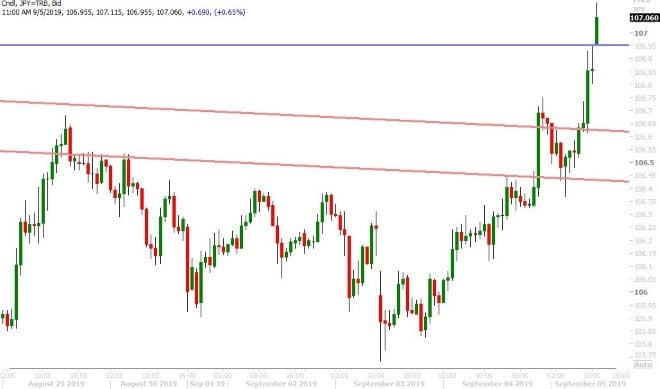 US 10YR YIELD DAILY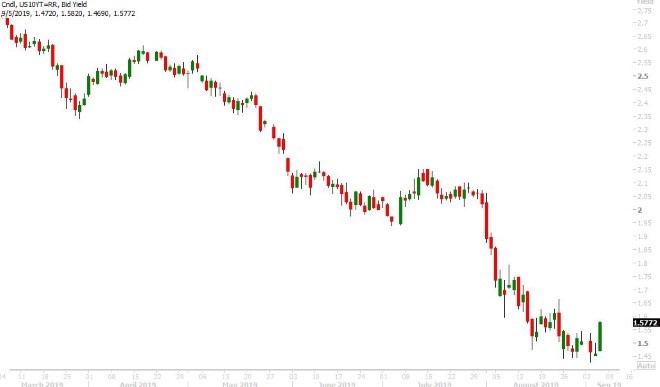 Charts: Reuters Eikon
---
About the Author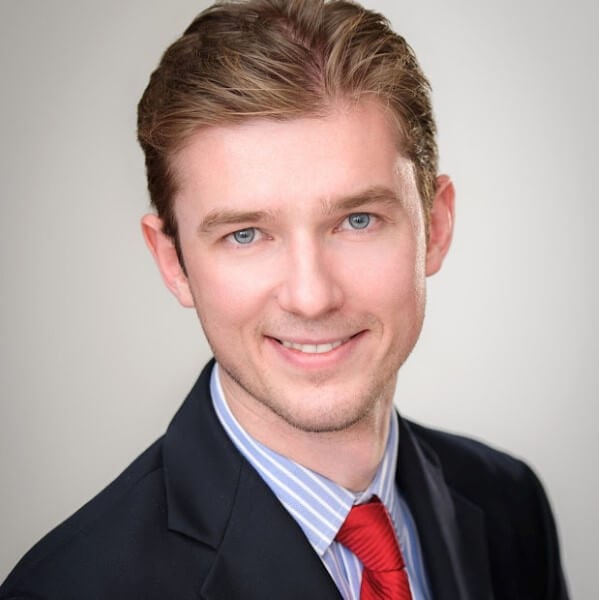 About Currency Exchange International
Currency Exchange International, CXI, is the leading provider of comprehensive foreign exchange services, risk management solutions and integrated international payments processing technology in North America. CXI's relationship-driven approach ensures clients receive tailored solutions and world-class customer service. Through innovative and trusted FX software platforms, CXI delivers versatile foreign exchange services to our clients, so that they can efficiently manage and streamline their foreign currency and global payment needs. CXI is a trusted partner among financial institutions, corporations and retail markets around the world. To learn more, visit: www.ceifx.com
This publication has been prepared by Currency Exchange International for informational and marketing purposes only. Opinions, estimates and projections contained herein are our own as of the date hereof and are subject to change without notice. The information and opinions contained herein have been compiled or arrived at from sources believed reliable, but no representation or warranty, express or implied, is made as to their accuracy or completeness and neither the information nor the forecast shall be taken as a representation for which Currency Exchange International, its affiliates or any of their employees incur any responsibility. Neither Currency Exchange International nor its affiliates accept any liability whatsoever for any loss arising from any use of this information. This publication is not, and is not constructed as, an offer to sell or solicitation of any offer to buy any of the currencies referred to herein, nor shall this publication be construed as an opinion as to whether you should enter into any swap or trading strategy involving a swap or any other transaction. The general transaction, financial, educational and market information contained herein is not intended to be, and does not constitute, a recommendation of a swap or trading strategy involving a swap within the meaning of U.S. Commodity Futures Trading Commission Regulation 23.434 and Appendix A thereto. This material is not intended to be individually tailored to your needs or characteristics and should not be viewed as a "call to action" or suggestion that you enter into a swap or trading strategy involving a swap or any other transaction. You should note that the manner in which you implement any of the strategies set out in this publication may expose you to significant risk and you should carefully consider your ability to bear such risks through consultation with your own independent financial, legal, accounting, tax and other professional advisors. All Currency Exchange International products and services are subject to the terms of applicable agreements and local regulations. This publication and all information, opinions and conclusions contained in it are protected by copyright. This information may not be reproduced in whole or in part, or referred to in any manner whatsoever nor may the information, opinions and conclusions contained in it be referred to without the prior express written consent of Currency Exchange International.