Broader risk appetite recedes a bit as US yields back up 4bp.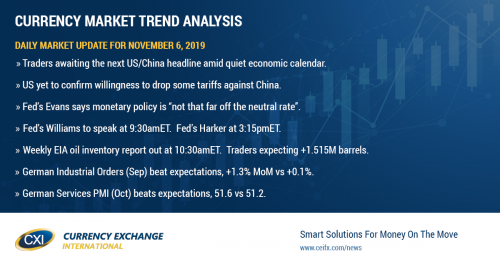 Take control of your international payments with CXI FX Now.
• Zero transfer fees & great rates
• Fast international payments
• Safety and security
• Unparalleled customer service
• Consultative approach
Learn more about CXI's international payment services for businesses or call our trading desk directly at 1-833-572-8933.
Get real-time market coverage on twitter at @EBCTradeDesk or sign up here.
SUMMARY
Traders awaiting the next US/China headline amid quiet economic calendar.

US yet to confirm willingness to drop some tariffs against China.

Fed's Evans says monetary policy is "not that far off the neutral rate".

Fed's Williams to speak at 9:30amET. Fed's Harker at 3:15pmET.

Weekly EIA oil inventory report out at 10:30amET. Traders expecting +1.515M barrels.

German Industrial Orders (Sep) beat expectations, +1.3% MoM vs +0.1%.

German Services PMI (Oct) beats expectations, 51.6 vs 51.2.

UK election session officially begins.

BOE meets at 7amET tomorrow morning.
ANALYSIS
USDCAD
Dollar/CAD is trading mildly higher with the broader USD this morning as global markets appear slightly nervous about the next US/China trade headline. While yesterday's better than expected US Non-Manufacturing ISM number extended this week's "risk rally", we have yet to receive confirmation from the US that they will indeed remove some tariffs against China. Today's North American calendar will be void of any major economic releases, but we will hear from the Fed's Williams (9:30amET) and Harker (3:15pmET). The Fed's Evans spoke over the 8am hour but touted the FOMC party line (no news here in our opinion). The EIA will also release its weekly oil inventory report at 10:30amET, with traders expecting a build of 1.515M barrels following last night's bearish API survey (+4.26M barrels vs +1.5M expected).
The chart technicals for USDCAD are looking mixed to slightly higher today. We think the funds (who remain net short the market) would've liked to have seen a NY close below the 1.3120s yesterday, but since the upside breakout in US yields drove the USD broadly higher we think they may start worrying about the 1.3190 resistance level again heading into Friday's Canadian employment report.
USDCAD DAILY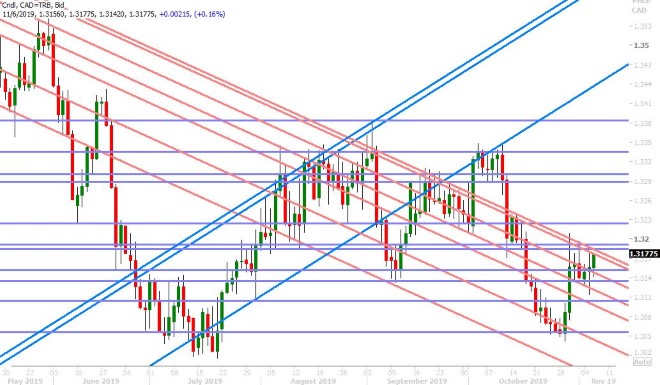 USDCAD HOURLY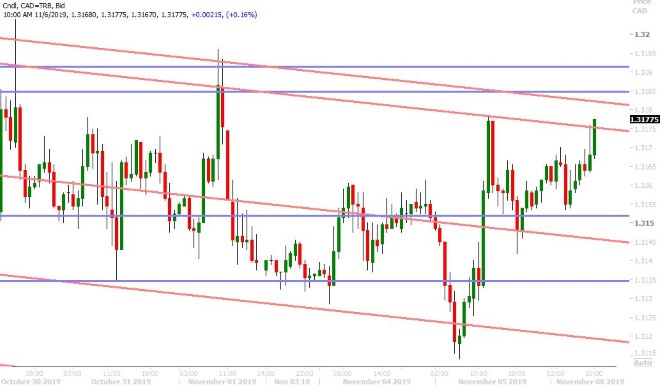 DEC CRUDE OIL DAILY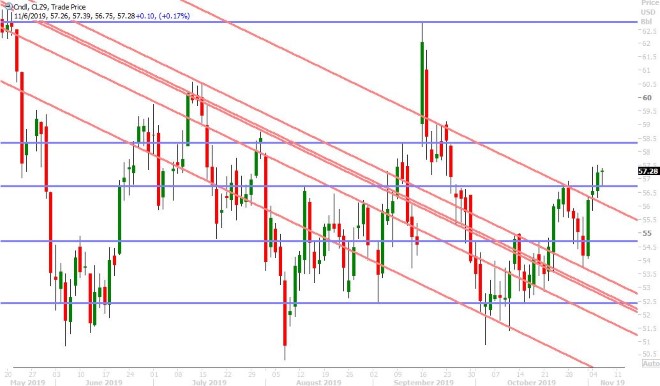 EURUSD
Euro/dollar got pummeled yesterday, with yesterday's US yield breakout to 1.87% (following the upbeat US Services ISM report) adding insult to injury for the pairing. Buyers appeared at trend-line chart support in the 1.1060s however during late NY trade and this level held up in Asia despite the PBOC setting its daily USDCNY fix at its lowest level since August 8th. This morning's better than expected German Industrial Orders and Services PMI reports are getting talked about (+1.3% MoM vs +0.1% and 51.6 vs 51.2), but we can't say we're seeing traders tripping over themselves with excitement to buy EUR here. The damage done to the EURUSD chart technicals so far this week has been significant and the US news flow has been too positive (so much so that bond markets are not expecting anything for a change from the Fed on December 11th). We think EURUSD will continue to struggle here, unless we get some sort of negative surprise on the US front that will re-invigorate the "Fed rate cut trade".
EURUSD DAILY
EURUSD HOURLY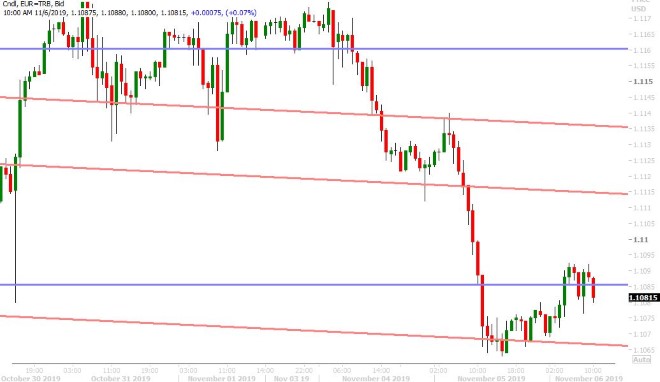 DEC GOLD DAILY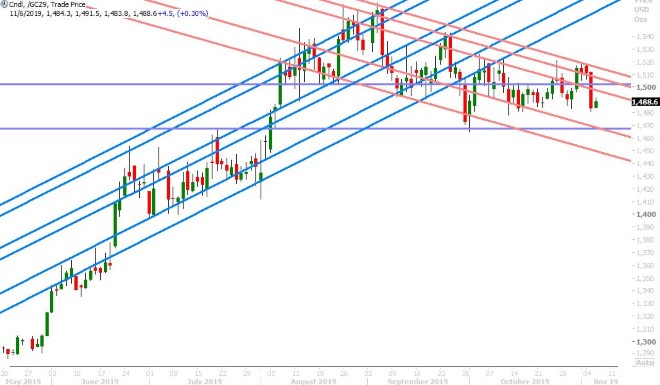 GBPUSD
Sterling is following EURUSD mildly higher this morning, and we think the market's ability to close back above the 1.2870s by the NY close is helping with that. The UK's general election campaign officially began today with the dissolution of parliament. More here from the CBC. We think the pound's fortunes, all else being equal, will continue to ebb and flow with the prospects of a stronger result for the UK Tory party on Dec 12th. A stronger Tory party will make it easier for PM Boris Johnson to finally pass his Brexit Withdrawal Agreement Bill (GBP positive) whereas a hung parliament (with no clear majority one way or another) will bring us right back to square one with regard to Brexit negotiations (GBP negative). The Bank of England announces it latest monetary policy decision at 7amET tomorrow morning, with no changes to interest rates expected.
GBPUSD DAILY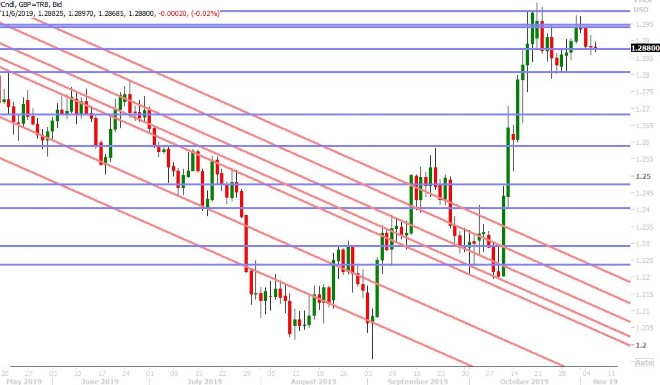 GBPUSD HOURLY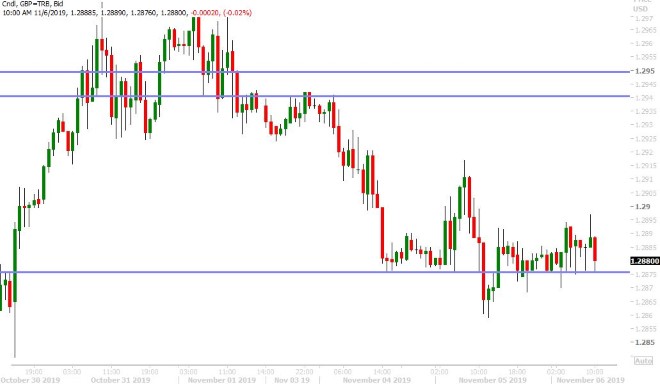 EURGBP DAILY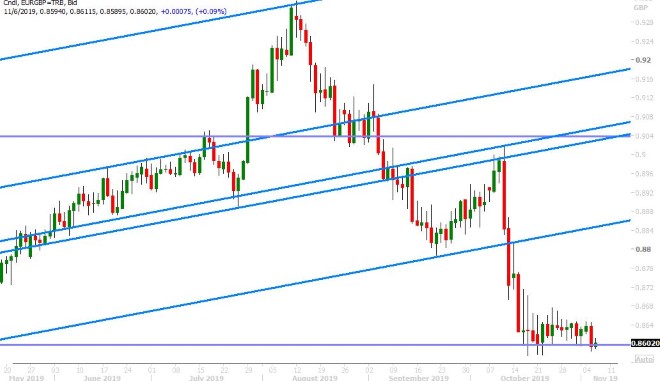 ---
AUDUSD
The Australian dollar is getting help today from some broad, but mild, USD sales in London trade. We also think USDCNH's inability to breach yesterday's European lows in the 6.9880s, on the back of last night's lower USDCNY fixing, is helping. The market continues to flip-flop on both sides of the 0.6895 level however as we enter NY trade for today and it feels like the market is on guard for something negative on the US/China trade front. Australia reports its September Trade Balance tonight at 7:30pmET (which shouldn't be a market mover). What may be more interesting is tonight's release of China's import/export data for October (exact time unknown).
AUDUSD DAILY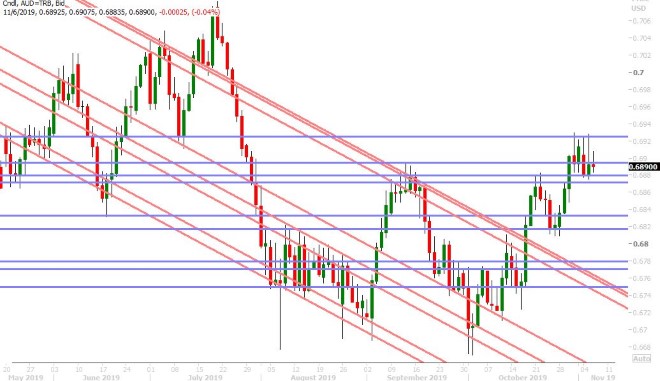 AUDUSD HOURLY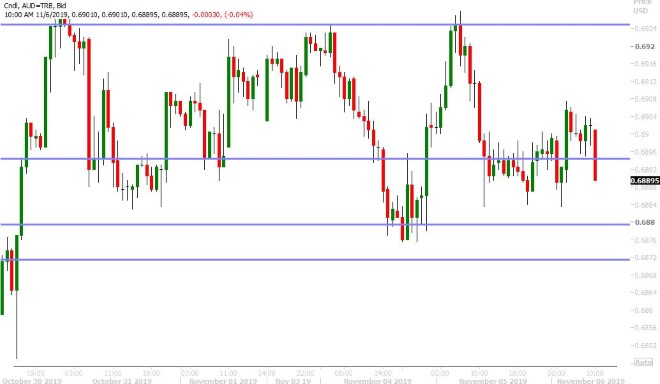 USDCNH DAILY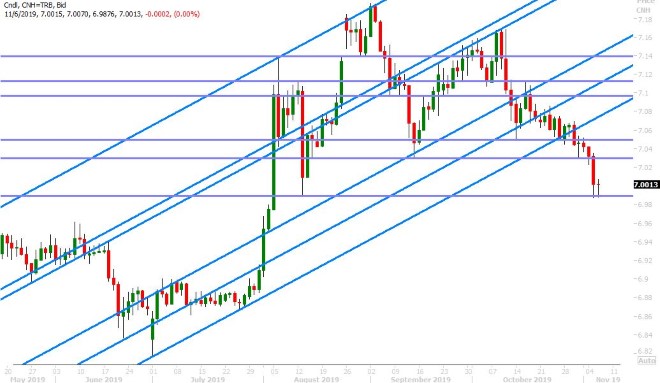 ---
USDJPY
Dollar/yen is pulling back mildly this morning as US 10yr yields back up 4bp from yesterday's session highs and USDCNH continues to hold 6.9880s support. You could say there's a lack of trade optimism out there today or slight trepidation because we're not getting confirmation that the US will drop some tariffs against China. What is becoming abundantly clear is that the "risk rally" needs to be continually fed with positive news. We're not sure where that comes from today, but all eyes will be on the newswires as usual. Over 1.4blnUSD of options expire between the 108.75 and 109.00 strikes this morning at 10amET, which could be adding a little bit of weight to the market here.
USDJPY DAILY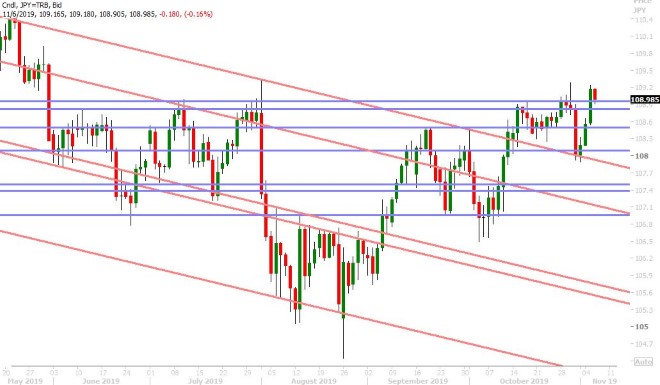 USDJPY HOURLY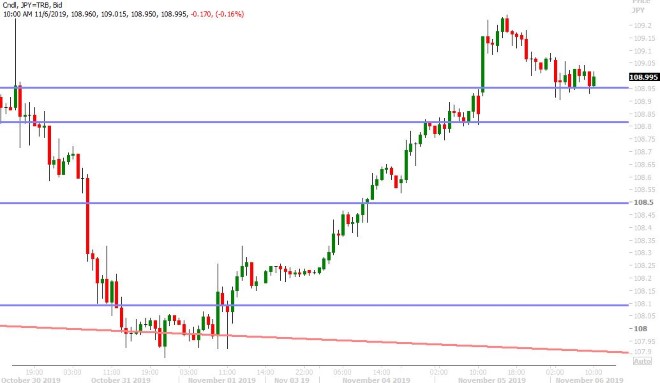 US 10YR BOND YIELD DAILY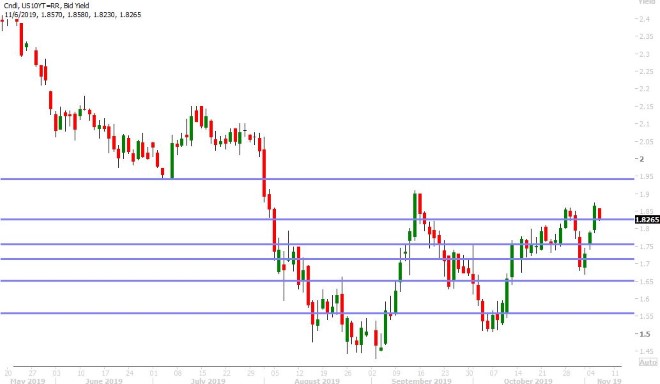 Charts: Reuters Eikon
---
About the Author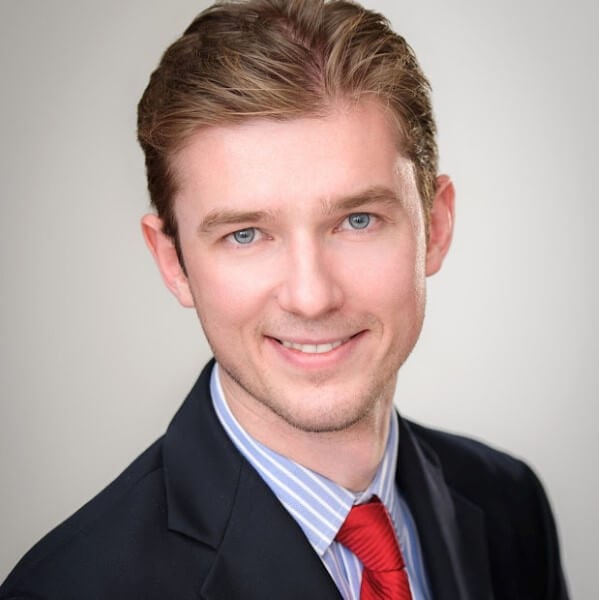 About Currency Exchange International
Currency Exchange International, CXI, is the leading provider of comprehensive foreign exchange services, risk management solutions and integrated international payments processing technology in North America. CXI's relationship-driven approach ensures clients receive tailored solutions and world-class customer service. Through innovative and trusted FX software platforms, CXI delivers versatile foreign exchange services to our clients, so that they can efficiently manage and streamline their foreign currency and global payment needs. CXI is a trusted partner among financial institutions, corporations and retail markets around the world. To learn more, visit: www.ceifx.com
This publication has been prepared by Currency Exchange International for informational and marketing purposes only. Opinions, estimates and projections contained herein are our own as of the date hereof and are subject to change without notice. The information and opinions contained herein have been compiled or arrived at from sources believed reliable, but no representation or warranty, express or implied, is made as to their accuracy or completeness and neither the information nor the forecast shall be taken as a representation for which Currency Exchange International, its affiliates or any of their employees incur any responsibility. Neither Currency Exchange International nor its affiliates accept any liability whatsoever for any loss arising from any use of this information. This publication is not, and is not constructed as, an offer to sell or solicitation of any offer to buy any of the currencies referred to herein, nor shall this publication be construed as an opinion as to whether you should enter into any swap or trading strategy involving a swap or any other transaction. The general transaction, financial, educational and market information contained herein is not intended to be, and does not constitute, a recommendation of a swap or trading strategy involving a swap within the meaning of U.S. Commodity Futures Trading Commission Regulation 23.434 and Appendix A thereto. This material is not intended to be individually tailored to your needs or characteristics and should not be viewed as a "call to action" or suggestion that you enter into a swap or trading strategy involving a swap or any other transaction. You should note that the manner in which you implement any of the strategies set out in this publication may expose you to significant risk and you should carefully consider your ability to bear such risks through consultation with your own independent financial, legal, accounting, tax and other professional advisors. All Currency Exchange International products and services are subject to the terms of applicable agreements and local regulations. This publication and all information, opinions and conclusions contained in it are protected by copyright. This information may not be reproduced in whole or in part, or referred to in any manner whatsoever nor may the information, opinions and conclusions contained in it be referred to without the prior express written consent of Currency Exchange International.