Canadian GDP for June beats expectations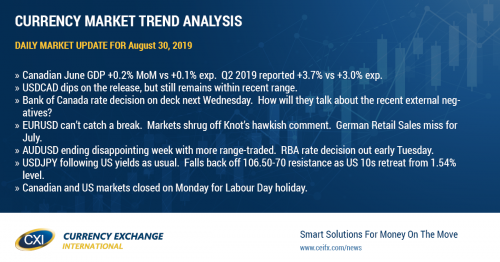 Take control of your international payments with CXI FX Now.
• Zero transfer fees & great rates
• Fast international payments
• Safety and security
• Unparalleled customer service
• Consultative approach
Learn more about CXI's international payment services for businesses or call our trading desk directly at 1-833-572-8933.
Get real-time market coverage on twitter at @EBCTradeDesk or sign up here.
SUMMARY
•
Canadian June GDP +0.2% MoM vs +0.1% exp.  Q2 2019 reported +3.7% vs +3.0% exp.
•
USDCAD dips on the release, but still remains within recent range.
•
Bank of Canada rate decision on deck next Wednesday.  How will they talk about the recent external negatives?
•
EURUSD can't catch a break.  Markets shrug off Knot's hawkish comment.  German Retail Sales miss for July.
•
AUDUSD ending disappointing week with more range-traded.  RBA rate decision out early Tuesday.
•
USDJPY following US yields as usual.  Falls back off 106.50-70 resistance as US 10s retreat from 1.54% level.
•
Canadian and US markets closed on Monday for Labour Day holiday.
ANALYSIS
USDCAD
Dollar/CAD has taken a leg lower here after Canada reported stronger than expected GDP growth for both June and Q2 2019.  The figures came in at +0.2% MoM vs +0.1% expected, and +3.7% annualized for Q2 vs +3.0% expected.  The market is now re-testing familiar chart support in the 1.3260s-70s, and we think the next stop could be 1.3230 should this level fail to hold.  Odds are this doesn't happen however as we think traders will be itching to leave early for the long weekend.  Next week's calendar will be eventful as we'll get the RBA rate decision early Tuesday and then he first look at the state of US manufacturing for the month of August.  The August employment reports for both the US and Canada will be announced on Friday.  What is more, we'll get the Bank of Canada's latest decision on interest rates on Wednesday, which we think traders are eagerly anticipating because we haven't heard anything out of the Canadian central bank for over six weeks now.  So many negatives have occurred since July 10th (escalation of the US/China trade war, Fed rate cut, more yield curve inversions, increasingly depressing data out of Germany, etc).  The Canadian 10s2s yield curve is also now more steeply inverted (-20bp) compared to where it was the last time they met (which is signaling recession).  Therefore, we're also very curious, and eager, to see how the Bank of Canada explains all this when talking about its forward outlook.  We know they're concerned about trade uncertainty (they've told us that already) and so we think the market's reaction to Wednesday's event will largely come down to how negative Stephen Poloz sounds.  While we think he'll be quick to point out the recent positives in the Canadian economy (on-trend CPI, steadier oil prices), we think there's a good chance he will sound more negative (on balance) this time around when compared to July, and this tone could in turn sow the seeds for a "pre-emptive" rate cut on Oct 30th.  We continue to believe that global central bankers are struggling to understand what's going on in their respective bond/money markets and that's because they're not even considering, or can't see, the possibility that part of this rush into sovereigns may be coming from primary dealer banks (huge players in global bond markets) that may be hedging growing liquidity risks.  Check out the Treasury TIC data.  That being said, central banks never want to appear as if they're "behind the curve" (especially now while they figure this out) and so we think the Bank of Canada might ultimately be forced down the same global rabbit hole of giving interest rate markets what they want for now (ie. insurance cuts).  It looks like the OIS market will give the Bank of Canada a free pass next Wednesday (currently pricing just a 16% chance of a 25bp cut), but it still wants the Canadian central bank to cut at least once by year's end.
USDCAD DAILY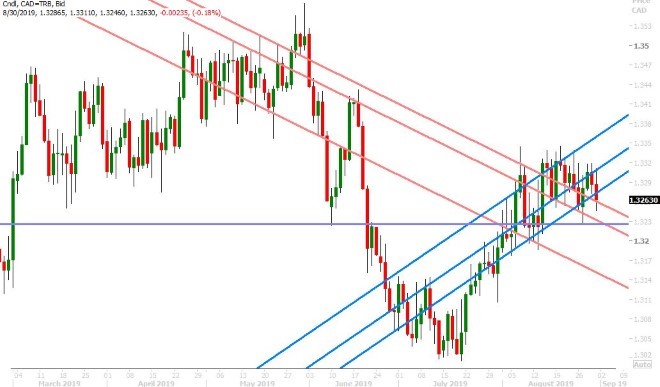 USDCAD HOURLY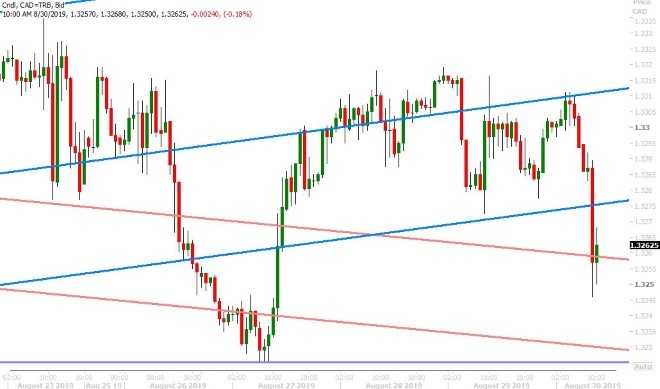 OCT CRUDE OIL DAILY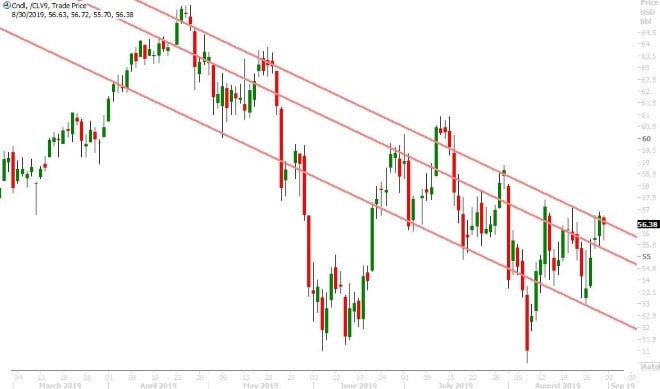 EURUSD
Euro/dollar just can't catch a break.  Some rather hawkish comments from ECB member Knot crossed the wires yesterday (MARKET EXPECTATIONS FOR ECB SEPT. DECISION ARE `OVERDONE) and while this caused a quick spike up in the market off its Christine Lagarde lows, traders were quick to hit the sell key again once EURUSD ran into familiar chart resistance at 1.1080-90.  The market hugged trend-line support in the 1.1050s for the remainder of the day, and then slipped below the level in Asian trade last night.  Some weak German Retail Sales data for the month of July (-2.2% MoM vs -1.0% exp) is now giving EURUSD another blow to the gut as we come to the end of a horrible week for the pair.  We'll get an updated read on how short EUR the leveraged funds are at 3:30pmET today when the CFTC releases its weekly Commitment of Traders Report.  We think the funds have been late to adjust to the renewed downtrend in EURUSD ever since the market fell back below the 1.1300 level, and so we think they're plenty of room for them to pile on new short positioning here (ie. catch up) without making their overall net short position look overextended.
EURUSD DAILY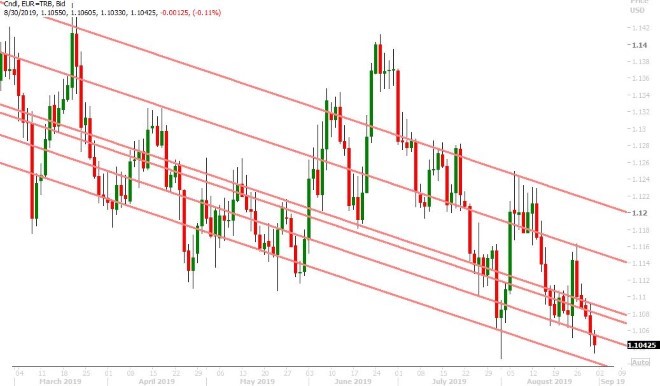 EURUSD HOURLY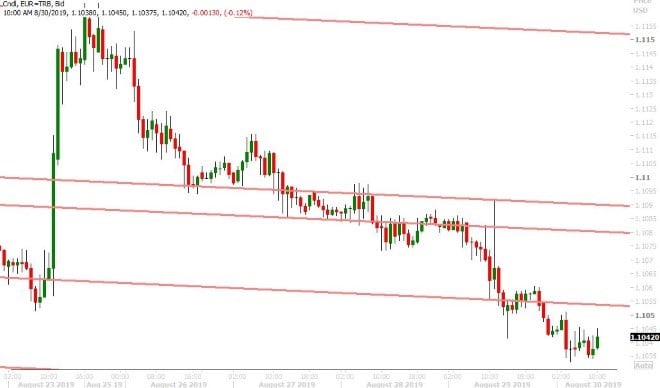 DEC GOLD DAILY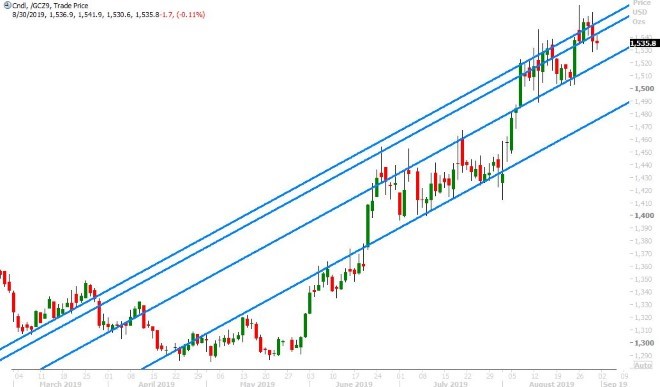 ---
GBPUSD
It's been a sleepy month-end Friday for sterling this morning, with traders testing chart support in the 1.2160s and chart resistance in the 1.2190s.  Expect volatility, and Brexit headlines, to pick up next Tuesday when the UK parliament returns from its summer recess.
GBPUSD DAILY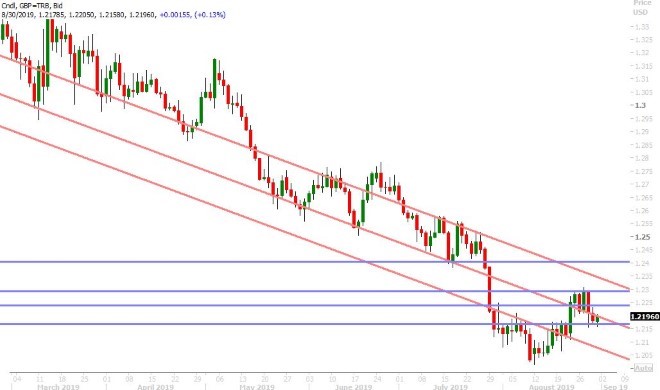 GBPUSD HOURLY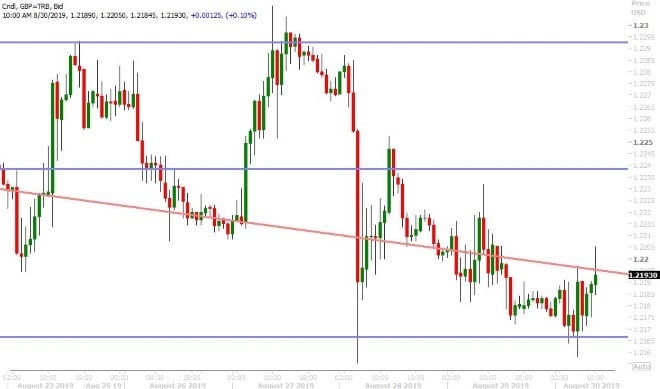 EURGBP DAILY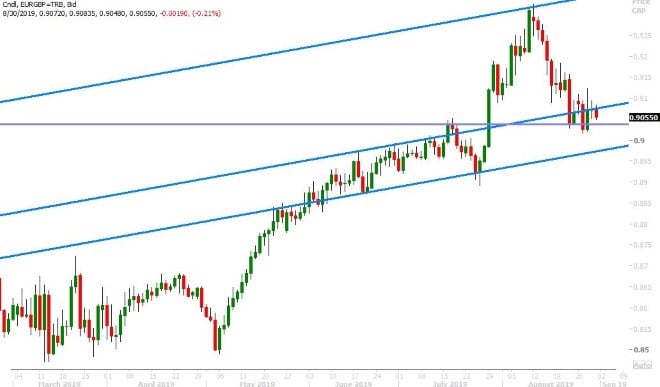 ---
AUDUSD
The range-trade continues for the Australian dollar as traders wind up a disappointing week for the pair.  Monday's bullish outside day pattern (which stemmed from Lui He's calming comments out of China) got us focused on a possible bottoming pattern for AUDUSD, but the market couldn't get back above the 0.6780s by mid-week (important for confirming this pattern) and a slumping EURUSD has continued to been a negative drag on this market ever since.  The Reserve Bank of Australia will announce its latest decision on interest rates early Tuesday, and while recent RBA member commentary has suggested that they stand ready to cut rates further "if needed", the OIS market doesn't think it needs to happen next week (odds of a 25bp cut to 0.75% sit at just 11%).
AUDUSD DAILY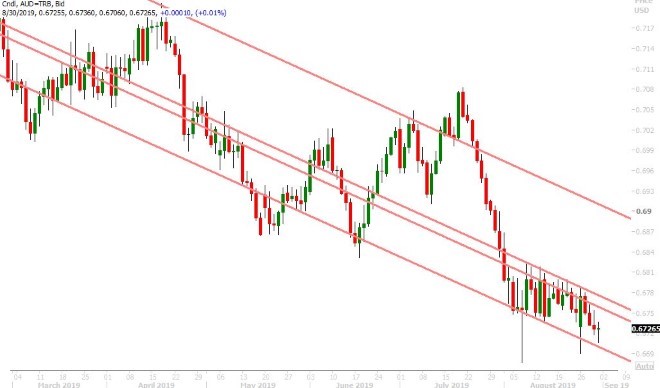 AUDUSD HOURLY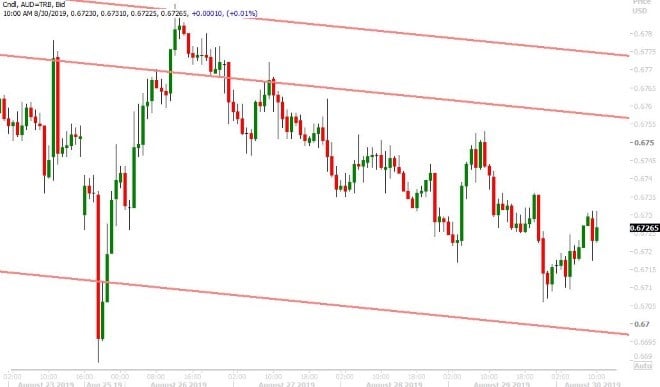 USDCNH DAILY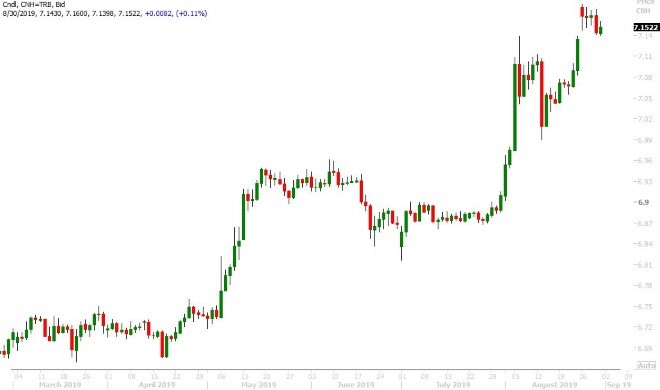 ---
USDJPY
Dollar/yen continued higher yesterday and it ultimately challenged trend-line resistance in the 106.50-70 area after the US yield curve (10s2s) traded back to the zero level for a brief period.  The curve, led by the US 10yr bond yield, is slipping back a few basis points again this morning, and so USDJPY has backed of this resistance level.  With over 1blnUSD of options expiring between 106.10 and 106.50 this morning, we think the market may be content to close out the week without much fanfare.
USDJPY DAILY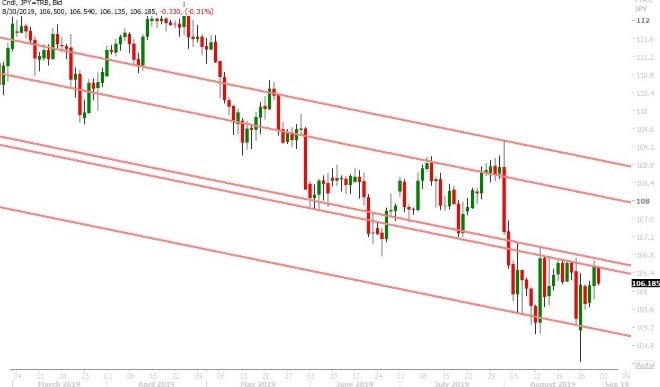 USDJPY HOURLY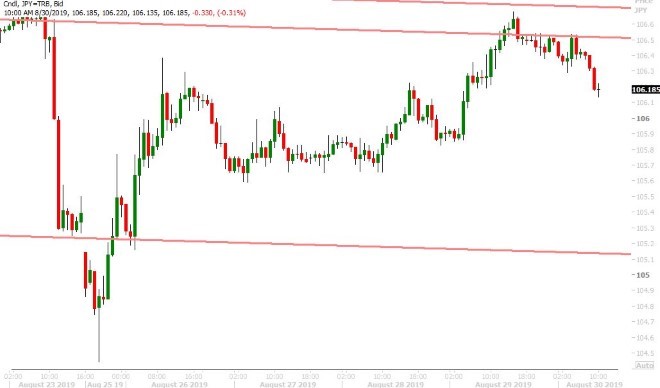 US 10YR YIELD DAILY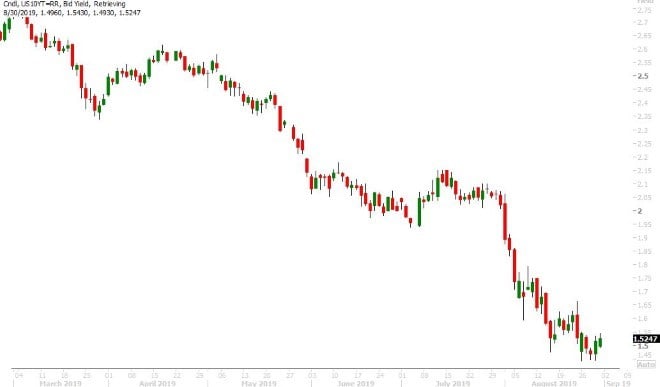 Charts: Reuters Eikon
---
About the Author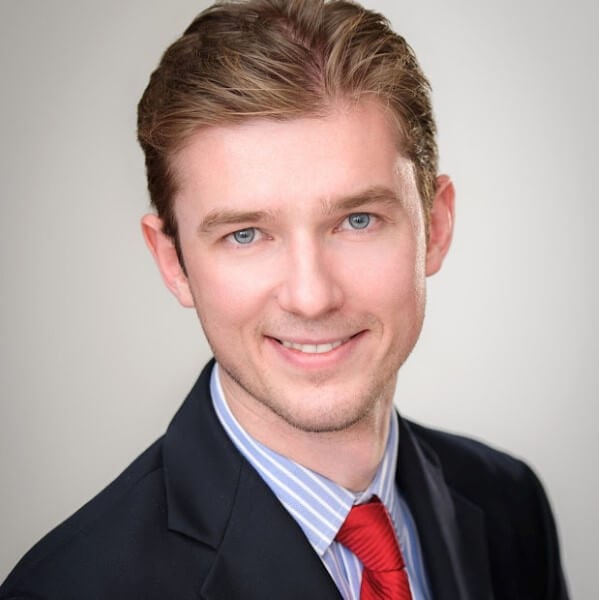 About Currency Exchange International
Currency Exchange International, CXI, is the leading provider of comprehensive foreign exchange services, risk management solutions and integrated international payments processing technology in North America. CXI's relationship-driven approach ensures clients receive tailored solutions and world-class customer service. Through innovative and trusted FX software platforms, CXI delivers versatile foreign exchange services to our clients, so that they can efficiently manage and streamline their foreign currency and global payment needs. CXI is a trusted partner among financial institutions, corporations and retail markets around the world. To learn more, visit: www.ceifx.com
This publication has been prepared by Currency Exchange International for informational and marketing purposes only. Opinions, estimates and projections contained herein are our own as of the date hereof and are subject to change without notice. The information and opinions contained herein have been compiled or arrived at from sources believed reliable, but no representation or warranty, express or implied, is made as to their accuracy or completeness and neither the information nor the forecast shall be taken as a representation for which Currency Exchange International, its affiliates or any of their employees incur any responsibility. Neither Currency Exchange International nor its affiliates accept any liability whatsoever for any loss arising from any use of this information. This publication is not, and is not constructed as, an offer to sell or solicitation of any offer to buy any of the currencies referred to herein, nor shall this publication be construed as an opinion as to whether you should enter into any swap or trading strategy involving a swap or any other transaction. The general transaction, financial, educational and market information contained herein is not intended to be, and does not constitute, a recommendation of a swap or trading strategy involving a swap within the meaning of U.S. Commodity Futures Trading Commission Regulation 23.434 and Appendix A thereto. This material is not intended to be individually tailored to your needs or characteristics and should not be viewed as a "call to action" or suggestion that you enter into a swap or trading strategy involving a swap or any other transaction. You should note that the manner in which you implement any of the strategies set out in this publication may expose you to significant risk and you should carefully consider your ability to bear such risks through consultation with your own independent financial, legal, accounting, tax and other professional advisors. All Currency Exchange International products and services are subject to the terms of applicable agreements and local regulations. This publication and all information, opinions and conclusions contained in it are protected by copyright. This information may not be reproduced in whole or in part, or referred to in any manner whatsoever nor may the information, opinions and conclusions contained in it be referred to without the prior express written consent of Currency Exchange International.