Canadian Retail Sales on deck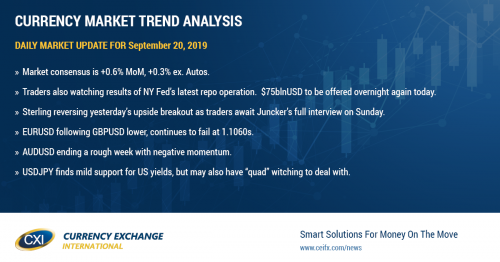 Take control of your international payments with CXI FX Now.
• Zero transfer fees & great rates
• Fast international payments
• Safety and security
• Unparalleled customer service
• Consultative approach
Learn more about CXI's international payment services for businesses or call our trading desk directly at 1-833-572-8933.
Get real-time market coverage on twitter at @EBCTradeDesk or sign up here.
SUMMARY
•
Market consensus is +0.6% MoM, +0.3% ex. Autos.
•
Traders also watching results of NY Fed's latest repo operation. $75blnUSD to be offered overnight again today.
•
Sterling reversing yesterday's upside breakout as traders await Juncker's full interview on Sunday.
•
EURUSD following GBPUSD lower, continues to fail at 1.1060s.
•
AUDUSD ending a rough week with negative momentum.
•
USDJPY finds mild support for US yields, but may also have "quad" witching to deal with.
ANALYSIS
USDCAD
Dollar/CAD regained the top of the 1.3230-50 trend-line support zone at the close of NY trade yesterday as oil markets ultimately didn't fall for Pompeo's war mongering against Iran. This has helped stem the post-Fed selling in USDCAD, but traders have one more headline to deal with before they can call it quits for what's been a busy week of headlines. Canadian Retail Sales for July will be reported shortly at 8:30amET and the market consensus is for a gain of 0.6% MoM, +0.3% ex. Autos.
USDCAD DAILY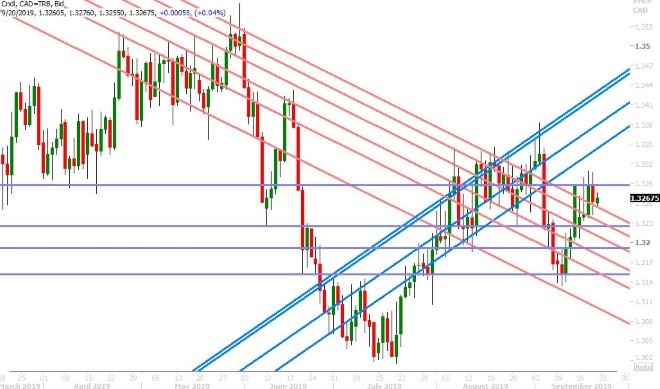 USDCAD HOURLY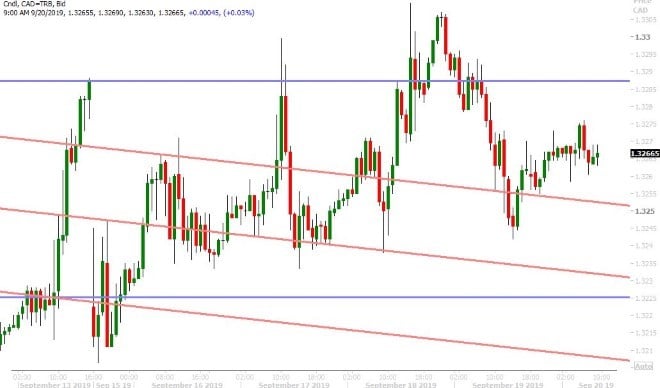 OCT CRUDE OIL DAILY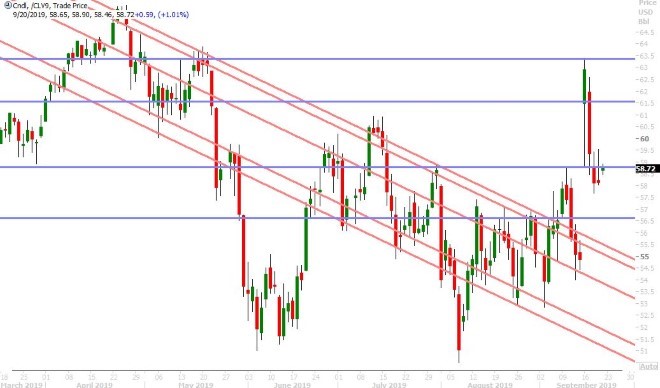 EURUSD
Euro/dollar continues to struggle at trend-line chart resistance in the 1.1060s this morning, and the more the market keeps failing here (5th time already this week), the more we're loosing confidence in the market's attempt at a bottoming pattern. Last Thursday's bullish outside day recorded post ECB was positive, as was Tuesday's strong bounce off trend-line support in the 1.0980s, but EURUSD's repeated inability to close above the 1.1060s is concerning in our opinion. Today's slump since the start of European trade seems to be GBPUSD driven, as sterling traders have second thoughts on yesterday's breakout above 1.2500. Germany reported weaker than expected PPI figures for the month of August earlier today (-0.5% MoM vs -0.2%), but the numbers we're market moving.
EURUSD DAILY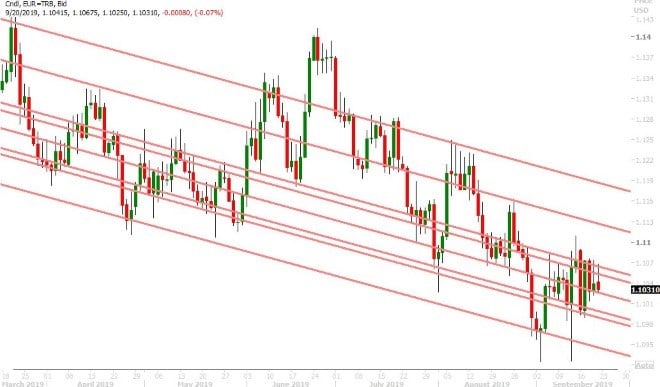 EURUSD HOURLY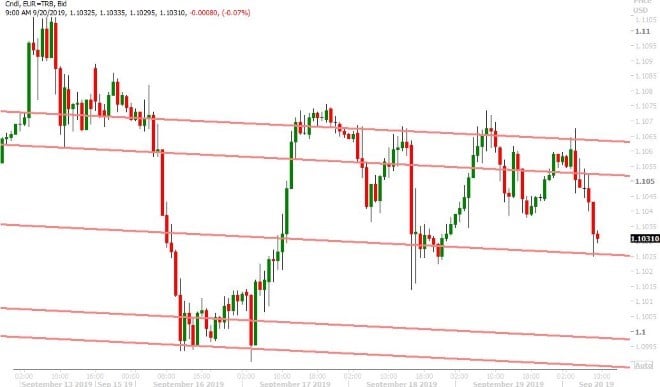 DEC GOLD DAILY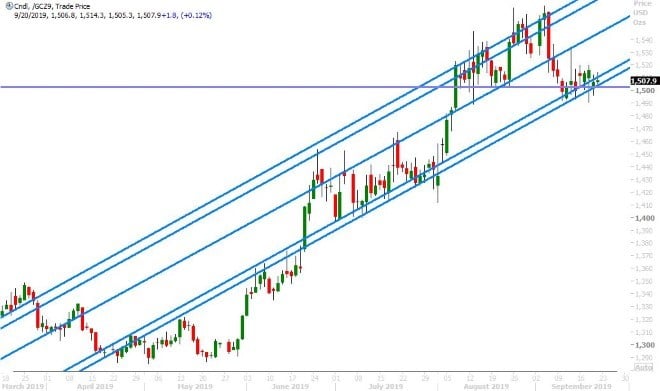 ---
GBPUSD
Sterling looks set to completely reverse yesterday's upside breakout above the 1.2500 level this morning. The sense we're getting from market chatter is that Sky News cherry picked positive sounding headlines from its interview with Jean Claude Juncker yesterday, and that the sad reality of the current Brexit stalemate will come to light once again when the full interview airs on Sunday. GBPUSD has smashed back down through the 1.2500 level as we type, and is now testing a horizontal support level in the 1.2470s. We think a NY close below the 1.2500 will be super disappointing for the bulls and could lead to more GBP selling to start next week.
GBPUSD DAILY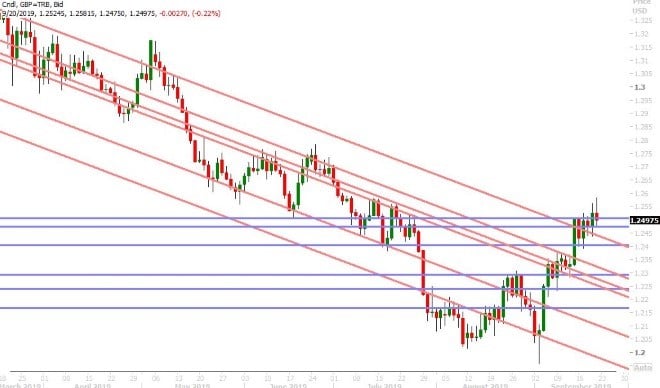 GBPUSD HOURLY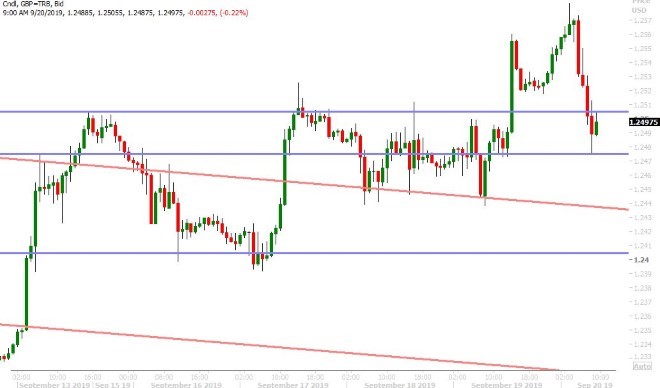 EURGBP DAILY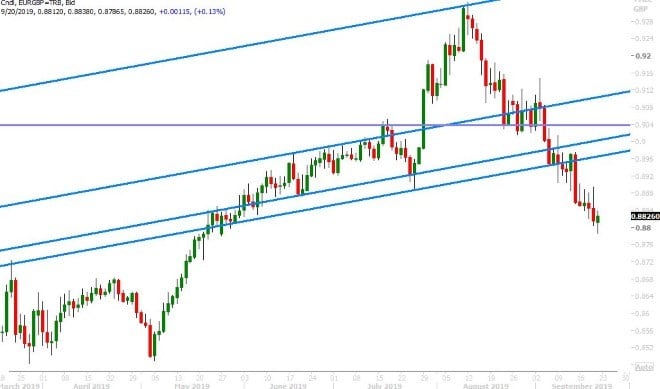 ---
AUDUSD
Boy, what a difference a dovish sounding RBA Minutes, a Fed disappointment, and a 0.1% rise in the Australian unemployment made for the AUDUSD market this week. We started the week with decent, albeit not great, chart technicals…but things really fell apart when these negative fundamental developments put repeated pressure on trend-line support in the 0.6840s. With this level now broken and RBA rate cut odds surging once again for October 1st (78% now vs 25% at the start of the week), we think AUDUSD will continue to struggle here into next week. The next major chart support level comes at the 0.6750 level.
AUDUSD DAILY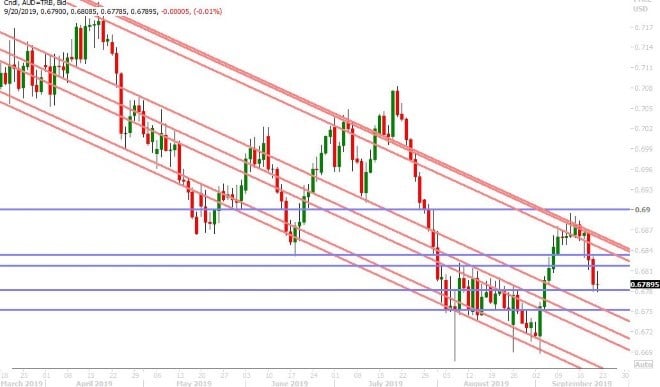 AUDUSD HOURLY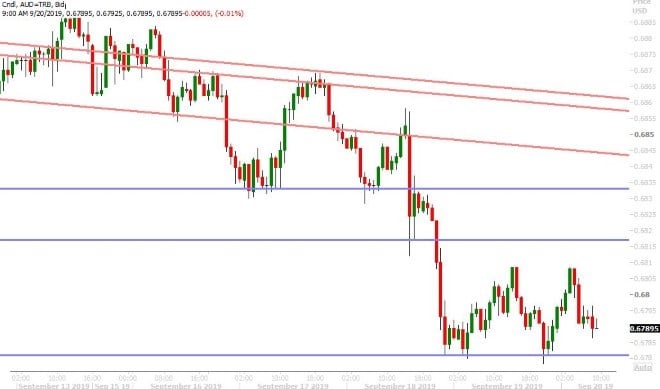 USDCNH DAILY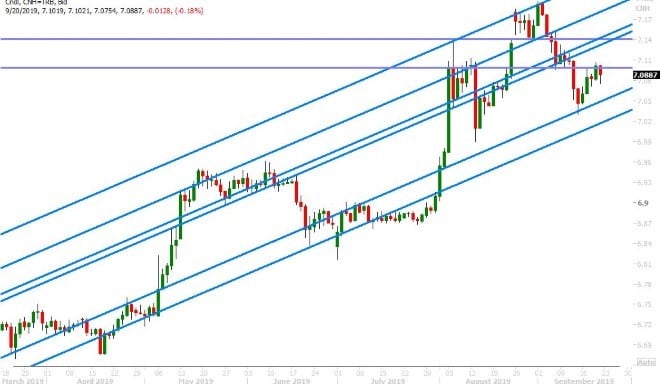 ---
USDJPY
Dollar/yen is struggling this morning as well, after traders failed to reverse the post-Fed negative reversal and close NY trade above the 108.10 level yesterday. US 10yr yields are providing some support though as they have yet to take out their pre-Fed lows of 1.7430%. All eyes are on the repo and effective fed funds markets again this morning as traders await the results of the NY Fed's next emergency repo operation ($75blnUSD being offered up again today). Today will also feature what's known as "quad" witching in the stock market, where once a quarter we'll get the simultaneous expiration of contracts for stock index futures, index options, stock options and single stock futures. With over 8blnUSD notional expiring at the S&P 3000 strike today at the market currently at 3010, expect perhaps a slightly negative drag on USDJPY at some point today.
USDJPY DAILY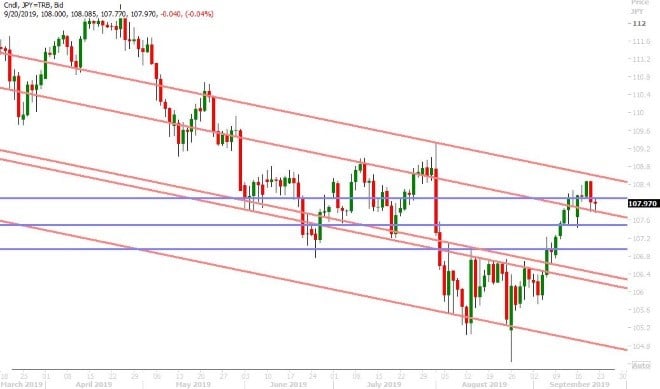 USDJPY HOURLY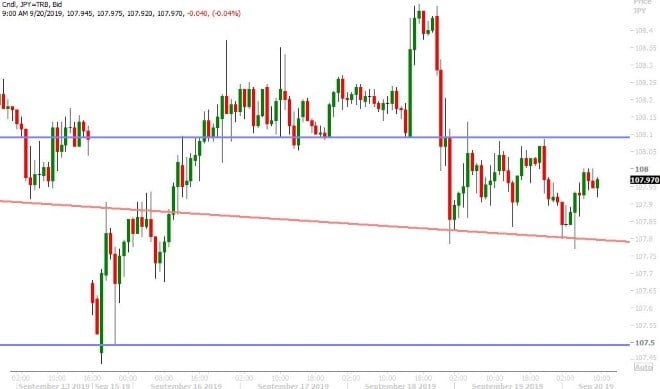 US 10YR BOND YIELD DAILY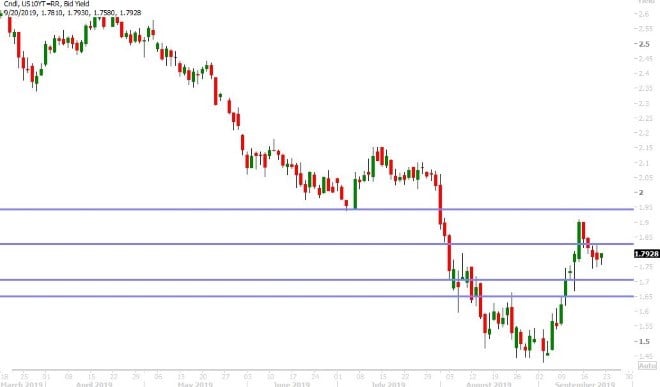 Charts: Reuters Eikon
---
About the Author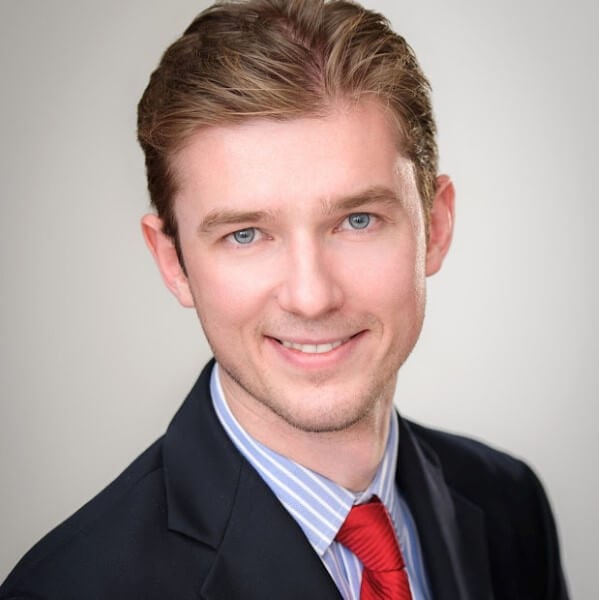 About Currency Exchange International
Currency Exchange International, CXI, is the leading provider of comprehensive foreign exchange services, risk management solutions and integrated international payments processing technology in North America. CXI's relationship-driven approach ensures clients receive tailored solutions and world-class customer service. Through innovative and trusted FX software platforms, CXI delivers versatile foreign exchange services to our clients, so that they can efficiently manage and streamline their foreign currency and global payment needs. CXI is a trusted partner among financial institutions, corporations and retail markets around the world. To learn more, visit: www.ceifx.com
This publication has been prepared by Currency Exchange International for informational and marketing purposes only. Opinions, estimates and projections contained herein are our own as of the date hereof and are subject to change without notice. The information and opinions contained herein have been compiled or arrived at from sources believed reliable, but no representation or warranty, express or implied, is made as to their accuracy or completeness and neither the information nor the forecast shall be taken as a representation for which Currency Exchange International, its affiliates or any of their employees incur any responsibility. Neither Currency Exchange International nor its affiliates accept any liability whatsoever for any loss arising from any use of this information. This publication is not, and is not constructed as, an offer to sell or solicitation of any offer to buy any of the currencies referred to herein, nor shall this publication be construed as an opinion as to whether you should enter into any swap or trading strategy involving a swap or any other transaction. The general transaction, financial, educational and market information contained herein is not intended to be, and does not constitute, a recommendation of a swap or trading strategy involving a swap within the meaning of U.S. Commodity Futures Trading Commission Regulation 23.434 and Appendix A thereto. This material is not intended to be individually tailored to your needs or characteristics and should not be viewed as a "call to action" or suggestion that you enter into a swap or trading strategy involving a swap or any other transaction. You should note that the manner in which you implement any of the strategies set out in this publication may expose you to significant risk and you should carefully consider your ability to bear such risks through consultation with your own independent financial, legal, accounting, tax and other professional advisors. All Currency Exchange International products and services are subject to the terms of applicable agreements and local regulations. This publication and all information, opinions and conclusions contained in it are protected by copyright. This information may not be reproduced in whole or in part, or referred to in any manner whatsoever nor may the information, opinions and conclusions contained in it be referred to without the prior express written consent of Currency Exchange International.