FX markets quiet. UK parliament now prorogued until October 14.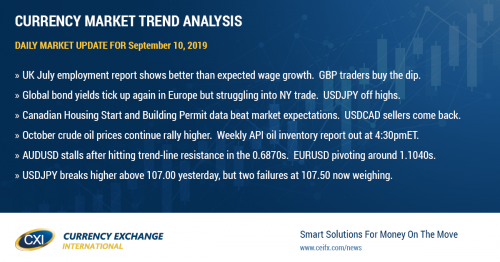 Take control of your international payments with CXI FX Now.
• Zero transfer fees & great rates
• Fast international payments
• Safety and security
• Unparalleled customer service
• Consultative approach
Learn more about CXI's international payment services for businesses or call our trading desk directly at 1-833-572-8933.
Get real-time market coverage on twitter at @EBCTradeDesk or sign up here.
SUMMARY
•
UK July employment report shows better than expected wage growth.  GBP traders buy the dip.
•
Global bond yields tick up again in Europe but struggling into NY trade.  USDJPY off highs.
•
Canadian Housing Start and Building Permit data beat market expectations.  USDCAD sellers come back.
•
October crude oil prices continue rally higher.  Weekly API oil inventory report out at 4:30pmET.
•
AUDUSD stalls after hitting trend-line resistance in the 0.6870s.  EURUSD pivoting around 1.1040s.
•
USDJPY breaks higher above 107.00 yesterday, but two failures at 107.50 now weighing.
ANALYSIS
USDCAD
The move back above chart support in the 1.3150s late yesterday helped USDCAD crawl higher in the overnight session. Sellers were present at trend-line resistance in the 1.3180-90s however and they're now seeing price follow-through to the downside  following some better than expected Canadian Housing Starts data for August (+226.6k vs +215k expected and +222k in June) and some better than expected Building Permit data for July (+3.0% vs +2.3% expected and -3.1% previously).  October crude oil prices continue their march higher this morning after the market decidedly broke out above the 56.60 resistance level yesterday, and we think this is weighing on USDCAD once again as well.  Today's session could be a dud as there's nothing on the calendar until the weekly API oil inventory report at 4:30pmET.  Perhaps time for some Trump tweets?
USDCAD DAILY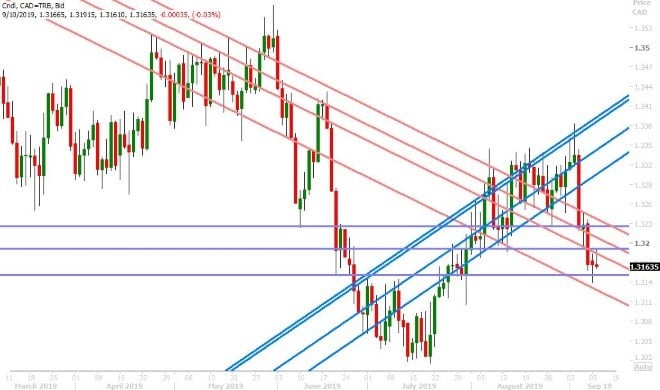 USDCAD HOURLY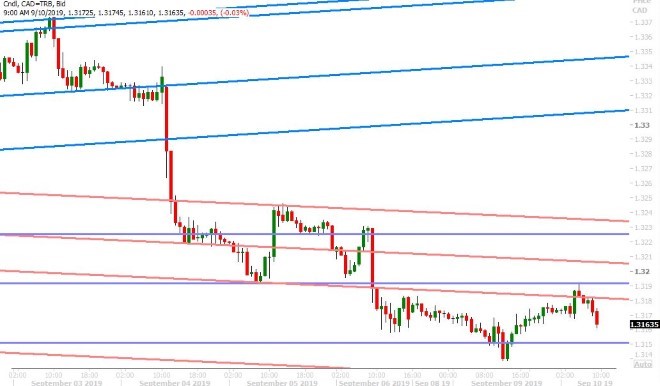 OCT CRUDE OIL DAILY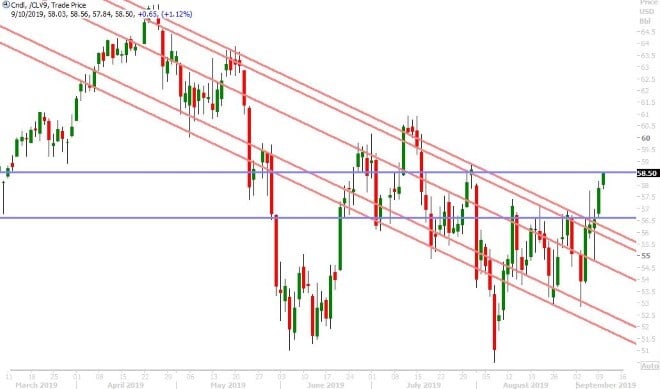 EURUSD
Euro/dollar continues to pivot around the 1.1040 level this morning, but with a bit more negative momentum compared to yesterday morning.  There isn't a whole lot going on in Euroland this morning, aside from another failed attempt by German bund sellers to get the benchmark yield above familiar chart resistance at the -0.57% level.  EURUSD stalled just shy of trend-line chart resistance at 1.1070 yesterday and 1.1000 looks like support once again today.  Expect more lackluster price action here as the main event comes on Thursday morning when the ECB announces its latest monetary policy update.
EURUSD DAILY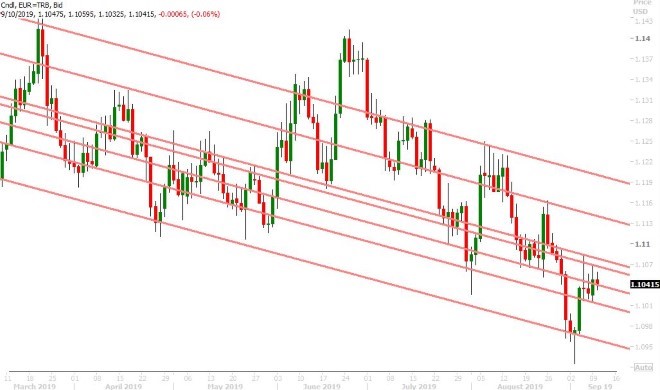 EURUSD HOURLY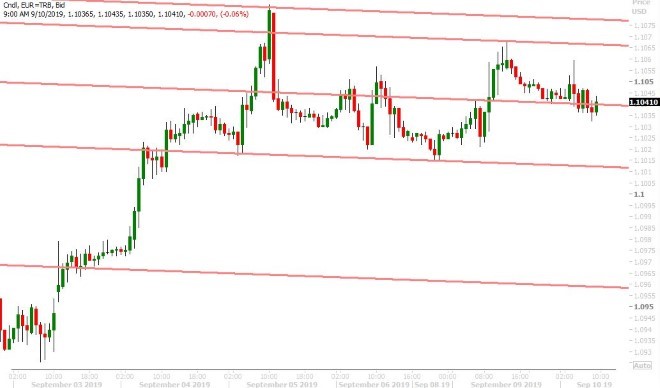 DEC GOLD DAILY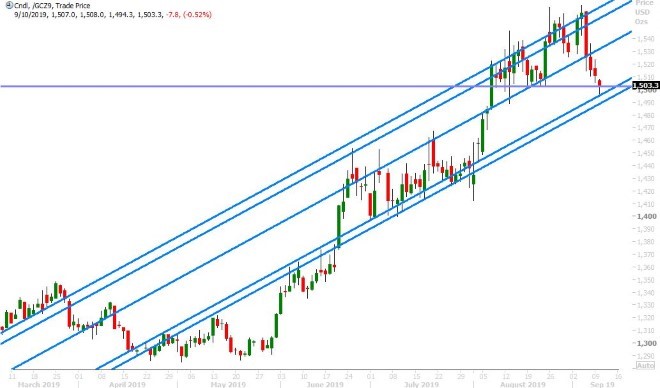 ---
GBPUSD
Sterling has seen some gyration in the overnight session.  Buyers attempted another rally anchored off new chart support in the 1.2340s, but a swift wave of selling came in around the 3:30amET hour (perhaps related to a massive 1.8blnGBP option expiry at the 1.2300 strike this morning???).  The UK then reported its latest employment report which showed much stronger than expected wage growth for the 3 months ending in July (+4.0% vs +3.7%) and this is arguably helping the market recover back above the 1.2340s.  The UK's parliament is now officially prorogued (on recess) until October 14th.  So what could happen next?  See here from Sky News.
GBPUSD DAILY
GBPUSD HOURLY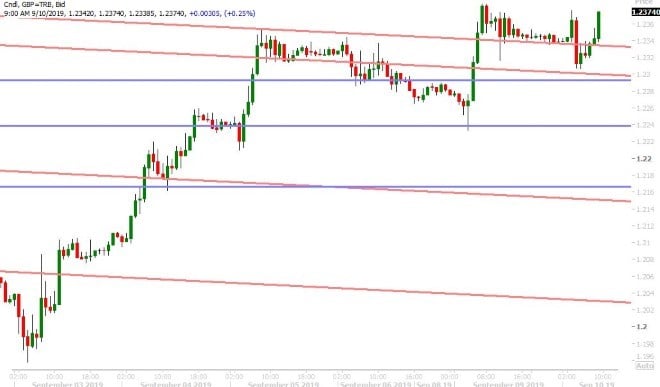 EURGBP DAILY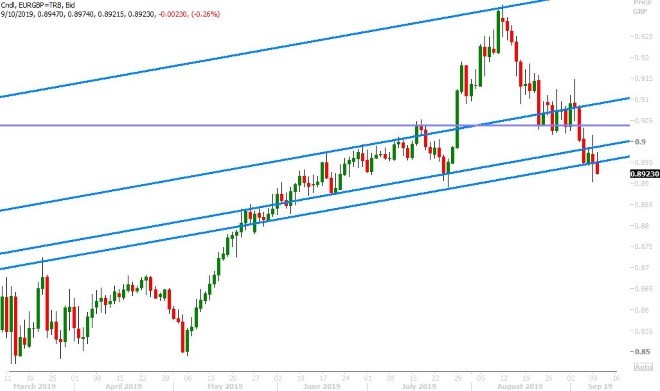 ---
AUDUSD
The Aussie is pulling back a touch this morning after trend-line resistance in the 0.6870s is proving formidable.  The market tried to get above this level in NY trade yesterday, but fell back below it by the close, and two attempts to regain it in overnight trade have been unsuccessful as well.  We think this slight technical weakness, combined with lackluster price action in EURUSD and an 690mlnAUD option expiry at 0.6835 this morning, will be enough to invite some sellers back in here for the NY session today.
AUDUSD DAILY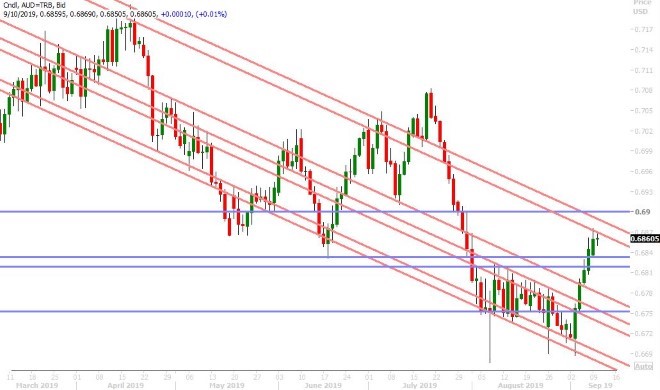 AUDUSD HOURLY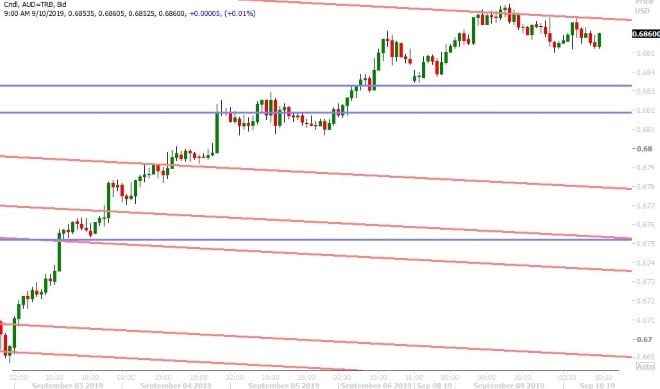 USDCNH DAILY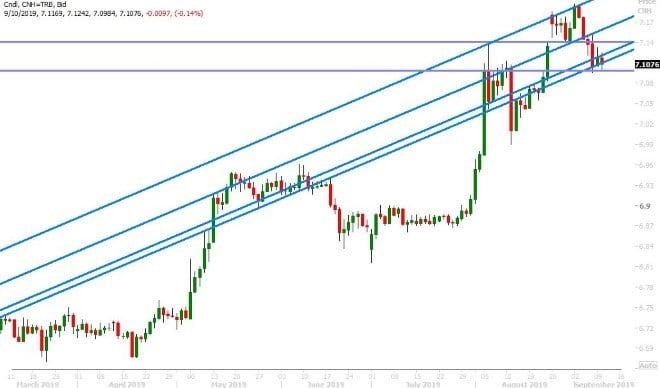 ---
USDJPY
Dollar/yen ended NY trade yesterday on a strong note; closing well above the 107.00 chart level that has been a familiar battleground for the last few sessions.  Traders have rising global bond yields to thank for that, with the US 10yr yield leading the way higher late yesterday.  So what are bond markets saying at this point?  Perhaps Jerome Powell disappoints markets again, in our opinion.  The Fed chairman didn't really give the rate cutting doves anything to go on last Friday, and now these traders have to stew on this until next Wednesday.  USDJPY appears to be struggling at newly formed chart resistance at the 107.50 level as NY trade gets underway today, and so we'd be on the look-out for a dip here.
USDJPY DAILY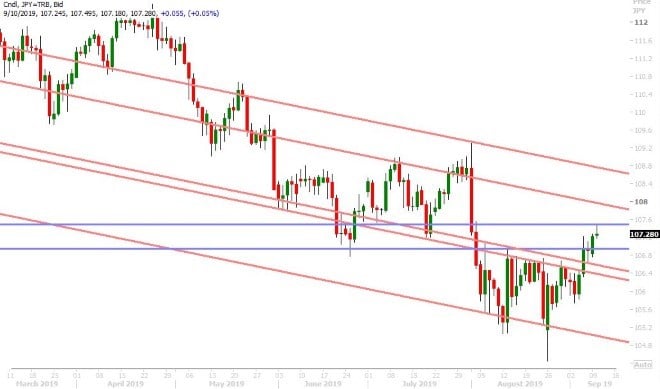 USDJPY HOURLY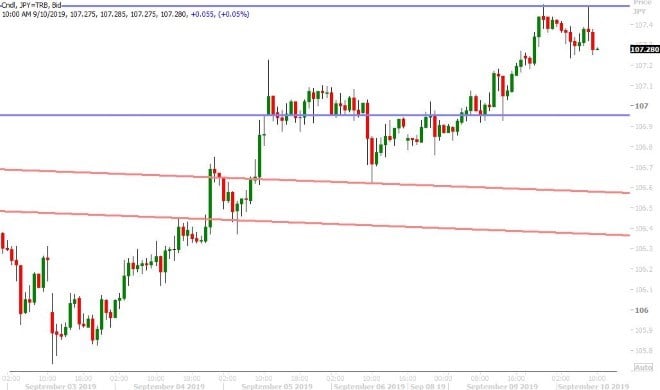 GERMAN 10YR BUND YIELD DAILY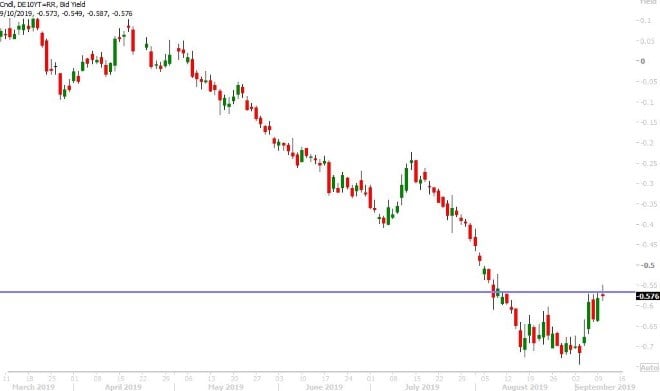 Charts: Reuters Eikon
---
About the Author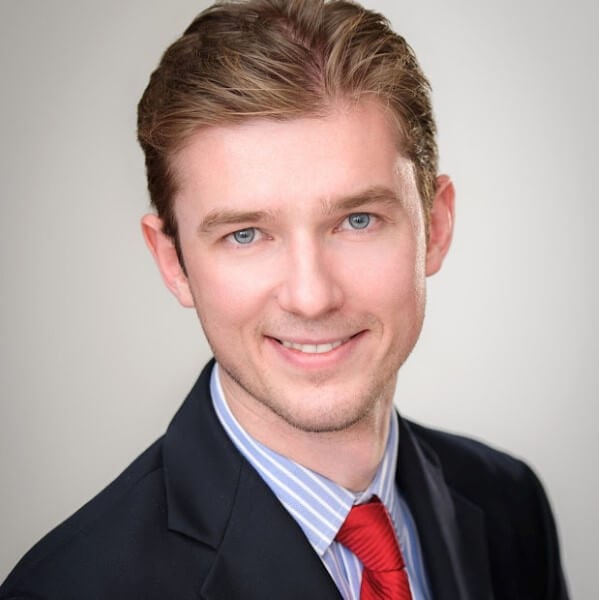 About Currency Exchange International
Currency Exchange International, CXI, is the leading provider of comprehensive foreign exchange services, risk management solutions and integrated international payments processing technology in North America. CXI's relationship-driven approach ensures clients receive tailored solutions and world-class customer service. Through innovative and trusted FX software platforms, CXI delivers versatile foreign exchange services to our clients, so that they can efficiently manage and streamline their foreign currency and global payment needs. CXI is a trusted partner among financial institutions, corporations and retail markets around the world. To learn more, visit: www.ceifx.com
This publication has been prepared by Currency Exchange International for informational and marketing purposes only. Opinions, estimates and projections contained herein are our own as of the date hereof and are subject to change without notice. The information and opinions contained herein have been compiled or arrived at from sources believed reliable, but no representation or warranty, express or implied, is made as to their accuracy or completeness and neither the information nor the forecast shall be taken as a representation for which Currency Exchange International, its affiliates or any of their employees incur any responsibility. Neither Currency Exchange International nor its affiliates accept any liability whatsoever for any loss arising from any use of this information. This publication is not, and is not constructed as, an offer to sell or solicitation of any offer to buy any of the currencies referred to herein, nor shall this publication be construed as an opinion as to whether you should enter into any swap or trading strategy involving a swap or any other transaction. The general transaction, financial, educational and market information contained herein is not intended to be, and does not constitute, a recommendation of a swap or trading strategy involving a swap within the meaning of U.S. Commodity Futures Trading Commission Regulation 23.434 and Appendix A thereto. This material is not intended to be individually tailored to your needs or characteristics and should not be viewed as a "call to action" or suggestion that you enter into a swap or trading strategy involving a swap or any other transaction. You should note that the manner in which you implement any of the strategies set out in this publication may expose you to significant risk and you should carefully consider your ability to bear such risks through consultation with your own independent financial, legal, accounting, tax and other professional advisors. All Currency Exchange International products and services are subject to the terms of applicable agreements and local regulations. This publication and all information, opinions and conclusions contained in it are protected by copyright. This information may not be reproduced in whole or in part, or referred to in any manner whatsoever nor may the information, opinions and conclusions contained in it be referred to without the prior express written consent of Currency Exchange International.