Germany's manufacturing PMI prints a new 10yr low this morning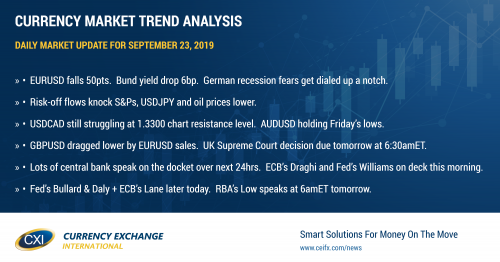 Take control of your international payments with CXI FX Now.
• Zero transfer fees & great rates
• Fast international payments
• Safety and security
• Unparalleled customer service
• Consultative approach
Learn more about CXI's international payment services for businesses or call our trading desk directly at 1-833-572-8933.
Get real-time market coverage on twitter at @EBCTradeDesk or sign up here.
SUMMARY
EURUSD falls 50pts.  Bund yield drop 6bp.  German recession fears get dialed up a notch.
Risk-off flows knock S&Ps, USDJPY and oil prices lower.
USDCAD still struggling at 1.3300 chart resistance level.  AUDUSD holding Friday's lows.
GBPUSD dragged lower by EURUSD sales.  UK Supreme Court decision due tomorrow at 6:30amET.
Lots of central bank speak on the docket over next 24hrs.  ECB's Draghi and Fed's Williams on deck this morning.
Fed's Bullard & Daly + ECB's Lane later today.  RBA's Low speaks at 6amET tomorrow.
ANALYSIS
USDCAD
Global growth concerns are once again top of mind for traders this morning after Germany's flash manufacturing PMI for September was reported much weaker than market expectations (41.4 vs 44.0).  This headline saw German bund yields and EURUSD move swiftly lower, and it also contributed to a wider "risk-off" mood that helped lift the broader USD and USDCAD higher in the European AM.  Sellers are pouncing once again though at the 1.3300 level (Friday's highs) as NY trade gets underway.  Today's North American economic calendar doesn't feature anything notable for markets, but traders will have some Fed-speak to digest (Williams at 9:50amET, Bullard at 1pmET and Daly at 2:30pmET).  We'll be paying close attention to the comments from Williams, as he heads the NY Fed which had to conduct three emergency repo operations last week.  Funding markets appear to behaving normally this morning though, with the GC overnight repo rate trading at 1.95% and effective fed funds trading at 1.90%, which is 10bp below the Fed's target ceiling of 2%.  The leveraged funds at CME added to their net short USDCAD position during the week ending Sep 17, and they did this by liquidating longs and adding fresh shorts.  We think they'll continue to feel comfortable so long as the 1.3300 level continues to resist to the upside, but we're keeping our eye out on FX seasonals (which tend to help USD around this time of year) and the potential for crude oil prices to close their historic chart gap from Sep 15 as two factors that could renew upward pressure on USDCAD at some point over the next week or two.
USDCAD DAILY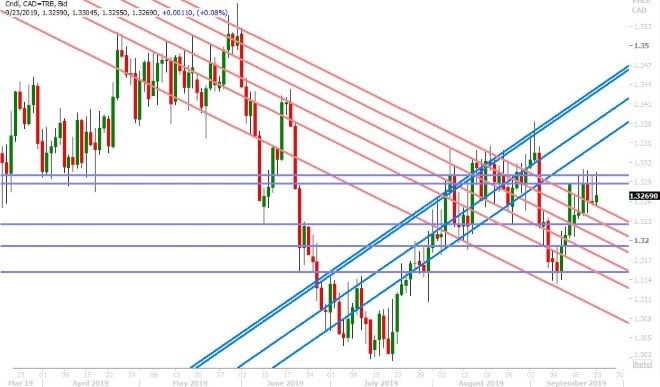 USDCAD HOURLY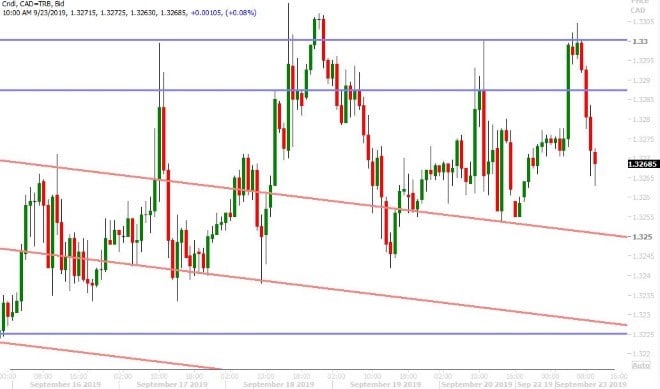 OCT CRUDE OIL DAILY
EURUSD
Euro/dollar is taking it on the chin this morning as Germany's manufacturing PMI dropped to a new 10yr low this morning.  The nation's services PMI also came in below consensus (52.5 vs 54.3), which had the effect of knocking the overall Composite PMI below 50 (which means contraction) for the first time since April 2013.  The market tested trend-line chart resistance in the 1.1020s during Asian trade last night but then fell precipitously below chart support in the 1.0990s following the release.  The German bund yield followed suit, falling 6bp to -0.58%.  Needless to say, recession fears in Germany have just been dialed up a notch, but traders are trying to get the market back above chart support as NY trade gets underway today, as chatter about a massive option expiry makes the rounds (5blnEUR at 1.1000 for Thursday).  Mario Draghi is expected to speak twice before European Parliament this morning (9am and 11amET) and we'll also be hearing from the ECB's Philip Lane at a conference around 1pmET.  The leveraged funds at CME increased their net short EURUSD position during the week ending Sep 17, and they did this largely by liquidating long positions ahead of the Fed meeting.  Germany will report its September IFO survey tomorrow morning at 4amET.
EURUSD DAILY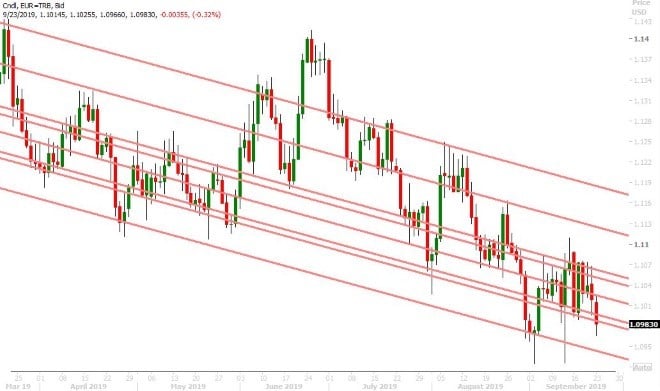 EURUSD HOURLY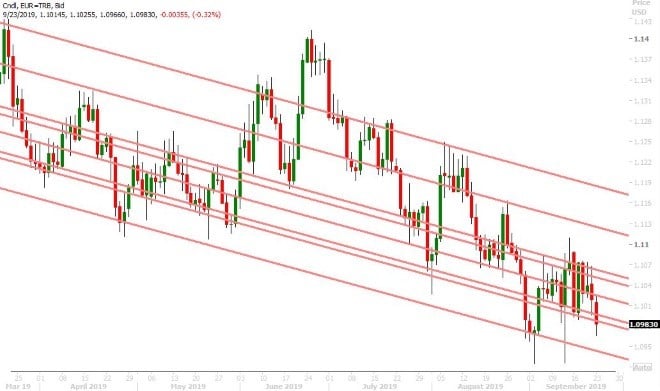 DEC GOLD DAILY
---
GBPUSD
Sterling is having a miserable start to the week, and we think it all started with Friday's disappointing NY close back below the 1.2500 breakout level.  This technical development put the sellers back in charge near term and gave them confidence in our opinion to piggy back on EURUSD sales following the weak flash PMI data out of Germany this morning.  The UK Supreme Court has just announced it will release its judgement on the lawfulness of Boris Johnson's proroguing of parliament at 6:30amET tomorrow morning.  If the UK PM losses this appeal, he may be forced to recall parliament back into session earlier than October 14th.  GBPUSD is now wrestling with trend-line chart support in the 1.2420s and we think there's a good chance the market falls further to test 1.2390-1.2400.  The leveraged funds at CME seemed to abandon both long and short positions during the September-to-December futures rollover (open interest down 50k contracts), but they still remain net short GBPUSD to the tune of 86k contracts.
GBPUSD DAILY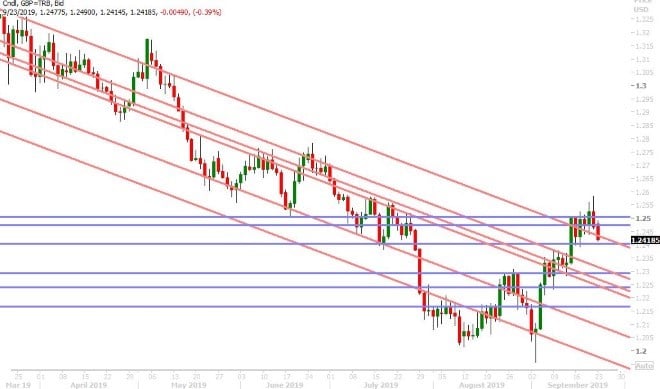 GBPUSD HOURLY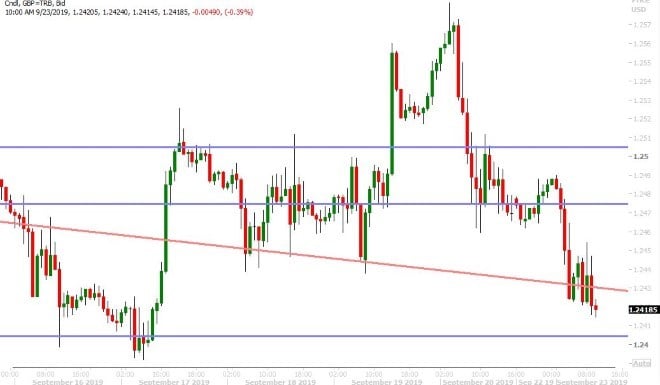 EURGBP DAILY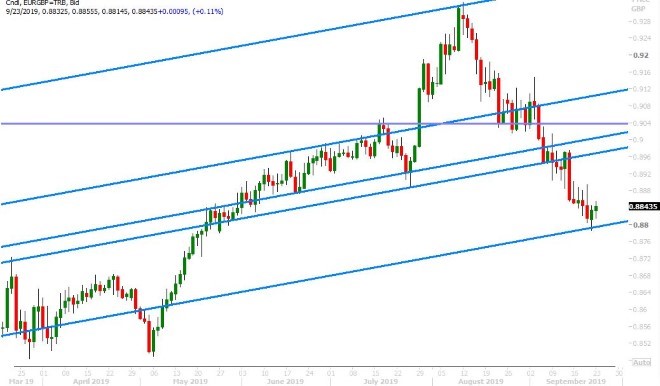 ---
AUDUSD
The Aussie continues to languish as we start a new week, and today's move lower in EURUSD is certainly not helping in our opinion.  The saving grace, if we can find one, is that AUDUSD has yet to take out its Friday lows, but we think this will just be a matter of time.  With this week's economic calendar devoid of major Australian economic reports, we think the focus for traders will quickly turn to tomorrow morning's 6amET speech from RBA governor Philip Lowe.  The OIS market is pricing in an 81% chance that the Reserve Bank of Australia cuts overnight interest rates by 25bp on Oct 1.  The leveraged funds at CME hastily covered their net short AUDUSD during the week ending Sep 17, and we bet they're kicking themselves now considering the market has dropped 100pts since then.
AUDUSD DAILY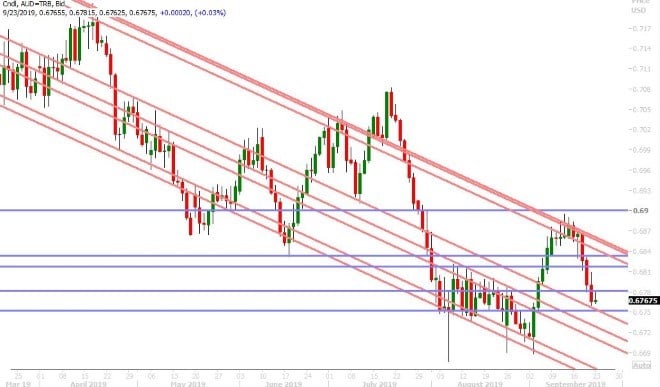 AUDUSD HOURLY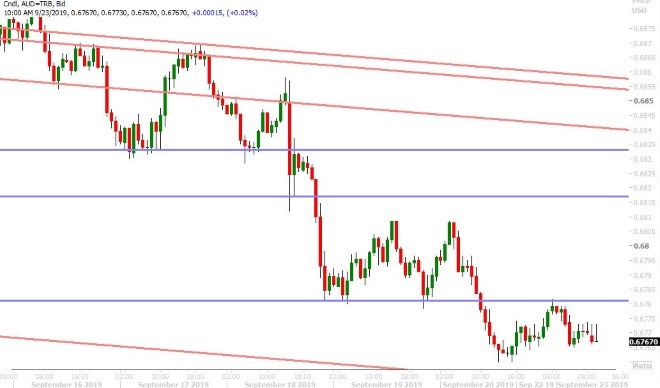 USDCNH DAILY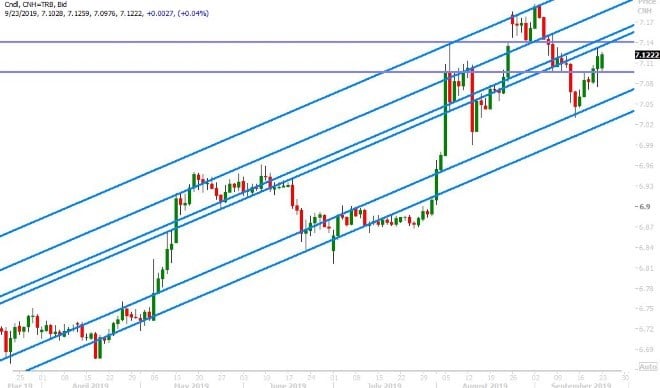 ---
USDJPY
Dollar/yen is showing its sensitivity to "risk-off" flows this morning, and we think the Friday afternoon move below chart support in the 107.70s was a harbinger to that.  Two attempts were made to regain this level in quiet Asian trade last night (with Japan on holiday), but the second attempt ultimately failed after the dismal flash PMIs came out of Germany.  The European session saw support at 107.50 give way, but traders are now trying to regain it.  The US 10yr yield is also trying to find support at the 1.69-1.70% level after it followed German bund yields lower earlier.  The leveraged funds at CME reduced their net short USDJPY position marginally during last week's September-to-December futures rollover.
USDJPY DAILY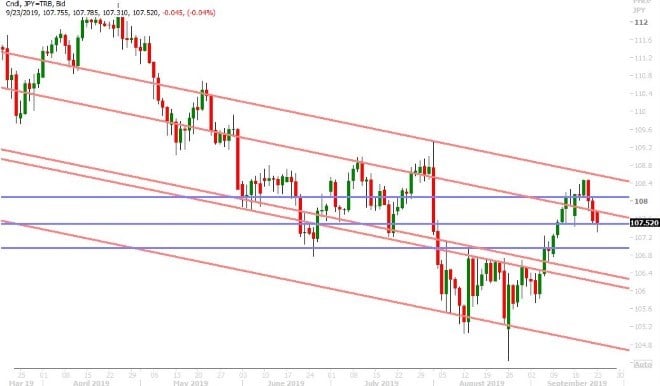 USDJPY HOURLY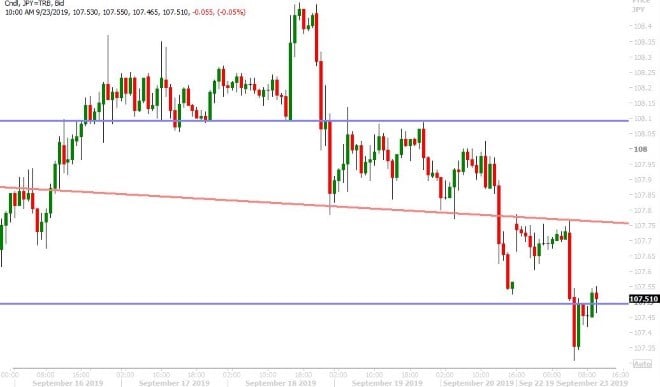 US 10YR BOND YIELD DAILY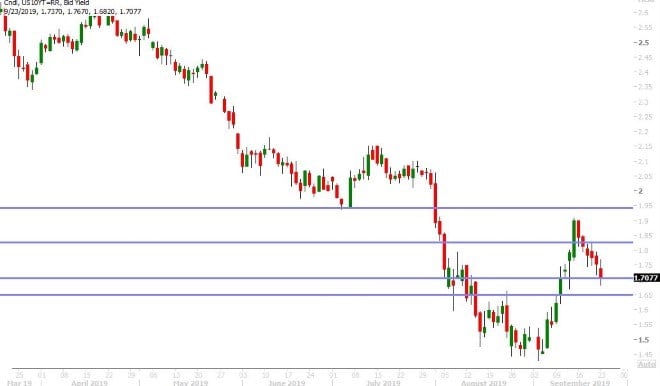 Charts: Reuters Eikon
---
About the Author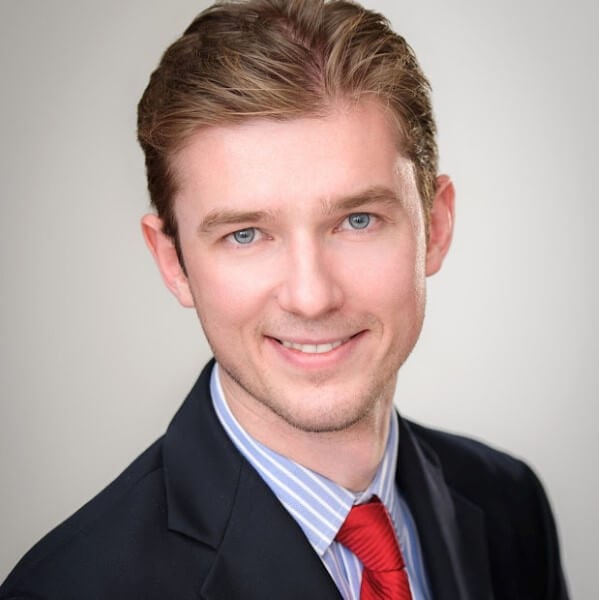 About Currency Exchange International
Currency Exchange International, CXI, is the leading provider of comprehensive foreign exchange services, risk management solutions and integrated international payments processing technology in North America. CXI's relationship-driven approach ensures clients receive tailored solutions and world-class customer service. Through innovative and trusted FX software platforms, CXI delivers versatile foreign exchange services to our clients, so that they can efficiently manage and streamline their foreign currency and global payment needs. CXI is a trusted partner among financial institutions, corporations and retail markets around the world. To learn more, visit: www.ceifx.com
This publication has been prepared by Currency Exchange International for informational and marketing purposes only. Opinions, estimates and projections contained herein are our own as of the date hereof and are subject to change without notice. The information and opinions contained herein have been compiled or arrived at from sources believed reliable, but no representation or warranty, express or implied, is made as to their accuracy or completeness and neither the information nor the forecast shall be taken as a representation for which Currency Exchange International, its affiliates or any of their employees incur any responsibility. Neither Currency Exchange International nor its affiliates accept any liability whatsoever for any loss arising from any use of this information. This publication is not, and is not constructed as, an offer to sell or solicitation of any offer to buy any of the currencies referred to herein, nor shall this publication be construed as an opinion as to whether you should enter into any swap or trading strategy involving a swap or any other transaction. The general transaction, financial, educational and market information contained herein is not intended to be, and does not constitute, a recommendation of a swap or trading strategy involving a swap within the meaning of U.S. Commodity Futures Trading Commission Regulation 23.434 and Appendix A thereto. This material is not intended to be individually tailored to your needs or characteristics and should not be viewed as a "call to action" or suggestion that you enter into a swap or trading strategy involving a swap or any other transaction. You should note that the manner in which you implement any of the strategies set out in this publication may expose you to significant risk and you should carefully consider your ability to bear such risks through consultation with your own independent financial, legal, accounting, tax and other professional advisors. All Currency Exchange International products and services are subject to the terms of applicable agreements and local regulations. This publication and all information, opinions and conclusions contained in it are protected by copyright. This information may not be reproduced in whole or in part, or referred to in any manner whatsoever nor may the information, opinions and conclusions contained in it be referred to without the prior express written consent of Currency Exchange International.