How Much Currency You Need to go on Vacation to Cape Town, South Africa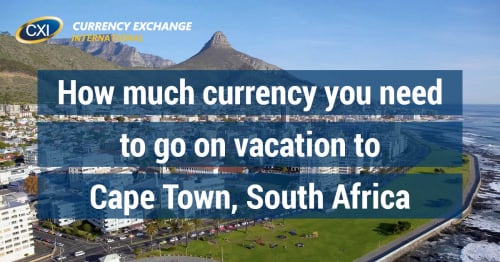 Ordering South African rand is easy with OnlineFX.
Planning your trip to Cape Town? Know how much currency you need to make sure you have a great trip! Don't forget to check out our guide for your stay in Hong Kong, too.

Transportation
In our how much currency to bring abroad chart, you'll see a 10-mile cab ride is on average about $2.49 in South Africa. Having this information on hand will give you a good idea of how much you would need to get around the city.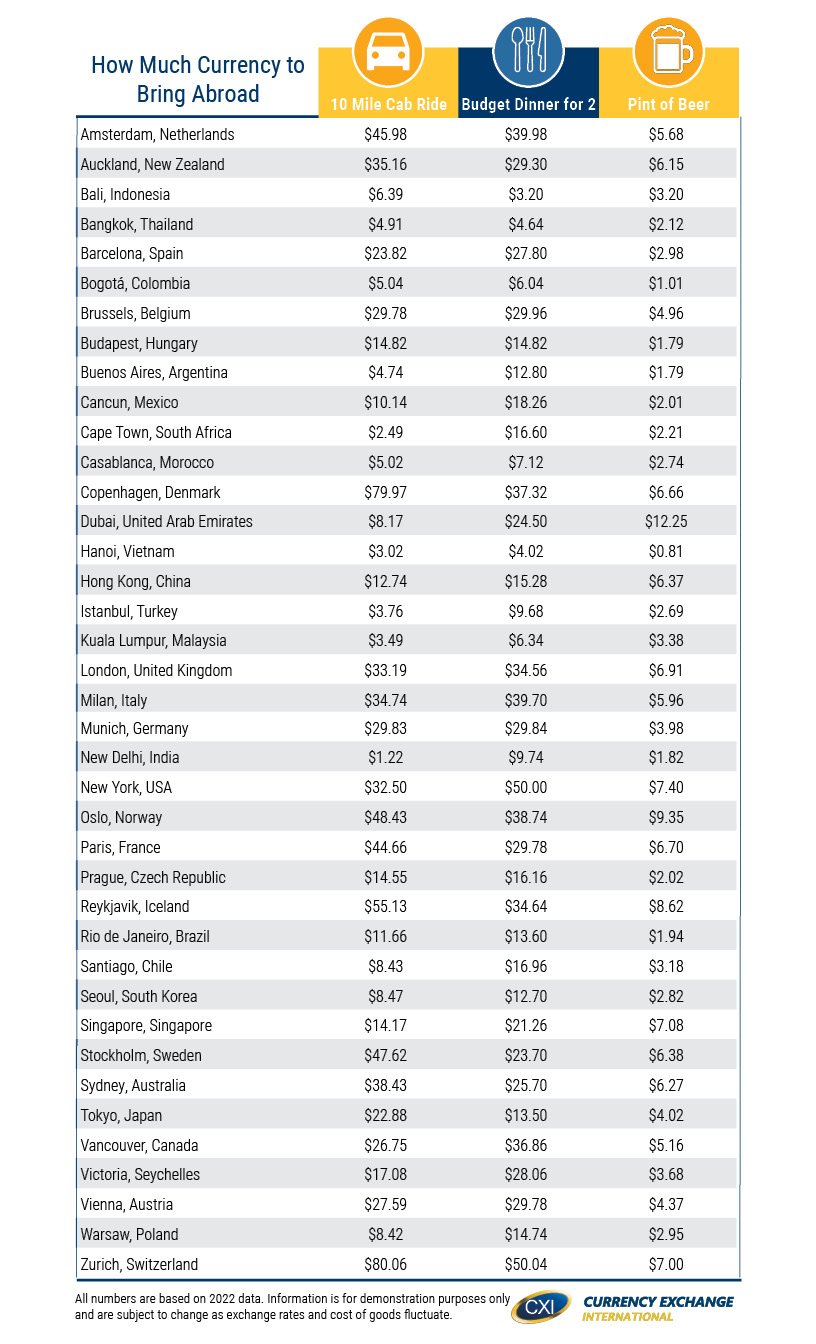 Food
When it comes to the food in Cape Town, expect the finest South African dishes full of meat, samoosas, pilau rice, and more. As shown in our how much currency to bring abroad chart above, it costs on average $16.60 for a budget dinner for two in Cape Town. If you want to include some beverages, on average you're looking at about $2.21 for a pint of beer.
For some of the best food in Cape Town, we recommend GOLD Restaurant. Their menu consists of several great modern takes on South African cuisine, such as seared ostrich salad, Vetkoek (fried dough stuffed with minced meat), and crispy Lamb and Springbok Samoosa pastries. South Africa is also well known for some great contemporary French and Mediterranean restaurants.

Currency: South African Rand ZAR
The South African rand (ZAR) has six different coin denominations: 1, 2, 5, 10, 20, and 50 cents in addition to 1, 2, and 5 rand coins in circulation. However, we don't exchange these.
For banknotes, the South African Rand, like their coins, has six different denominations of notes: 10, 20, 50, 100, 200, and 1,000. Also, be sure to keep an eye out for the beautiful notes the South African Reserve Bank created to celebrate Nelson Mandela.
The notes, referred to as "Randelas" by South Africans, were designed back in 2012 and showcase the image of Mandela, along with symbolic images of peace to honor his dedication to establishing equality and democracy throughout South Africa.
If you have leftover rand after your trip to South Africa, CXI will buy them back from you. If you originally received this foreign currency from CXI, then with the currency receipt we do not have any exchange fee to buy it back! Order your South African rands now.

Flights
Round-trip tickets to South Africa for two typically range from about $818 USD to about $5,803 USD, depending on where you leave from, the airline you fly with, and when you are taking your trip, according to Expedia.
According to Cheap Flights, the best time of the year to travel to Cape Town is in February. Remember, when traveling to South Africa that southern hemisphere rules apply.
Don't forget before you book that flight, check out everything you need to know about the five trusted travelers programs in our video.

Vacation rentals
Hotels in Cape Town vary greatly from rooms that go for $42 dollars a night to $1,398. Why not skip out on those varying prices and enjoy a penthouse for $98 a night instead? Check out some of the best and most unique super host places to stay from Airbnb in beautiful, Cape Town, South Africa.


About Currency Exchange International
Currency Exchange International (CXI) is a leading provider of foreign currency exchange services in North America for financial institutions, corporations and travelers. Products and services for international travelers include access to buy and sell more than 90 foreign currencies, traveler's cheques and gold bullion coins and bars. For financial institutions and corporations, our services include the exchange of foreign currencies, international wire transfers, global EFT, the purchase and sale of foreign bank drafts, international traveler's cheques, and foreign cheque clearing through the use of CXI's innovative CEIFX web-based FX software www.ceifx.com