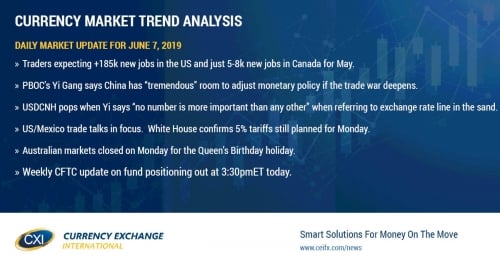 SUMMARY
Traders expecting +185k new jobs in the US and just 5-8k new jobs in Canada for May.
PBOC's Yi Gang says China has "tremendous" room to adjust monetary policy if the trade war deepens.
USDCNH pops when Yi says "no number is more important than any other" when referring to exchange rate line in the sand.
US/Mexico trade talks in focus.  White House confirms 5% tariffs still planned for Monday.
Australian markets closed on Monday for the Queen's Birthday holiday.
Weekly CFTC update on fund positioning out at 3:30pmET today.
ANALYSIS
USDCAD
Everything turned sour for USDCAD yesterday after EURUSD made a run for the 1.1300 after the ECB meeting.  This saw the market lose chart support at the 1.3400 and it was a slow drip down to Fibonacci chart support in the 1.3370s after that.  Conflicting headlines about the possible delay to Mexico tariffs on Monday then sent US equities and oil prices rallying into the close.  This pressured USDCAD even further, leading to NY closing print below the important 1.3370 level.  We think this largely explains the dribble drab lower in overnight trade today, but traders aren't do much of anything more broadly ahead of the US non-farm payrolls report for May at 8:30amET.  Wednesday's dismal ADP employment report is leading many to believe the BLS report will disappoint the street's 185k estimate for US job growth this morning.  The expectation for wage growth is +0.3% MoM and +3.2% YoY, and markets are looking for 3.6% on the unemployment rate.  We're also going to get the Canadian employment report at 8:30amET, where traders are expecting +2.4% YoY wage growth and just 5-8k new jobs for the month of May (and we think potentially some negative revisions after April's record breaking number).  We think there's a possibility chart support in the 1.3315-30s gets tested should we get a weak US/strong Canadian result, but we would expect to see buyers emerge there.  A strong US/weak Canadian result would be bullish USDCAD, and we would expect the 1.3400-1.3415 level to get attacked to the upside in short order.  
USDCAD DAILY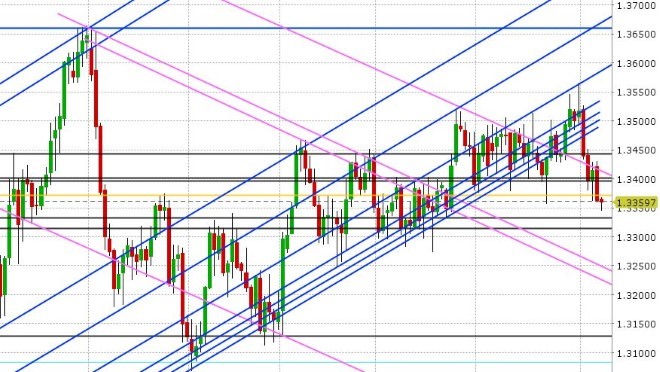 USDCAD HOURLY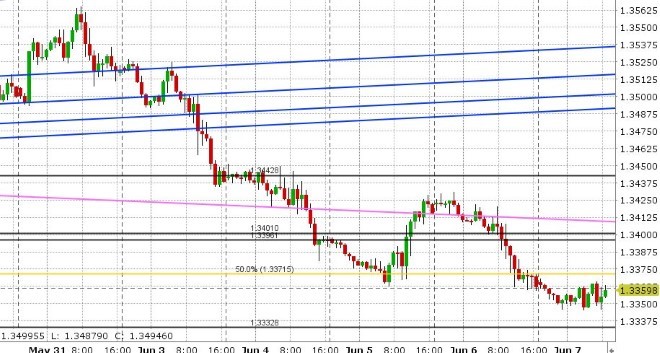 JUL CRUDE OIL DAILY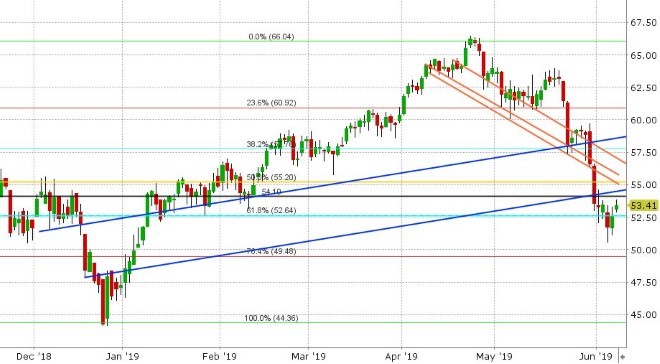 ---
EURUSD
Euro/dollar trended higher for most of the rest of NY trade yesterday after traders fully digested the thought of ECB being less dovish than the Fed heading into next year.  The pop to risk assets however, after the headlines regarding a contemplated delay to Mexico tariffs, derailed the market's upward momentum and saw EURUSD close below the 1.1280 (which we think was a little disappointing technically for longs).  Bloomberg interview PBOC Governor Yi Gang, who said China's central bank has "tremendous" room to adjust monetary policy if the trade war deepens.  When asked about a possible line in the sand regarding the Yuan exchange rate, he said "no number is more important than any other".  Traders broke the USDCNH market out above the 6.9500 level in response during illiquid overnight trade (Chinese markets closed for the Dragon Boat Festival holiday), but the gains have been tempered now as everyone awaits US non-farm payrolls.  An absolutely massive amount of options roll off the board this morning at 10amET in EURUSD (8.6blnEUR+ between 1.1200 and 1.1325, with 3.4bln at the 1.1250-60 area alone), which means we could have whippy/non-direction price action post NFPs at the end of the day.
EURUSD DAILY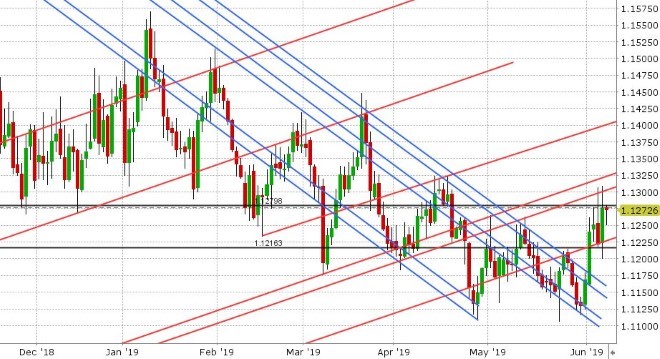 EURUSD HOURLY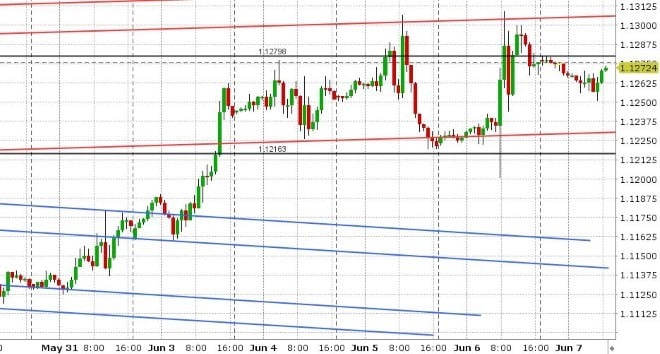 USDCNH DAILY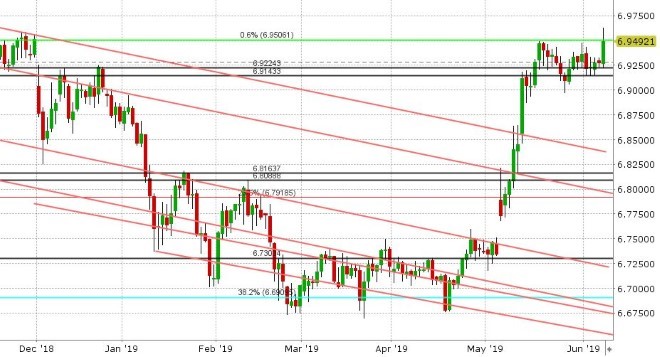 ---
GBPUSD
Sterling is catching a slight bid today, which is expected to be Theresa May's last day in office, but we're still trading largely within a choppy range that's been dictated by two downward sloping trend-lines, now in the 1.2690s to 1.2710s.  Expect a rally into the 1.2770s potentially should the US non-farm payrolls disappoint and EURUSD rally.  Conversely, expect selling into the 1.2670s should the numbers beat.
GBPUSD DAILY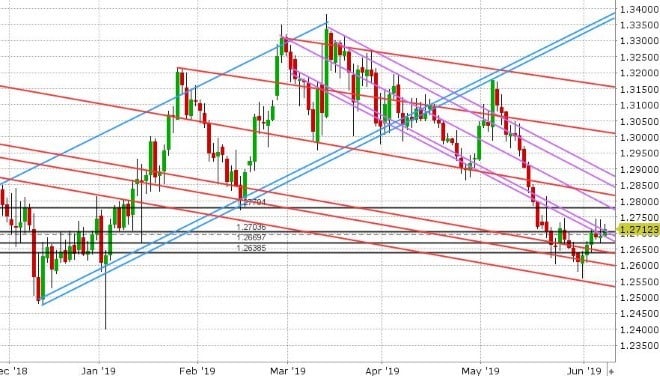 GBPUSD HOURLY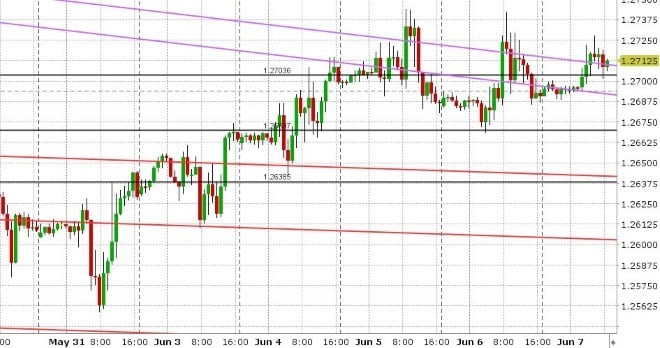 EURGBP DAILY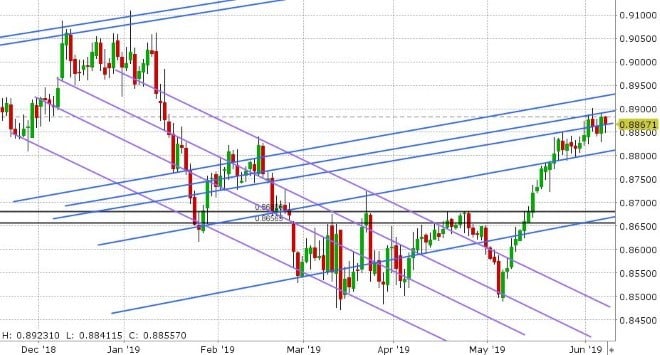 ---
AUDUSD
The Australian dollar continues to drift within Thursday's quiet 0.6960-0.6980s range.  July's copper is once again in sell mode, trading down 1% on the session at this hour.  We think EURUSD's reaction to the US payrolls data will dictate AUDUSD's price action to close out the week.  Australian markets will be closed on Monday for the Queen's Birthday holiday.  After that, we'll get the NAB survey for May (Monday night ET), the Westpac Consumer Confidence report for June (Tuesday night ET), and the Australian Employment Report for May (Wednesday night ET).  The CFTC reports its updated weekly read on the leveraged fund AUDUSD net short position at 3:30pmET today.
AUDUSD DAILY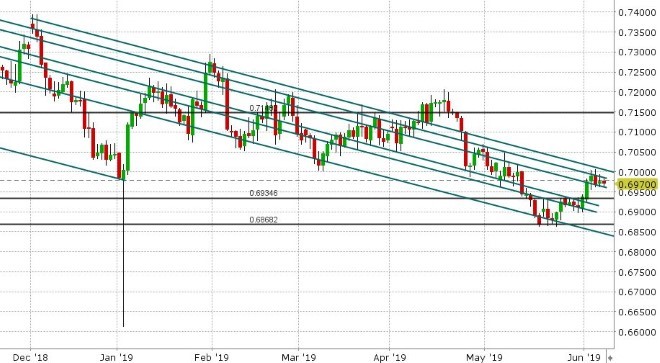 AUDUSD HOURLY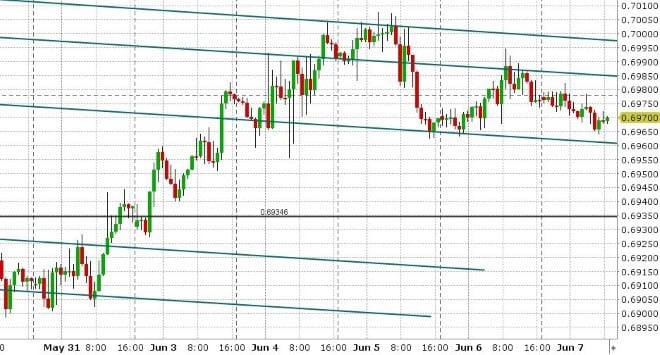 JUL COPPER DAILY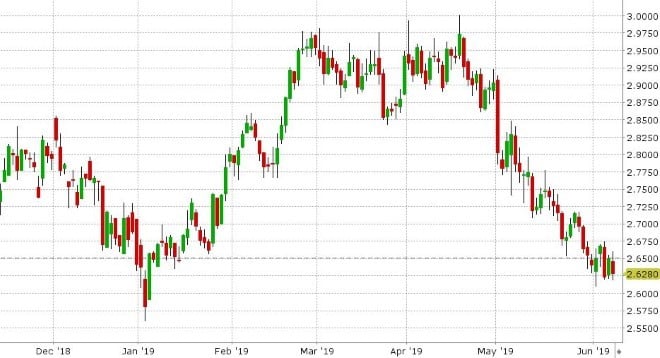 ---
USDJPY
Dollar/yen inched higher to trend-line chart resistance in the 108.50s this morning as gold prices edged lower in early European trade, but all this is reversing now as traders await the much anticipated US jobs report.  We think the bond/gold market reaction will be more important, as this has been the driver for USDJPY of late (not so much the S&P futures).  We think traders will also be watching developments as it pertains to US/Mexico trade talks.   A strong move above the 108.50s would open up the door for a move to the 109 level in our opinion. 
USDJPY DAILY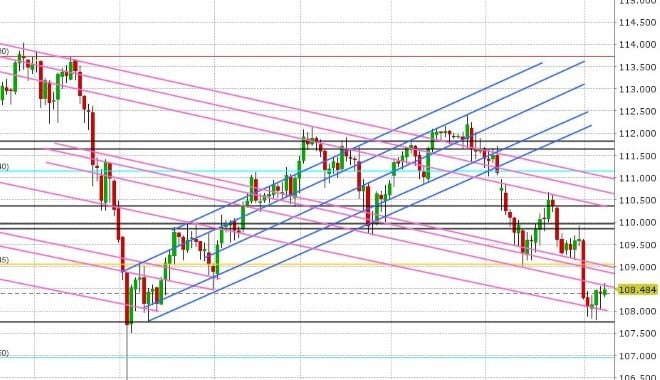 USDJPY HOURLY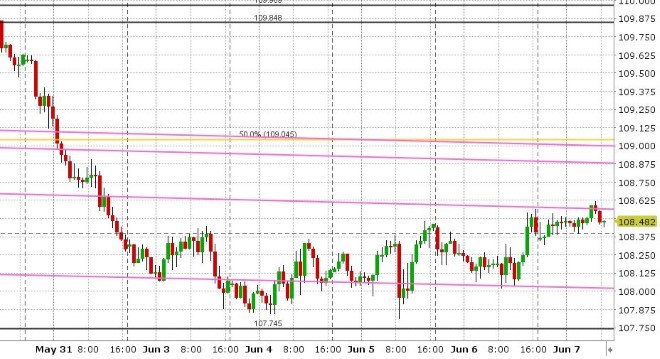 AUG GOLD DAILY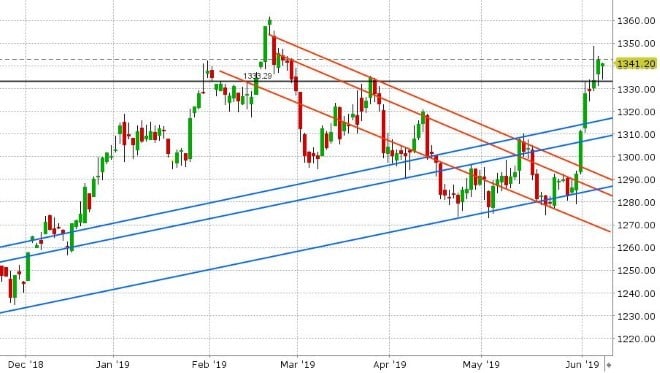 Charts: TWS Workspace
---
About the Author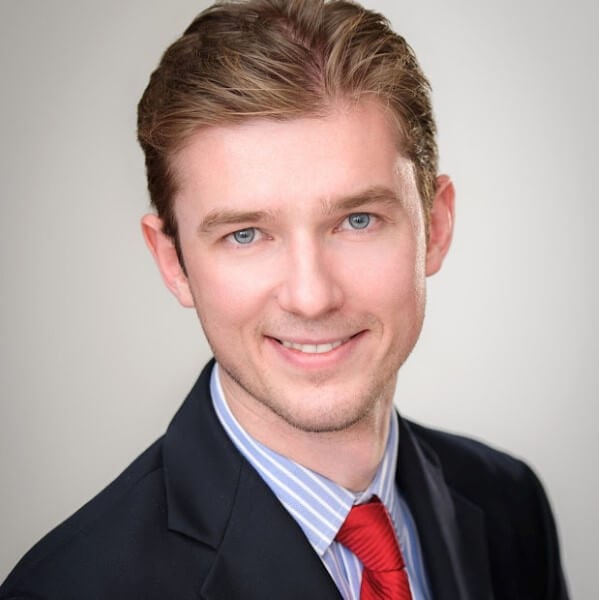 About Currency Exchange International
Currency Exchange International, CXI, is the leading provider of comprehensive foreign exchange services, risk management solutions and integrated international payments processing technology in North America. CXI's relationship-driven approach ensures clients receive tailored solutions and world-class customer service. Through innovative and trusted FX software platforms, CXI delivers versatile foreign exchange services to our clients, so that they can efficiently manage and streamline their foreign currency and global payment needs. CXI is a trusted partner among financial institutions, corporations and retail markets around the world. To learn more, visit: www.ceifx.com
This publication has been prepared by Currency Exchange International for informational and marketing purposes only. Opinions, estimates and projections contained herein are our own as of the date hereof and are subject to change without notice. The information and opinions contained herein have been compiled or arrived at from sources believed reliable, but no representation or warranty, express or implied, is made as to their accuracy or completeness and neither the information nor the forecast shall be taken as a representation for which Currency Exchange International, its affiliates or any of their employees incur any responsibility. Neither Currency Exchange International nor its affiliates accept any liability whatsoever for any loss arising from any use of this information. This publication is not, and is not constructed as, an offer to sell or solicitation of any offer to buy any of the currencies referred to herein, nor shall this publication be construed as an opinion as to whether you should enter into any swap or trading strategy involving a swap or any other transaction. The general transaction, financial, educational and market information contained herein is not intended to be, and does not constitute, a recommendation of a swap or trading strategy involving a swap within the meaning of U.S. Commodity Futures Trading Commission Regulation 23.434 and Appendix A thereto. This material is not intended to be individually tailored to your needs or characteristics and should not be viewed as a "call to action" or suggestion that you enter into a swap or trading strategy involving a swap or any other transaction. You should note that the manner in which you implement any of the strategies set out in this publication may expose you to significant risk and you should carefully consider your ability to bear such risks through consultation with your own independent financial, legal, accounting, tax and other professional advisors. All Currency Exchange International products and services are subject to the terms of applicable agreements and local regulations. This publication and all information, opinions and conclusions contained in it are protected by copyright. This information may not be reproduced in whole or in part, or referred to in any manner whatsoever nor may the information, opinions and conclusions contained in it be referred to without the prior express written consent of Currency Exchange International.