Positive Brexit comments from Angela Merkel leads to broad USD sales yesterday. FOMC Minutes on deck.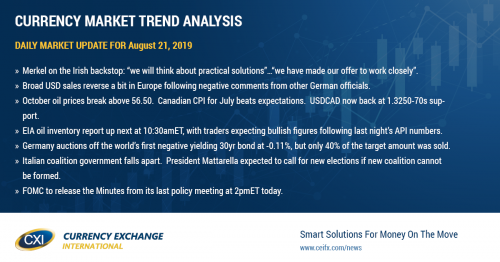 Take control of your international payments with CXI FX Now.
• Zero transfer fees & great rates
• Fast international payments
• Safety and security
• Unparalleled customer service
• Consultative approach
Learn more about CXI's international payment services for businesses or call our trading desk directly at 1-833-572-8933.
Get real-time market coverage on twitter at @EBCTradeDesk or sign up here.
SUMMARY
•
Merkel on the Irish backstop: "we will think about practical solutions"…"we have made our offer to work closely".
•
Broad USD sales reverse a bit in Europe following negative comments from other German officials.
•
October oil prices break above 56.50.  Canadian CPI for July beats expectations.  USDCAD now back at 1.3250-70s support.
•
EIA oil inventory report up next at 10:30amET, with traders expecting bullish figures following last night's API numbers.
•
Germany auctions off the world's first negative yielding 30yr bond at -0.11%, but only 40% of the target amount was sold.
•
Italian coalition government falls apart.  President Mattarella expected to call for new elections if new coalition cannot be formed. 
•
FOMC to release the Minutes from its last policy meeting at 2pmET today.
ANALYSIS
USDCAD
It was a tug of war for USDCAD traders at familiar trend-line resistance in the 1.3330s yesterday.  Some selling in the stock and oil markets ignited some broad USD buying early on, but a positive sounding Brexit headline from Germany's Angela Merkel lit a fire under the British pound and caused the broader USD to screech lower after that.  The USDCAD market put in a technically weak NY close by falling below this aforementioned trend-line and the overnight session saw some follow-through selling after October crude oil prices burst above chart resistance in the 56.50s.  Oil traders are feeling a bit more optimistic this morning following last night's larger than expected return to inventory draws in the weekly API report (-3.5M barrels vs -3.1M expected).  There's also a hint of broad "risk-on" flows in the marketplace this morning as global bond yields tick higher ahead of today FOMC Minutes release at 2pmET.  Canada has just released its CPI report for the month of July and the numbers beat expectations (+0.5% MoM vs +0.2% exp and +2.0% vs +1.7% exp).  Traders are now taking USDCAD lower to test familiar trend-line support in the 1.3250-70s as this news technically gives reason for the Bank of Canada to be less dovish than expected when it meets next on September 4th.  The question in our minds is -- is the Bank of Canada really data dependent anymore?  The Fed certainly is not, and we're curious to see if the Canadian central bank decides to follow global bond markets here, which continue to price in increasing money market liquidity risks in our opinion.  Next up is the weekly EIA oil inventory report at 10:30amET, where traders are expecting a 1.8M barrel draw.  We think USDCAD continues to trade with a choppy, directionless tone until we see a firm NY close above the 1.3330s or below the 1.3250s.
USDCAD DAILY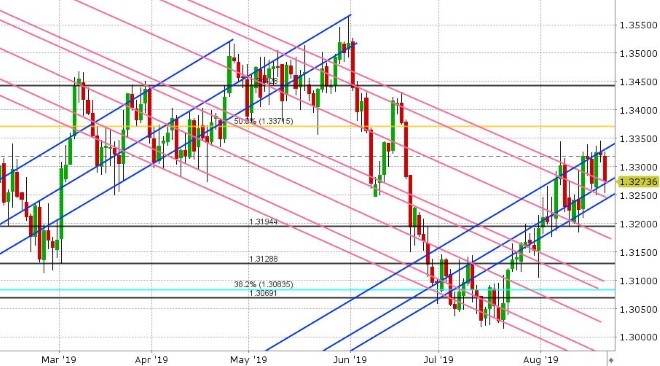 USDCAD HOURLY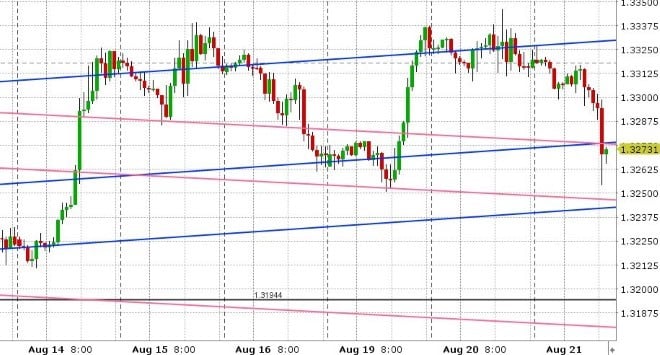 OCT CRUDE OIL DAILY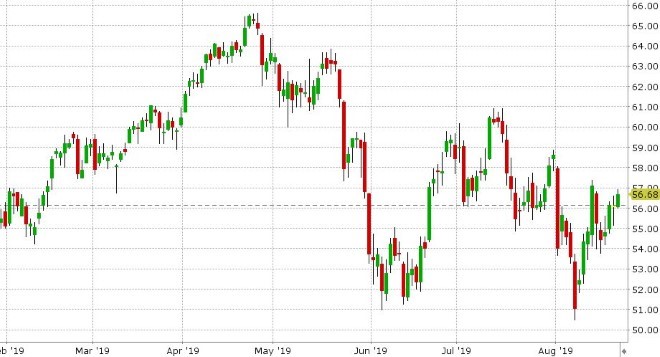 EURUSD
Sterling's explosive rally following yesterday's Brexit headlines from Angela Merkel rescued the EURUSD market in our opinion.  The market was on course to test the next major support area in the 1.1050s, but then the German Chancellor said "we will think about practical solutions" [when speaking about the Irish backstop] and that "we have made our offer to work closely" [with the UK], and with that the market shot up and regained familiar, downward sloping, trend-line support (now in the 1.1090s).  The positive momentum has stalled though in overnight trade today following some negative Brexit comments from other German officials.  Germany's President Steinmeier said "I don't think it is likely that negotiations regarding the backstop will get going again" and Germany's Finance minister said "we have a Brexit deal and no one should expect changes to that".  The market is also digesting a poor German 30yr bond auction today.  Germany auctioned off the world's first negative yielding 30yr bond at -0.11%, but unsurprisingly only managed to sell 824M EUR of the 2bln EUR targeted, as so bond traders have been calling this a failed auction for all tense and purposes this morning.  Negative developments on the Italian political front are also on traders minds this morning (although not to a significant extent) following yesterday's resignation of Italian Prime Minister Giuseppe Conte.  The Italian President Mattarella will now meet with the leaders of the major political parties to see if a new coalition government can be formed, and if that fails he'll be forced to dissolve parliament and call for new elections (mostly likely in the fall).  We think the 1.1090s remains the pivot for near term price action in EURUSD, and we think we might get another catalyst at 2pmET today, when the FOMC releases the Minutes from its last policy meeting.
EURUSD DAILY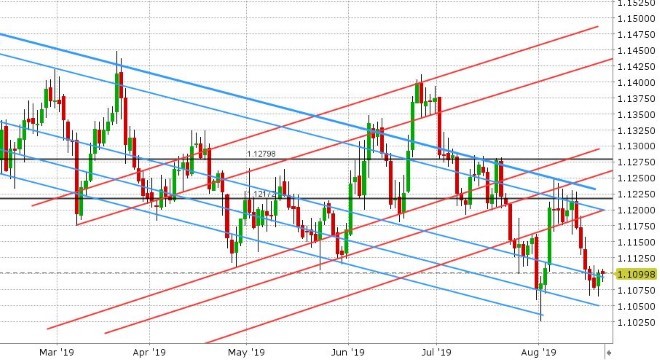 EURUSD HOURLY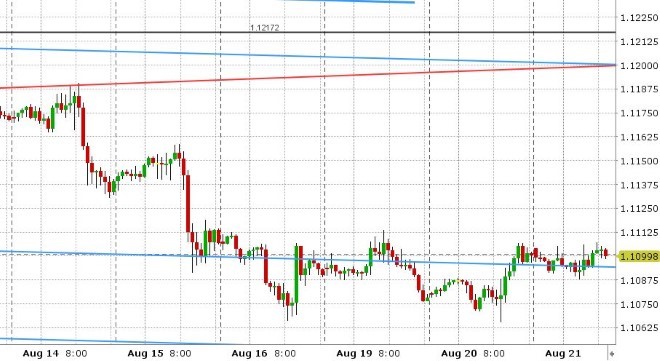 DEC GOLD DAILY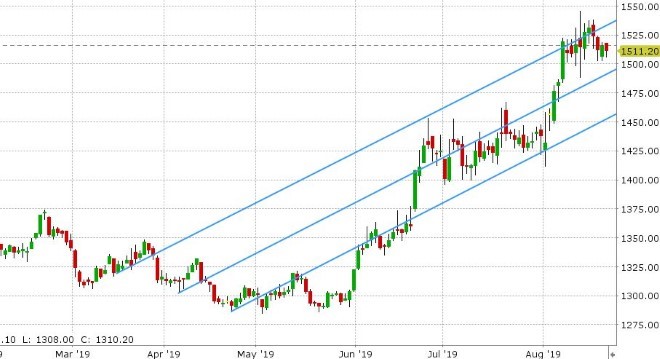 ---
GBPUSD
Are UK and EU officials actually talking?  Is the EU actually willing to talk about the Irish backstop?  A whole bout of confusion has entered the marketplace following yesterday's positive sounding comments from Germany's Angela Merkel.  Fund shorts appeared to rush for the exits in GBPUSD during NY trade yesterday, taking the market above Monday and Tuesday's trend-line resistance level in the 1.2150s, but they've appeared to regain their confidence this morning following comments from other German officials that suggest nothing has really changed.  While yesterday's NY close was positive technically, we think the lack of follow-through higher today and the market's inability to take out last Friday's highs in the 1.2170s should keep the fund shorts in charge for the time being.  We see chart support today at the 1.2110s, but there's not much else beneath there until the 1.2040-60s in our opinion.
GBPUSD DAILY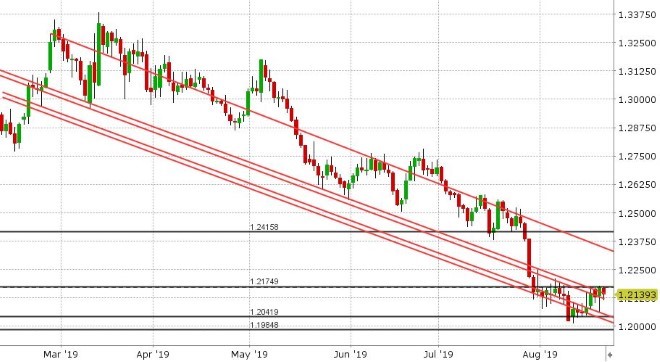 GBPUSD HOURLY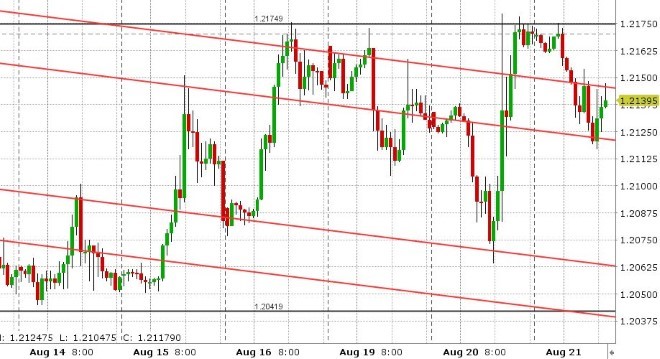 EURGBP DAILY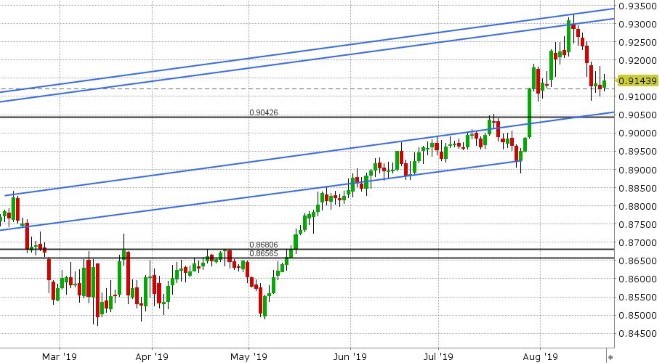 ---
AUDUSD
The Australian dollar managed to close above yesterday's price pivot in the 0.6770s, and with that we've seen some buyers emerge in overnight trade.  The broader markets have a positive tone to them this morning as yields, stocks and oil prices all trade higher.  Some trend-line resistance in the 0.6790s is now stalling the gains for AUDUSD.  September copper prices are not going along for the "risk-on" ride this morning however following yesterday puke back below the 2.60 level.  While we think AUDUSD has some positive technical price momentum here, we're growing warry of a copper market that just can't seem to reverse its downward trend.  We think a break to new lows on copper could derail the Aussie's attempt at a bottoming process.
AUDUSD DAILY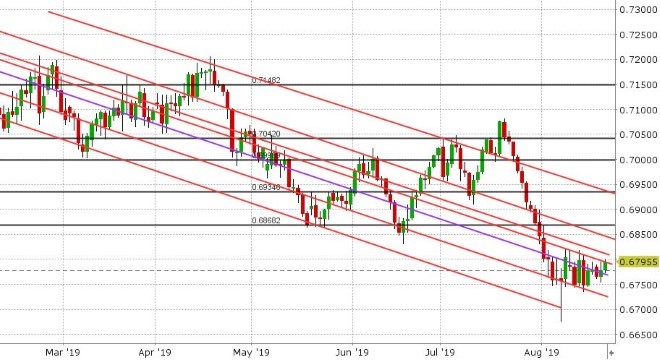 AUDUSD HOURLY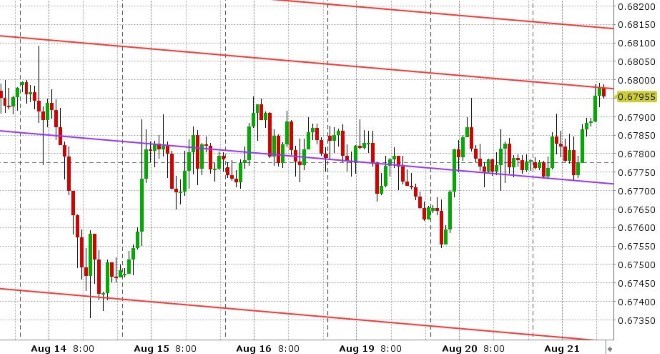 SEP COPPER DAILY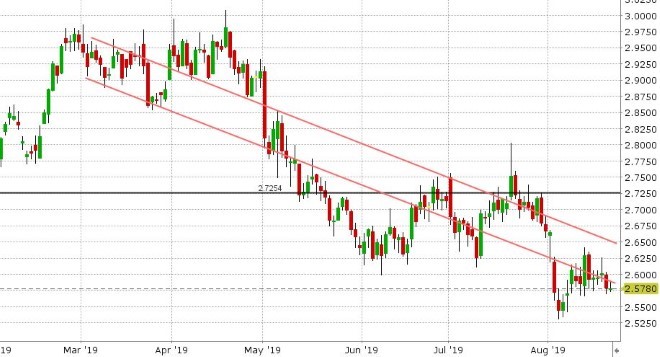 ---
USDJPY
The chop continues for USDJPY today, but from slightly higher levels compared to yesterday's NY open.  The broader markets are in a good mood today, but event risk looms at 2pmET today (FOMC Minutes) and traders have well defined chart resistance in the 106.50s to trade against.
USDJPY DAILY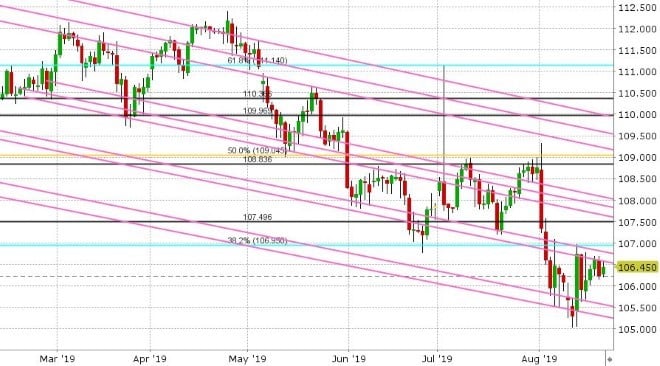 USDJPY HOURLY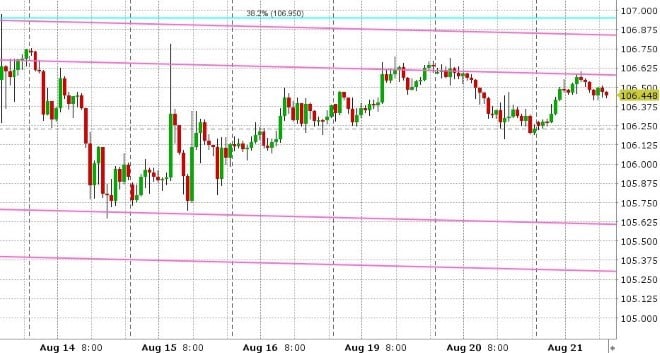 SEP S&P 500 DAILY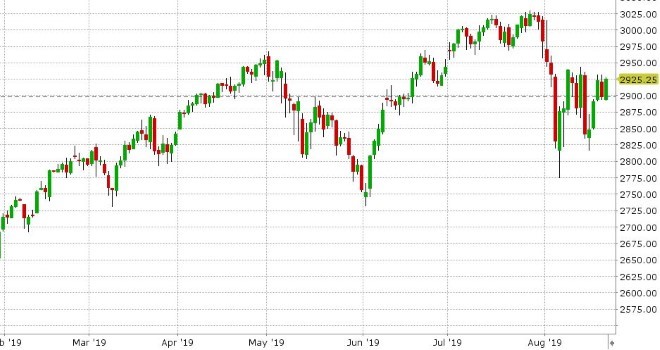 Charts: TWS Workspace
---
About the Author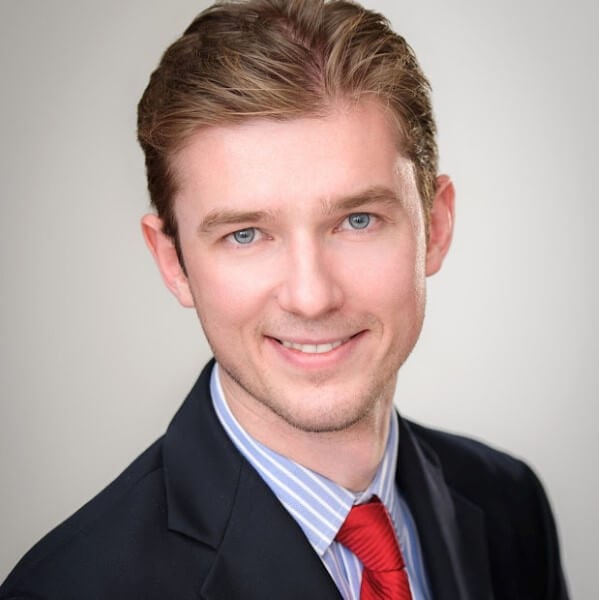 About Currency Exchange International
Currency Exchange International, CXI, is the leading provider of comprehensive foreign exchange services, risk management solutions and integrated international payments processing technology in North America. CXI's relationship-driven approach ensures clients receive tailored solutions and world-class customer service. Through innovative and trusted FX software platforms, CXI delivers versatile foreign exchange services to our clients, so that they can efficiently manage and streamline their foreign currency and global payment needs. CXI is a trusted partner among financial institutions, corporations and retail markets around the world. To learn more, visit: www.ceifx.com
This publication has been prepared by Currency Exchange International for informational and marketing purposes only. Opinions, estimates and projections contained herein are our own as of the date hereof and are subject to change without notice. The information and opinions contained herein have been compiled or arrived at from sources believed reliable, but no representation or warranty, express or implied, is made as to their accuracy or completeness and neither the information nor the forecast shall be taken as a representation for which Currency Exchange International, its affiliates or any of their employees incur any responsibility. Neither Currency Exchange International nor its affiliates accept any liability whatsoever for any loss arising from any use of this information. This publication is not, and is not constructed as, an offer to sell or solicitation of any offer to buy any of the currencies referred to herein, nor shall this publication be construed as an opinion as to whether you should enter into any swap or trading strategy involving a swap or any other transaction. The general transaction, financial, educational and market information contained herein is not intended to be, and does not constitute, a recommendation of a swap or trading strategy involving a swap within the meaning of U.S. Commodity Futures Trading Commission Regulation 23.434 and Appendix A thereto. This material is not intended to be individually tailored to your needs or characteristics and should not be viewed as a "call to action" or suggestion that you enter into a swap or trading strategy involving a swap or any other transaction. You should note that the manner in which you implement any of the strategies set out in this publication may expose you to significant risk and you should carefully consider your ability to bear such risks through consultation with your own independent financial, legal, accounting, tax and other professional advisors. All Currency Exchange International products and services are subject to the terms of applicable agreements and local regulations. This publication and all information, opinions and conclusions contained in it are protected by copyright. This information may not be reproduced in whole or in part, or referred to in any manner whatsoever nor may the information, opinions and conclusions contained in it be referred to without the prior express written consent of Currency Exchange International.