Reserving Currency Is Easier Than Ever Before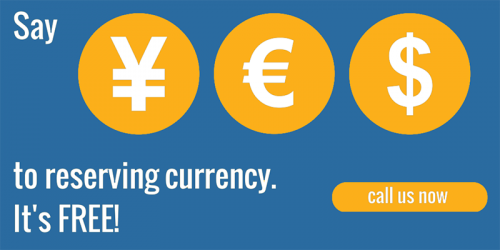 Did you know you can reserve your currency with us today? This is not a joke and yes you heard that right. There's no need to go to your bank to reserve your currency because we only require you to come and pick up your currency once it arrives.
The best part about it is that it's free, and we have many of our major currencies in stock at all times, just waiting for you.
We've listed all the currencies we trade and separated them by major currencies – the most popular travel destinations and minor currencies – the most exotic travel destinations only the coolest people travel to.
Here are the best benefits and most exclusive features we know you'll love:
Time is money - Only come in to pick up your currency when it's ready for you, no need to come in several times. We also have expanded hours and are open on weekends at most CXI locations.

Best value - We guarantee you the best rates and we will match or beat any local bank for the same product and service on the same day and time of the exchange.

Convenience - No down payment or deposit is required unless you are ordering a large amount of a minor currency.

Financial Freedom - No account is needed to reserve or exchange any of your currency with us.
It's time for you to be in control - kick back, relax and let us handle the rest. So as your busy packing for your next adventure around the world, we promise your wanderlust wallet will be thrilled and ready in time.
All you have to do is call us today, not tomorrow and your currency will be reserved for you. Voila! See it's that easy.
Curious to discover more about foreign currency exchange? Let us know below and we will answer any questions you have or go here to learn more.
*Disclaimer: This is not valid for Iraq Dinar or Vietnamese Dong.