Sterling falls after UK flash PMIs for November miss expectations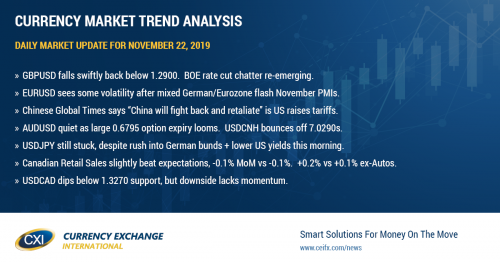 Take control of your international payments with CXI FX Now.
• Zero transfer fees & great rates
• Fast international payments
• Safety and security
• Unparalleled customer service
• Consultative approach
Learn more about CXI's international payment services for businesses or call our trading desk directly at 1-833-572-8933.
Get real-time market coverage on twitter at @EBCTradeDesk or sign up here.
SUMMARY
•
GBPUSD falls swiftly back below 1.2900.  BOE rate cut chatter re-emerging.
•
EURUSD sees some volatility after mixed German/Eurozone flash November PMIs.
•
Chinese Global Times says "China will fight back and retaliate" is US raises tariffs.
•
AUDUSD quiet as large 0.6795 option expiry looms.  USDCNH bounces off 7.0290s.
•
USDJPY still stuck, despite rush into German bunds + lower US yields this morning.
•
Canadian Retail Sales slightly beat expectations, -0.1% MoM vs -0.1%.  +0.2% vs +0.1% ex-Autos.
•
USDCAD dips below 1.3270 support, but downside lacks momentum.
ANALYSIS
USDCAD
Dollar/CAD is slipping below the 1.3270 support level this morning, after a very quiet overnight session of see-saw price action between 1.3270 and 1.3290.  The slightly better than expected Canadian Retail Sales report for September is the catalyst, but there hasn't been much downward momentum to the move whatsoever, which has us thinking the market could reverse higher.  In fact, we think the market needs to reverse higher here in order to keep the new USDCAD uptrend alive.  Yesterday's "Poloz and Pelosi effect" did some significant technical damage to the daily chart and so we think it's imperative that the buyers show up today.  Bank of Canada governor Stephen Poloz said he thinks "we have monetary conditions about right given the situation" (which didn't sound as dovish as what deputy governor Wilkins said on Tuesday).  US Speaker of the House Nancy Pelosi also gave the market some positive soundbites regarding progress towards the passage of the USMCA.
USDCAD DAILY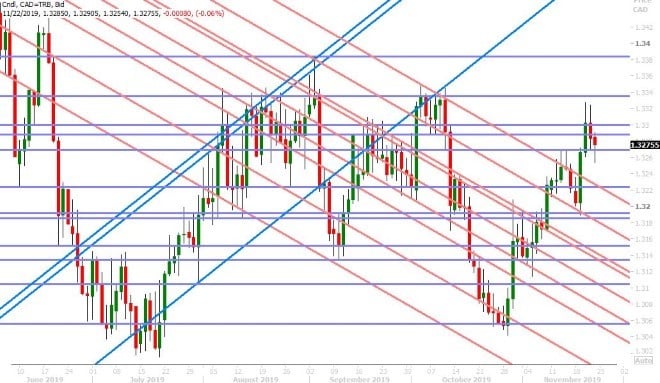 USDCAD HOURLY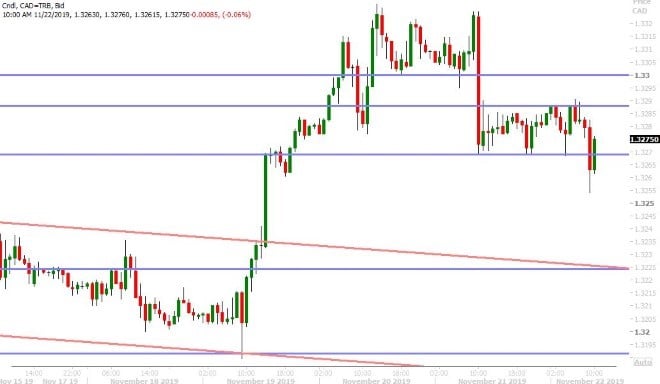 JAN CRUDE OIL DAILY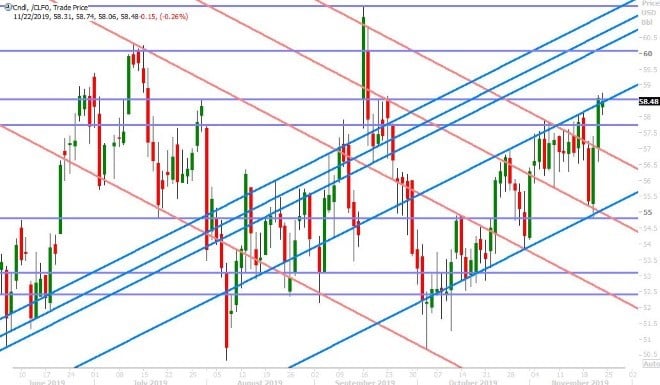 EURUSD
It was a disappointing day yesterday for those who bought EURUSD on the back of the hawkish ECB Minutes.  The trend-line resistance level we talked about in the 1.1090s proved formidable and the buyer failure that occurred there gave sellers the confidence to re-enter in our opinion.  Two negative sounding US/China articles from the South China Morning Post (SCMP) then put a "risk-off", buy USD, trade back in play; but it was mild because the stock market really didn't sell off all that much, US yields actually inched higher after a brief stutter and the recovery in gold prices faded pretty fast.  The NY closing pattern produced a bearish hammer close, but the fact that 1.1050s chart support held invited some buyers back during Asian trade in our opinion.  This morning's release of mixed November flash PMI data for Germany and the Eurozone produced some volatility around the 3-4amET hour, but the recent 1.1040-50 to 1.1080-90 range continues to be respected.  
German Manufacturing PMI: 43.8 vs 42.9 (beat)
German Services PMI: 51.3 vs 52.0 (miss)
Eurozone Manufacturing PMI: 46.6 vs 46.4 (beat)
Eurozone Services PMI: 51.5 vs 52.5 (miss)
Christine Lagarde's first major policy speech as ECB President turned out to be a dud.  She called on EU governments to boost spending, which is not "new" news for traders, who heard this first from Mario Draghi back in September.  More here from the Financial Times.  We think EURUSD will feel heavy into this morning's option expiries around 1.1040-60 (size approx. 1bln EUR).  Expect further selling should the 1.1040s give way.
EURUSD DAILY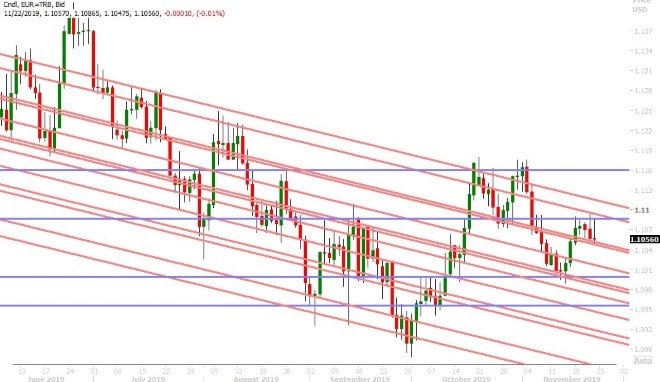 EURUSD HOURLY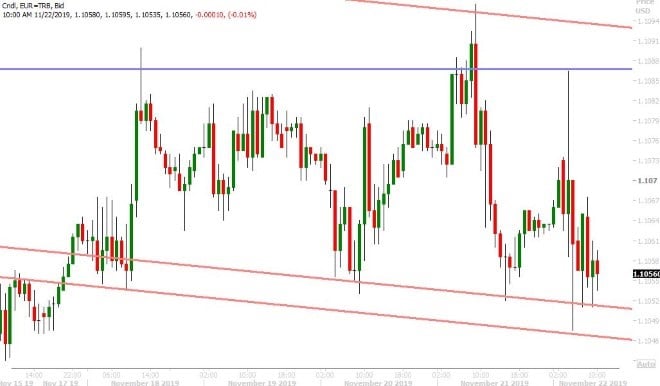 DEC GOLD DAILY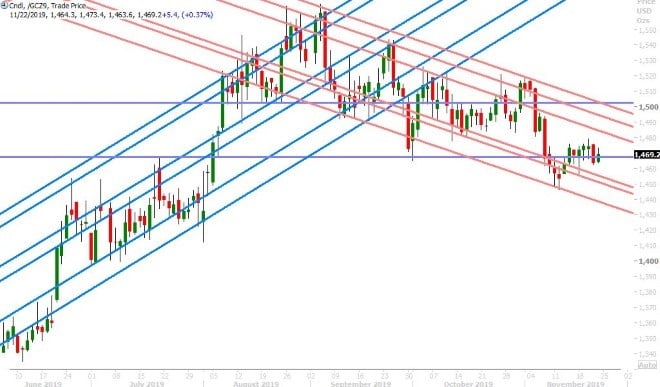 GBPUSD
Sterling is getting walloped this morning after the November flash PMIs out the UK (a new report from Markit) missed expectations on both manufacturing and services.  The market collapsed back down through the 1.2910-20 support level it successfully regained by the start of European trade, hesitated a bit at the next support level in the 1.2870s, and has now resumed even lower heading into NY trade.  Today's weak PMIs has also brought out the Bank of England rate cutting doves again, but it's largely been just market banter so far as the OIS market is pricing in just 10% of a 25bp rate cut when the BOE meets next on December 19.  The EURGBP cross is re-challenging 0.8600 as a result this morning as well, a level it hasn't seen for over a week.  We think a strong NY close above this level could unleash a wave of broad GBP selling, all else being equal. 
GBPUSD DAILY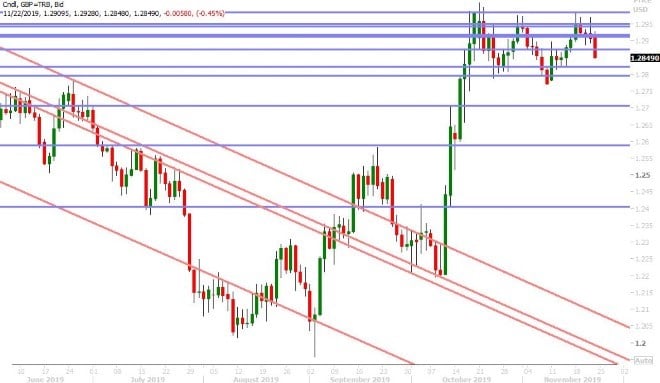 GBPUSD HOURLY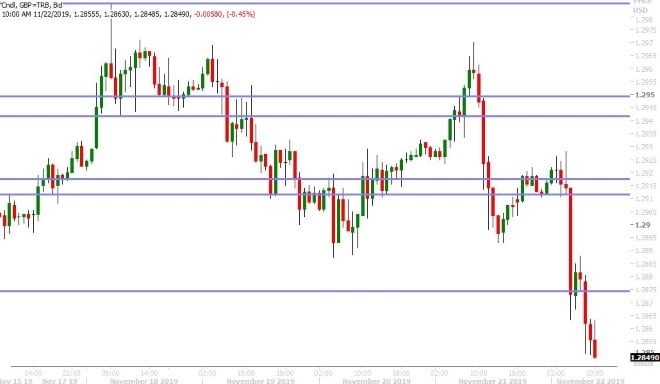 EURGBP DAILY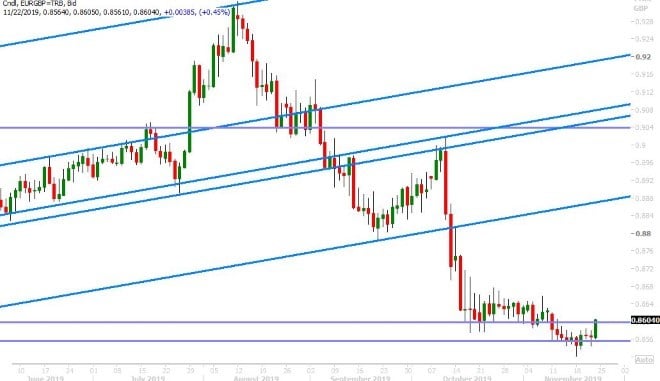 ---
AUDUSD
The Australian dollar retreated back to Wednesday's lows yesterday amid the SCMP article-driven move to buy USD more broadly, but since the close of NY trade however, it hasn't been doing much.  Perhaps this is because of this morning's large (1.1blnAUD) option expiry at the 0.6795 strike?  Perhaps it's simply because the barrage of conflicting US/China trade headlines appears to be taking a breather for now?  The last headline that everyone is talking about is the tweet from the Chinese Global Times (which sounds a little negative towards the end).
#Opinion: China wants to work for a "phase-one" trade deal with the US on the basis of mutual respect and equality, and some tariffs rollback is an important condition for a deal. If US chooses to raise more #tariffs and escalates trade war, China will fight back and retaliate.
With USDCNH bouncing confidently off the 7.0290 support level today and EURUSD traders still eyeing the 1.1040 support level, we think there's a risk AUDUSD eventually continues lower to the mid-0.67s.
AUDUSD DAILY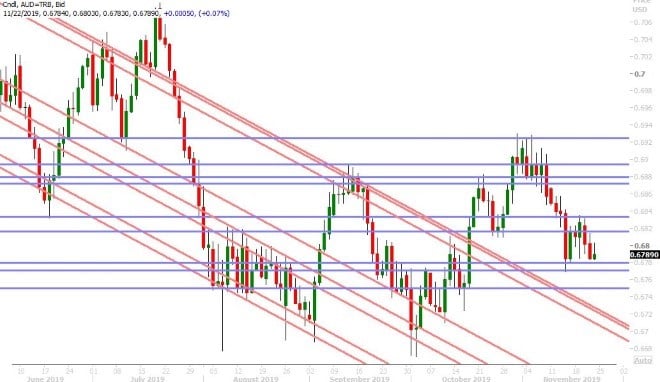 AUDUSD HOURLY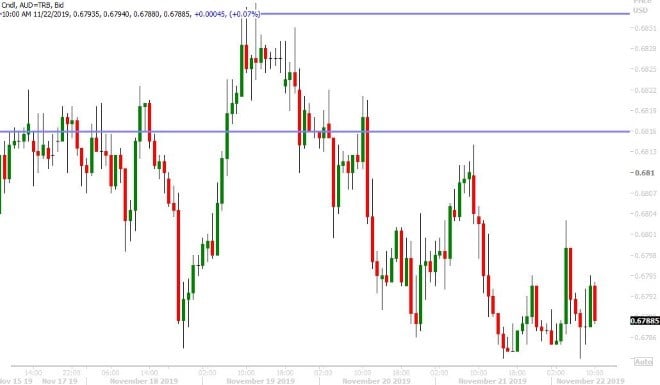 USDCNH DAILY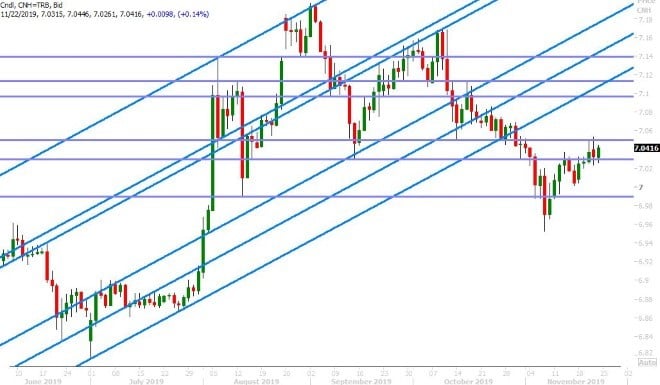 ---
USDJPY
Dollar/yen continues to trade with a directionless tone today, despite a 4bp drop to the US 10yr yield around the 3-5amET hour.  There was a lot going on during this time (mixed to weak flash PMIs, Christine Lagarde speech, positive sounding US/China report re: China willing to work with the US) and we noticed a very strong buying wave in the German bund.  It's hard to pin down the reasons for the rush into German paper today, but it definitely appears to be driving US yields lower this morning.  USDJPY traded ever so slightly lower during this bond yield decline, but the market continues to find buyers at 108.40s chart support for the moment.  We think this week's large downside option expiries played a big part in curtailing the USDJPY selling momentum from the week prior.
USDJPY DAILY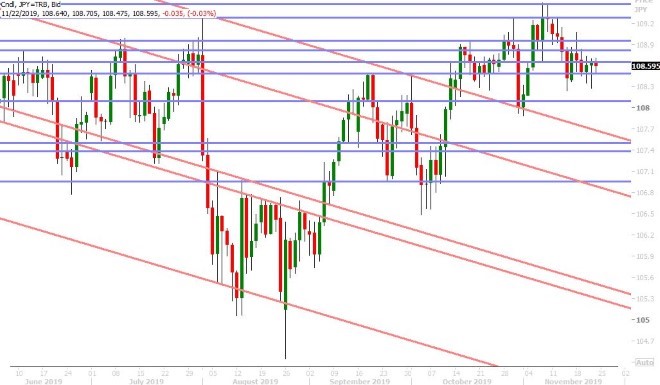 USDJPY HOURLY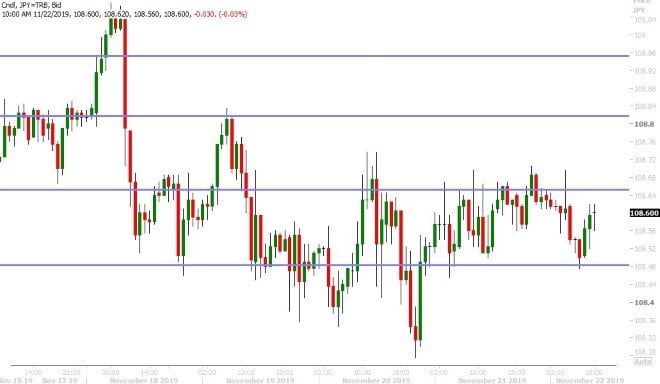 US 10YR BOND YIELD DAILY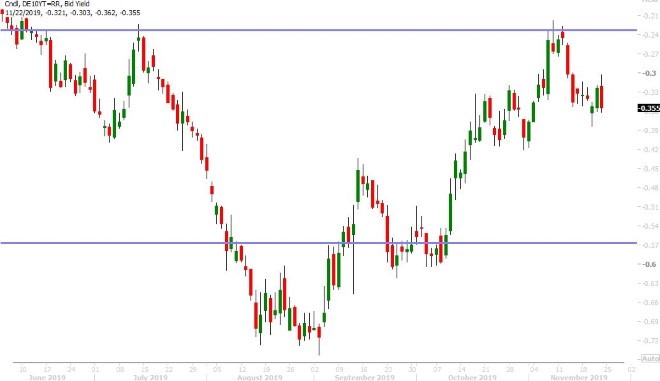 Charts: Reuters Eikon
---
About the Author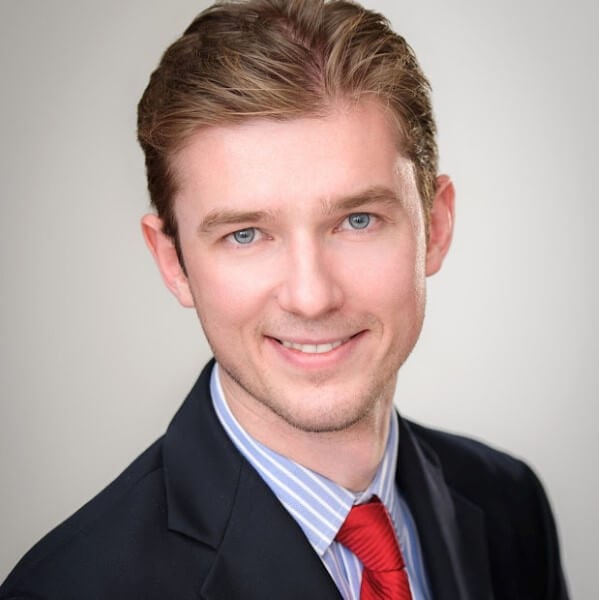 About Currency Exchange International
Currency Exchange International, CXI, is the leading provider of comprehensive foreign exchange services, risk management solutions and integrated international payments processing technology in North America. CXI's relationship-driven approach ensures clients receive tailored solutions and world-class customer service. Through innovative and trusted FX software platforms, CXI delivers versatile foreign exchange services to our clients, so that they can efficiently manage and streamline their foreign currency and global payment needs. CXI is a trusted partner among financial institutions, corporations and retail markets around the world. To learn more, visit: www.ceifx.com
This publication has been prepared by Currency Exchange International for informational and marketing purposes only. Opinions, estimates and projections contained herein are our own as of the date hereof and are subject to change without notice. The information and opinions contained herein have been compiled or arrived at from sources believed reliable, but no representation or warranty, express or implied, is made as to their accuracy or completeness and neither the information nor the forecast shall be taken as a representation for which Currency Exchange International, its affiliates or any of their employees incur any responsibility. Neither Currency Exchange International nor its affiliates accept any liability whatsoever for any loss arising from any use of this information. This publication is not, and is not constructed as, an offer to sell or solicitation of any offer to buy any of the currencies referred to herein, nor shall this publication be construed as an opinion as to whether you should enter into any swap or trading strategy involving a swap or any other transaction. The general transaction, financial, educational and market information contained herein is not intended to be, and does not constitute, a recommendation of a swap or trading strategy involving a swap within the meaning of U.S. Commodity Futures Trading Commission Regulation 23.434 and Appendix A thereto. This material is not intended to be individually tailored to your needs or characteristics and should not be viewed as a "call to action" or suggestion that you enter into a swap or trading strategy involving a swap or any other transaction. You should note that the manner in which you implement any of the strategies set out in this publication may expose you to significant risk and you should carefully consider your ability to bear such risks through consultation with your own independent financial, legal, accounting, tax and other professional advisors. All Currency Exchange International products and services are subject to the terms of applicable agreements and local regulations. This publication and all information, opinions and conclusions contained in it are protected by copyright. This information may not be reproduced in whole or in part, or referred to in any manner whatsoever nor may the information, opinions and conclusions contained in it be referred to without the prior express written consent of Currency Exchange International.