RBA's Lowe brushes off QE and negative interest rate policy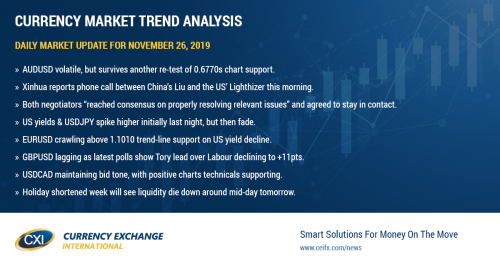 Take control of your international payments with CXI FX Now.
• Zero transfer fees & great rates
• Fast international payments
• Safety and security
• Unparalleled customer service
• Consultative approach
Learn more about CXI's international payment services for businesses or call our trading desk directly at 1-833-572-8933.
Get real-time market coverage on twitter at @EBCTradeDesk or sign up here.
SUMMARY
•
AUDUSD volatile, but survives another re-test of 0.6770s chart support.
•
Xinhua reports phone call between China's Liu and the US' Lighthizer this morning.
•
Both negotiators "reached consensus on properly resolving relevant issues" and agreed to stay in contact.
•
US yields & USDJPY spike higher initially last night, but then fade.
•
EURUSD crawling above 1.1010 trend-line support on US yield decline.
•
GBPUSD lagging as latest polls show Tory lead over Labour declining to +11pts.
•
USDCAD maintaining bid tone, with positive charts technicals supporting.
•
Holiday shortened week will see liquidity die down around mid-day tomorrow.
ANALYSIS
USDCAD
Dollar/CAD began this holiday shortened week with a bid tone after Friday's strong NY close, and it has kept this upward tone for the most part despite some better than expected Canadian Wholesale Trade data from yesterday.  Crude oil prices appear to be the driver so far this week, and it feels like USDCAD might want to re-test 1.3290-1.3300 during NY trade today with the January futures now inching back above $58.  The leveraged funds at CME reduced their net short USDCAD position for the 2nd week in a row during the week ending Nov 19th, by covering shorts and adding new longs.  While we think USDCAD may fall victim to some consolidation heading into the US Thanksgiving holiday later this week, we think the market's new uptrend remains intact so long as prices can stay above the 1.3260s.
USDCAD DAILY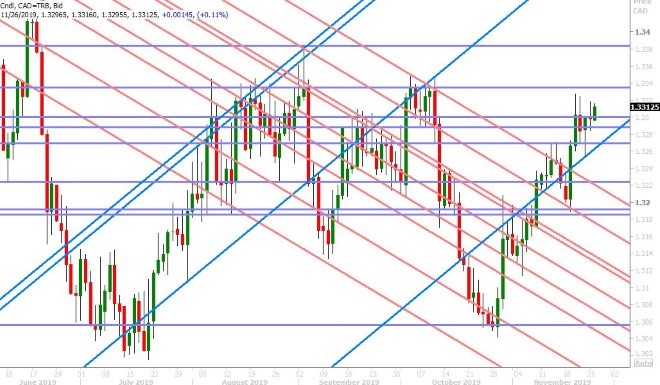 USDCAD HOURLY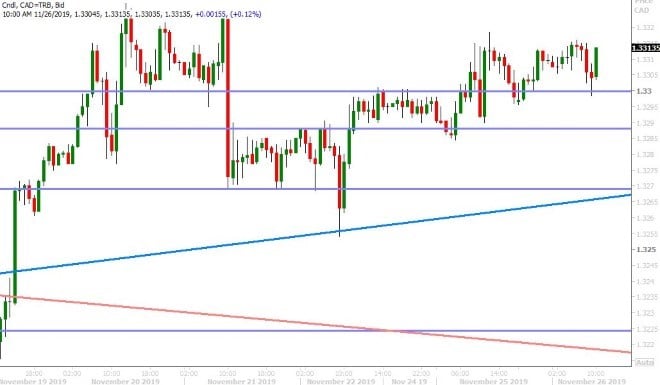 JAN CRUDE OIL DAILY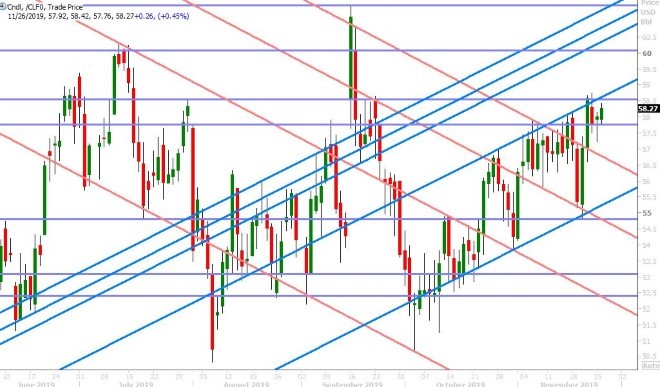 EURUSD
Euro/dollar came under pressure to start the week after a lackluster read on German IFO Expectations for November (92.1 vs 95.5 exp) kept traders focused on trend-line support in the 1.1010s.  That being said, the market is trying to inch back above this support level now as US 10yr yields continue to back off the 1.78-1.79% resistance they ran into yesterday.  We're reading headlines this morning about a phone call between China's Liu and the US' Lighthizer where both negotiators "reached consensus on properly resolving relevant issues" and agreed to stay in contact on the remaining points/core concerns for the phase one trade deal.  More here from Bloomberg.  Markets don't seem all that convinced in our opinion, which is why we think US yields continue to back up here.  We think the longer EURUSD stays above the 1.1010s support level, the more likely it is we may see some short covering.  The funds at CME increased their net short EURUSD position during the week ending Nov 19th by primarily liquidating long positions.
EURUSD DAILY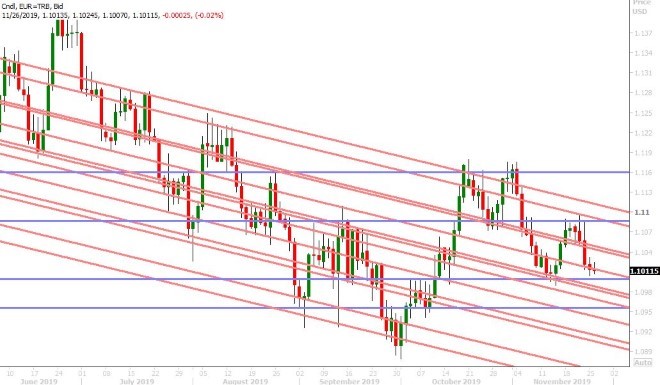 EURUSD HOURLY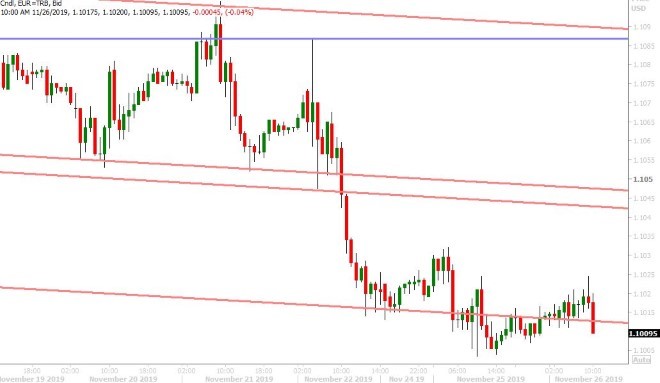 DEC GOLD DAILY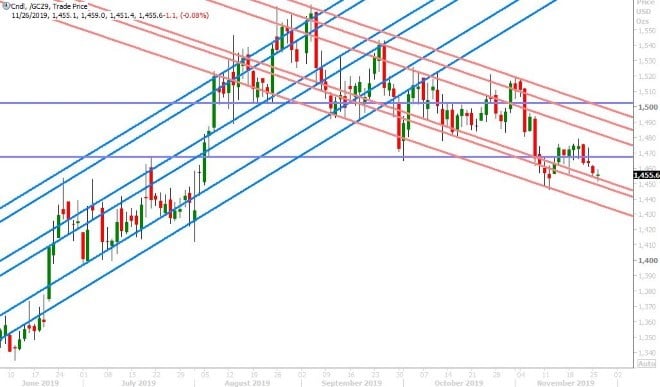 GBPUSD
Sterling has fallen victim to some negative developments for the Tories in the election polls since mid-day yesterday.  After rallying all the way back up to 1.2910-20 chart resistance early yesterday on the release of the Conservative Party manifesto, we've since seen GBPUSD retreat as a number of polls now show the Tory lead slipping over the Labour Party.  Today the market appears focused on the latest Kantar poll, which shows the Tories now just 11pts ahead vs 18pts last time around.  With the market now falling back below the 1.2870s support level, we think the market might be vulnerable to further weakness here.  The funds started re-building their net short GBPUSD position ever so slightly during the week ending Nov 19th, by liquidating longs and adding new shorts.
GBPUSD DAILY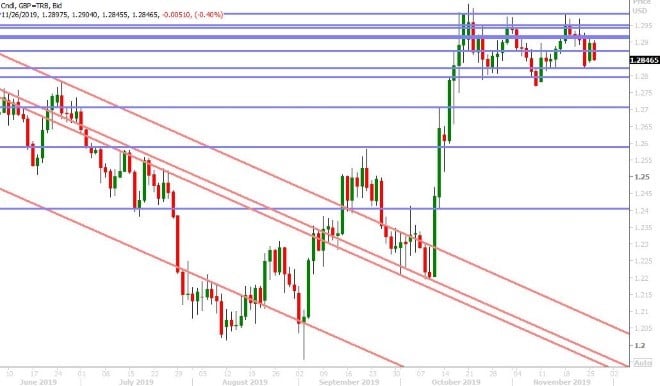 GBPUSD HOURLY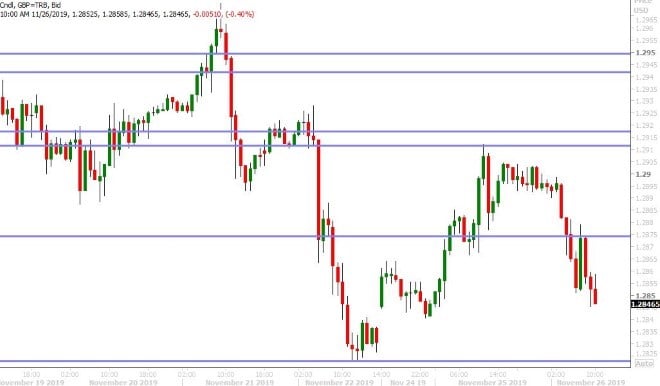 EURGBP DAILY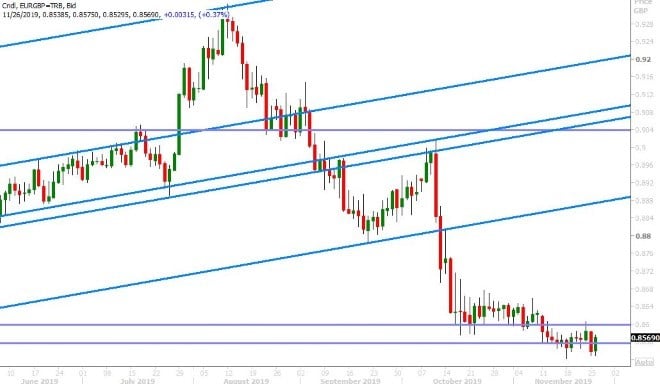 ---
AUDUSD
The Australian dollar successfully held chart support in the 0.6770s to start the week yesterday and the market appears to be getting some more help this morning from the RBA's Lowe.  In a speech before the Annual ABE Dinner, the Australian central bank governor pushed back on quantitative easing and negative interest rate policy.  More here from the Financial Post.  With AUDUSD now inching back above 0.6780, we think the market could drift a little higher here but we'd want to see EURUSD rally as well before getting more optimistic.  The funds added to their net short AUDUSD position for the 2nd week in a row during the week ending Nov 19th.  The RBA is still expected to keep interest rates on hold at their next meeting on Dec 3rd.
AUDUSD DAILY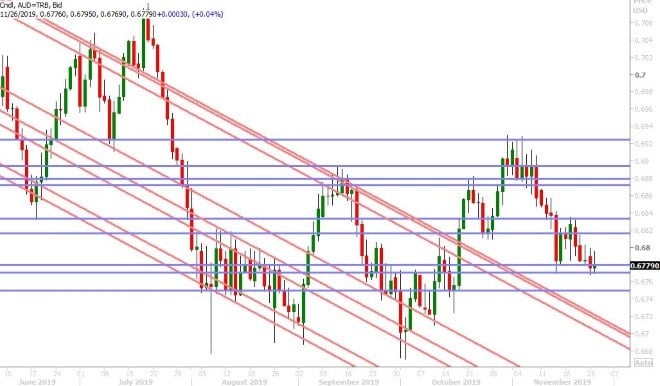 AUDUSD HOURLY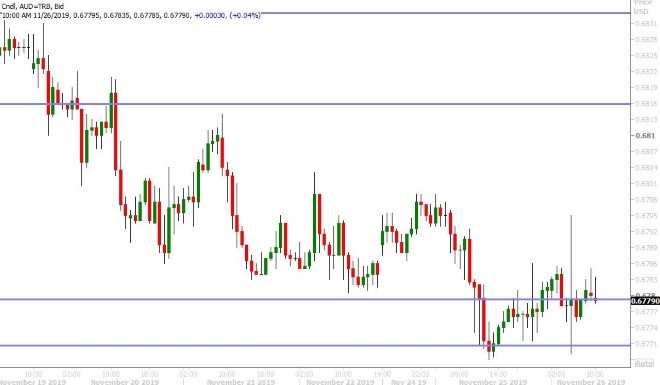 USDCNH DAILY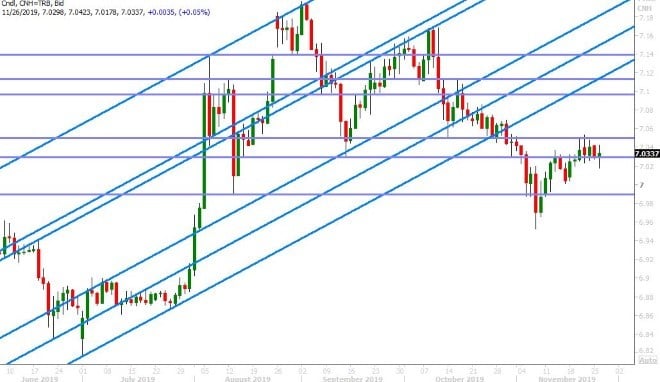 ---
USDJPY
Dollar/yen spiked higher above the 109 level in Asian trade last night after Xinhua reported the headline about the US and China "reaching consensus on properly resolving relevant issues", but it has since fallen back with US yields as traders effectively say "talk is cheap…show us real evidence of progress on trade negotiations".  The Fed's Powell spoke last night, but didn't provide much in the way of new substance for markets.  More here from CNBC.  The funds added ever so slightly to their new, net long, USDJPY position for the 5th week in a row during the week ending Nov 19th.
USDJPY DAILY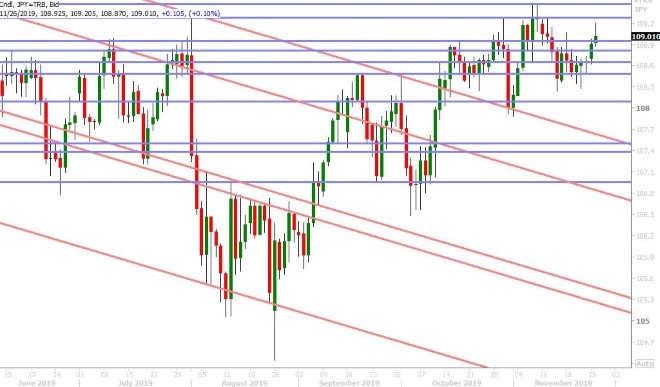 USDJPY HOURLY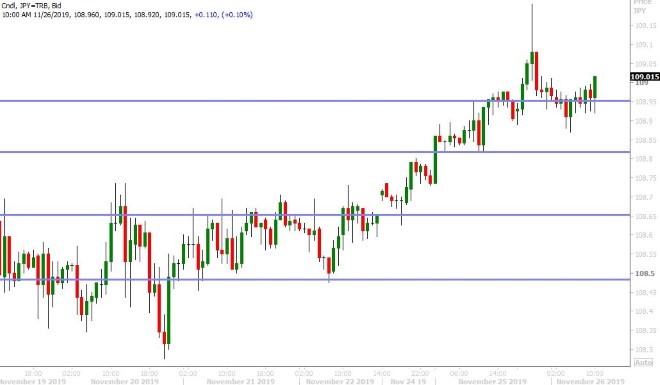 GERMAN 10YR BUND YIELD DAILY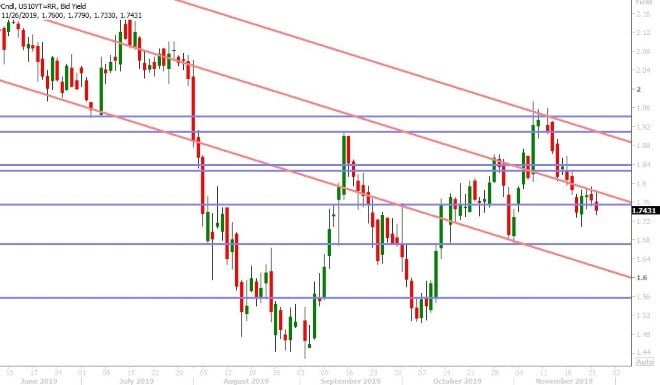 Charts: Reuters Eikon
---
About the Author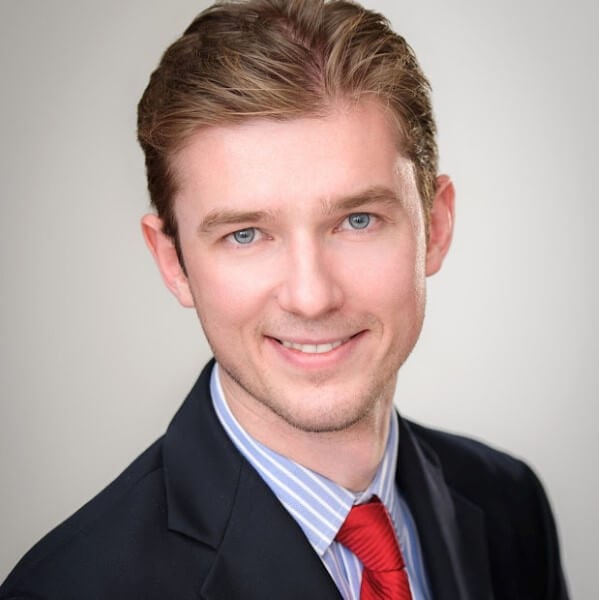 About Currency Exchange International
Currency Exchange International, CXI, is the leading provider of comprehensive foreign exchange services, risk management solutions and integrated international payments processing technology in North America. CXI's relationship-driven approach ensures clients receive tailored solutions and world-class customer service. Through innovative and trusted FX software platforms, CXI delivers versatile foreign exchange services to our clients, so that they can efficiently manage and streamline their foreign currency and global payment needs. CXI is a trusted partner among financial institutions, corporations and retail markets around the world. To learn more, visit: www.ceifx.com
This publication has been prepared by Currency Exchange International for informational and marketing purposes only. Opinions, estimates and projections contained herein are our own as of the date hereof and are subject to change without notice. The information and opinions contained herein have been compiled or arrived at from sources believed reliable, but no representation or warranty, express or implied, is made as to their accuracy or completeness and neither the information nor the forecast shall be taken as a representation for which Currency Exchange International, its affiliates or any of their employees incur any responsibility. Neither Currency Exchange International nor its affiliates accept any liability whatsoever for any loss arising from any use of this information. This publication is not, and is not constructed as, an offer to sell or solicitation of any offer to buy any of the currencies referred to herein, nor shall this publication be construed as an opinion as to whether you should enter into any swap or trading strategy involving a swap or any other transaction. The general transaction, financial, educational and market information contained herein is not intended to be, and does not constitute, a recommendation of a swap or trading strategy involving a swap within the meaning of U.S. Commodity Futures Trading Commission Regulation 23.434 and Appendix A thereto. This material is not intended to be individually tailored to your needs or characteristics and should not be viewed as a "call to action" or suggestion that you enter into a swap or trading strategy involving a swap or any other transaction. You should note that the manner in which you implement any of the strategies set out in this publication may expose you to significant risk and you should carefully consider your ability to bear such risks through consultation with your own independent financial, legal, accounting, tax and other professional advisors. All Currency Exchange International products and services are subject to the terms of applicable agreements and local regulations. This publication and all information, opinions and conclusions contained in it are protected by copyright. This information may not be reproduced in whole or in part, or referred to in any manner whatsoever nor may the information, opinions and conclusions contained in it be referred to without the prior express written consent of Currency Exchange International.