Traders bracing for weak US September NFP numbers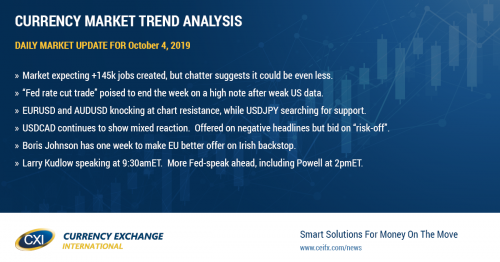 Take control of your international payments with CXI FX Now.
• Zero transfer fees & great rates
• Fast international payments
• Safety and security
• Unparalleled customer service
• Consultative approach
Learn more about CXI's international payment services for businesses or call our trading desk directly at 1-833-572-8933.
Get real-time market coverage on twitter at @EBCTradeDesk or sign up here.
SUMMARY
•
Market expecting +145k jobs created, but chatter suggests it could be even less.
•
"Fed rate cut trade" poised to end the week on a high note after weak US data.
•
EURUSD and AUDUSD knocking at chart resistance, while USDJPY searching for support.
•
USDCAD continues to show mixed reaction. Offered on negative headlines but bid on "risk-off".
•
Boris Johnson has one week to make EU better offer on Irish backstop.
•
Larry Kudlow speaking at 9:30amET. More Fed-speak ahead, including Powell at 2pmET.
ANALYSIS
USDCAD
Traders are anxiously awaiting the US Non-Farms payrolls figures for September this morning at 8:30amET, after the employment components of both the Manufacturing and Services ISM reports this week, and the downward revision to August job growth in the ADP report, showed worrying signs for the US job market. The "Fed rate cut trade" has been on fire this week as a result; with the US 10yr yield now down over 20bps from their JGB-drama highs, the October Fed fund futures now at an 83% chance of a 25bp cut on Oct 30 vs 50% at the start of the week, the December Eurodollar futures now at a 1.82% implied funds rate, and with December gold futures now comfortably back above the $1500 mark. USDCAD has shown an interesting response to this week's events, despite broad USD sales. The market is reacting negatively to the disappointment US economic headlines, but as soon as this triggers a "risk-off" move in the stock and oil markets, the market adopts its typical "flight to quality" bid, and we saw this on big display on Wednesday and to a slightly lesser extent yesterday. The expectations for today's NFP report are as follows: +145k new jobs (although we're hearing rumors it could be a lot lower), +0.3% MoM and +3.2% YoY growth in wages, and 3.7% on the unemployment rate. Chart resistance today comes in at the 1.3330s, then the 1.3380-90s. Support resides at 1.3280-1.3300, then the 1.3220s.
USDCAD DAILY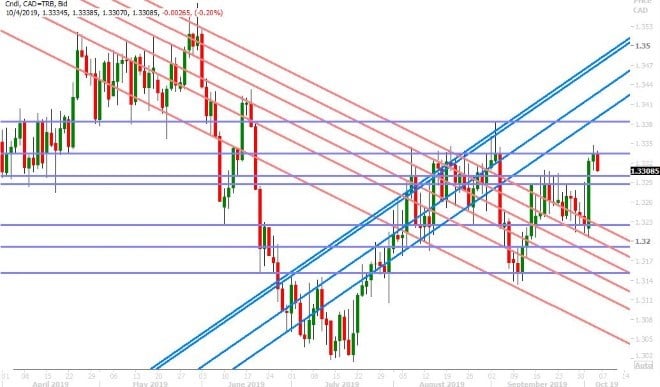 USDCAD HOURLY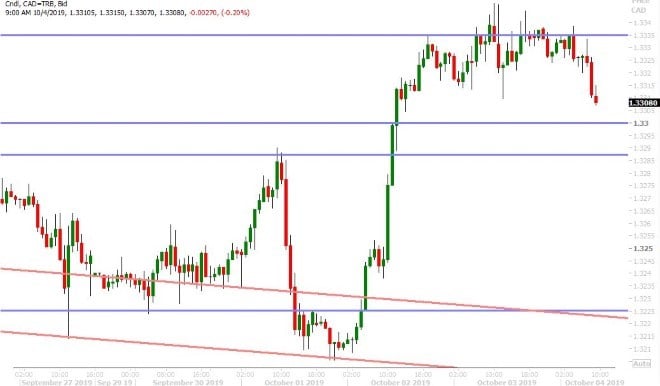 NOV CRUDE OIL DAILY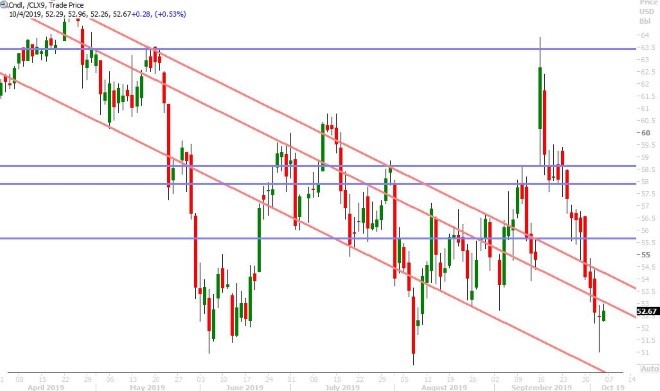 EURUSD
Euro/dollar continues to benefit from the market's rush back into the "Fed rate cut trade" this week, and the way the market technicals are looking right now (positive with a break back above trend-line resistance at 1.0980), it looks like it could take off to the upside should we get a disappointing US NFP number shortly. Larry Kudlow will be speaking on Bloomberg at 9:30amET. Over 1blnUSD in options expire above the market at 10amET (1.1000-1.1020). We'll also have plenty more Fed speak to digest today, the most important being some opening remarks at an event hosted by Jerome Powell later at 2pmET.
Fed-speak today (all ET)
8:30am – Rosengren
11:45am – Bostic
1:00pm – Kashkari
2pm – Powell and Brainard
EURUSD DAILY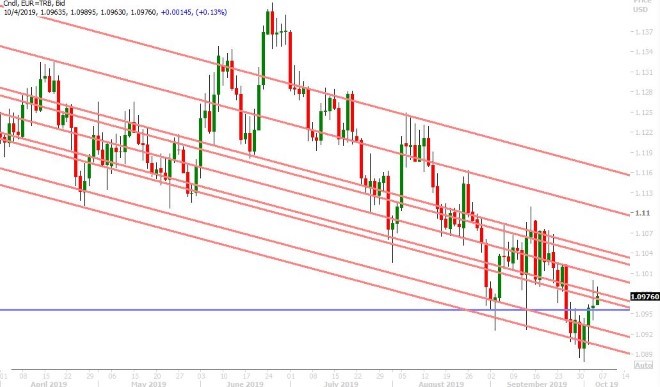 EURUSD HOURLY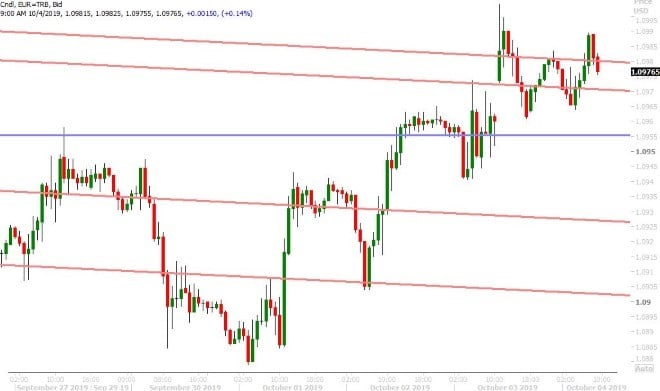 DEC GOLD DAILY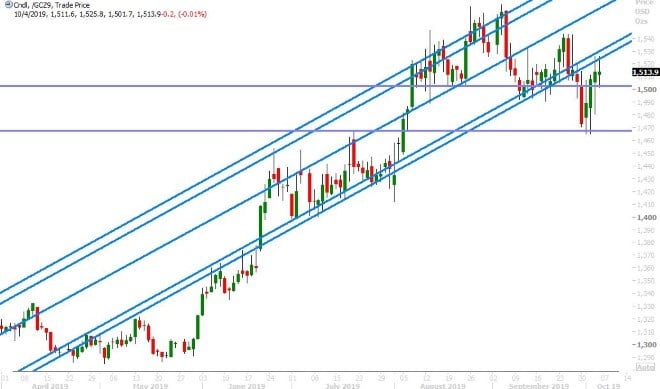 ---
GBPUSD
Sterling is hovering above chart support at the 1.2310s ahead of the US NFP release. Yesterday's explosive rally up to the 1.2400 level on the back of the weak US Non-Manufacturing numbers seemed a bit hasty in our opinion, especially considering Boris Johnson's new Irish backstop plan has not been well received by the EU. It's now being reported that the UK Prime Minister has one week to make the EU a better offer. More here from the UK's Daily Mail.
GBPUSD DAILY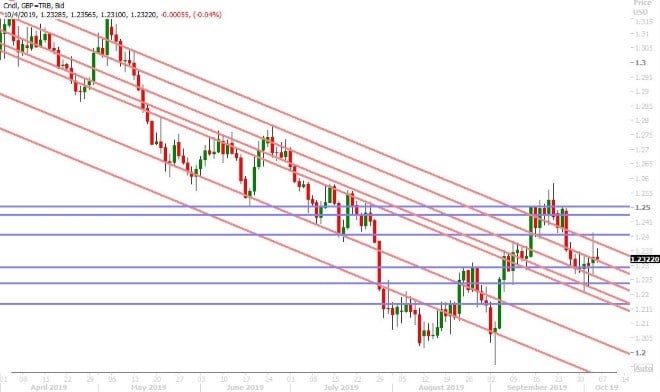 GBPUSD HOURLY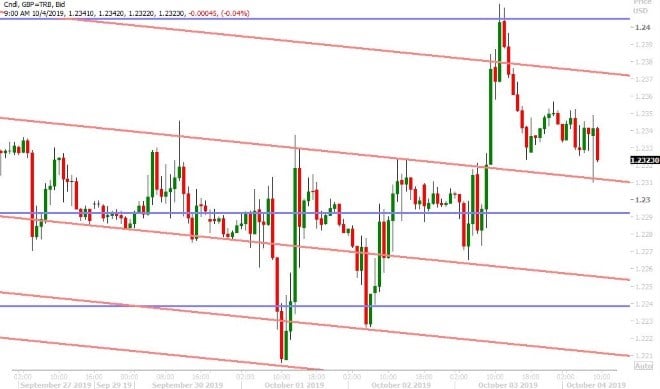 EURGBP DAILY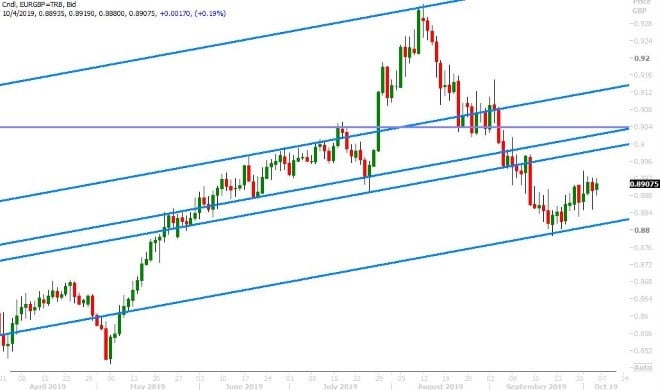 ---
AUDUSD
All the broad USD selling that has accompanied this week's rush to price-in more Fed cuts has allowed AUDUSD to now trade above chart resistance at the 0.6750 level. Last night's slightly weaker than expected Australian Retail Sales report for August (+0.4% MoM vs +0.5%) doesn't seem be bothering anyone. Like EURUSD, we think the Aussie's current technical setup will allow for further price gains should the US NFP report miss market expectations shortly. The next chart resistance level lies in the 0.6780s. Support today is 0.6725.
AUDUSD DAILY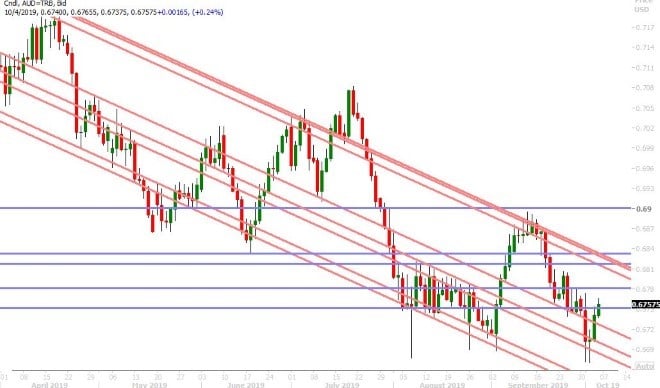 AUDUSD HOURLY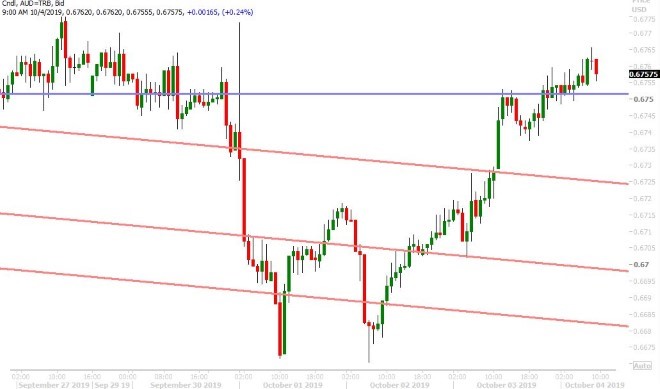 USDCNH DAILY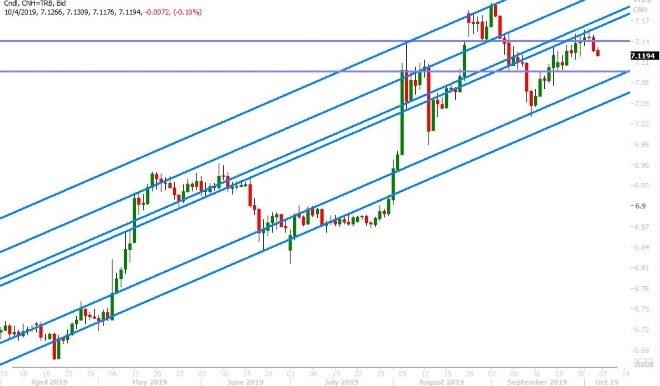 ---
USDJPY
USDJPY just can't catch a break since the dismal US Manufacturing ISM number came out on Tuesday, and we think the losses could intensify here if the US NFP report comes in weak. The market has fallen below chart support at the 106.90s, which we think could now expose the market to the low 106s.
USDJPY DAILY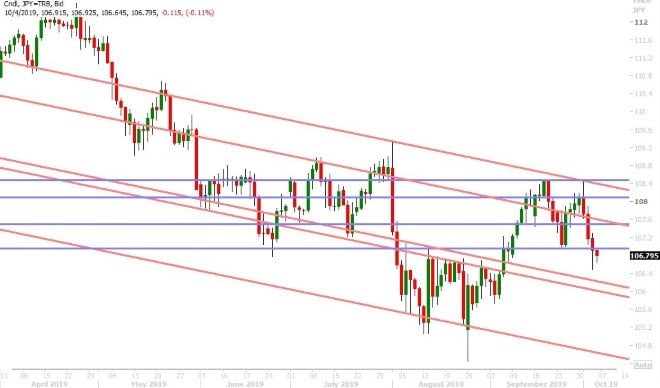 USDJPY HOURLY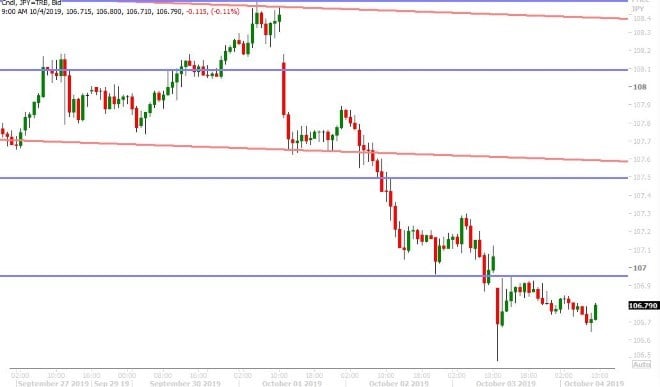 US 10YR BOND YIELD DAILY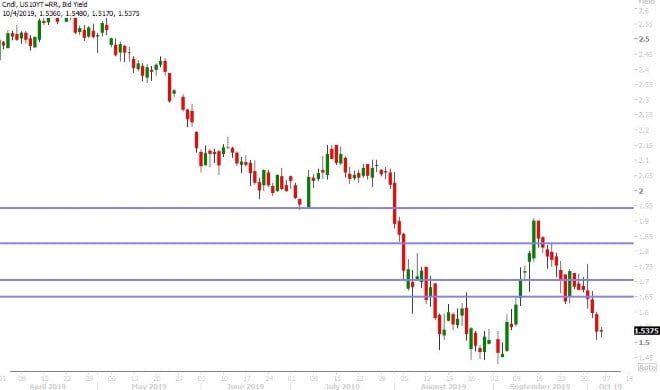 Charts: Reuters Eikon
---
About the Author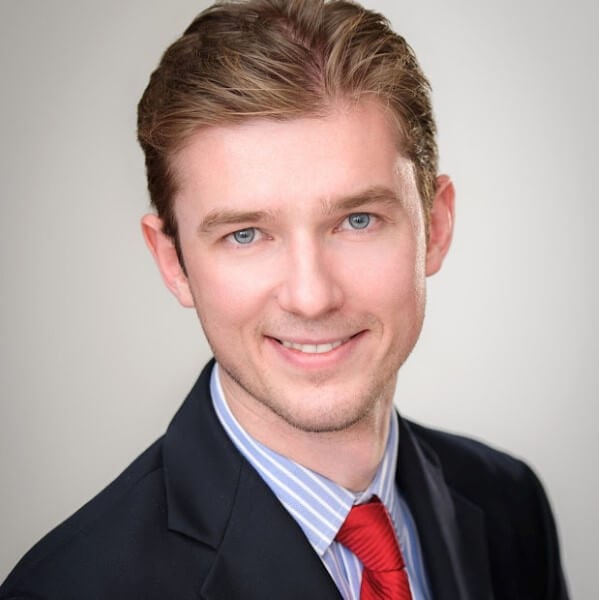 About Currency Exchange International
Currency Exchange International, CXI, is the leading provider of comprehensive foreign exchange services, risk management solutions and integrated international payments processing technology in North America. CXI's relationship-driven approach ensures clients receive tailored solutions and world-class customer service. Through innovative and trusted FX software platforms, CXI delivers versatile foreign exchange services to our clients, so that they can efficiently manage and streamline their foreign currency and global payment needs. CXI is a trusted partner among financial institutions, corporations and retail markets around the world. To learn more, visit: www.ceifx.com
This publication has been prepared by Currency Exchange International for informational and marketing purposes only. Opinions, estimates and projections contained herein are our own as of the date hereof and are subject to change without notice. The information and opinions contained herein have been compiled or arrived at from sources believed reliable, but no representation or warranty, express or implied, is made as to their accuracy or completeness and neither the information nor the forecast shall be taken as a representation for which Currency Exchange International, its affiliates or any of their employees incur any responsibility. Neither Currency Exchange International nor its affiliates accept any liability whatsoever for any loss arising from any use of this information. This publication is not, and is not constructed as, an offer to sell or solicitation of any offer to buy any of the currencies referred to herein, nor shall this publication be construed as an opinion as to whether you should enter into any swap or trading strategy involving a swap or any other transaction. The general transaction, financial, educational and market information contained herein is not intended to be, and does not constitute, a recommendation of a swap or trading strategy involving a swap within the meaning of U.S. Commodity Futures Trading Commission Regulation 23.434 and Appendix A thereto. This material is not intended to be individually tailored to your needs or characteristics and should not be viewed as a "call to action" or suggestion that you enter into a swap or trading strategy involving a swap or any other transaction. You should note that the manner in which you implement any of the strategies set out in this publication may expose you to significant risk and you should carefully consider your ability to bear such risks through consultation with your own independent financial, legal, accounting, tax and other professional advisors. All Currency Exchange International products and services are subject to the terms of applicable agreements and local regulations. This publication and all information, opinions and conclusions contained in it are protected by copyright. This information may not be reproduced in whole or in part, or referred to in any manner whatsoever nor may the information, opinions and conclusions contained in it be referred to without the prior express written consent of Currency Exchange International.