A Guide to Eating Delicious (and Cheap) Food in China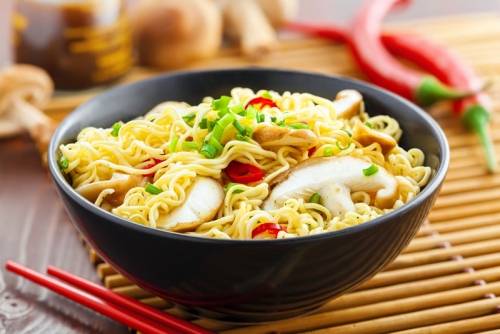 Ordering foreign currency online is easy with OnlineFX.
Whether you've traveled to China for the Lunar New Year Celebrations or planning an upcoming trip, you have to know the ins and outs of getting some good food in China!
Celebrating the Lunar New Year With CXI
Check out CXI's Lunar New Year Celebration from 2/1 - 2/19 for a chance to receive 888 yuan and bring good luck to yourself this year! You just have to follow CXI on twitter and facebook to see our #LunarNewYear Challenge questions. If you share or retweet the question with the correct answer and tag our profile, you'll be in the running! .
Think you know the #LunarNewYear? Retweet our question with the correct answer in the comment and tag @ceifx for your chance to win Chinese yuan. #CXI pic.twitter.com/7O8gJppXDj

— CurrencyExchangeInt (@ceifx) February 12, 2019
Top Foods to Eat During the Lunar New Year
If you are in China for the Lunar New Year, you'll want to try these dishes. Fish, spring rolls, and noodles are come of the most common ones. One of the most popular dishes, dumplings, are made out of minced meat and vegetables, and dough. A large plate of dumplings can cost around 12 yuan.
Dumplings represent wealth for the most part, although different fillings have different meanings. Avoid sauerkraut dumplings because it could bring a poor, negative future. To make lucky dumplings, make sure you have enough pleats on the dumpling, and put a white thread inside. Some people even put a coin inside for wealth.
What to eat during Chinese New Year? Discover the top 7 food that Chinese people eat during the Spring Festival and on New Year's Day. https://t.co/r6Xa06wnxo

— China Highlights (@Chinahighlights) January 30, 2019
Breakfast, Lunch, and Dinner
A typical Chinese breakfast consists of noodles and steamed buns, which typical costs around 8 yuan. Another dish served is soy milk with dough sticks, as well as a bowl of rice porridge. These dishes would usually cost about 3 yuan.
If you're feeling homesick, you can get cake with milk or yogurt for breakfast for about 10 yuan at a bakery. You could also go to a restaurant and get a full Western breakfast for between 30 - 40 yuan.
For lunch and dinner, many Chinese people will eat rice or noodles. A bowl of noodles with meat may cost around 15 yuan while a dish served with rice may cost between 20 and 40 yuan every dish. There are also hot pots, which are soup-type meals that you can share between two people, that are usually 30 - 80 yuan.
Drinks and Snacks
Drinking in China is usually much cheaper than it is in Western countries. A typical beer is below 10 yuan, while a bottle of soda is around 4 yuan. Milk teas and juices average around 5 - 10 yuan. Water is very cheap at a usual 2 yuan.
Some common snacks in China include tofu and deep-fried dough sticks, which average at 2 - 10 yuan. Snacks are easy to find at every corner in China!
Fast Food in China
Common fast food places, such as McDonalds and KFC, can be found in China. The prices at these establishments are comparable to their prices globally. The usual cost for a hamburger is 12 yuan, and fries tend to cost about 7 yuan.
There are meal combos that consist of a hamburger, fries, a drink, along with fried chicken, which can cost around 40 yuan. There are Chinese fast food places as well, usually in small restaurants along the roadside. Some fast food joints have trays of food behind glass, where you can pick what you want.
These trays usually have a meat, vegetables, along with soup or rice. These are approximately 10 yuan every tray.
Tips and Tricks
Here's a travel tip - you don't have to tip. In most places in China, tipping it not expected and not common. Service is just usually included in the bill. However, keep in mind that in more bustling cities, such as Beijing or Shanghai, the prices may be higher.
Other places with higher prices include trains stations, airports, and hotel restaurants.
For an authentic Chinese meal experience, fast food places are not recommended, as these meals are usually very oily and loaded with MSG. If you want to be guided through an authentic taste of China, consider a food tour as you travel.
About Currency Exchange International
Currency Exchange International (CXI) is a leading provider of foreign currency exchange services in North America for financial institutions, corporations and travelers. Products and services for international travelers include access to buy and sell more than 90 foreign currencies, multi-currency cash passport's, traveler's cheques and gold bullion coins and bars. For financial institutions and corporations, our services include the exchange of foreign currencies, international wire transfers, global EFT, the purchase and sale of foreign bank drafts, international traveler's cheques, and foreign cheque clearing through the use of CXI's innovative CEIFX web-based FX software www.ceifx.com