Currency Market Trend Analysis: July 11, 2016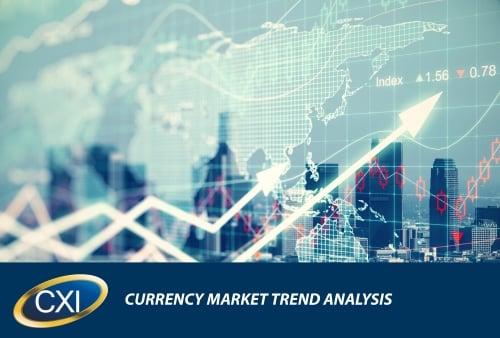 USD - U.S. Dollar
The U.S. Dollar is taking a turn to new highs with an employment increase of 287,000 in June. As the unemployment rate went up slightly to 4.9 percent, it is a good sign according to a report the U.S. Bureau of Labor Statistics released on Friday. Making USD the biggest gainer against other foreign currencies in the market.
In the meantime, it raises the question on whether or not a rate hike by the Fed over the next couple of months will happen. "Nothing in this report that signals the Fed needs to hurry to raise rates," says Kate Warne, chief investment strategist at Edward Jones. "It's a first step, but we'll need to see many other positive signs before the Fed is likely to move."
JPY - Japanese Yen
An election win on Sunday from Japanese Prime Minister Shinzo Abe has the USD trading at about 102.60 to the yen, showing a 2 percent currency gain since January 29, according to MarketWatch. The question that takes center stage is what will be 'Abenomics' next step to prop up the Japanese economy?
There is also reports from Reuters indicating that former Federal Reserve Chairman, Ben Bernanke visited the BOJ over the weekend. "They're talking with Bernanke because he's got the experience to deliver a shock to the market," said Fawad Razaqzada, technical analyst at Forex.com and City Index.
GBP - British Pound
The Brexit meltdown continues to leave uncertainty in the air, especially after David Cameron announced his farewell from his position. On the upside, some certainty comes back to the political front as a new Prime Minister, Theresa May won the throne.
The pound is taking a slight recovery from this news, but still exchanging at all-time lows of 1.29 against the U.S. dollar. No positive signs are on the horizon for the pound anytime soon. Bank of England will meet on July 14 for the first time since the EU referendum, to explain how they plan to ease their monetary policy - most think they will cut interest rates from 0.5 percent as their first step.
About Currency Exchange International
Currency Exchange International (CXI) is a leading provider of foreign currency exchange services in North America for financial institutions, corporations and travelers. Products and services for international travelers include access to buy and sell more than 90 foreign currencies, multi-currency cash passport's, traveler's cheques and gold bullion coins and bars. For financial institutions and corporations, our services include the exchange of foreign currencies, international wire transfers, global EFT, the purchase and sale of foreign bank drafts, international traveler's cheques, and foreign cheque clearing through the use of CXI's innovative CEIFX web-based FX software www.ceifx.com