Currency Market Trend Analysis: August 22, 2016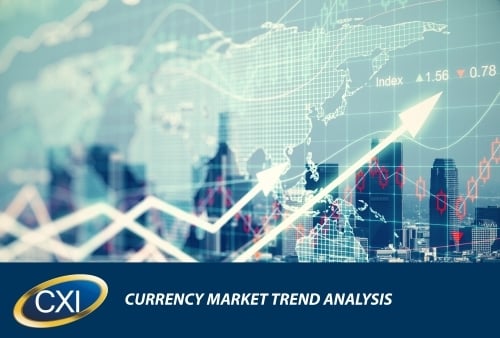 USD - U.S. Dollar
The FOMC meeting that took place last week on Wednesday, August 17 left many hopeful for the U.S. dollar. This came after Vice Chairman Stanley Fischer said that, "inflation, at 1.6 percent, is within hailing distance of 2 percent." Which comes to show the U.S. economy is closer than they originally thought they were to meeting their targets.
They also noted the employment rate has increased dramatically since 2010. This news set the U.S. dollar in a turn for the better, allowing it to perform higher against other currencies. Meanwhile all eyes will be on Yellen this week as investors wait to view the results from her speech on Friday.
GBP - British Pound
Things are looking up for the pound this week, trading strong today at 1.31 compared to 1.28 last Monday. This is due to recent news releasing that Prime Minister, Theresa May is sympathetic towards negotiations of Britain leaving the EU to start as early as next year in April.
The pound could take a turn later this week as the CBI survey on industrial trends is due on Tuesday, and the retail activity is due on Thursday. This data will bring a closer look at how the economy is performing after the Brexit. 
EUR - Euro
The Eurozone is heading for an eventful economic week with release of the Markit Manufacturing and Services PMI figures that could change the tone of the euro on Tuesday. These reports will focus on the growth of the Eurozone, and reveal where they stand.
It's currently trading at a steady rate of 1.13 against the U.S. dollar, which is slightly higher compared to 1.11 last Monday. Although this rate could take a turn next week depending on the outcome of Janet Yellen's speech on Friday. 
Currency Exchange Reference Rates
CXI publishes U.S. dollar foreign exchange reference rates, or interbank market rates, for seven currencies as market indicators only. These reference rates are only meant to be used for information purposes and are not rate quote solicitations and don't reflect the rates at which actual transactions can be made. All foreign currency transactions, either banknote or electronic, will be made at percentages off of the interbank market rate.
These rates are used as a guide in the foreign currency exchange industry. Learn more in our FAQ sections.
| Country | Currency | Currency Code | Rate |
| --- | --- | --- | --- |
| Australia | Dollar | AUD | 0.7627 |
| Canada | Dollar | CAD | 0.7720 |
| China | Yuan | CNY | 0.1503 |
| Europe | Euro | EUR | 1.1320 |
| United Kingdom | Pound | GBP | 1.3132 |
| Japan | Yen | JPY | 0.0099 |
| Mexico | Peso | MXN | 0.0546 |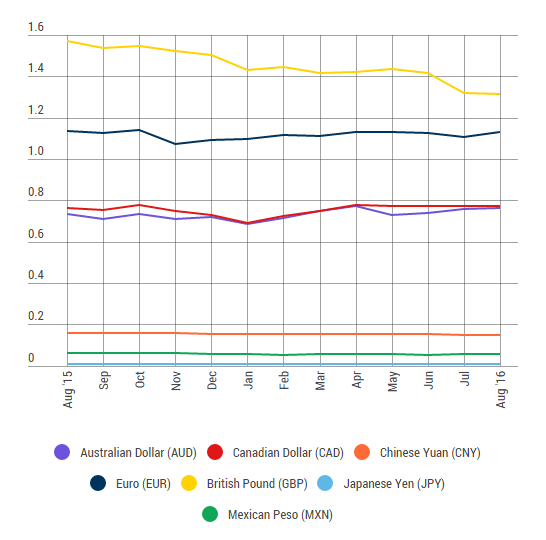 For weekly updates on currency exchange rates, join our platinum passport so you can always have the latest update on foreign currency. If you'd like to get a live currency exchange rate call one of our branch locations now.
About Currency Exchange International
Currency Exchange International (CXI) is a leading provider of foreign currency exchange services in North America for financial institutions, corporations and travelers. Products and services for international travelers include access to buy and sell more than 90 foreign currencies, multi-currency cash passport's, traveler's cheques and gold bullion coins and bars. For financial institutions and corporations, our services include the exchange of foreign currencies, international wire transfers, global EFT, the purchase and sale of foreign bank drafts, international traveler's cheques, and foreign cheque clearing through the use of CXI's innovative CEIFX web-based FX software www.ceifx.com