Currency Market Trend Analysis: August 15, 2016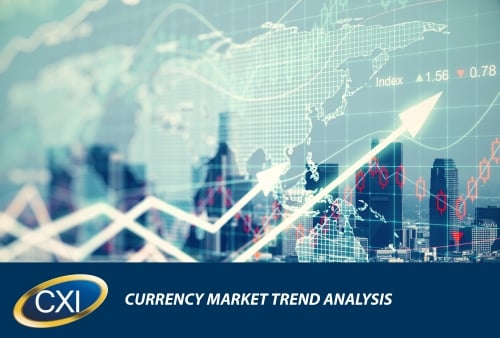 USD - U.S. Dollar
The U.S. dollar weakened against the euro and the yen on Monday. This was due to poor results coming from the U.S Retail Sales Report that was released on Friday by the U.S. Census Bureau indicating no growth in July. 
An upcoming FOMC meeting will steal the spotlight this Wednesday, August 17 as investors will shift their attention to the outcome of this meeting that is set to be released at 2:00 PM EST.
GBP - British Pound
As the pressure builds on the economy, the British pound continues to fall. On Monday it reached a new low of 1.28 against the U.S. dollar.
After the BOE's decision to cut its key rate to 0.25 percent, there's no doubt they mean business to stimulate growth, but it has many investors on the fence speculating the future of the economy.
EUR - Euro
The euro has gained slightly against the U.S. dollar on Monday to a high of 1.11. A fresh input could be on the horizon, as the European Central Bank's Governing Council Policy is set to release a new forecast. This new report is expected to reveal the effects of the Brexit dynamics between the U.K. and the Eurozone. 
Currency Exchange Reference Rates
CXI publishes U.S. dollar foreign exchange reference rates, or interbank market rates, for seven currencies as market indicators only. These reference rates are only meant to be used for information purposes and are not rate quote solicitations and don't reflect the rates at which actual transactions can be made. All foreign currency transactions, either banknote or electronic, will be made at percentages off of the interbank market rate.
These rates are used as a guide in the foreign currency exchange industry. Learn more in our FAQ sections.
| Country | Currency | Currency Code | Rate |
| --- | --- | --- | --- |
| Australia | Dollar | AUD | 0.7682 |
| Canada | Dollar | CAD | 0.7742 |
| China | Yuan | CNY | 0.1506 |
| Europe | Euro | EUR | 1.1185 |
| United Kingdom | Pound | GBP | 1.2880 |
| Japan | Yen | JPY | 0.0098 |
| Mexico | Peso | MXN | 0.0553 |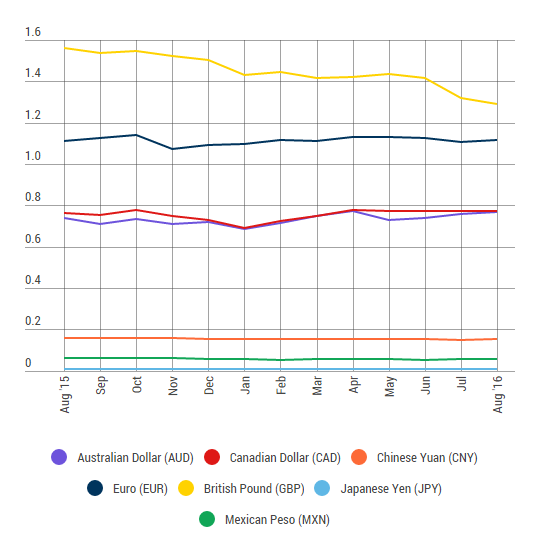 For weekly updates on currency exchange rates, join our platinum passport so you can always have the latest update on foreign currency. If you'd like to get a live currency exchange rate call one of our branch locations now.
About Currency Exchange International
Currency Exchange International (CXI) is a leading provider of foreign currency exchange services in North America for financial institutions, corporations and travelers. Products and services for international travelers include access to buy and sell more than 90 foreign currencies, multi-currency cash passport's, traveler's cheques and gold bullion coins and bars. For financial institutions and corporations, our services include the exchange of foreign currencies, international wire transfers, global EFT, the purchase and sale of foreign bank drafts, international traveler's cheques, and foreign cheque clearing through the use of CXI's innovative CEIFX web-based FX software www.ceifx.com