Mild coronavirus optimism leads risk sentiment higher overnight
Sharlene
March 24th, 2020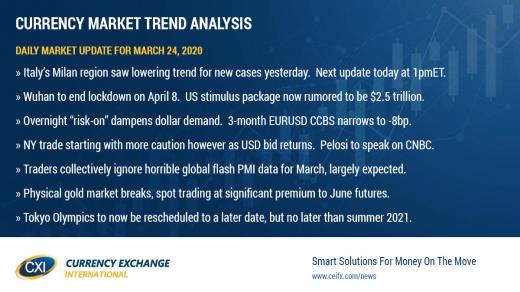 Take control of your international payments with CXI FX Now.
• Zero transfer fees & great rates
• Fast international payments
• Safety and security
• Unparalleled customer service
• Consultative approach
Interested in creating a custom foreign exchange trading plan? Contact us or call EBC's trading desk directly at 1-888-729-9716.
Get real-time market coverage on twitter at @EBCTradeDesk or sign up here.
SUMMARY
Italy's Milan region saw lowering trend for new cases yesterday. Next update today at 1pmET.

Wuhan to end lockdown on April 8. US stimulus package now rumored to be $2.5 trillion.

Overnight "risk-on" dampens dollar demand. 3-month EURUSD CCBS narrows to -8bp.

NY trade starting with more caution however as USD bid returns. Pelosi to speak on CNBC.

Traders collectively ignore horrible global flash PMI data for March, largely expected.

Physical gold market breaks, spot trading at significant premium to June futures.

Tokyo Olympics to now be rescheduled to a later date, but no later than summer 2021.
ANALYSIS
USDCAD
Global risk sentiment continues to edge higher overnight and it all started yesterday afternoon with some positive signs in Italy's daily coronavirus statistics. The Milan region reported just an 8% rise in new cases, versus +10% on Sunday and +14% on Saturday, which prompted headlines about a slowing trend for the outbreak in Italy. This optimism carried over into Asian trade last night, where talk circulated that the US coronavirus economic relief package (still not voted upon) could be upwards of $2.5 trillion in size. The flash March PMI data out of Europe today looked horrible, but one could make the argument that we knew this was coming. What is more, we're waking up to reports now that Wuhan plans to end its historic lockdown on April 8. We feel all this mild coronavirus optimism has done more to create the green on the equity screens this morning than anything the Fed announced yesterday.
Dollar/CAD hit chart resistance in the 1.4540s heading into the release of Italy's coronavirus statistics yesterday, and it slipped lower in overnight trade amid the optimism that drove May crude oil prices 5% higher. All of this is reversing now however as traders adopt a more cautious approach ahead of the North American news cycle. It will be interesting to see if market participants shrug off the US flash PMIs for March as well, to be released at 9:45amET.
USDCAD DAILY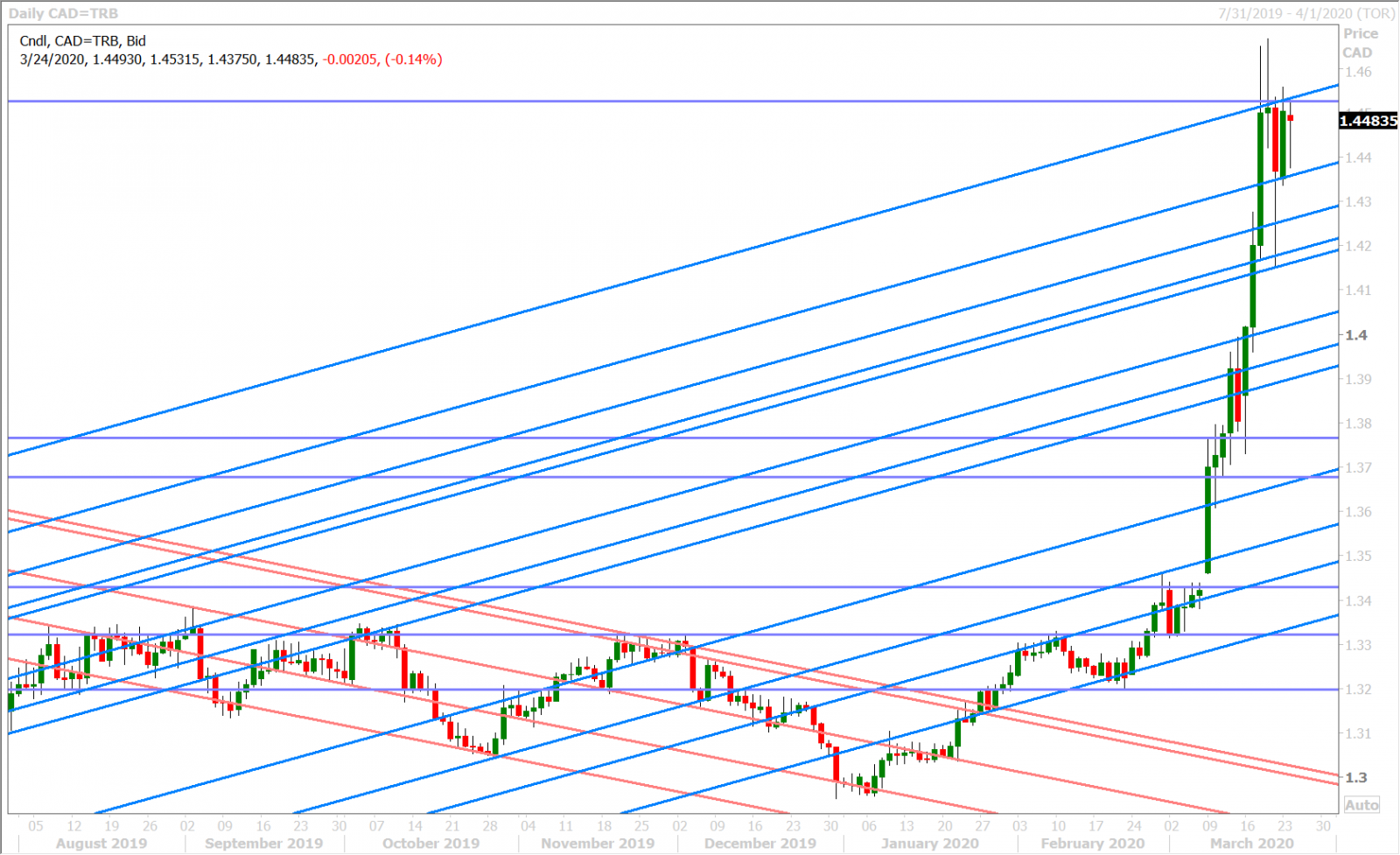 USDCAD HOURLY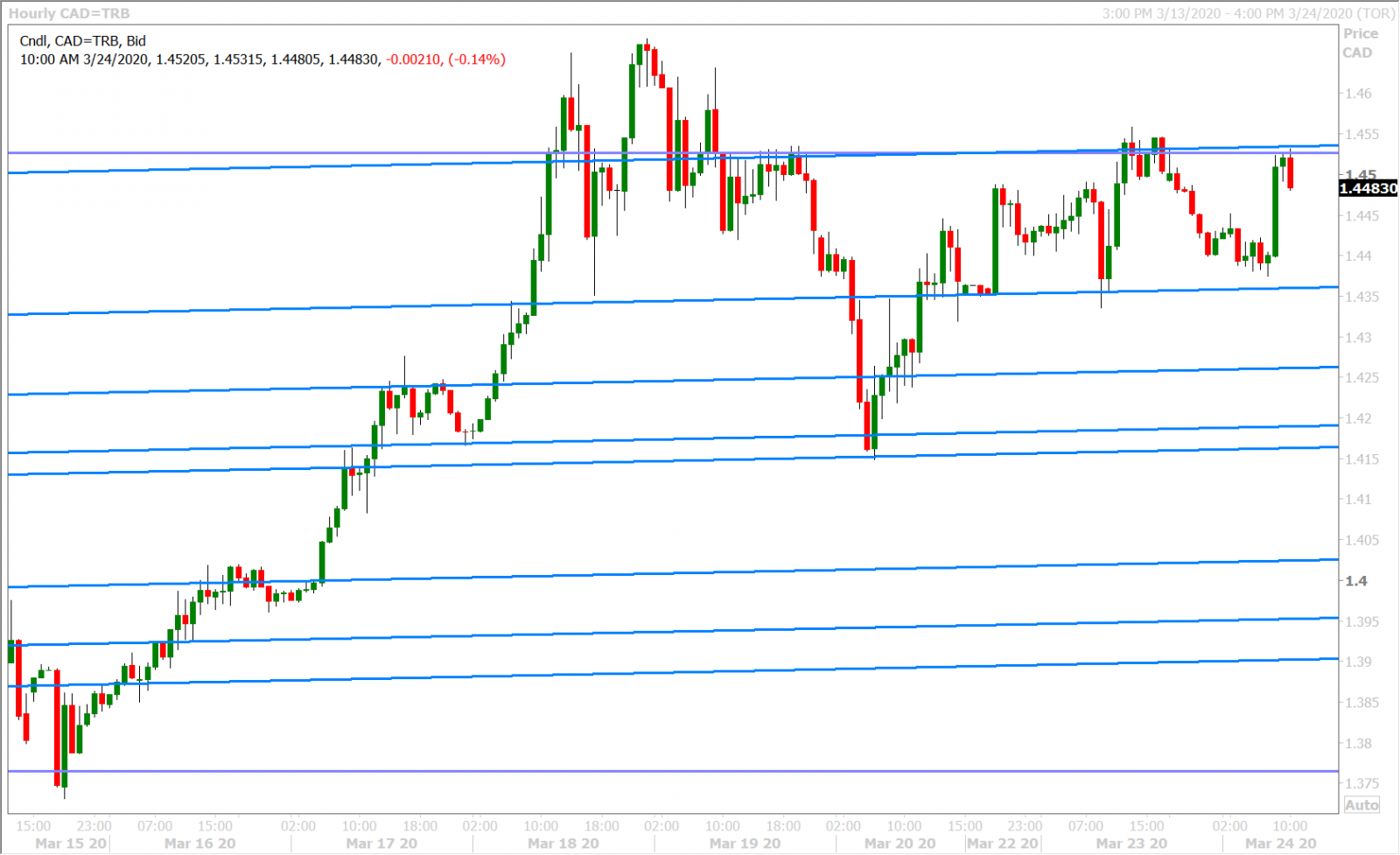 MAY CRUDE OIL DAILY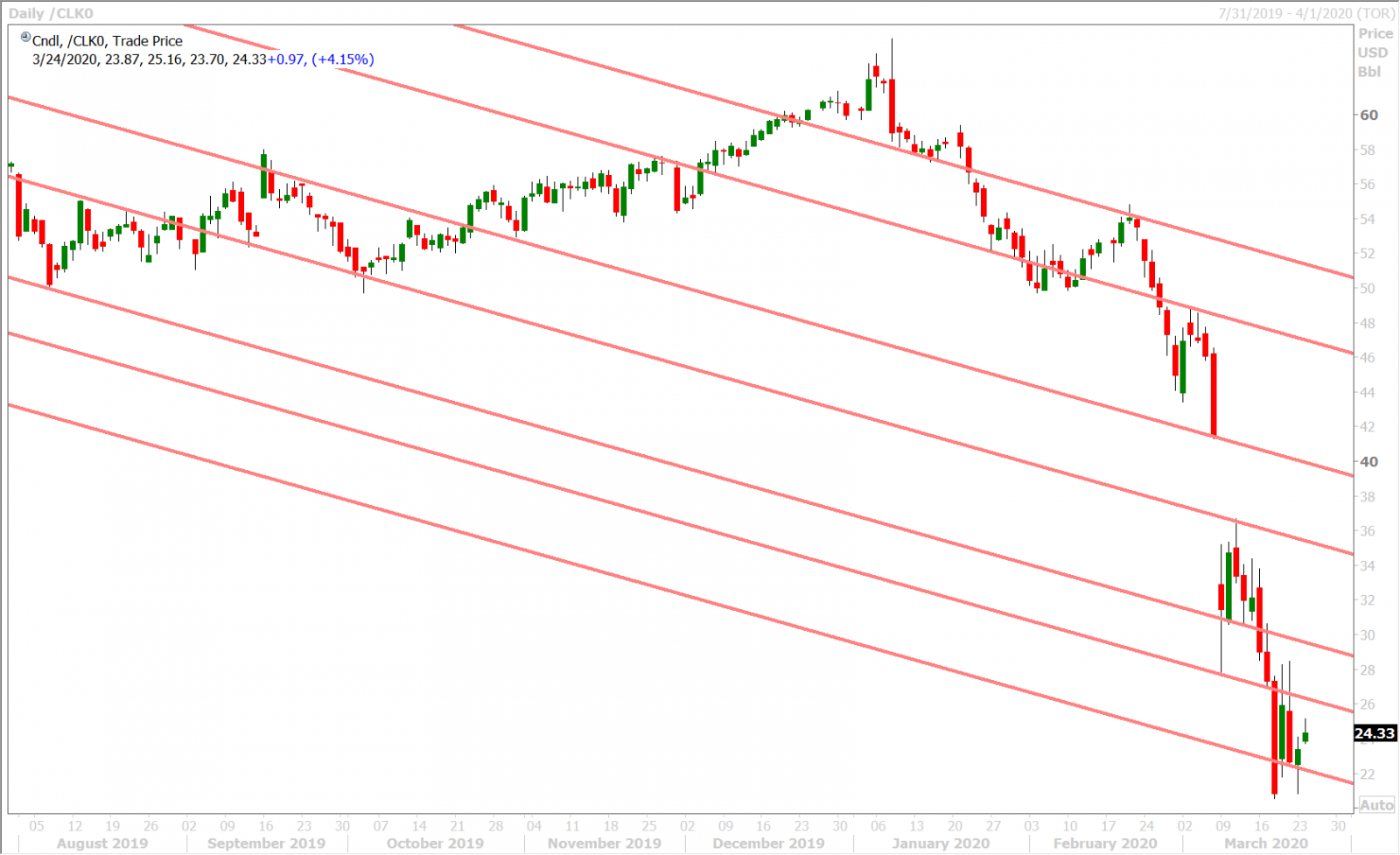 ---
EURUSD
Euro/dollar broke above the 1.0820s earlier this morning after the 3-month EURUSD cross currency basis swap opened tighter (now just -8bp). Are the global USD swap lines doing their magic or are we seeing mild optimism on the coronavirus front? We'd argue the latter. The European flash PMIs for March were released earlier this morning (see below) and while they now point to guaranteed recession, one could make the argument that markets already priced this in, so there was no reason to overreact.
The swift move for EURUSD back below the 1.0820s now is rather concerning though as NY trade gets underway. It tells us to be on guard for more negative headlines that could bring back dollar demand. A close below the 1.0820 would be disappointing from a technical perspective as it would show clear buyer failure to arrest the market's downtrend.
June gold prices have gone bonkers over the last 24hrs as the continued demand for physical now far exceeds the market's ability to supply it. Coronavirus lockdowns are making it difficult for refineries to produce and for physical metal to be transported. The Royal Canadian Mint has shut down for 2 weeks due COVID-19. We're also hearing talk that there's been a breakdown in the CME's Exchange for Physical mechanism (ie. some banks not providing pricing in the spot market). The spot market premium over the June futures contract traded as high as a $40/oz at one point this morning.
• EZ Mar Markit Mfg Flash PMI, 44.8, 39.0 f'cast, 49.2 prev
• EZ Mar Markit Serv Flash PMI, 28.4, 39.0, 52.6 prev
• EZ Mar Markit Comp Flash PMI, 31.4, 38.8 f'cast, 51.6 prev
• DE Mar Markit Mfg Flash PMI, 45.7, 39.6 f'cast, 48.0 prev
• DE Mar Markit Service Flash PMI, 34.5, 42.3 f'cast, 52.5 prev
• DE Mar Markit Comp Flash PMI, 37.2, 40.6 f'cast, 50.7 prev
EURUSD DAILY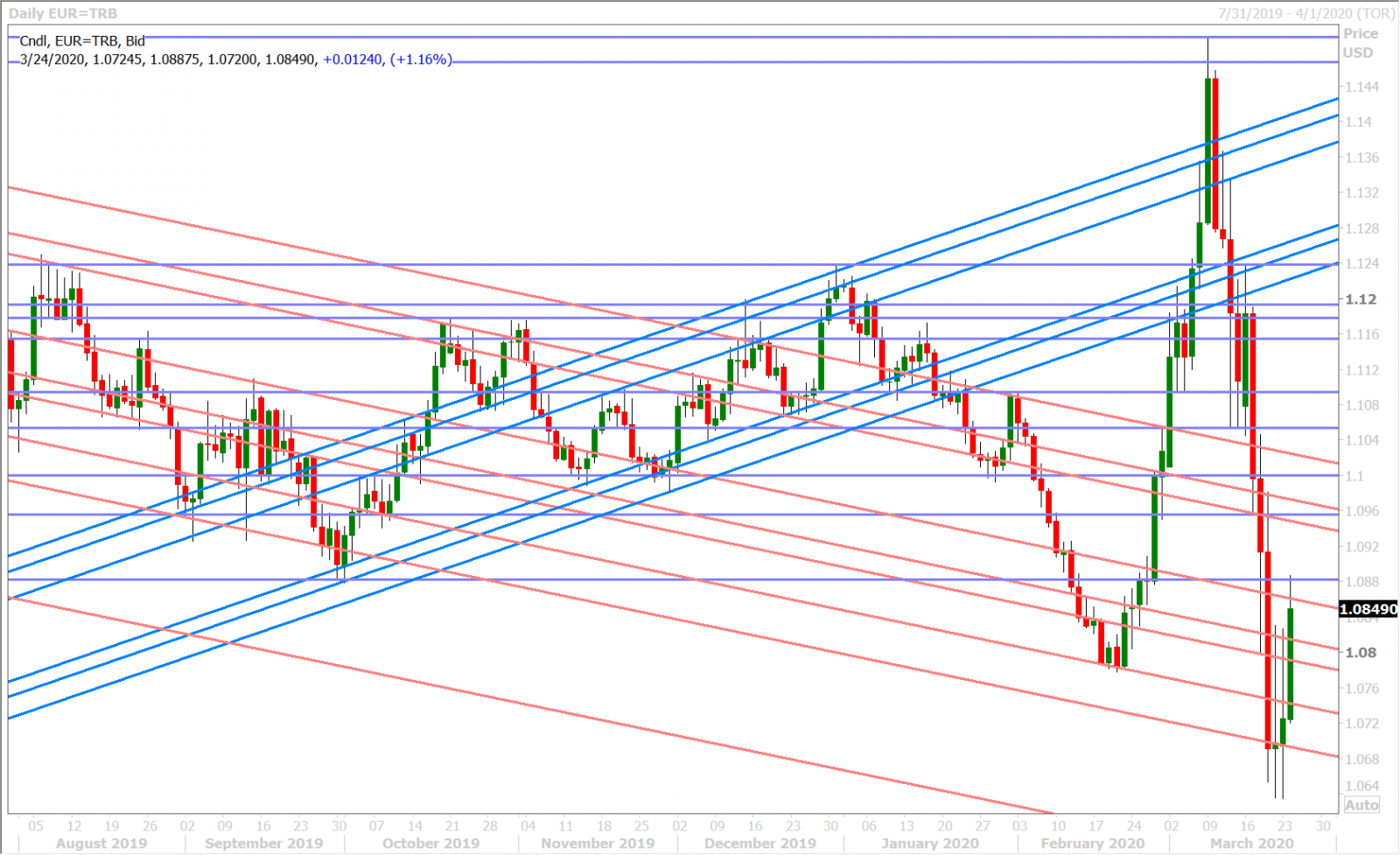 EURUSD HOURLY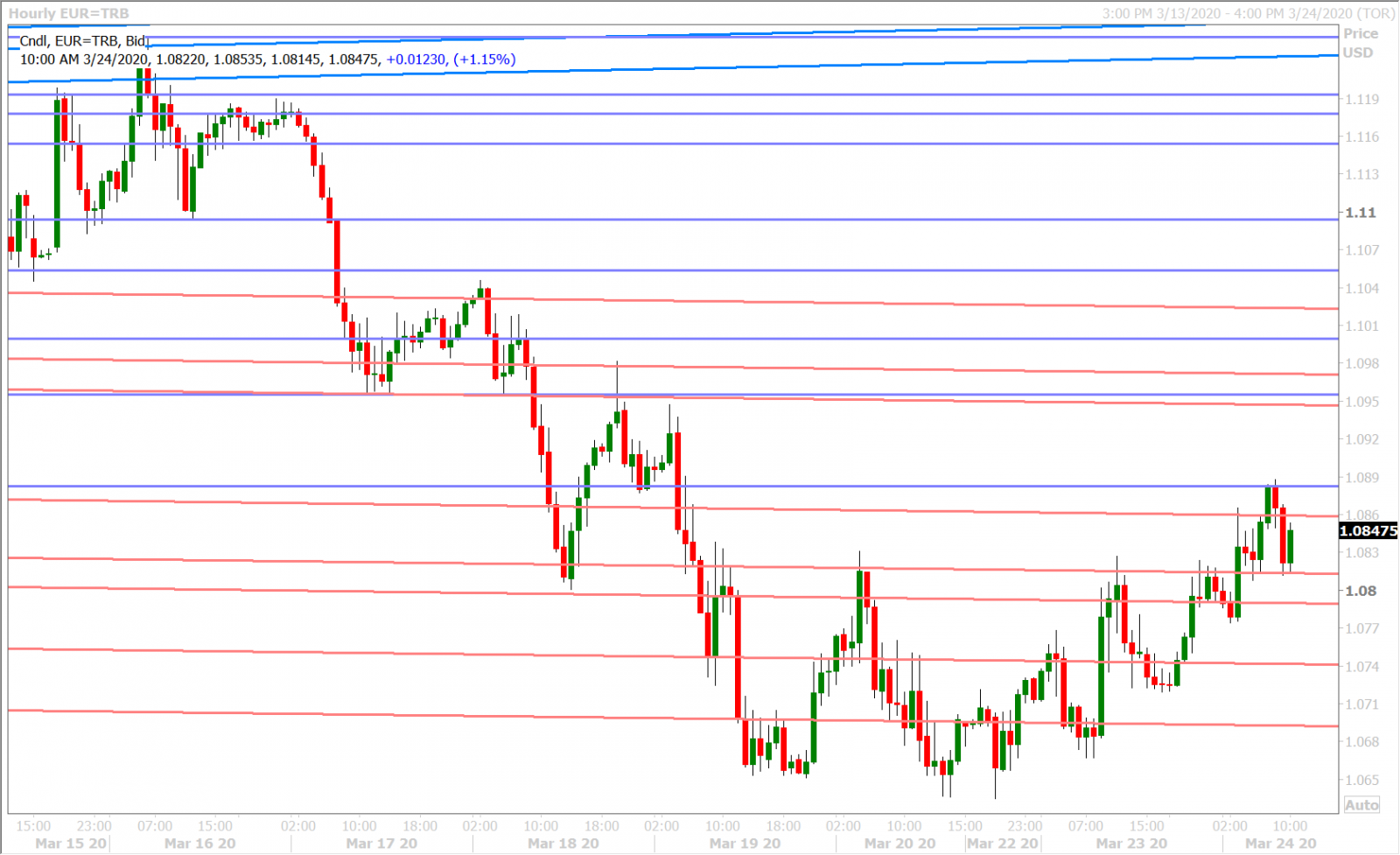 JUNE GOLD DAILY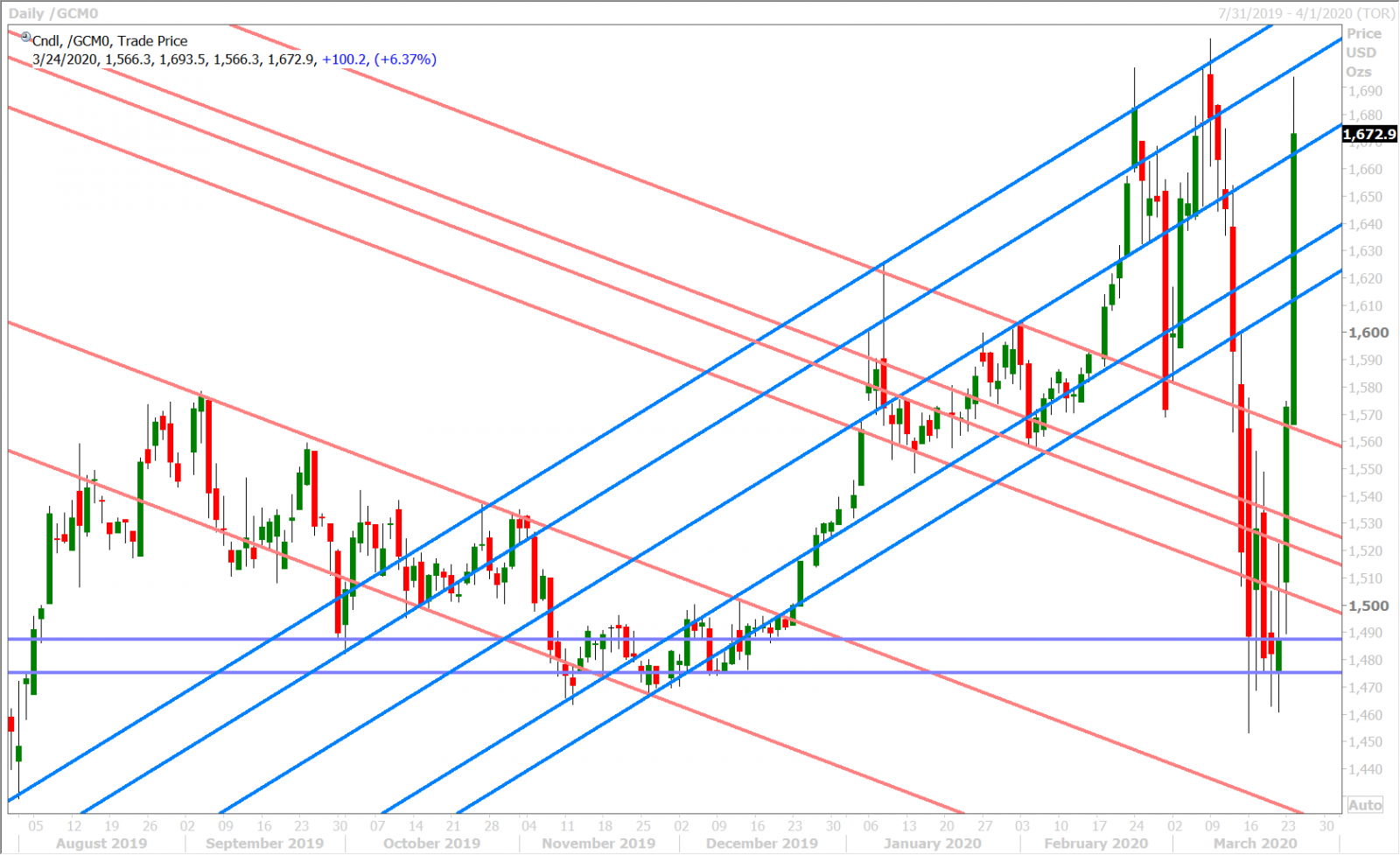 ---
GBPUSD
It sure looked like the broader USD wanted to finally turn lower in the overnight session as traders ignored the poor UK flash PMIs for March as well (see below). Sterling rallied to the key 1.1790 resistance level in early London trade, but it's now pulling back as NY traders seem to be preparing for a negative news cycle in North America today.
• UK Mar Flash Composite PMI, 37.1, 45.1 f'cast, 53.0 prev
• UK Mar Flash Manufacturing PMI, 48.0, 45.0 f'cast, 51.7 prev
• UK Mar Flash Services PMI, 35.7, 45.0 f'cast, 53.2 prev
GBPUSD DAILY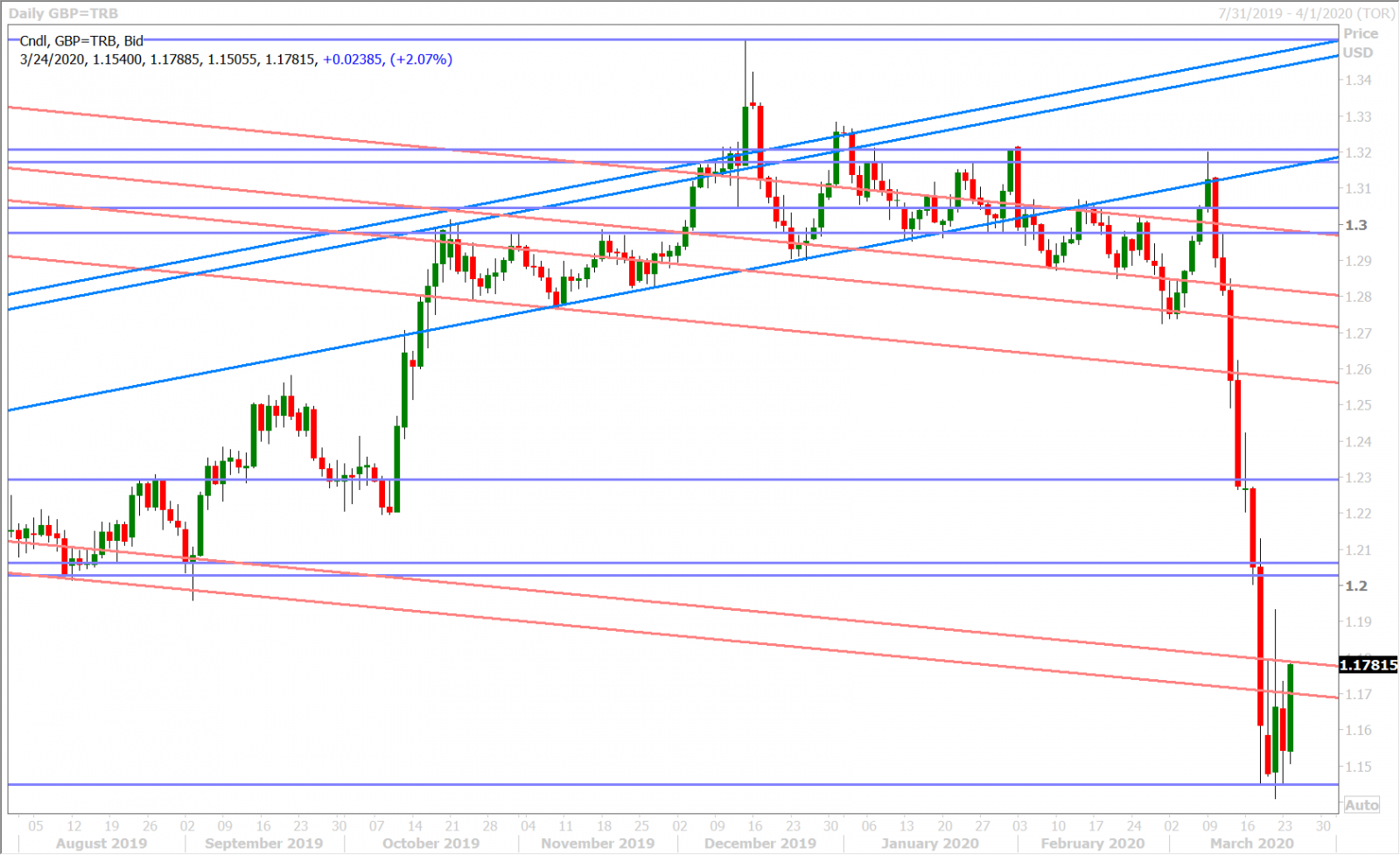 GBPUSD HOURLY
EURGBP DAILY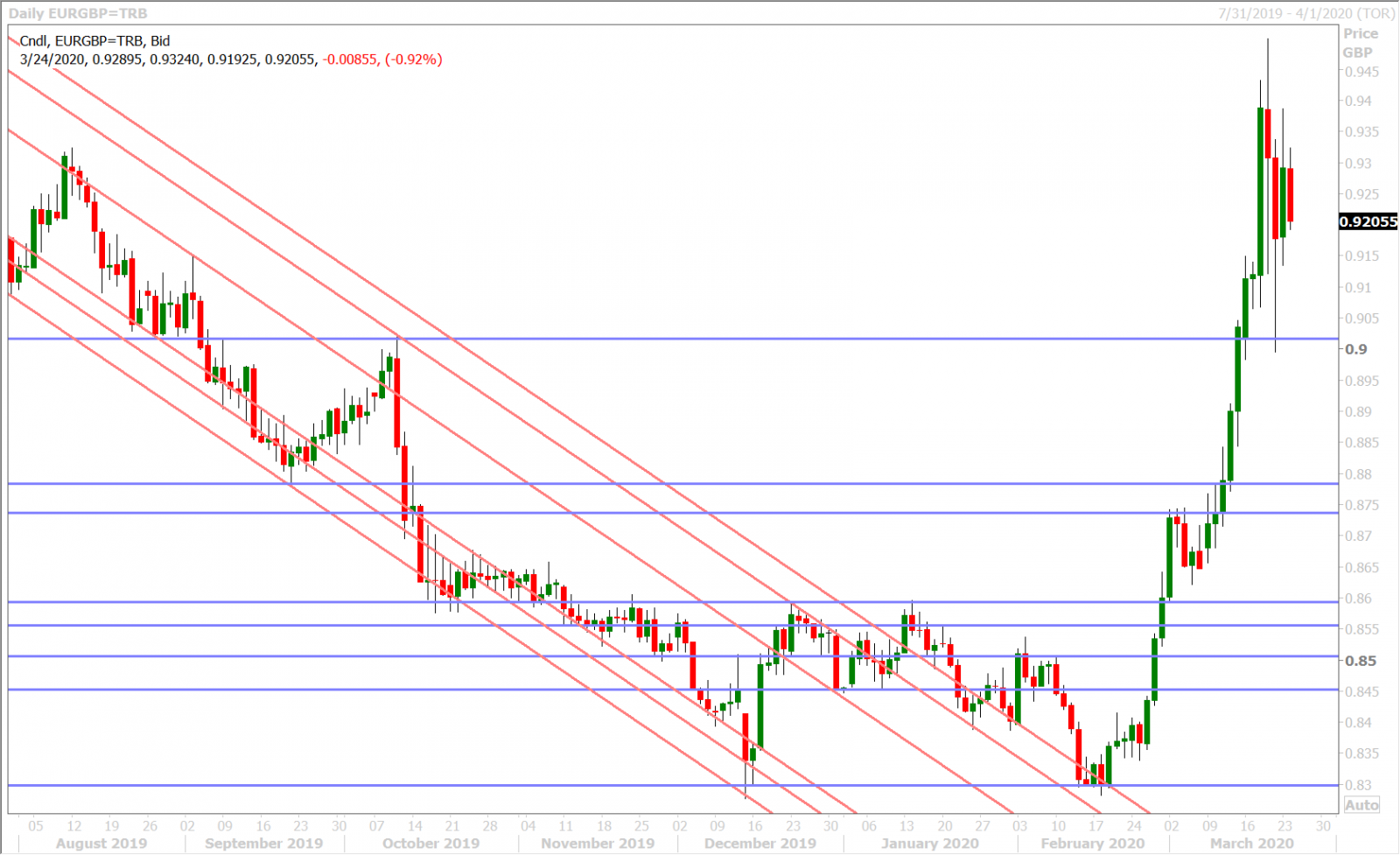 ---
AUDUSD DAILY
Mild coronavirus optimism lifted the Aussie as well in overnight trade and it seemed to take the focus away from Australia's flash PMI numbers for March, which were also bad (see below). Traders are still having trouble with the 0.5960-0.6020 resistance zone as NY trade gets underway and we think this will be the market's pivotal level, for momentum, heading into the close. PM Scott Morrison extended a nationwide crackdown on social gatherings today by announcing some new restrictions. See here from ABC News.
• AU Mar Manufacturing PMI, 50.1, 49.8 prev
• AU Mar Services PMI, 39.8, 48.4 prev
• AU Mar Composite PMI, 40.7, 48.3 prev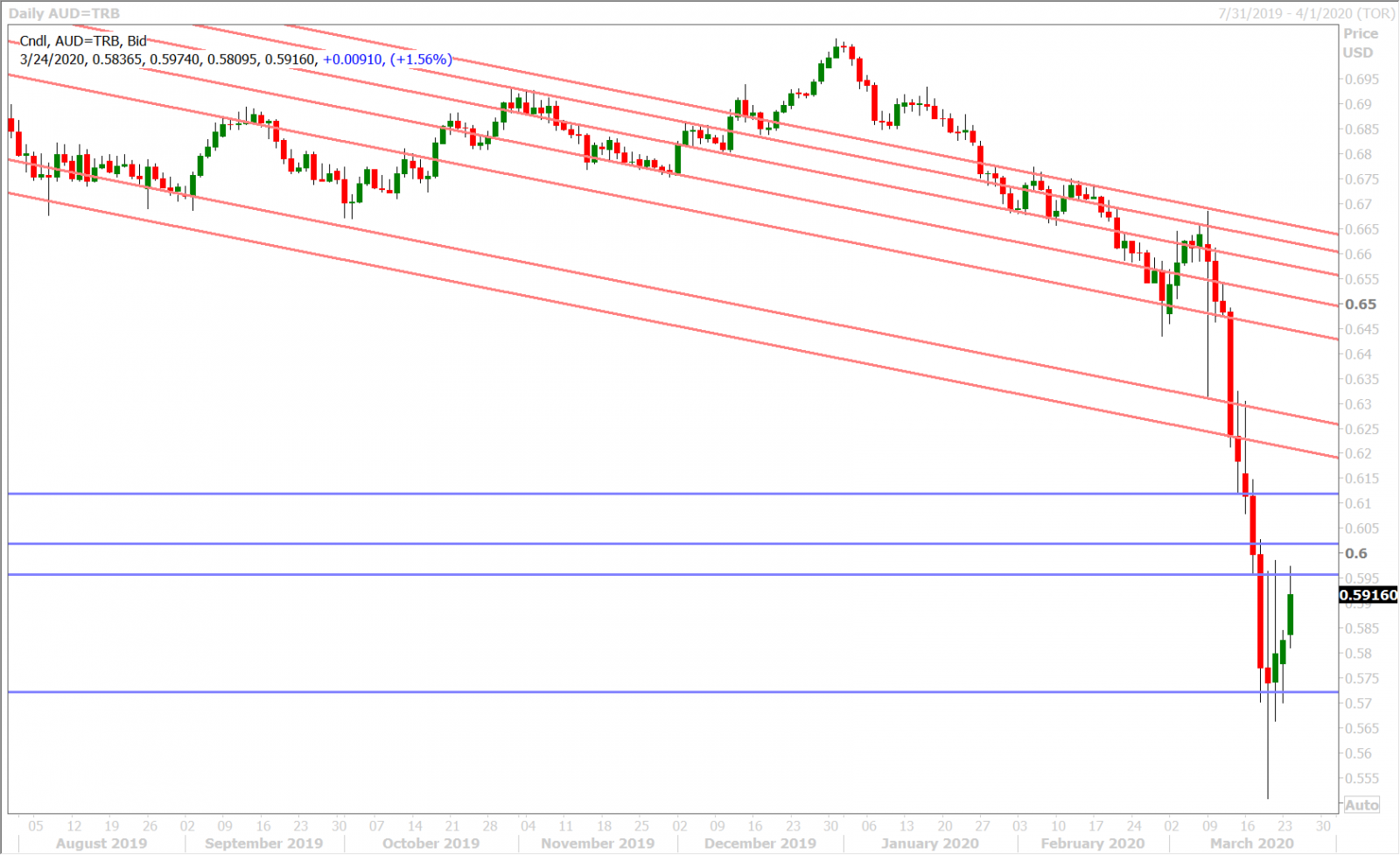 AUDUSD HOURLY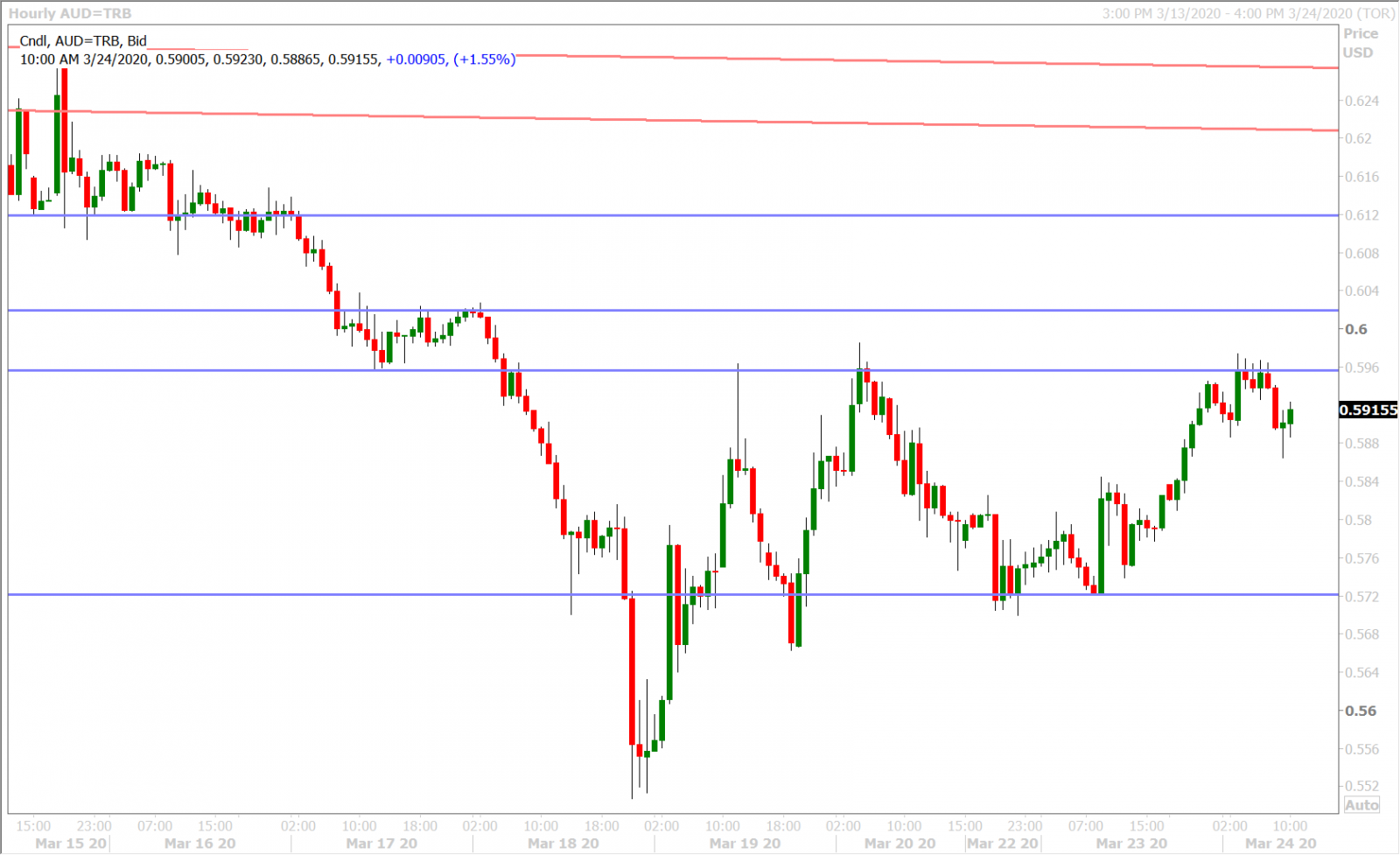 USDCNH DAILY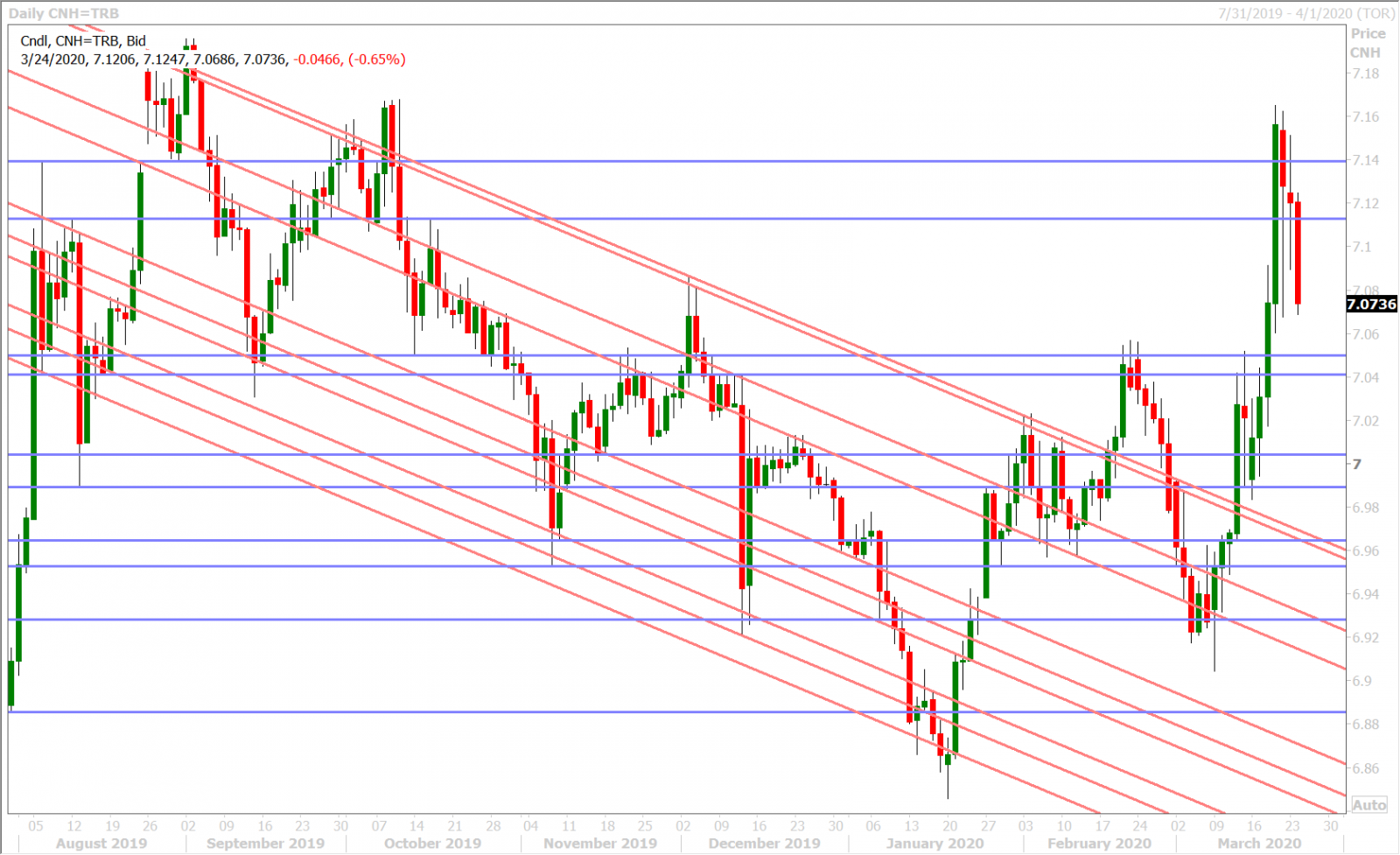 ---
USDJPY
Dollar/yen rallied back up to its recent trendline resistance highs in the 1.1130s yesterday, despite the Fed's unprecedented QE announcement, and while it pulled back overnight on the broadly better risk mood (which hit the USD), buyers have been found once again as NY trade begins with caution. The IOC and Japanese PM Shinzo Abe released a joint statement this morning saying that the Tokyo Olympic Games must now be rescheduled to a later date, but not later than the summer of 2021. Full statement here.
JP Mar Jibun Bank Mfg PMI Flash, 44.8, 47.8 prev
USDJPY DAILY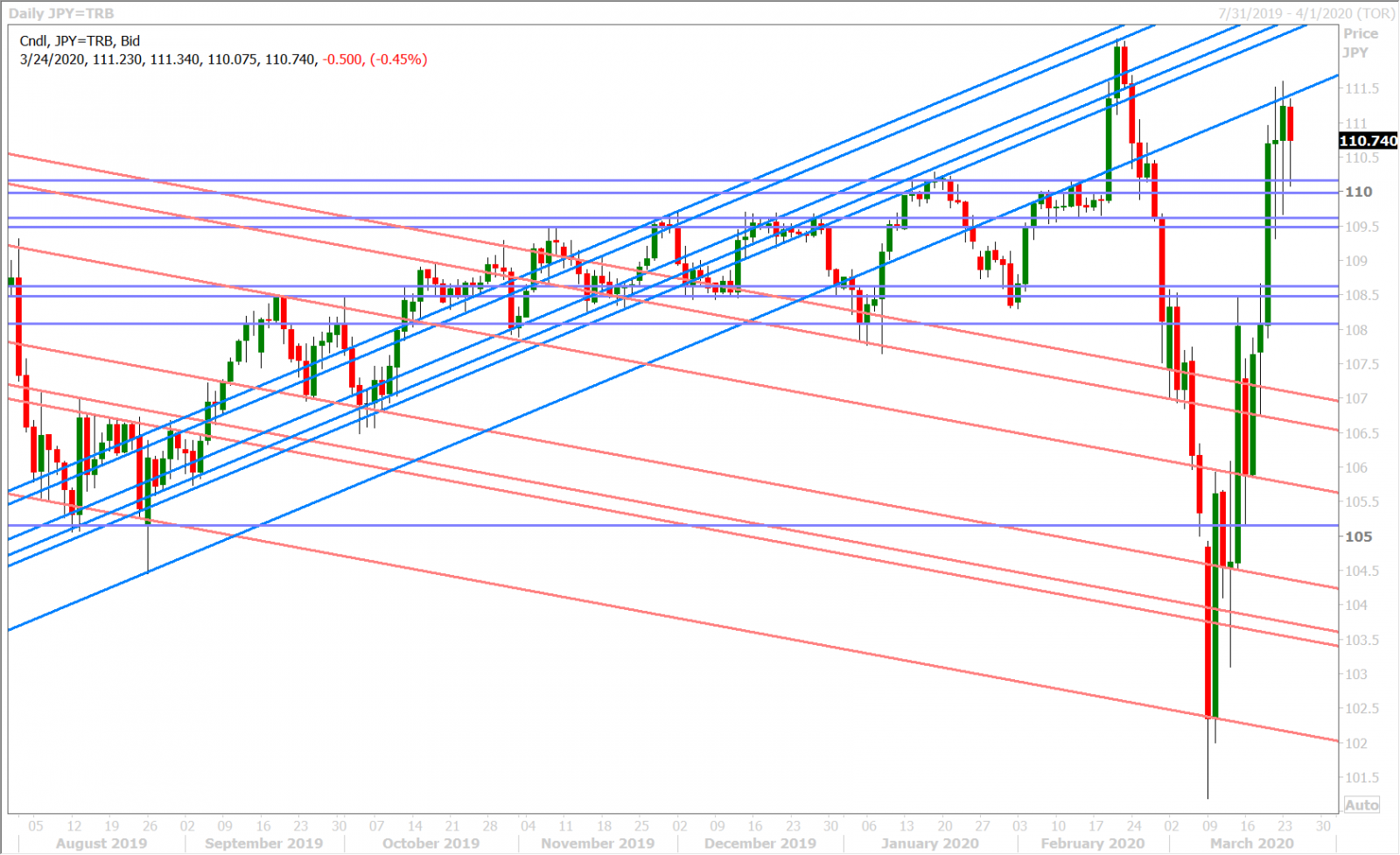 USDJPY HOURLY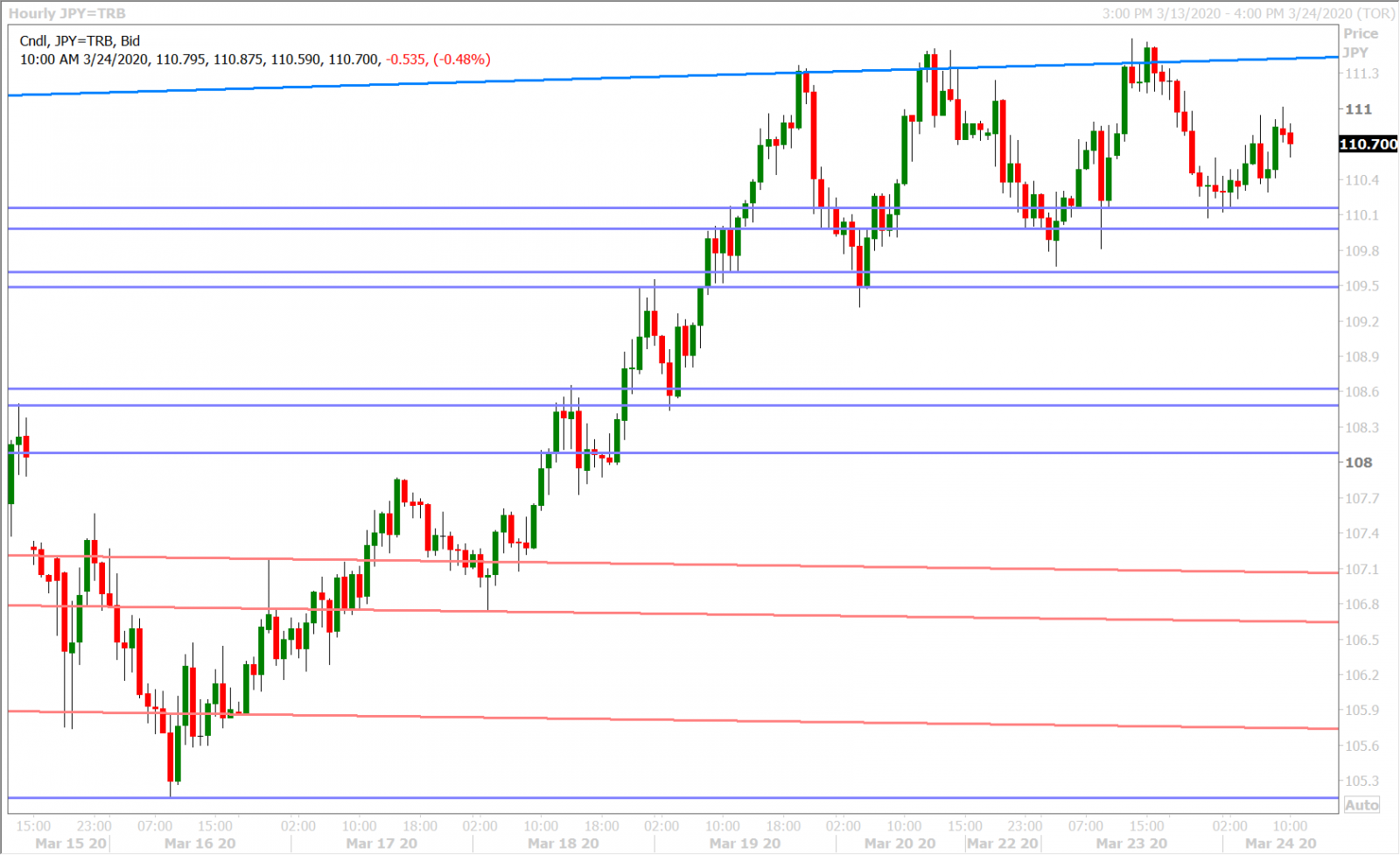 JUNE S&P 500 DAILY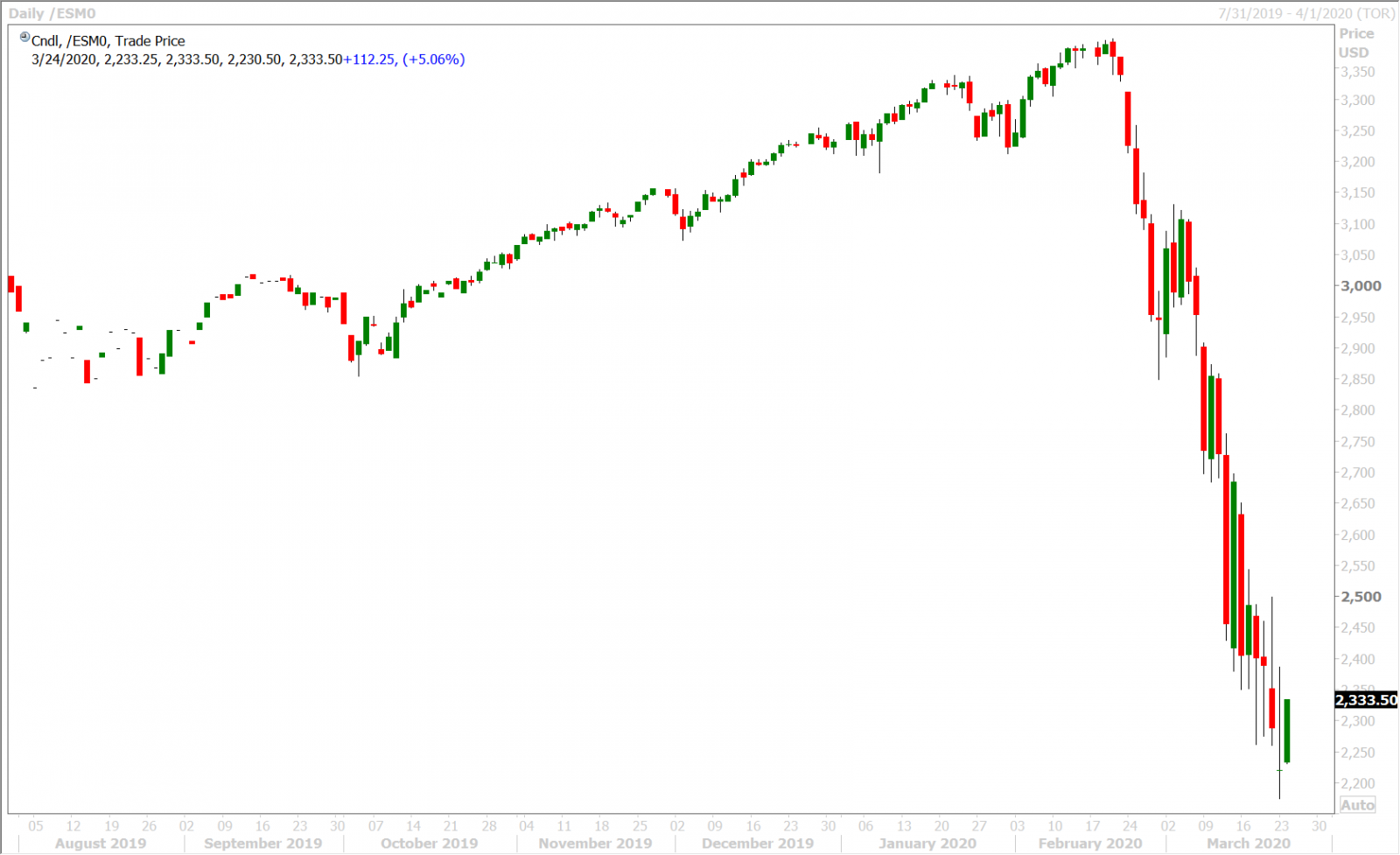 Charts: Reuters Eikon
---
About the Author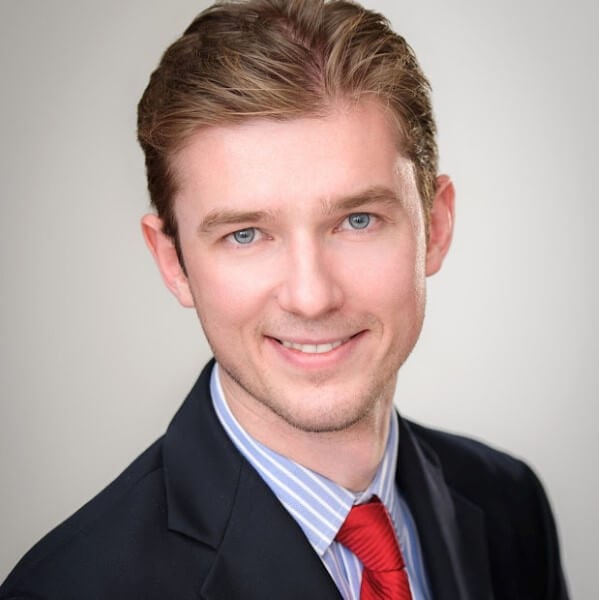 Erik Bregar - Director, Head of FX Strategy
Erik works with corporations and institutions to help them better navigate the currency markets. His desk provides fast, transparent, and low cost trade execution; up to the minute fundamental and technical market analysis; custom strategy development; and post-trade services -- all in an effort to add value to your firm's bottom line. Erik has been trading currencies professionally and independently for more than 12 years. Prior to leading the trading desk at EBC, Erik was in charge of managing the foreign exchange risk for one of Canada's largest independent broker-dealers.
Interested in creating a custom foreign exchange trading plan? Contact us or call CXI's trading desk directly at 1-833-572-8933.
About Currency Exchange International
Currency Exchange International, CXI, is the leading provider of comprehensive foreign exchange services, risk management solutions and integrated international payments processing technology in North America. CXI's relationship-driven approach ensures clients receive tailored solutions and world-class customer service. Through innovative and trusted FX software platforms, CXI delivers versatile foreign exchange services to our clients, so that they can efficiently manage and streamline their foreign currency and global payment needs. CXI is a trusted partner among financial institutions, corporations and retail markets around the world. To learn more, visit: www.ceifx.com