Precious metal rally hits USD hard yesterday. China bull rages on.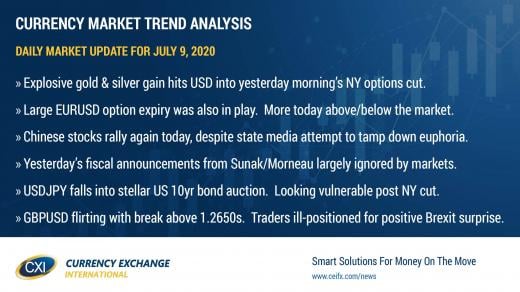 Take control of your international payments with CXI FX Now.
• Low transfer fees & great rates
• Fast international payments
• Safety and security
• Unparalleled customer service
• Consultative approach
Interested in creating a custom foreign exchange trading plan?
Contact us
or call EBC's trading desk directly at
1-888-729-9716.
Get real-time market coverage on twitter at @EBCTradeDesk or sign up to currency insider here.
SUMMARY
Explosive gold & silver gain hits USD into yesterday morning's NY options cut.

Large EURUSD option expiry was also in play. More today above/below the market.

Chinese stocks rally again today, despite state media attempt to tamp down euphoria.

Yesterday's fiscal announcements from Sunak/Morneau largely ignored by markets.

USDJPY falls into stellar US 10yr bond auction. Looking vulnerable post NY cut.

GBPUSD flirting with break above 1.2650s. Traders ill-positioned for positive Brexit surprise.
ANALYSIS
USDCAD
The broader USD fell apart yesterday and, while we've read many poor attempts to explain it today, we feel strongly that this was a precious metals, flow-driven move that caught many FX traders off guard into an influential EURUSD option expiry. Everybody knew about the 2.7blnEUR worth of EURUSD options going off around the 1.1300 strike, which we said could provide fodder for USD weakness into 10amET, but we don't think markets were prepared for the surge we saw in gold and silver prices about 15-20mins beforehand. The USD crumbled as soon as spot gold broke above $1805 and spot silver leaped above $18.50, and this coincided with new 9-year highs for the former and a technical upside breakout for the latter…moves that are normally triggered by buy stop orders executing for traders that are caught short.
The broad USD selling saw EURUSD surge to its next chart resistance level in the 1.1340-50 area; GBPUSD take out resistance at 1.2580s and USDCAD collapse and ultimately take out support at the 1.3520s. Yesterday's $343bln budget deficit forecast by Canadian Finance Minister Bill Morneau had no effect on the markets as traders already know that the Canadian government and the Bank of Canada are effectively "all in" when it comes to supporting the economy. More details here from Bloomberg.
Chinese equity markets wobbled a bit last night following the PBOC's higher than expected USDCNY fix and attempts by state media to tamp down on stock market euphoria…but it really didn't work. The Shanghai Composite ultimately closed another 1.7% higher and has now gained 16% in just two weeks! European equity market sentiment has been justifiably more cautious this morning as negative COVID headlines continue to intimidate and as the risk currencies (AUD, CAD, GBP) all struggle a bit with chart resistance levels vis a vis the USD. Euro/dollar traders looked like they wanted to move spot prices to touch both large option expiry levels in play today (2blnEUR 1.1350-1.1375 and another 2blnEUR 1.1300-1.1325)
The US just reported a better than expected Initial Jobless Claims figure for the week ending July 4 (+1.314M vs +1.375M) and Canada just reported higher than expected Housing Starts for the month of June (211.7k vs 198k)…both non-events to a marketplace which is now focused on flows, cross-market technicals and the "freshest" of headlines.

USDCAD DAILY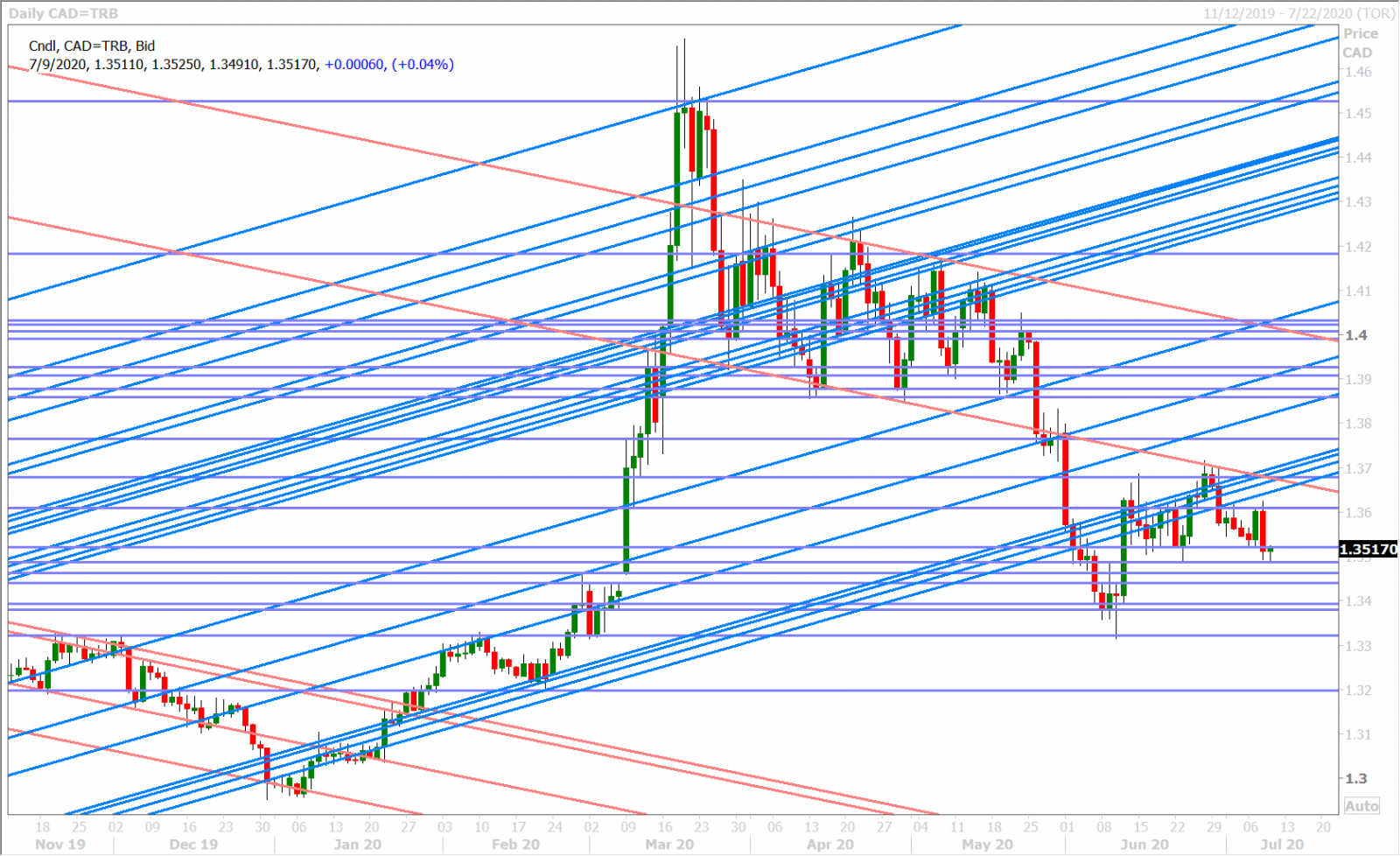 USDCAD HOURLY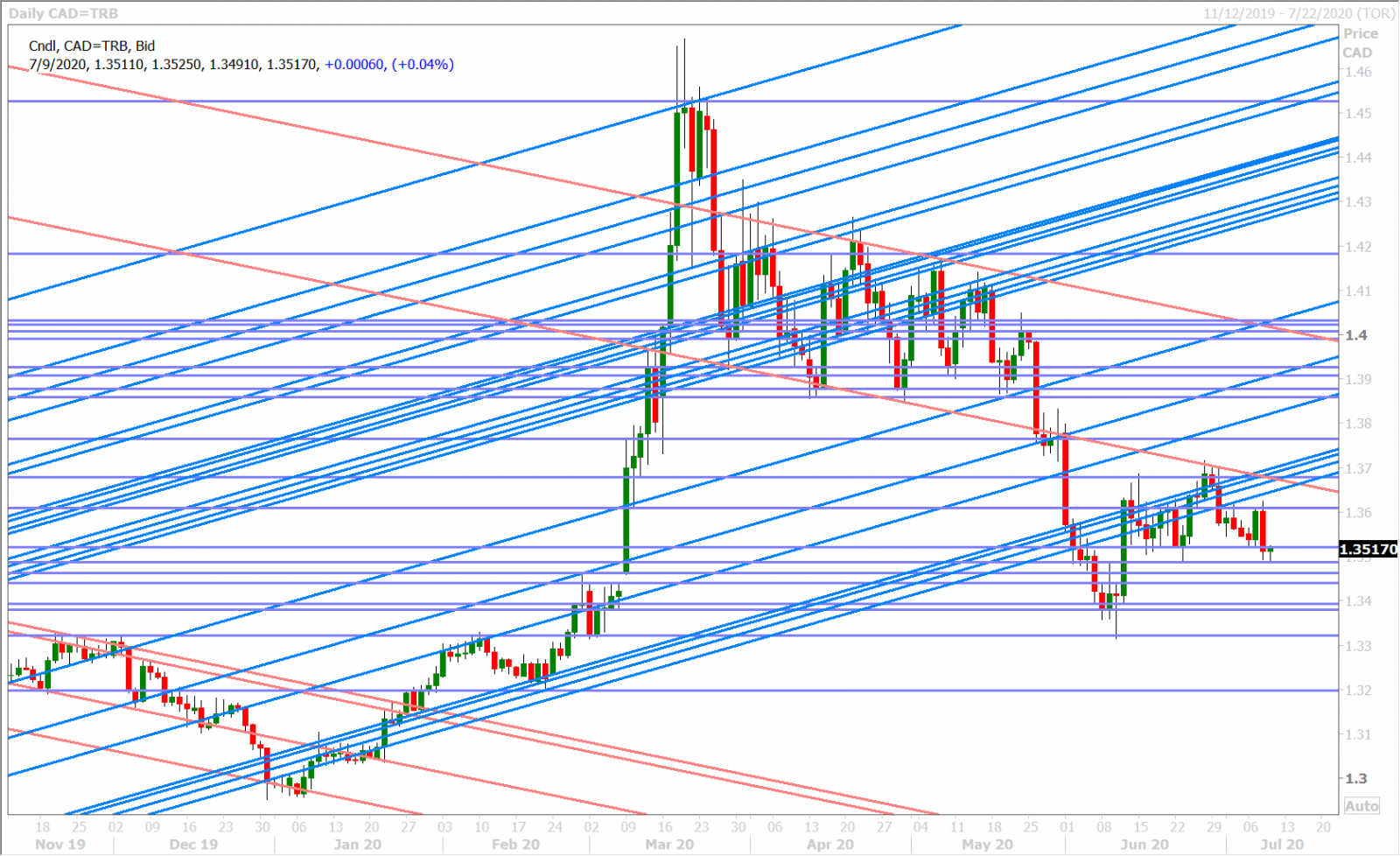 AUGUST CRUDE OIL DAILY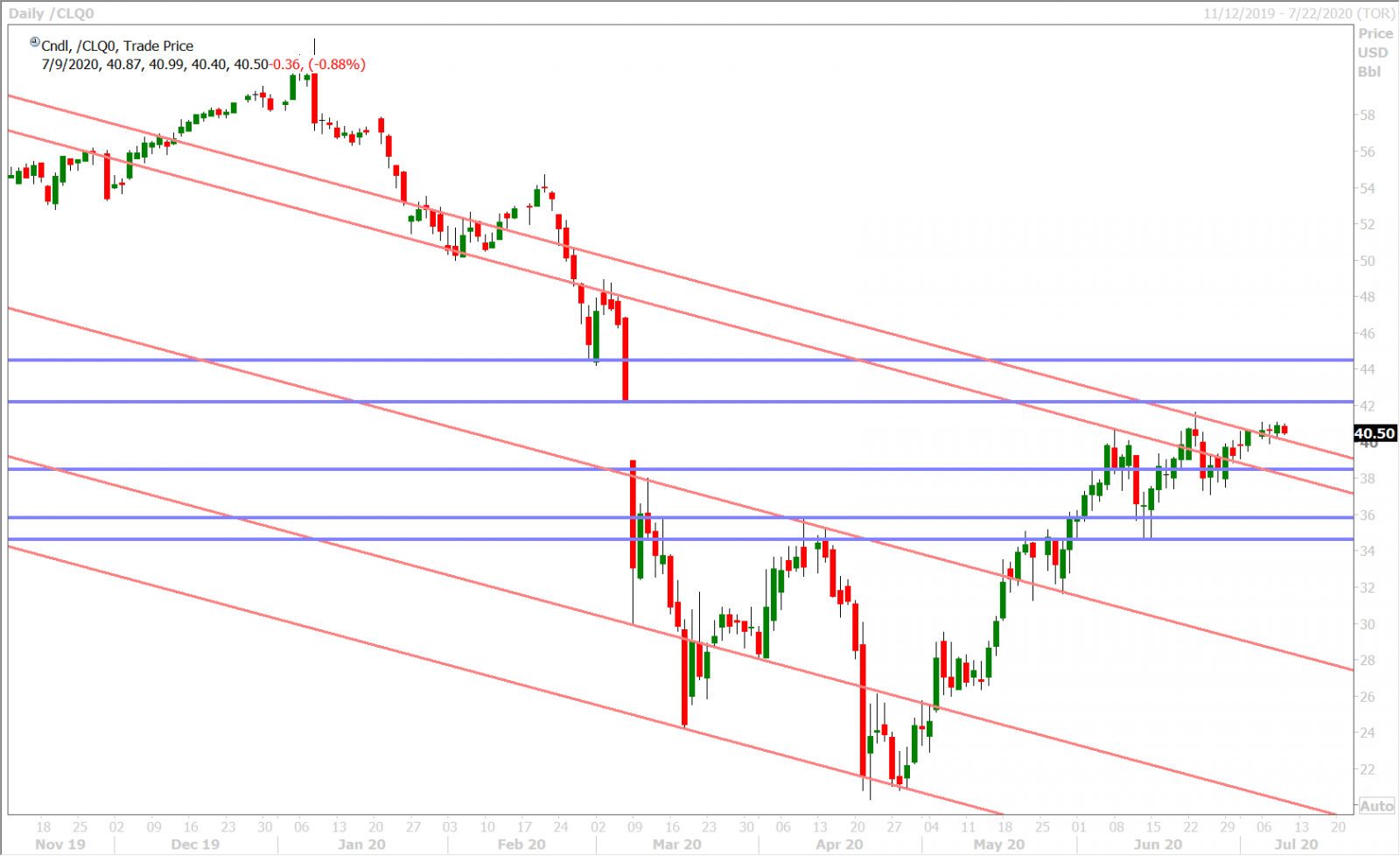 ---
EURUSD
Euro/dollar has traded on both sides of the 1.1340-50 resistance level over the past 12hrs and we believe its higher volatility today, relative to the risk currencies, is a reflection of this morning's looming option expiries both above and below the market.
EU recovery fund headlines have been few and far between this week, but there's now a concerted effort underway to try and sway Holland's position ahead of next week's EU Summit (July 17-18). More here from the Financial Times. Germany's Merkel and Dutch PM Rutte will hold a joint news conference today at 2:30pmET.

EURUSD DAILY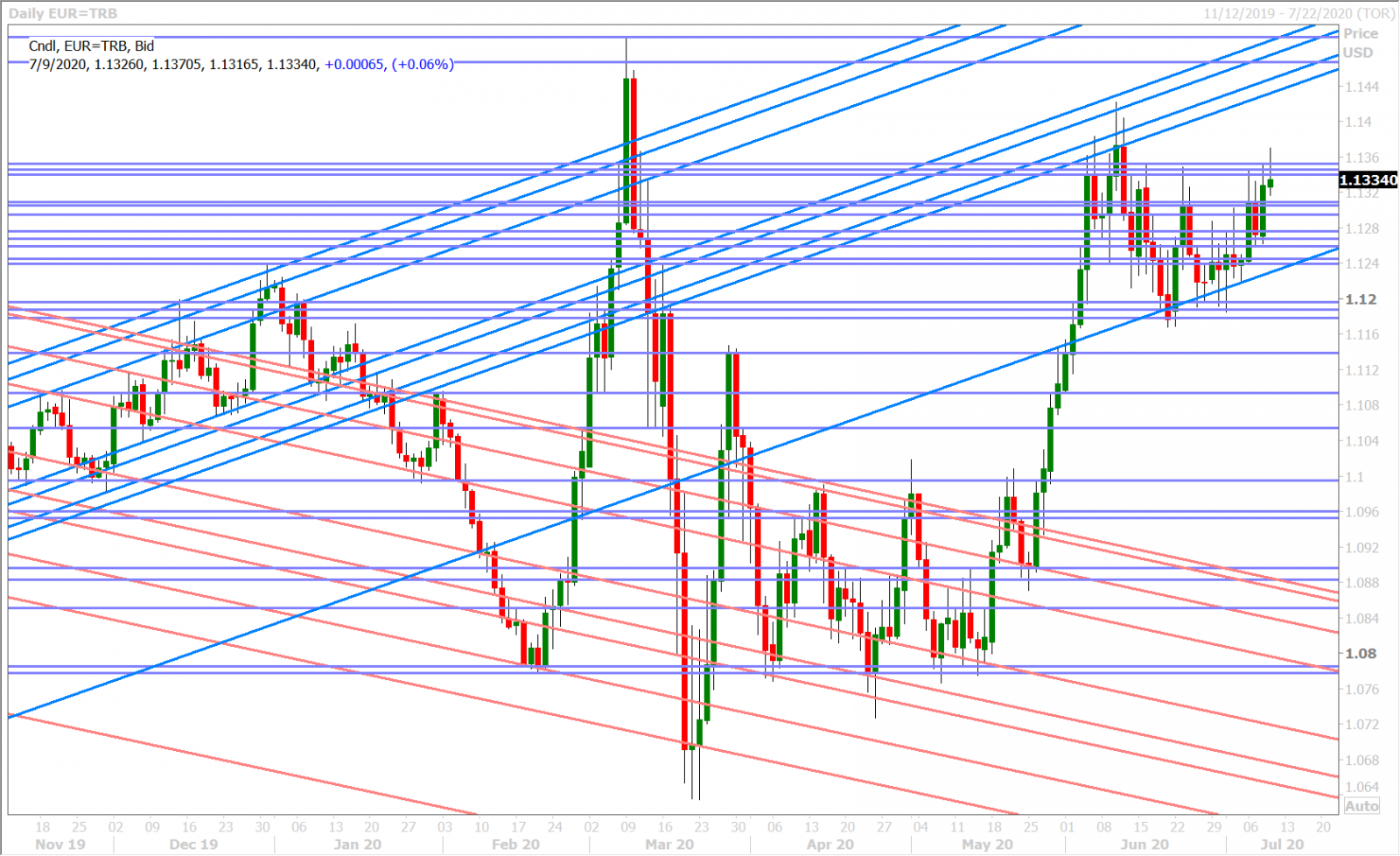 EURUSD HOURLY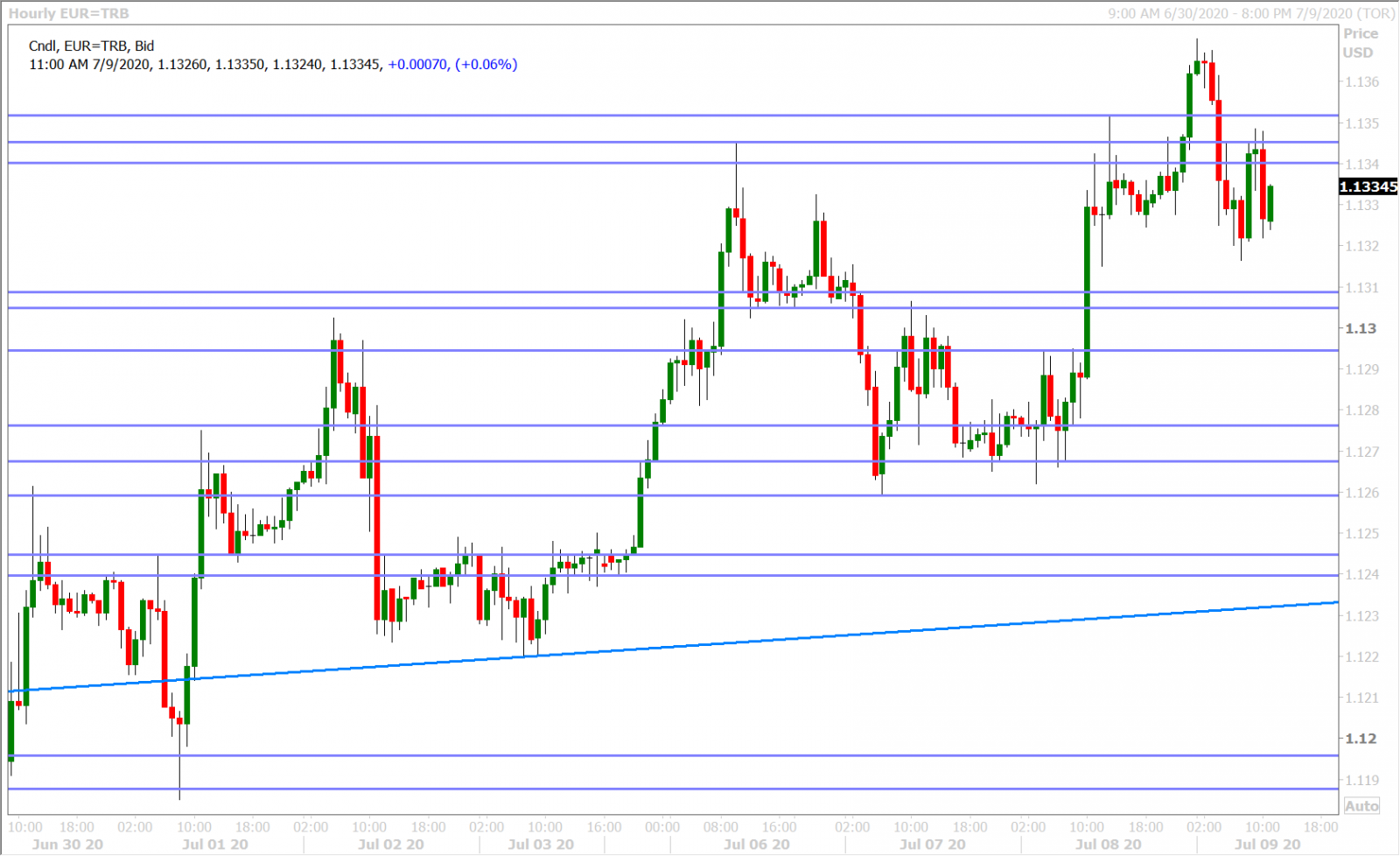 SPOT GOLD DAILY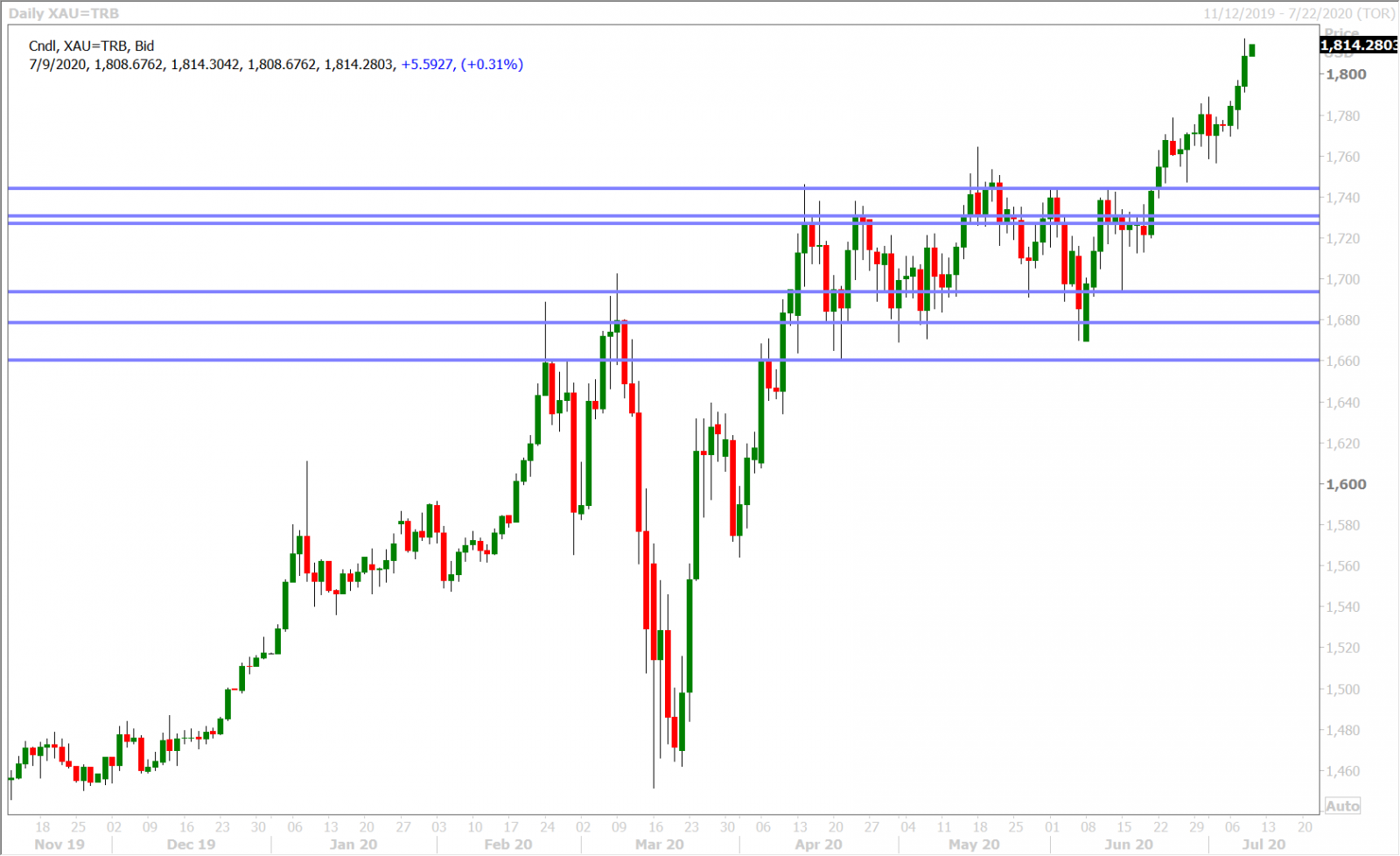 ---
GBPUSD
Sterling is perhaps trading higher than it should be this morning if we dig deeper into the proposed efficacy of Rishi Sanuk's new 30blnGBP plan for the UK economy, but broad based USD selling came to rescue for GBPUSD yet again yesterday…and is now likely enraging the leveraged funds who thought they could sell the pound short given the still poor Brexit negotiation/UK economic backdrop.
Yesterday morning's precious metal rally took GBPUSD up through the 1.2580s resistance level. Last night's push through the 1.1350s for EURUSD then saw sterling firmly break above the 1.2610s, and we now have a market toying with a break above technical resistance in the 1.2650s. If we combine these GBPUSD technical achievements with EURGBP's slip below the 0.8970-80s today, we think the sterling shorts are looking increasingly vulnerable to any sort of positive surprise on the Brexit front.

GBPUSD DAILY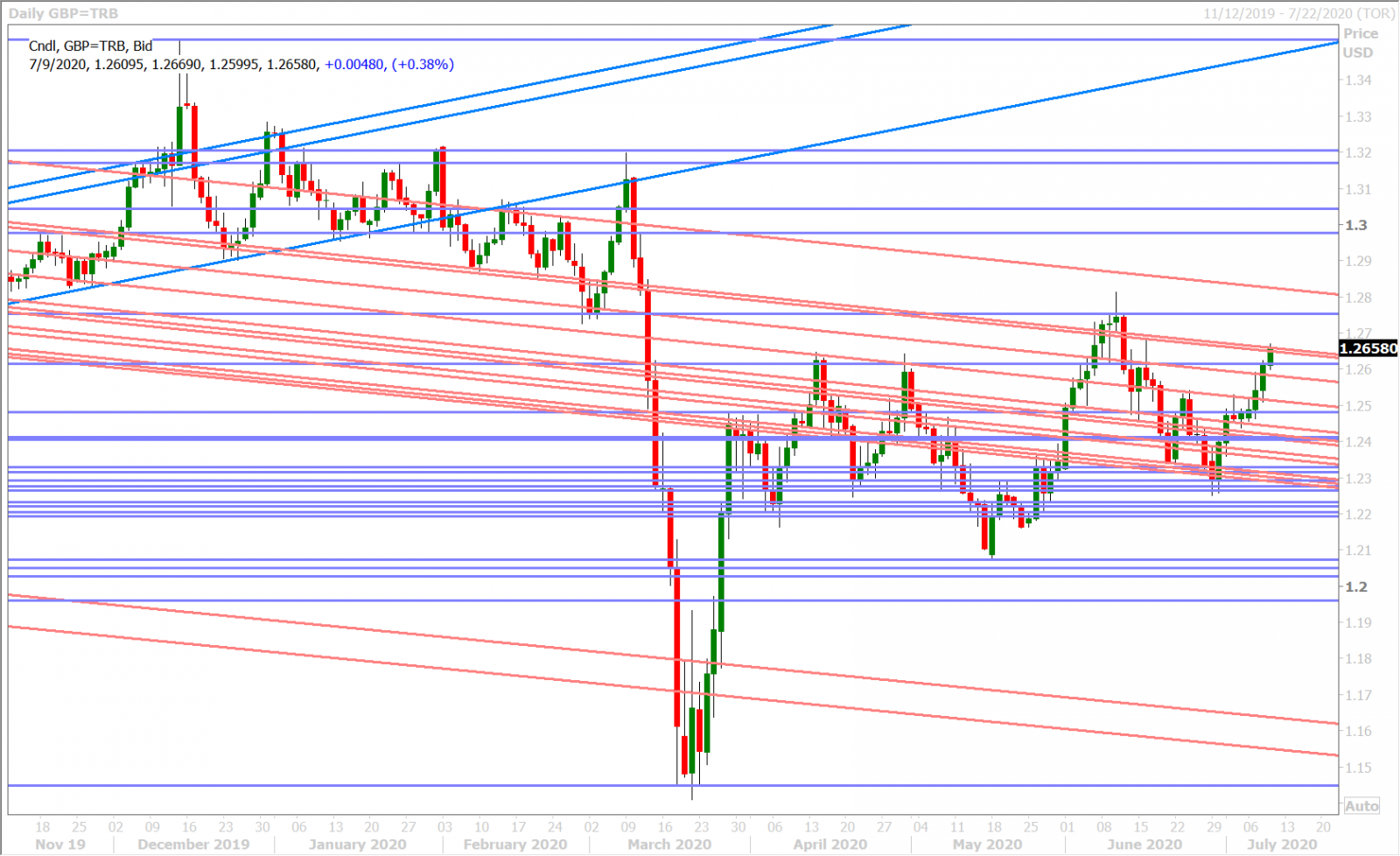 GBPUSD HOURLY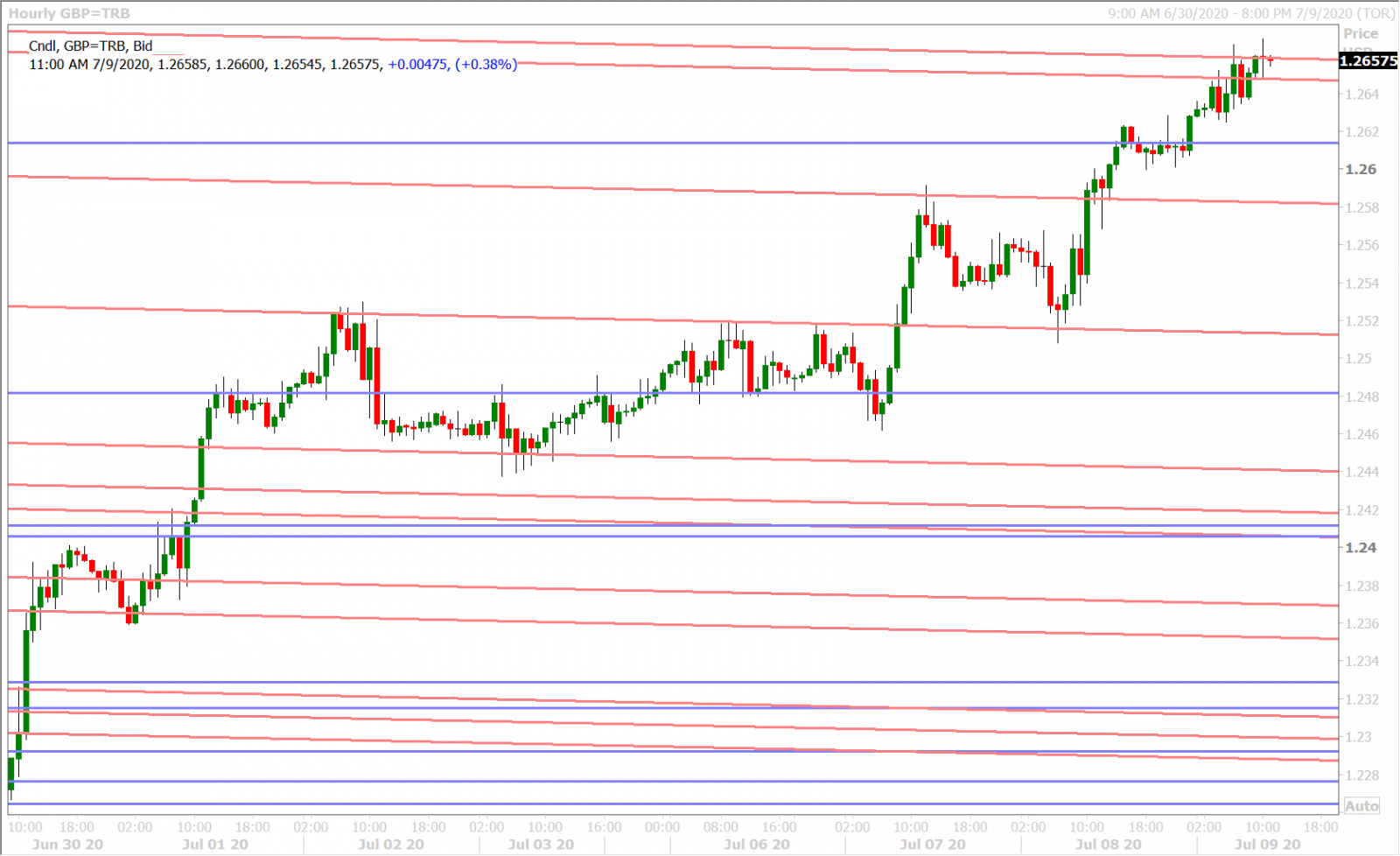 EURGBP DAILY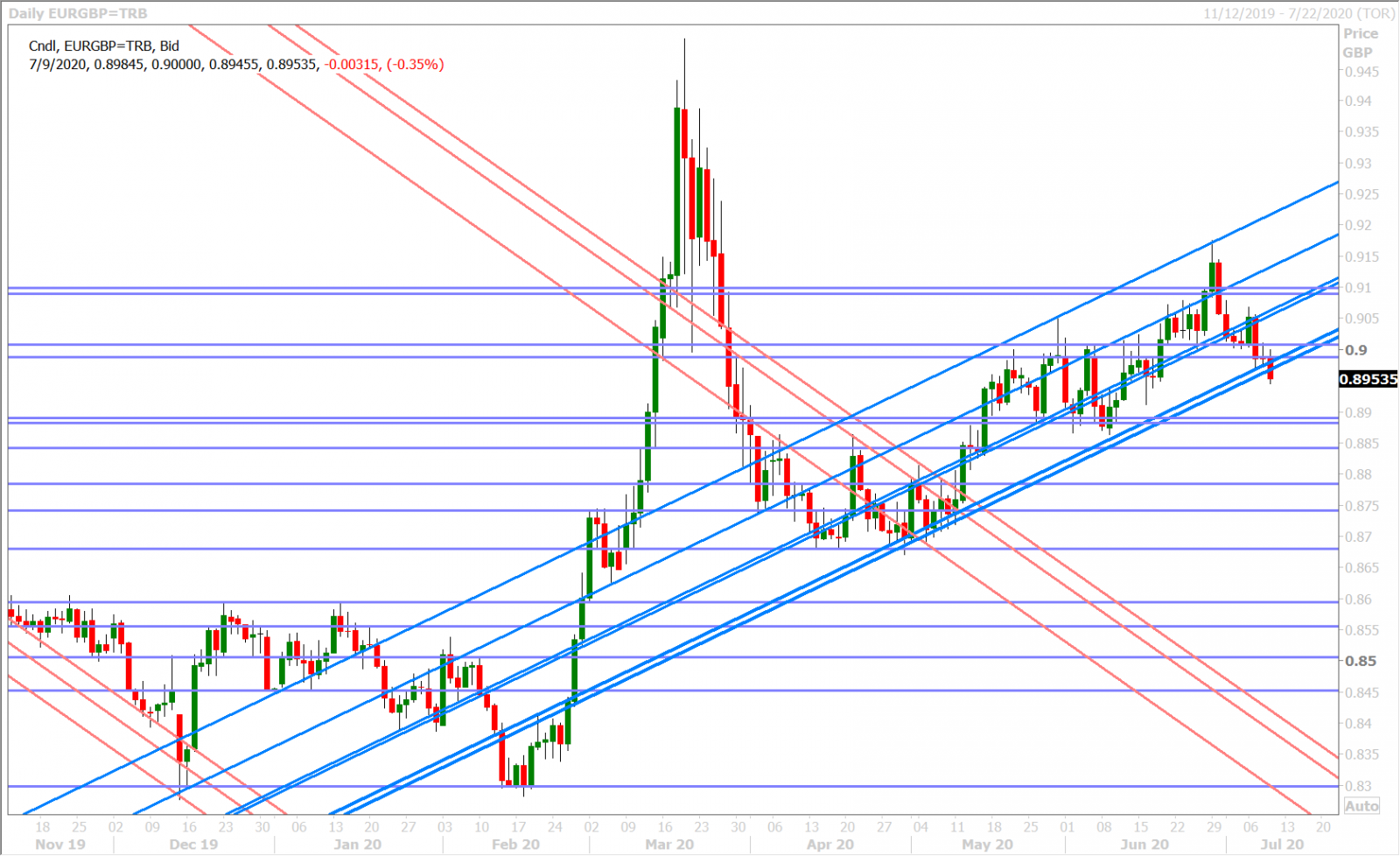 AUDUSD
The Australian dollar re-challenged the 0.6970-80 level during yesterday's USD selling wave and we felt the NY close was technically positive enough to warrant the "buy the dip" mentality we've seen in AUDUSD ever since. China's rip roaring stock market rally, and the upside pressure it's putting on the Chinese yuan, continued to support the Aussie overnight in opinion. It's quite amazing how FX markets continue to shrug off negative COVID headlines (reality) in favor of global market equity performance (which has arguably been manufactured).
AUDUSD DAILY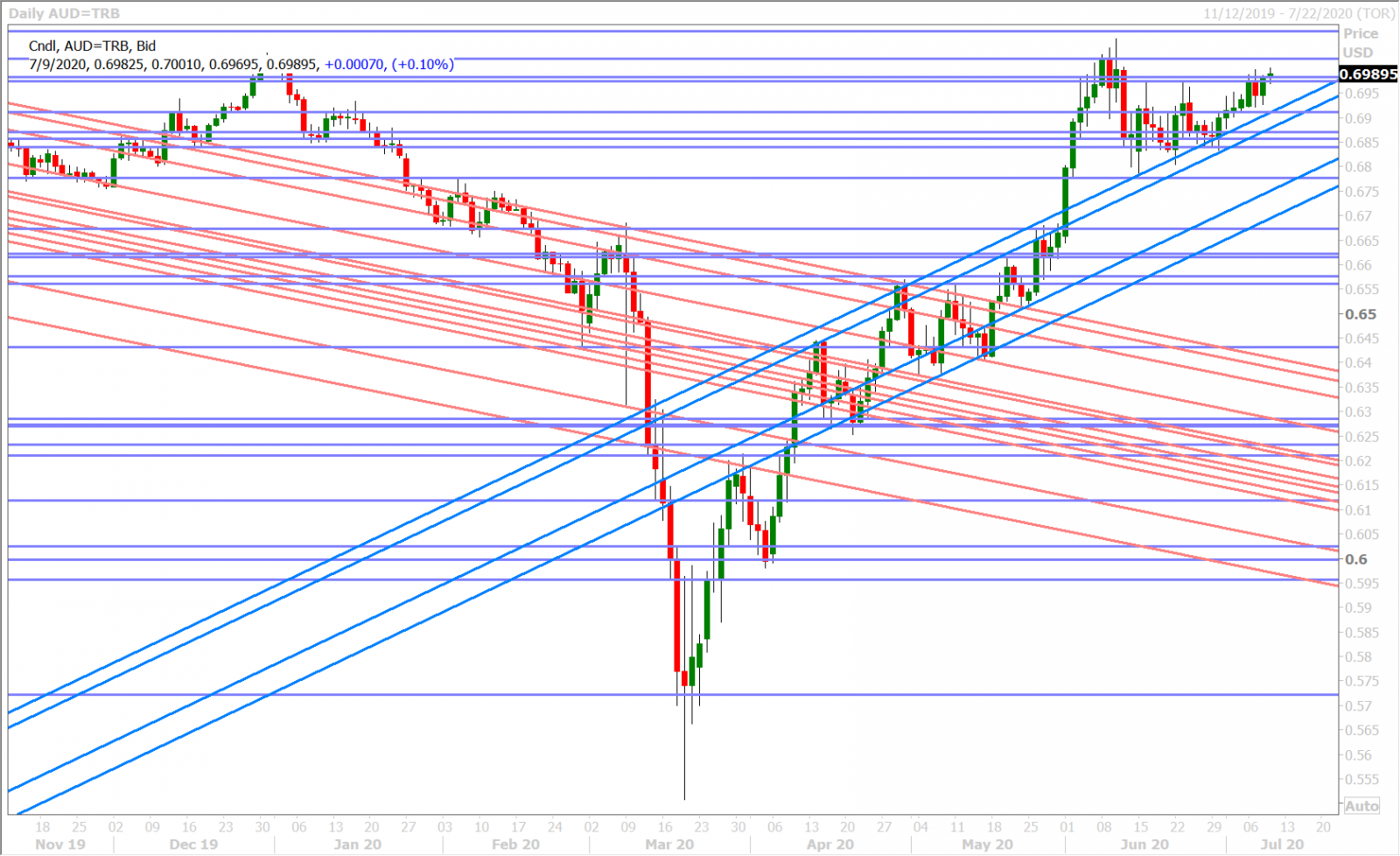 AUDUSD HOURLY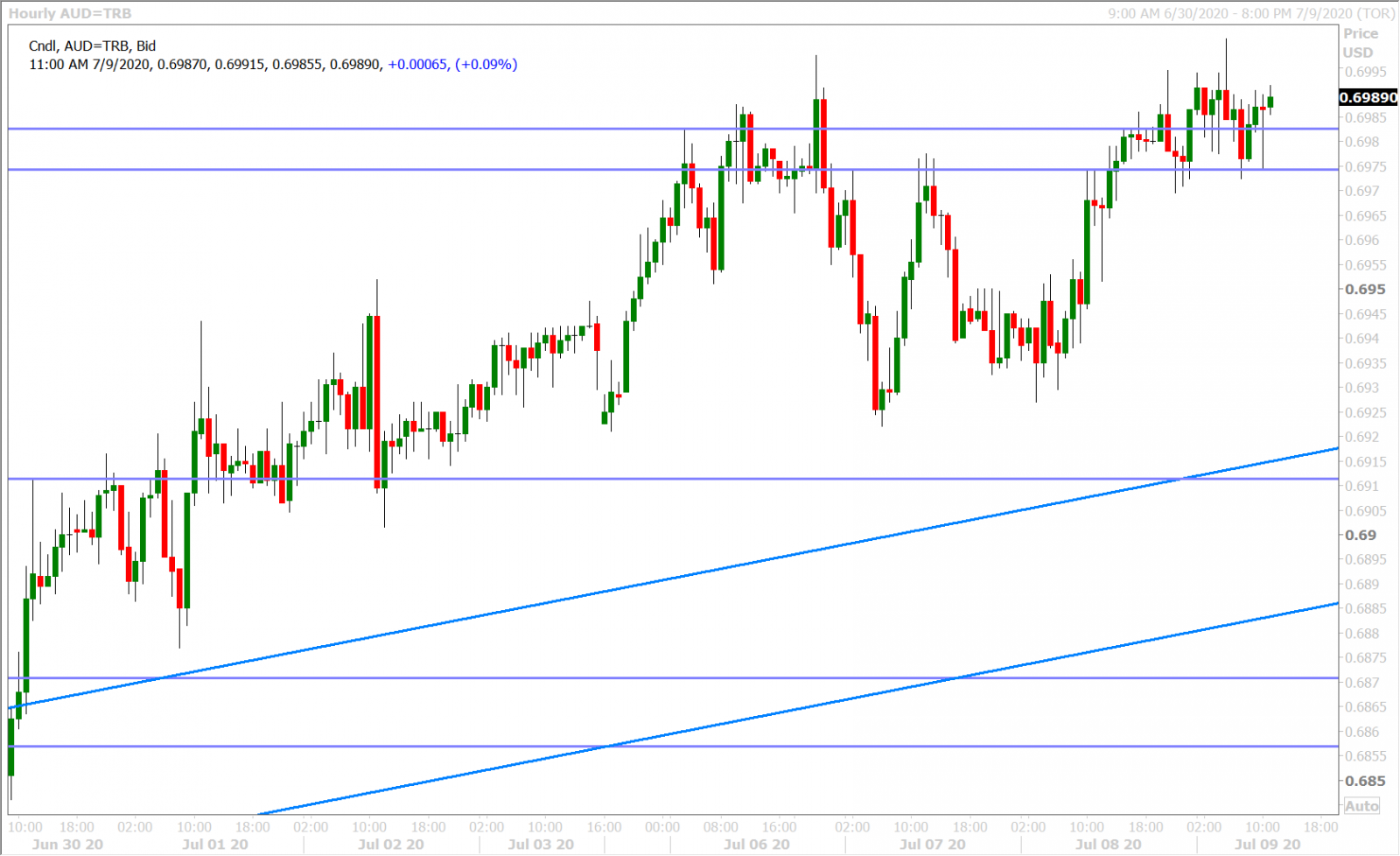 USDCNH DAILY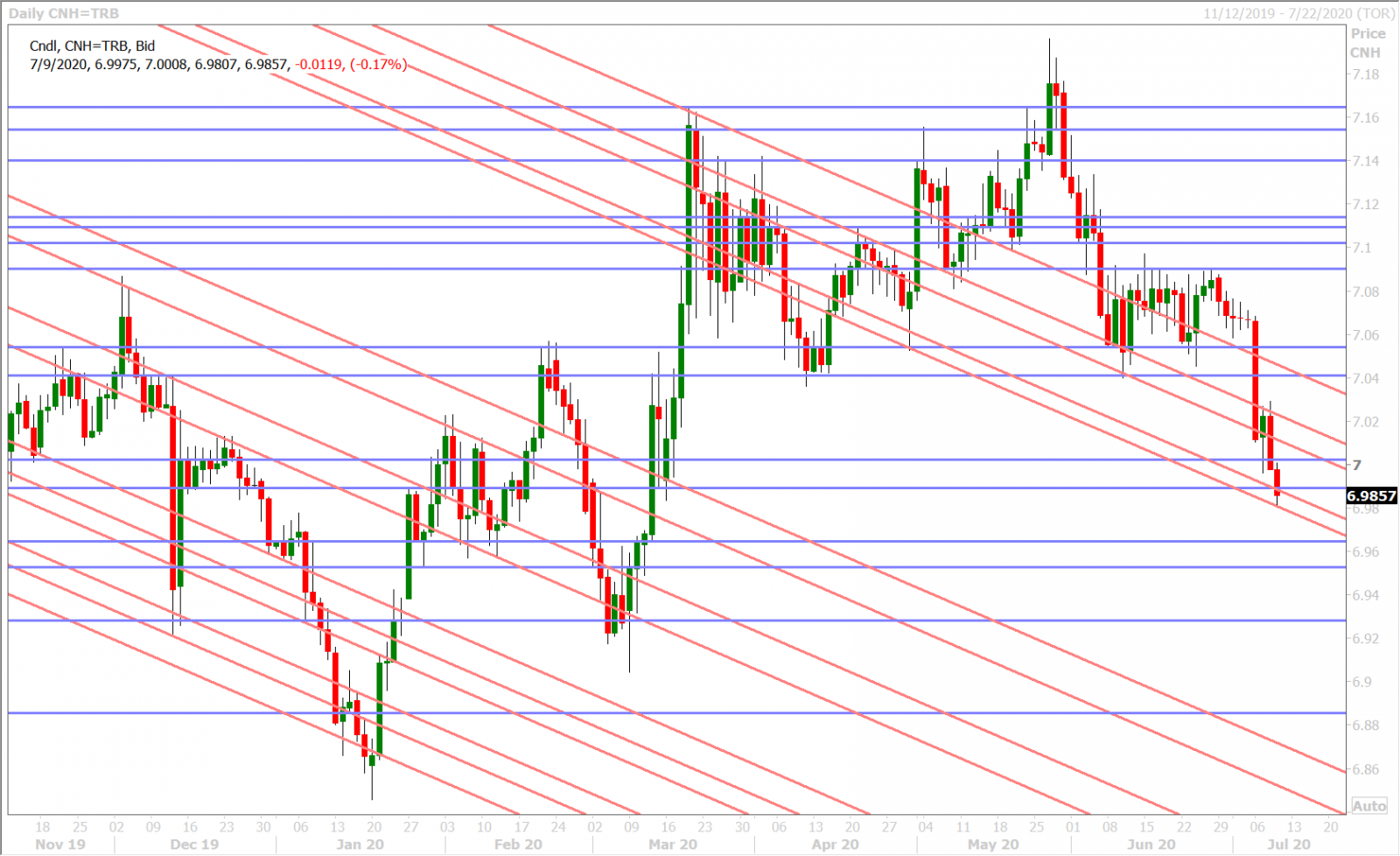 ---
USDJPY
Dollar/yen slipped below the 107.30-40s support level yesterday following the large 10amET expiry at 107.50 and, while this move lower appeared to front-run yesterday's very successful US 10yr bond auction and the dip in US yields that followed, we feel that the downward momentum going into the overnight session has been cut short by yet another large option expiry at the 107.50 strike for today ($1.1bln). We wouldn't be surprised if the market tries to probe lower after this event passes, because there's absolutely no upside pressure on US yields right now.

USDJPY DAILY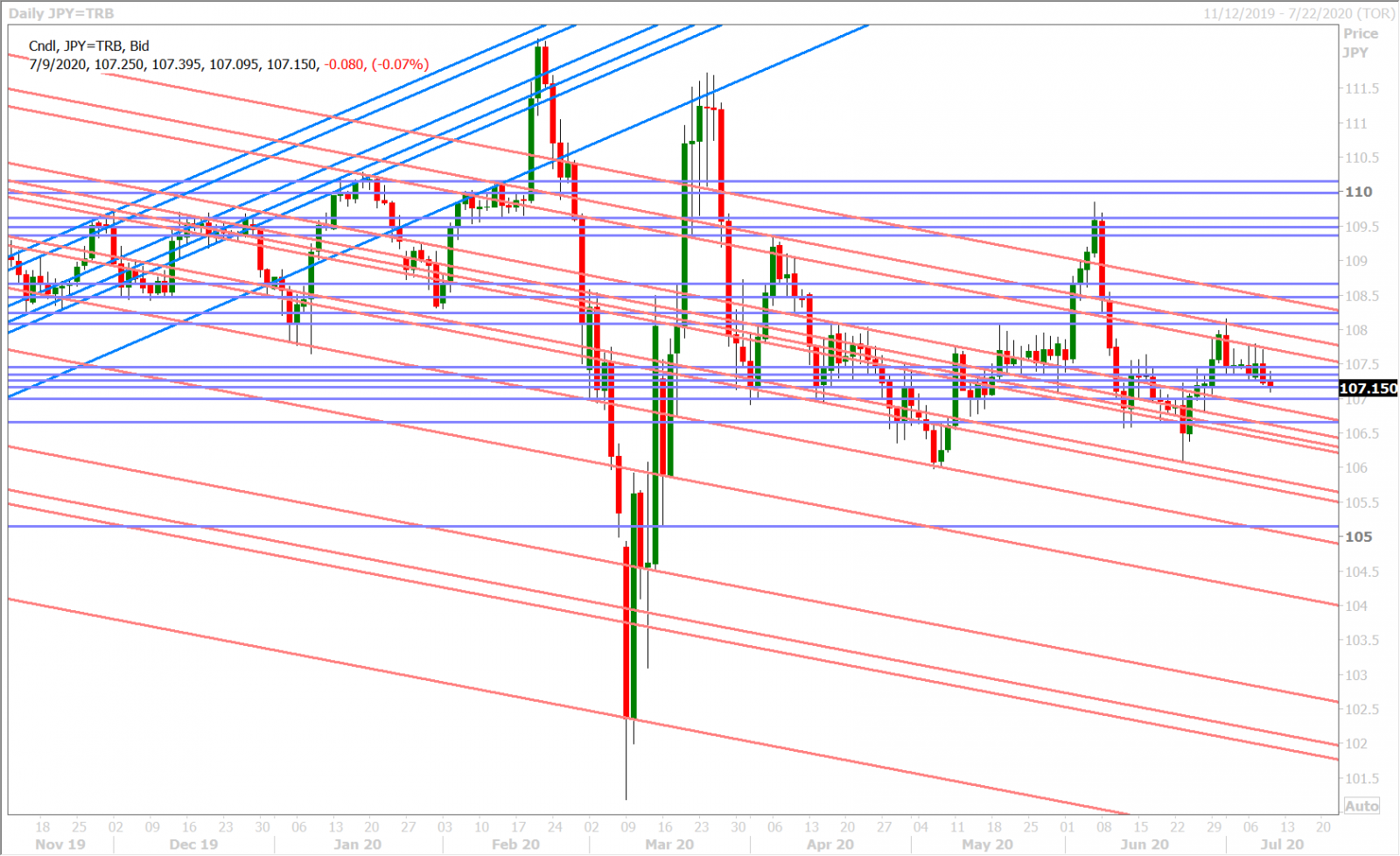 USDJPY HOURLY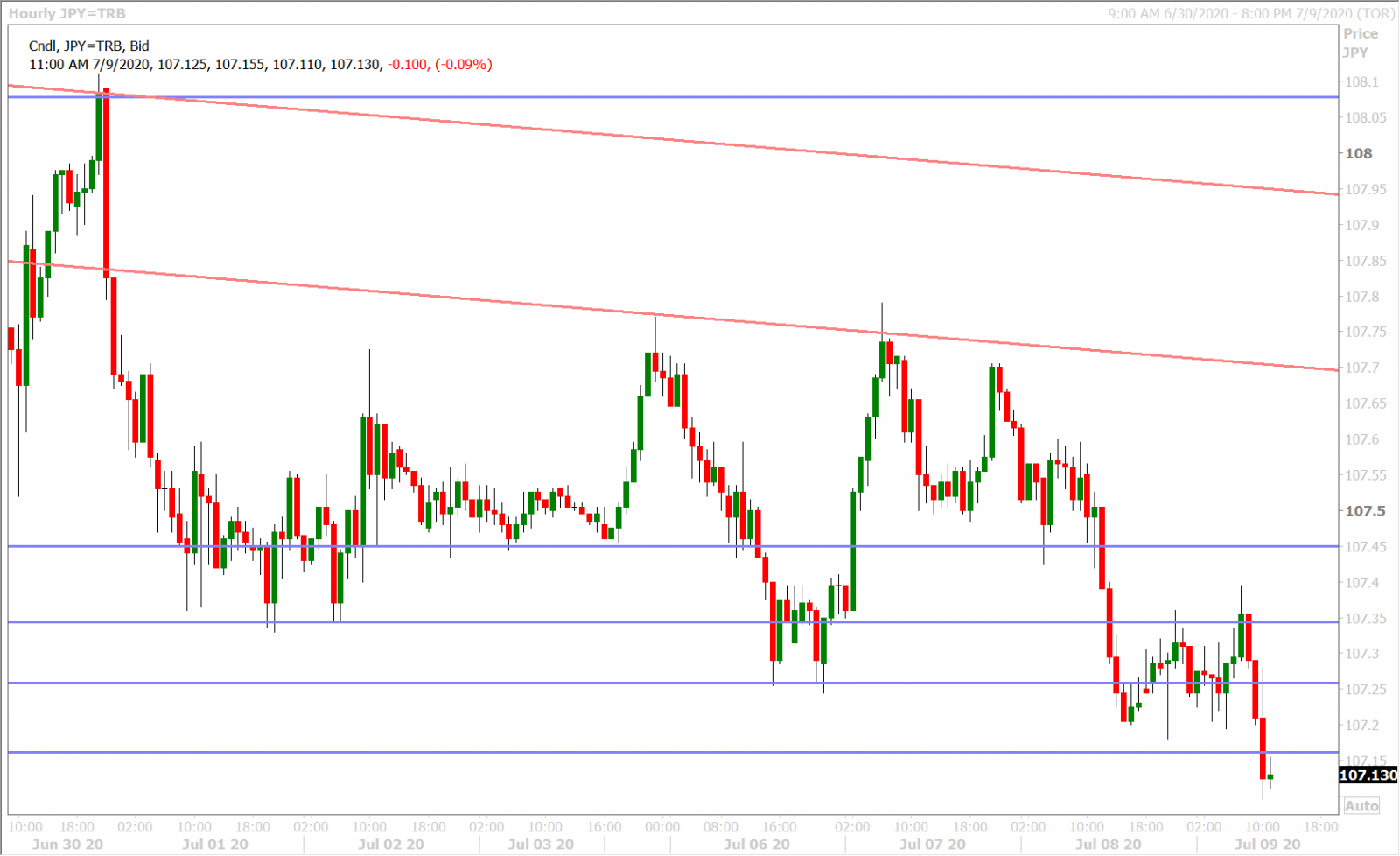 US 10-YR YIELD DAILY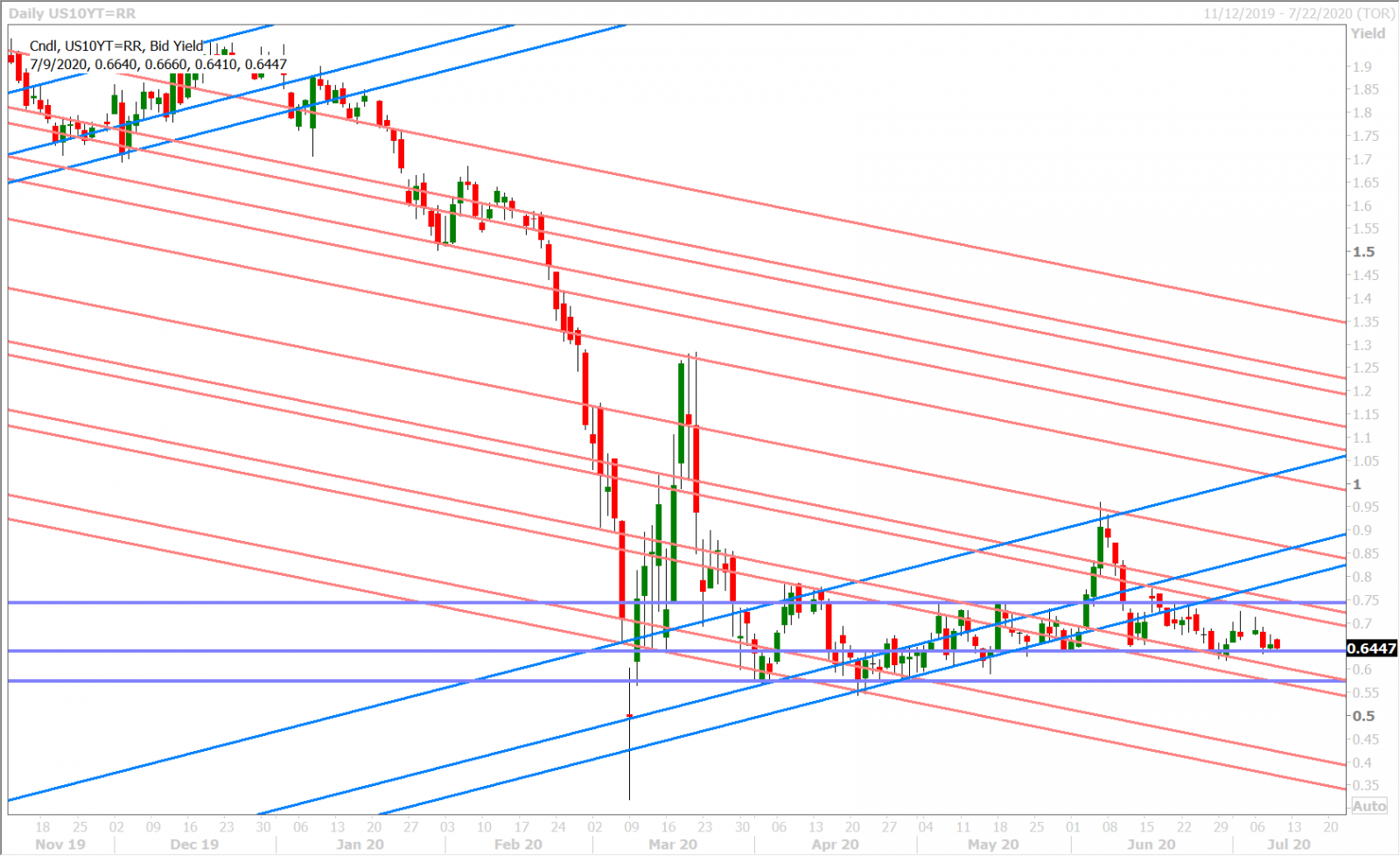 Charts: Reuters Eikon
---
About the Author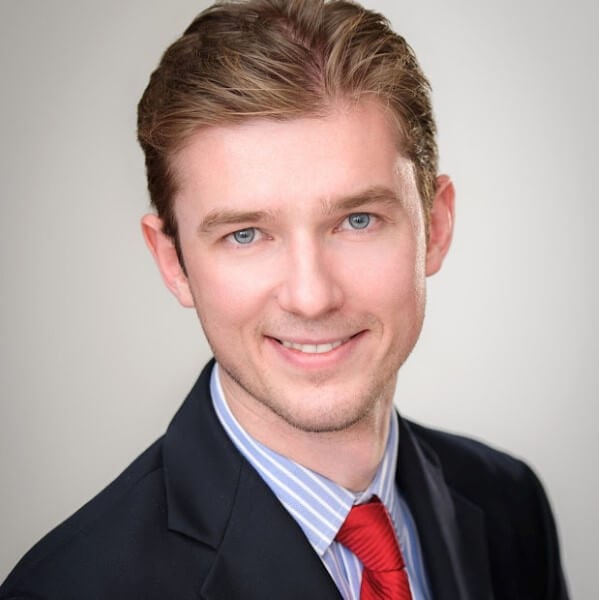 Erik Bregar - Director, Head of FX Strategy
Erik works with corporations and institutions to help them better navigate the currency markets. His desk provides fast, transparent, and low cost trade execution; up to the minute fundamental and technical market analysis; custom strategy development; and post-trade services -- all in an effort to add value to your firm's bottom line. Erik has been trading currencies professionally and independently for more than 12 years. Prior to leading the trading desk at EBC, Erik was in charge of managing the foreign exchange risk for one of Canada's largest independent broker-dealers.
Interested in creating a custom foreign exchange trading plan? Contact us or call CXI's trading desk directly at 1-833-572-8933.
About Currency Exchange International
Currency Exchange International, CXI, is the leading provider of comprehensive foreign exchange services, risk management solutions and integrated international payments processing technology in North America. CXI's relationship-driven approach ensures clients receive tailored solutions and world-class customer service. Through innovative and trusted FX software platforms, CXI delivers versatile foreign exchange services to our clients, so that they can efficiently manage and streamline their foreign currency and global payment needs. CXI is a trusted partner among financial institutions, corporations and retail markets around the world. To learn more, visit: www.ceifx.com