Another bad day of US COVID stats hits risk sentiment yesterday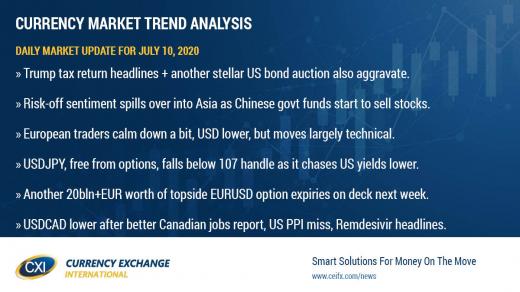 Take control of your international payments with CXI FX Now.
• Low transfer fees & great rates
• Fast international payments
• Safety and security
• Unparalleled customer service
• Consultative approach
Interested in creating a custom foreign exchange trading plan?
Contact us
or call EBC's trading desk directly at
1-888-729-9716.
Get real-time market coverage on twitter at @EBCTradeDesk or sign up to currency insider here.
SUMMARY
Trump tax return headlines + another stellar US bond auction also aggravate.

Risk-off sentiment spills over into Asia as Chinese govt funds start to sell stocks.

European traders calm down a bit, USD lower, but moves largely technical.

USDJPY, free from options, falls below 107 handle as it chases US yields lower.

Another 20bln+EUR worth of topside EURUSD option expiries on deck next week.

USDCAD lower after better Canadian jobs report, US PPI miss,

Remdesivir headlines.



ANALYSIS
USDCAD
Another horrible day of coronavirus statistics out of the US knocked risk sentiment lower yesterday, and it all started with a record amount of new deaths and hospitalizations announced for the state of Florida. The US Supreme Court decision to allow Manhattan's district attorney to obtain President Trump's tax records brought about some "risk off" flows too, and we felt that yesterday's insatiable demand for US 30yr debt (which followed Wednesday's stellar US 10yr auction) also contributed to a "what am I missing…let's get more conservative" type of posture from market participants. The risk-off tone spilled over into Asia last night and seemed to intensify after news broke of two Chinese government-owned funds looking to trim their stock market holdings. More here from Bloomberg.
Some relative calm returned in European trade this morning however, which has seen the broader USD and USDCAD give up most of its overnight gains, but there wasn't any notable headlines to drive this risk sentiment recovery…and so we'd chalk it up to a technical correction (which has validity if you look at where the USD topped out on the G7 charts) and the market's continued desire to ultimately fade negative COVID headlines of late.
Dollar/CAD traders are now digesting some better than expected Canadian employment figures for June, some weaker than expected US PPI data for June, and some positive sounding Remdesivir headlines from Gilead (all net-negative for the market so far)
CANADA JUNE EMPLOYMENT +952.9K; MEDIAN FORECAST WAS +700K
CANADA JUNE UNEMPLOYMENT RATE 12.3 PCT VS 13.7 PCT IN MAY
CANADA JUNE PARTICIPATION RATE 63.8 PCT VS 61.4 PCT IN MAY
U.S. JUN PPI FOR FINAL DEMAND -0.2 PCT (CONSENSUS +0.4 PCT)
U.S. JUN PPI FOR FINAL DEMAND EXFOOD/ENERGY -0.3 PCT (CONSENSUS +0.1 PCT)
GILEAD: REMDESIVIR ASSOCIATED WITH 62% RISK CUT IN MORTALITY

USDCAD DAILY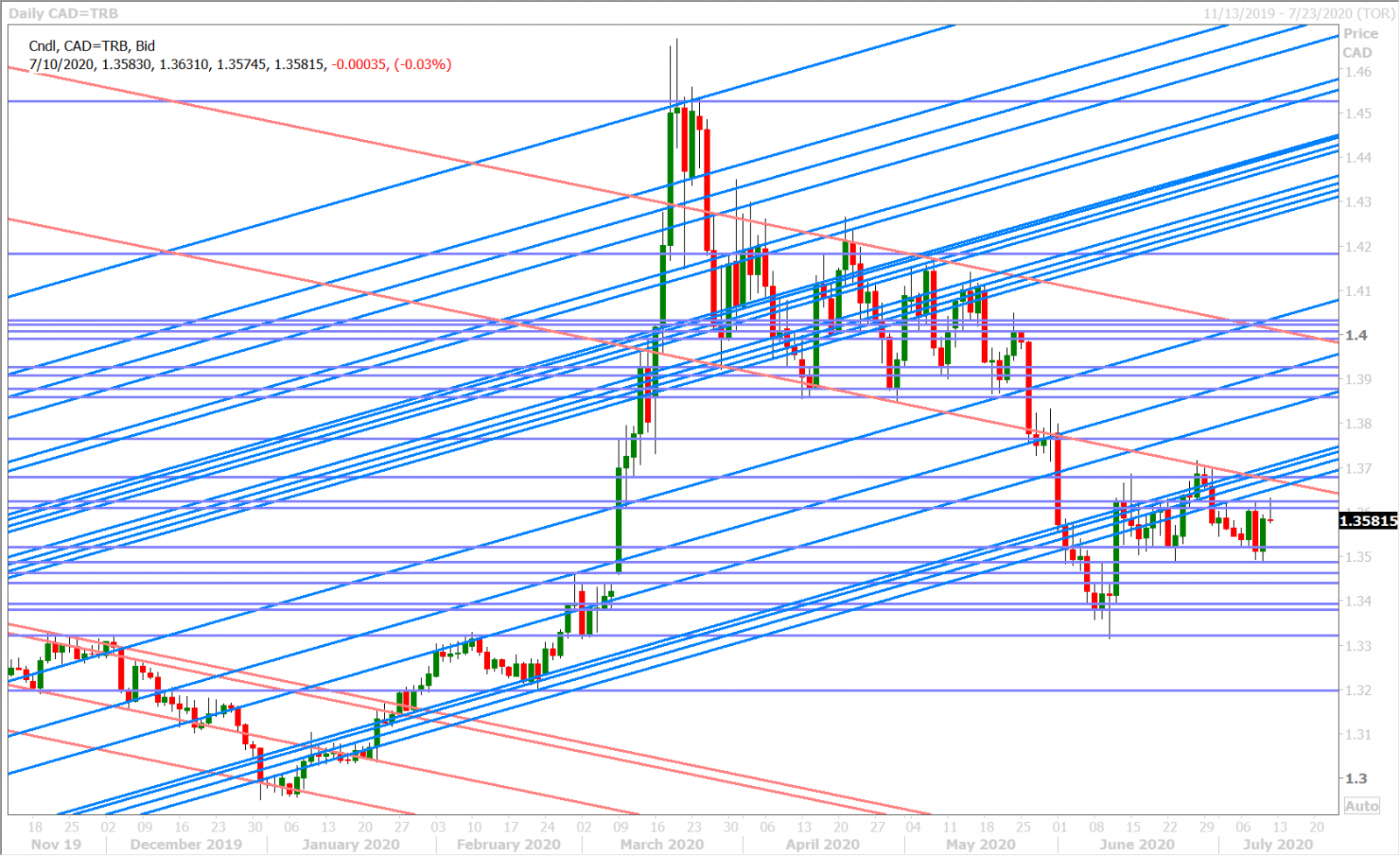 USDCAD HOURLY
AUGUST CRUDE OIL DAILY
---
EURUSD
Euro/dollar fell apart yesterday as broad risk sentiment took a bath and, while we thought the passage of this week's topside option expiries (and therefore the market's buying interest) helped explained the weakness, we noted a heavy topside option expiry calendar for next week (20blnEUR+ between 1.1300 and 1.1400)…which means the brief upside forays for EURUSD might not be over just yet. Case in point (perhaps) this morning as the market bounced 40pts off familiar chart support in the 1.1260s. We think the weaker US PPI data/positive Remdesivir headlines are certainly helping EURUSD since the NY open.

EURUSD DAILY
EURUSD HOURLY
SPOT GOLD DAILY
---
GBPUSD
Sterling topped out yesterday after the Trump tax return/Florida COVID headline combo saw GBPUSD buyers fail for a 2nd time to break above the 1.2650s resistance level. The subsequent risk-off driven move lower in sterling took GBPUSD quickly down to the 1.2610s support area and, while this level gave way in Asia as Chinese stocks sold off, the market's next support level (1.2570-80) provided the base for this morning's strong bounce back above it. The leveraged fund shorts, if any still remain, look like they could be in trouble again here if the 1.2650s give way. Watch for Brexit headlines as it's a Friday.

GBPUSD DAILY
GBPUSD HOURLY
EURGBP DAILY
AUDUSD
The Australian succumbed to broad risk-off flows like everything else yesterday; ultimately giving up the pivotal 0.6970-80 level once again in the process. We noted a bearish head & shoulders pattern on the hourly AUDUSD chart as the selloff unfolded, which we think somewhat explained Asia's desire to follow-through last night. The Aussie has since completely recovered its overnight losses though, and we think trend-line support in the 0.6920s, Europe's calmer risk mood, and this morning's weaker US PPI data/positive Remdesivir headlines are definitely helping.
AUDUSD DAILY
AUDUSD HOURLY
USDCNH DAILY
---
USDJPY
Dollar/yen is stealing the limelight this morning as it has been removed from the shackles of 107.50 option expiries and now chases US yields lower. This week's 10 and 30yr US bond auction results showed stellar demand, even at these very low yield levels...which now has us watching money markets and negative interest rate bets once again. What does it say about the health of the global economy/Eurodollar markets when we continue to see market participants tripping over themselves for high quality US government collateral??? Maybe because there isn't going to be a "V" recovery...yield chart looks more like an "L"!

USDJPY DAILY
USDJPY HOURLY
US 10-YR YIELD DAILY
Charts: Reuters Eikon
---
About the Author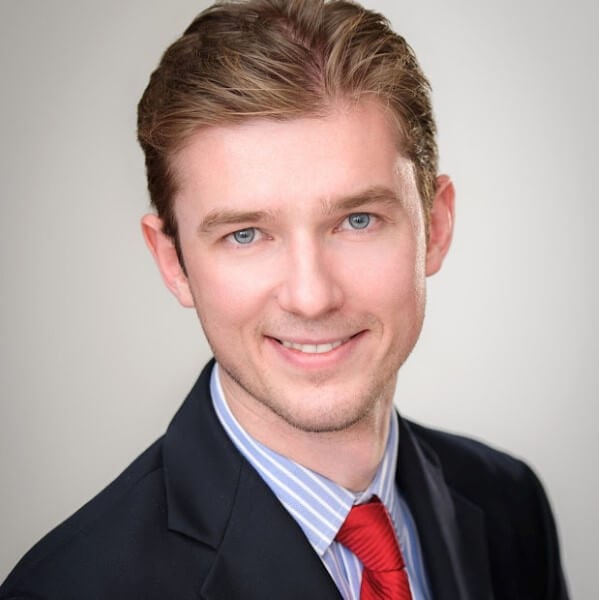 Erik Bregar - Director, Head of FX Strategy
Erik works with corporations and institutions to help them better navigate the currency markets. His desk provides fast, transparent, and low cost trade execution; up to the minute fundamental and technical market analysis; custom strategy development; and post-trade services -- all in an effort to add value to your firm's bottom line. Erik has been trading currencies professionally and independently for more than 12 years. Prior to leading the trading desk at EBC, Erik was in charge of managing the foreign exchange risk for one of Canada's largest independent broker-dealers.
Interested in creating a custom foreign exchange trading plan? Contact us or call CXI's trading desk directly at 1-833-572-8933.
About Currency Exchange International
Currency Exchange International, CXI, is the leading provider of comprehensive foreign exchange services, risk management solutions and integrated international payments processing technology in North America. CXI's relationship-driven approach ensures clients receive tailored solutions and world-class customer service. Through innovative and trusted FX software platforms, CXI delivers versatile foreign exchange services to our clients, so that they can efficiently manage and streamline their foreign currency and global payment needs. CXI is a trusted partner among financial institutions, corporations and retail markets around the world. To learn more, visit: www.ceifx.com