Summer Spotlight Destination: Paris, France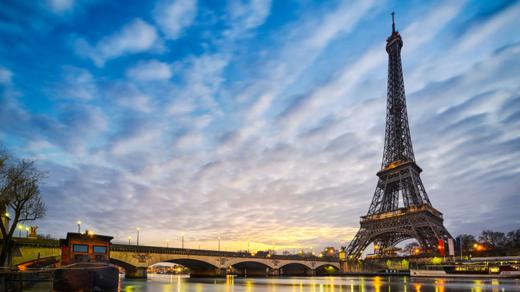 Ordering European Euros is easy with OnlineFX.
Paris - also known as the city of lights - is the second most visited city in the world and the most visited city in Europe! This summer, it is now the top destination to visit. Paris is rich in culture, delicious food, beautiful art collections, world-class shopping, and more. The value of the US dollar has been at its strongest relative to many major global currencies such as the European euro. Now is the perfect time to take advantage of the euro being near 1:1 to the dollar.
Want to explore another destination? Check out the Top 10 Most Popular Destinations in the World. Before you leave, reserve foreign currency online to save time on your branch pick-up. Or use CXI's OnlineFX Home Delivery to order foreign currency whenever, wherever.
Top Places to Visit in Paris


1. Eiffel Tower
The most iconic attraction in Paris was constructed in 1889. At 986 feet, the Eiffel Tower remained the tallest building in the world for over four decades. When you visit, you'll be able to take an elevator to the top of the tower, where you'll see breathtaking views of Paris' skyline.
2. The Louvre
The world's most visited museum, the Louvre is a must-visit location while you're in Paris, with 8-9 million visitors annually. This sleek glass pyramid is home to famous pieces like Leonardo da Vinci's "Mona Lisa" and Michelangelo's "Dying Slave." You don't want to skip this!
Shopping in Paris won't be complete without visiting the Galeries Lafayette. This five-story upmarket French department store is the biggest in Europe and has some of the most luxurious stores including Chanel, Hermès, and Louis Vuitton. There you can also go to the last floor of the building to have an amazing view of Paris.
Visit the magical place of Disneyland in Paris. There are two parks to experience: Disneyland Paris and Walt Disney Studios Park. With over 50+ attractions, there's something mystical for everyone to experience.
The Versailles Palace is a must-visit attraction and the most visited near Paris! This extravagant palace and gardens can take up to two days to experience all of its glory.
Best French Eateries
French cuisine is world-famous, with many tasty culinary delights. From croissants: cheap, yet unforgettable, to escargots (snail served in its shell) - a national symbol. Here are the top foods you should taste while visiting Paris: duck confit, coq au vin (chicken braised with wine), foie gras (liver of a duck or goose), beef bourguignon (pictured above - beef stew braised in red wine), or to satisfy your sweet tooth: profiteroles (cream puff).
Want a detailed list of the best restaurants to visit in Paris? Check out Eater.com, there you'll see the restaurants, their specialties, and the budget range.
About Currency Exchange International
Currency Exchange International (CXI) is a leading provider of foreign currency exchange services in North America for financial institutions, corporations and travelers. Products and services for international travelers include access to buy and sell more than 90 foreign currencies, traveler's cheques and gold bullion coins and bars. For financial institutions and corporations, our services include the exchange of foreign currencies, international wire transfers, global EFT, the purchase and sale of foreign bank drafts, international traveler's cheques, and foreign cheque clearing through the use of CXI's innovative CEIFX web-based FX software www.ceifx.com