What You Should Know Before Traveling With Your Pet
Vokhid
November 27th, 2018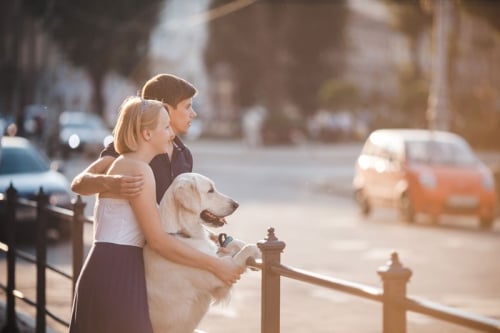 Ordering foreign currency is easy with OnlineFX.
It can be difficult to say good-bye to your pet when you have a trip, so why leave them behind? You can bring your furry friend along to enjoy the time with you. Here are some great ways to ensure that your travels together are safe and fun!
Transportation
If traveling by car, AAA suggests that your pet make the journey in a crate or carrier. It should be big enough for your animal to be able to stand. If need be, you could secure your pet with a seat belt safety harness. Make sure to bring a blanket or animal bed for your pet for when they need rest.
Perhaps you're travelling during a hot time of the year, it is recommended that you bring a collapsible water bowl, ice packs, and some toys for your pet to enjoy their time and not get uncomfortable.
When travelling by air, it is best to do research on the airports you go to and the hotels you stay in. Some airports, like JFK's Terminal Four, Detroit Metro Airport, and Miami International Airport, have dog parks so that your dog can have a chance to stretch out their legs and run around before a long flight.
Sometimes an ID microchip, a current list of vaccines, and a recent clean bill of health from your vet may be required for your animal to fly, so make sure your pet is in good health to travel, and that you have all required medications your pet may need.
Some animals get travel anxiety, and use a mild sedative for car trips, but do not use sedatives on your animals if they are flying in an airplane, because it can increase the risk of heart and respiratory problems.
Packing
AAA advises that you bring: your pet's records, including rabies tags, any medication your pet needs, a first aid kit for your animal, bottled water and food or treats, a bed and blanket, a muzzle if your dog is prone to becoming aggressive, bags for your animal's waste, and a leash.
Many people will also attach a tag to their pet's collar in case they were to get lost and someone were to find them.
Always bring a copy of your pet's vaccination records. If any emergency arises, you will have all of the necessary information that you need to help your pet. It would also be smart to bring a recent picture of your pet, in case you lose your pet for any reason.
You would be able to contact any local animal controls, or the airports themselves to help you find your pet.
Stay
AAA has a list of hotels, attractions, and even restaurants that welcome pets. There are 13,000+ pet-friendly lodgings and 400 campgrounds in the United States and Canada. These range from Disney's Fort Wilderness Resort & Campground to Kimpton Hotels, which offer numerous amenities and assistance with your pets.
Even better, they offer no additional charge to bring your pet with you! It is always a good idea to look at specific resources at the different dwelling places to see if they meet your needs. Some accommodations offer play areas for your pet, or water bowls. It never hurts to ask the management how they can satisfy your pet's needs!
Before you leave, you should look up any emergency pet hospitals in the area. It's best to plan ahead for any possible accidents. Safety should always come first. Good luck and bon voyage!
About Currency Exchange International
Currency Exchange International (CXI) is a leading provider of foreign currency exchange services in North America for financial institutions, corporations and travelers. Products and services for international travelers include access to buy and sell more than 90 foreign currencies, multi-currency cash passport's, traveler's cheques and gold bullion coins and bars. For financial institutions and corporations, our services include the exchange of foreign currencies, international wire transfers, global EFT, the purchase and sale of foreign bank drafts, international traveler's cheques, and foreign cheque clearing through the use of CXI's innovative CEIFX web-based FX software www.ceifx.com
Header image Source: teksomolika