7 Cheap Ways for Students to Travel Abroad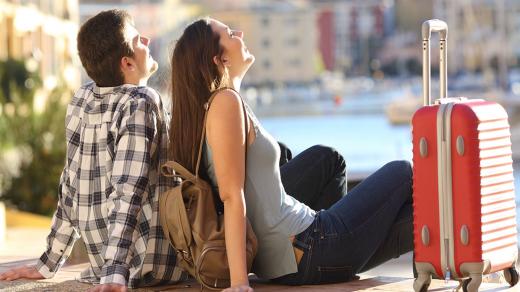 Ordering foreign currency is easy with OnlineFX.
Having your dream trip doesn't need to make a dent in your wallet! Travel on a budget and make some great new memories with these travel tips. With the right tools and travel hacks, getting to that beach bar in Mexico, or finally getting the experience of camel trekking in Morocco, is possible. Whether you're a student traveling while on summer break or you're heading out for a semester abroad, here are some great ways to stretch your student travel dollar.
1. Plan ahead
It is important to know the best times to book your flights, your hotels, and your transport. Depending on when you book these, you could make some big savings. Don't believe us? Check out the Spring Break International Travel Dos and Don'ts
2. Stick to your budget
While you're away, there's no need for you to eat out every night. You can learn how to make the local foods, and cook them for yourself. When you go back home, you'll be able to recreate the dishes for your loved ones! Make a plan for how much you will be spending on a daily or weekly basis, and stick to it. Or even better, travel to a place where you know you will get the best bang for your buck! Whatever your plan is, don't forget to exchange your currency with us before you go. You don't want to worry about higher foreign exchange rates overseas.
3. Student discount
CXI offers 50% off your foreign currency exchange fee, all you have to do is present your school ID or mention the name of your school. Yes, you heard that right - it's that simple. If you have a couple of friends ready to join in on the fun with you, then don't forget to ask about our special group exchange rates, and you'll save even more. Since we know a lot is going on when you're getting ready to travel, we've added the convenience of reserving your currency online for home delivery or branch pick up.

For more savings, check out the Internationally Student Identification Card (ISIC). This card allows students around the world to benefits from discounts in over 130 countries/territories.

4. Study abroad
If you're a student, studying abroad can be a great experience. You can see what life is like across the world for other students, and get enriched with culture while furthering your education. Check out CXI's exclusive promotion for students traveling abroad.
5. Travel with friends
You can minimize your costs by traveling in a group. All of your costs - including groceries, housing, and transportation - will be lowered. Not to mention that you'll have more fun doing activities with your pals across the world! Keep in mind that if you're a student traveling in a group, you may be eligible for a special group rate with CXI.
6. Volunteer/Intern abroad
Volunteering abroad might be the perfect plan for you if you want to lower your costs and make a difference. Most volunteer travel programs provide accommodation and meals for the cost of joining the program. Some companies, like you'll see in this video by Frontier, offer many volunteer programs for you to check out. You can get experience for your career while enjoying your far-off destination with an internship abroad program. Intern NZ & Intern OZ offer internship programs in New Zealand and Australia.
7. Cheap Sleep Accommodations
Your sleep accommodations can sometimes be the most expensive part of your trip. Be sure to check out affordable options such as Airbnb, Vrbo, hostels, and more.
About Currency Exchange International
Currency Exchange International (CXI) is a leading provider of foreign currency exchange services in North America for financial institutions, corporations and travelers. Products and services for international travelers include access to buy and sell more than 90 foreign currencies, multi-currency cash passport's, traveler's cheques and gold bullion coins and bars. For financial institutions and corporations, our services include the exchange of foreign currencies, international wire transfers, global EFT, the purchase and sale of foreign bank drafts, international traveler's cheques, and foreign cheque clearing through the use of CXI's innovative CEIFX web-based FX software www.ceifx.com