Negative Brexit & US/China trade headlines hit risk appetite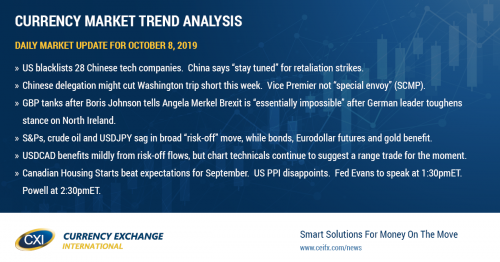 Take control of your international payments with CXI FX Now.
• Zero transfer fees & great rates
• Fast international payments
• Safety and security
• Unparalleled customer service
• Consultative approach
Learn more about CXI's international payment services for businesses or call our trading desk directly at 1-833-572-8933.
Get real-time market coverage on twitter at @EBCTradeDesk or sign up here.
SUMMARY
•
US blacklists 28 Chinese tech companies.  China says "stay tuned" for retaliation strikes.
•
Chinese delegation might cut Washington trip short this week.  Vice Premier not "special envoy" (SCMP).
•
GBP tanks after Boris Johnson tells Angela Merkel Brexit is "essentially impossible" after German leader toughens stance on North Ireland.
•
S&Ps, crude oil and USDJPY sag in broad "risk-off" move, while bonds, Eurodollar futures and gold benefit.
•
USDCAD benefits mildly from risk-off flows, but chart technicals continue to suggest a range trade for the moment.
•
Canadian Housing Starts beat expectations for September.  US PPI disappoints.  Fed Evans to speak at 1:30pmET.  Powell at 2:30pmET.
ANALYSIS
USDCAD
Dollar/CAD is edging higher this morning as the broader USD displays a moderate flight to quality bid.  The overnight headlines were anything but pretty for risk assets, and it all started with the Trump administration's blacklisting of 28 Chinese tech companies over alleged Chinese human rights violations against Muslim minorities in its Xinjiang territory.  China's Foreign Ministry responded by saying the US should "correct [its] wrong ways and stop interfering in China's affairs".  Ministry spokesman Geng Shuang also told reporters to "stay tuned" for retaliation strikes against the US as Beijing will continue to "safeguard its interests".  An article from the South China Morning Post then added to the "risk-off" mode after it said Lui will not carry the title of "special envoy" for President Xi Jinping in this week's trade talks with Washington, which is an early indication that the Vice Premier has not been given any particular instruction or authority from China's leader to make a deal.  The SCMP article also said the Chinese delegation may cut short their stay in Washington, citing an anonymous source who's been briefed on trade talk preparations.  Finally, we're seeing the British pound get pummeled on UK government talk that a Brexit deal is now "essentially impossible" after Angela Merkel reportedly told Boris Johnson that a deal would be "overwhelmingly unlikely" unless Northern Ireland stayed in the customs union (more on this below).  All this is contributing to safe-haven type flows that are hitting the S&P futures and crude oil prices this morning, but we'd caution about get too excited about the upside for USDCAD until chart resistance in the 1.3330-40s gives way.  Canada just reported its Housing Starts data for September and the numbers mildly beat expectations (+221.2k vs +214.5k).
USDCAD DAILY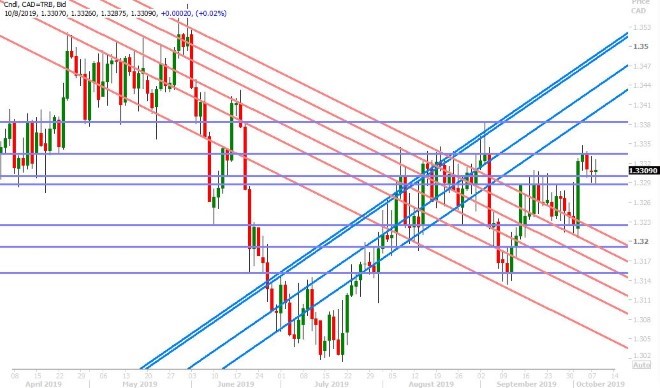 USDCAD HOURLY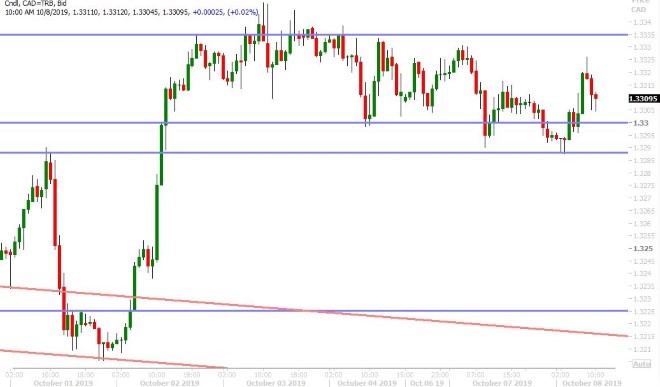 NOV CRUDE OIL DAILY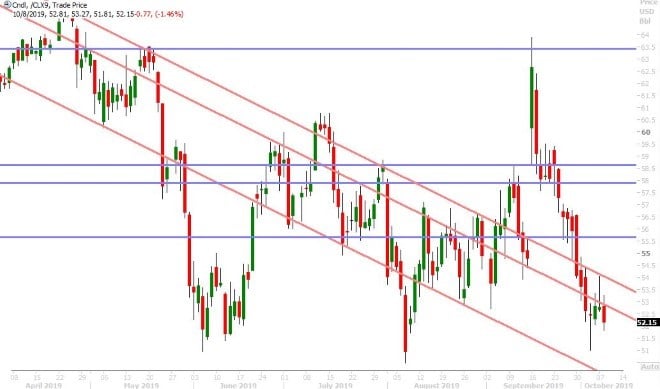 EURUSD
Euro/dollar traders have not given up on the upside this morning, despite yesterday's failure on the part of buyers to get the market above the psychological 1.1000 level.  We think they have a rally in December gold prices to thank for that this morning as well as some better than expected German Industrial Output numbers for the month of August (+0.3% MoM vs -0.1%), but the upside momentum is now waning heading into NY trade.  Over 1.3blnEUR in options expire between 1.0995 and 1.1005 at 10amET this morning, which could keep the market bid for now, but we think the EUR bulls need to keep getting fed here.  In other words, the gold rally/risk-off move in stocks/Fed rate cut trade needs to continue.
EURUSD DAILY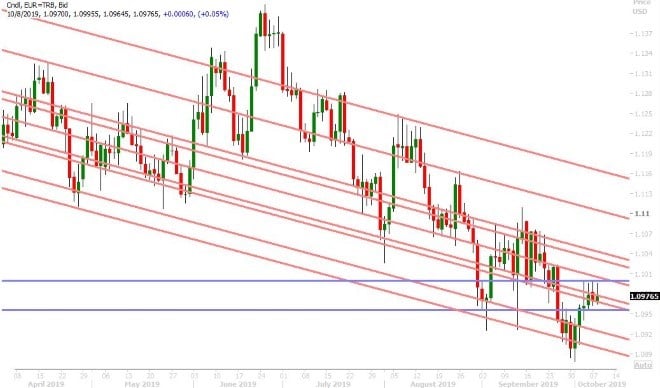 EURUSD HOURLY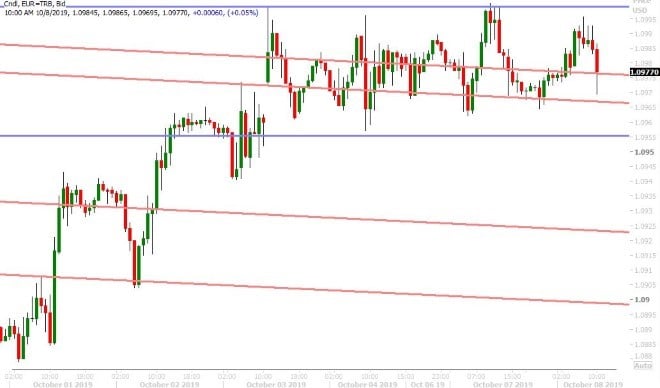 DEC GOLD DAILY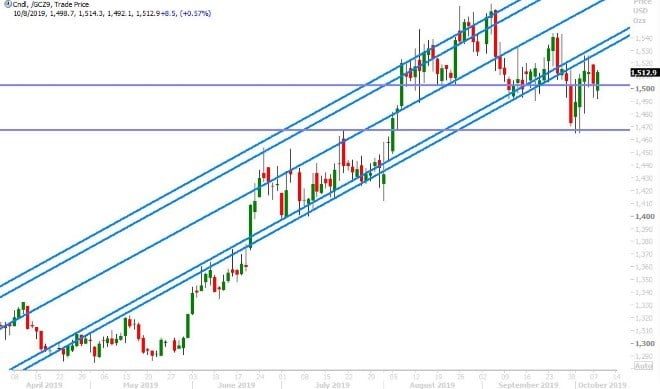 ---
GBPUSD
The pound is getting pummeled this morning after Boris Johnson told Germany's Angela Merkel that a Brexit deal is essentially impossible if the EU demands Northern Ireland stay in the custom's union.  More here from the CBC.  We haven't yet heard Germany's version of the phone call between both leaders, but European Commission President Donald Tusk has been quick to throw the UK PM under the bus via Twitter:  "At stake is the future of Europe and the UK as well as the security and interests of our people," he said, addressing Johnson. "You don't want a deal, you don't want an extension, you don't want to revoke, quo vadis?" — a Latin phrase meaning "where are you going?" (CBC).  GBPUSD moved swiftly below yesterday's chart support in the 1.2290s on the news earlier and it has now also broken below its next chart support level at the 1.2230s as NY trade gets underway.  We think the sellers arguably re-took control of GBPUSD ever since the negative NY close we warned about on Sep 20th, and we think the market's increasingly negative technical chart structure portends more bad Brexit news to come.
GBPUSD DAILY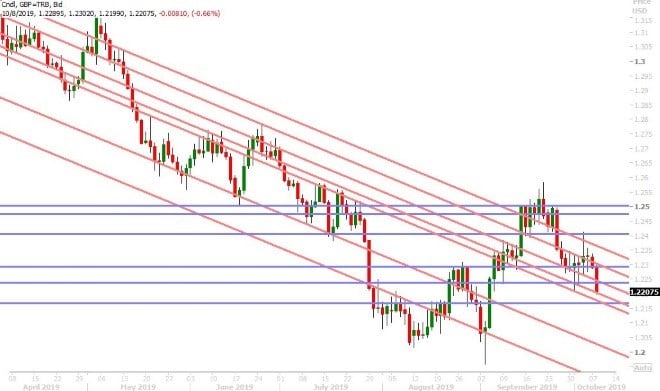 GBPUSD HOURLY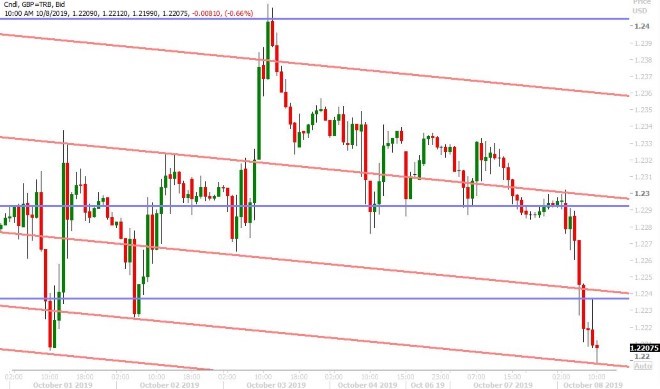 EURGBP DAILY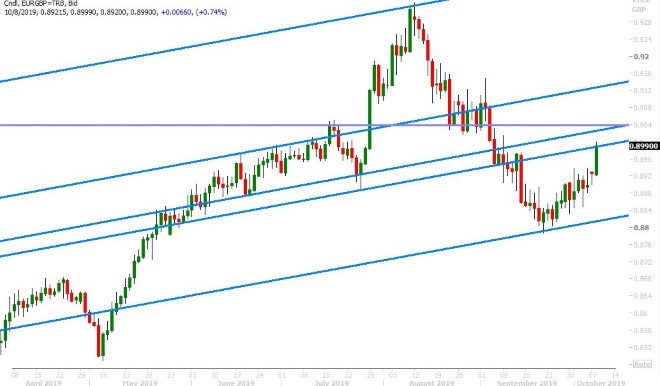 ---
AUDUSD
The Australian dollar is holding up remarkably well this morning despite all the selling we're seeing in global stocks and the Chinese yuan so far today, and it's quite possible this morning's 500mlnAUD option expiry at 0.6740-50 is keeping traders at bay.  We'd be on guard for renewed downside pressure here though given today's negative developments on the US/China trade front and the market's inability to regain the 0.6750s in overnight trade.
AUDUSD DAILY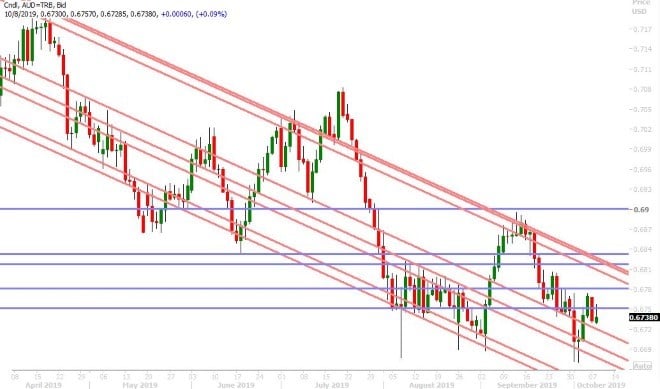 AUDUSD HOURLY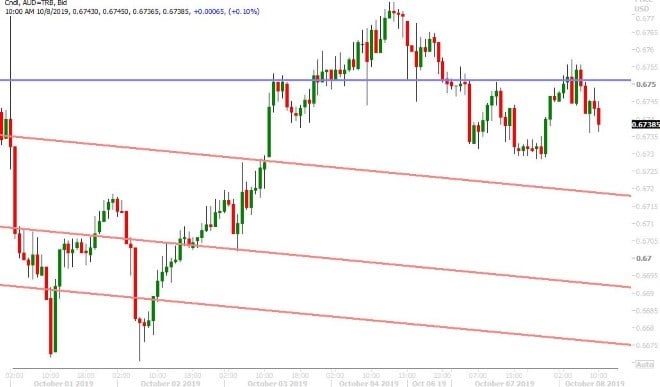 USDCNH DAILY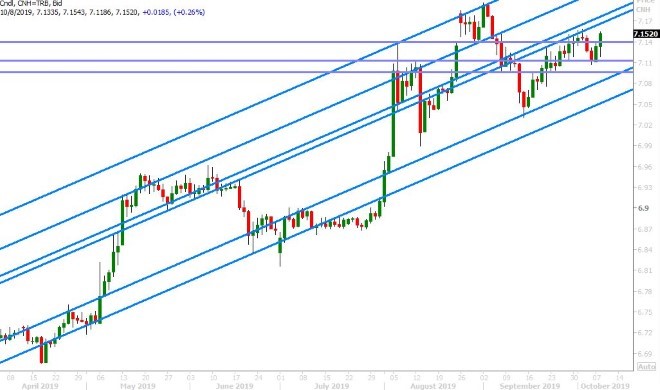 ---
USDJPY
Dollar/yen has gotten walloped in overnight trade as US stock futures and bond yields trade lower in reaction to today's raft of negative US/China trade headlines.  Yesterday's NY session break above the 106.90s on the back of the following Fox News headline seemed like a bit overzealous to us: FOX EDITOR:THE CHINESE COMMERCE MINISTRY TELLS US CHINA IS READY TO DO A DEAL ON THE PARTS OF THE NEGOTIATIONS BOTH SIDES AGREE UPON. THE MINISTRY TELLS US THEY ARE PREPARED TO SET OUT A TIMETABLE FOR THE HARDER ISSUES TO BE WORKED OUT NEXT YEAR.  The headline appeared positive at first, but it doesn't sound like China is willing to concede at all on government subsidies and intellectual property laws in our opinion.  The market is now trading back below the 106.90s as traders now await how the S&P cash market will open.  The US reported softer producer price inflation (PPI) for September this morning (-0.3% vs +0.1%), which we think helps the "Fed rate cut trade" narrative.  The Fed's Evans will be speaking at the Chicago Rotary Club at 1:30pmET this afternoon.  Fed Chairman Powell will then speak at 2:30pmET at the 61st annual meeting for the National Association for Business Economics.
USDJPY DAILY
USDJPY HOURLY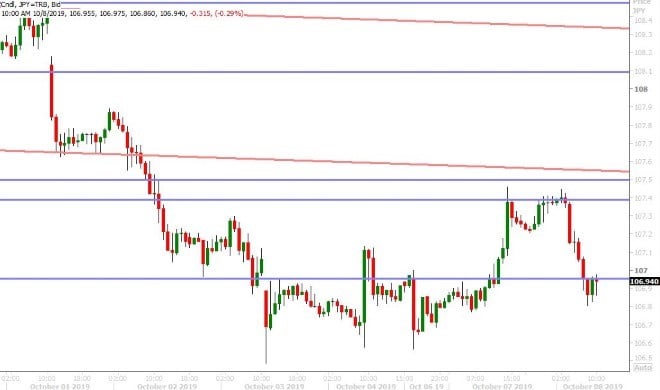 US 10YR BOND YIELD DAILY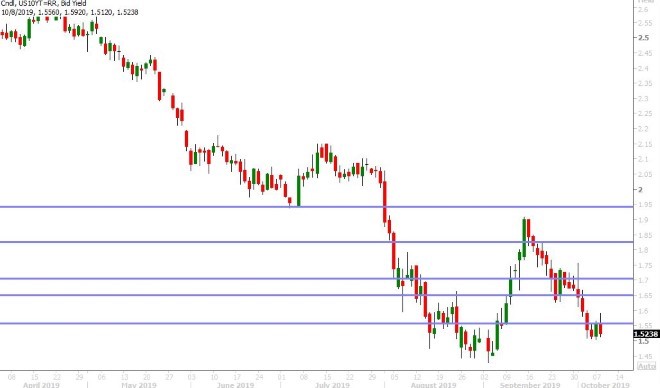 Charts: Reuters Eikon
---
About the Author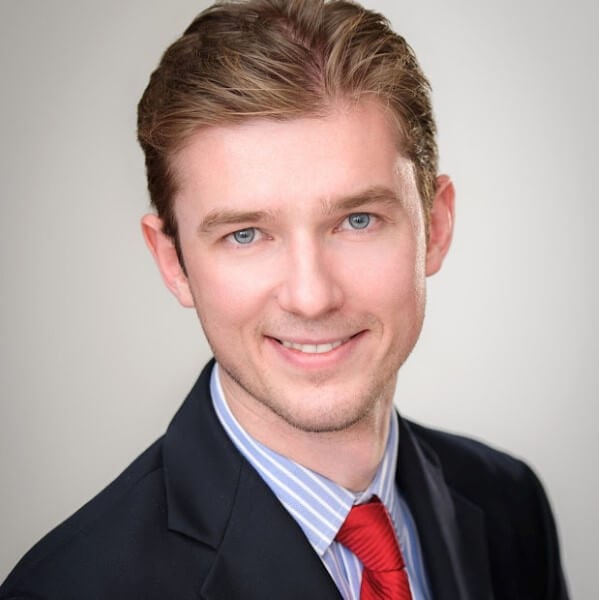 About Currency Exchange International
Currency Exchange International, CXI, is the leading provider of comprehensive foreign exchange services, risk management solutions and integrated international payments processing technology in North America. CXI's relationship-driven approach ensures clients receive tailored solutions and world-class customer service. Through innovative and trusted FX software platforms, CXI delivers versatile foreign exchange services to our clients, so that they can efficiently manage and streamline their foreign currency and global payment needs. CXI is a trusted partner among financial institutions, corporations and retail markets around the world. To learn more, visit: www.ceifx.com
This publication has been prepared by Currency Exchange International for informational and marketing purposes only. Opinions, estimates and projections contained herein are our own as of the date hereof and are subject to change without notice. The information and opinions contained herein have been compiled or arrived at from sources believed reliable, but no representation or warranty, express or implied, is made as to their accuracy or completeness and neither the information nor the forecast shall be taken as a representation for which Currency Exchange International, its affiliates or any of their employees incur any responsibility. Neither Currency Exchange International nor its affiliates accept any liability whatsoever for any loss arising from any use of this information. This publication is not, and is not constructed as, an offer to sell or solicitation of any offer to buy any of the currencies referred to herein, nor shall this publication be construed as an opinion as to whether you should enter into any swap or trading strategy involving a swap or any other transaction. The general transaction, financial, educational and market information contained herein is not intended to be, and does not constitute, a recommendation of a swap or trading strategy involving a swap within the meaning of U.S. Commodity Futures Trading Commission Regulation 23.434 and Appendix A thereto. This material is not intended to be individually tailored to your needs or characteristics and should not be viewed as a "call to action" or suggestion that you enter into a swap or trading strategy involving a swap or any other transaction. You should note that the manner in which you implement any of the strategies set out in this publication may expose you to significant risk and you should carefully consider your ability to bear such risks through consultation with your own independent financial, legal, accounting, tax and other professional advisors. All Currency Exchange International products and services are subject to the terms of applicable agreements and local regulations. This publication and all information, opinions and conclusions contained in it are protected by copyright. This information may not be reproduced in whole or in part, or referred to in any manner whatsoever nor may the information, opinions and conclusions contained in it be referred to without the prior express written consent of Currency Exchange International.