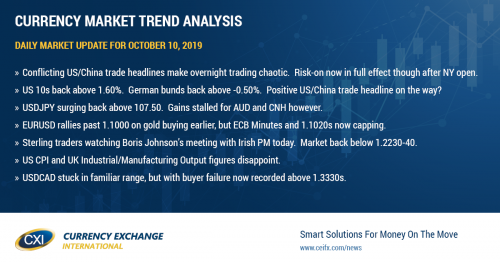 Take control of your international payments with CXI FX Now.
• Zero transfer fees & great rates
• Fast international payments
• Safety and security
• Unparalleled customer service
• Consultative approach
Learn more about CXI's international payment services for businesses or call our trading desk directly at 1-833-572-8933.
Get real-time market coverage on twitter at @EBCTradeDesk or sign up here.
SUMMARY
•
Conflicting US/China trade headlines make overnight trading chaotic.  Risk-on now in full effect though after NY open.
•
US 10s back above 1.60%.  German bunds back above -0.50%.  Positive US/China trade headline on the way?
•
USDJPY surging back above 107.50.  Gains stalled for AUD and CNH however.
•
EURUSD rallies past 1.1000 on gold buying earlier, but ECB Minutes and 1.1020s now capping.
•
Sterling traders watching Boris Johnson's meeting with Irish PM today.  Market back below 1.2230-40.
•
US CPI and UK Industrial/Manufacturing Output figures disappoint.
•
USDCAD stuck in familiar range, but with buyer failure now recorded above 1.3330s.
ANALYSIS
USDCAD
Dollar/CAD is trading back near its 1.3280-1.3300 support zone this morning, after a tumultuous overnight session of conflicting US/China trade headlines ultimately saw buyers fail with a breakout attempt above the 1.3330s.  The headlines come out in this order:
US, CHINA MAKE NO PROGRESS IN DEPUTY-LEVEL TRADE TALKS (SCMP) – Risk off
WHITEHOUSE - SCMP report is inaccurate. We are not aware of a change in the Vice Premier's travel plans at this time." (CNBC).  CHINA'S LIU TO STAY IN WASHINGTON THROUGH FRIDAY FOR MEETINGS – Risk on
Chinese trade sources tell Fox Business that the Chinese Trade Team will leave after one day of talks on Thursday – Risk off
US WEIGHING CURRENCY PACT WITH CHINA AS PART OF PARTIAL DEAL (Bloomberg) – Risk on
CHINA MOFCOM URGES US TO STOP UNREASONABLE PRESSURE ON CHINESE COMPANIES INCLUDING HUAWEI (Reuters) – Risk off
WHETHER CHINESE DELEGATION STAYS WILL DEPEND ON TODAY (Fox) – Risk on
We hate to say it, but the market is trading lower here simply because the last headline sounds slightly less negative in our opinion and we still have a whole news cycle ahead of us for the NY session where "something positive" could happen on the US/China trade front.  The US just reported its CPI data for September and the numbers missed expectations (flat vs +0.1% MoM and +1.7% YoY vs +1.8%), which is not surprising given Tuesday's soft PPI data.  OPEC cut its 2019 global oil demand forecast for the fourth time in five months in its Monthly Oil Report released this morning.  More here from the WSJ.
Yesterday's FOMC Minutes re-highlighted the fact the "several" policymakers favored keeping rates steady but this is nothing new in our opinion, and it doesn't matter frankly when NOT disappointing the markets is clearly the only course of action for the Fed right now.  Jerome Powell's favorite new phrase "The economy is in a good place" got no attention when he used it again in another speech yesterday.  To this we say, "ya right".  The Fed's is clinging to the low "official" unemployment rate as its key measure for the strength of the job market but it's one of the most outdated, lagging and misleading indicators out there.
USDCAD DAILY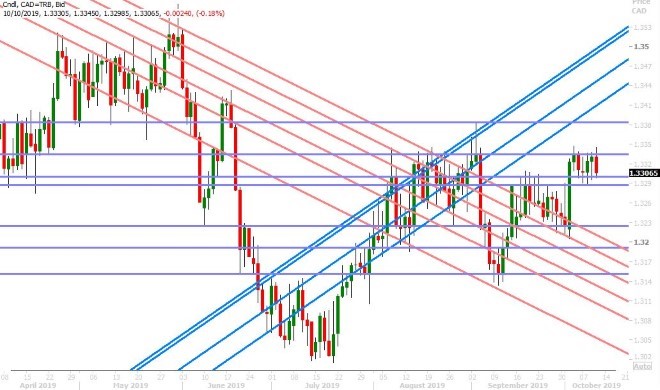 USDCAD HOURLY
NOV CRUDE OIL DAILY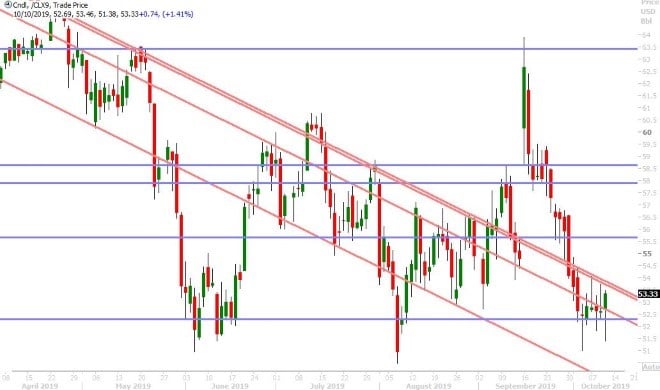 EURUSD
The buyers came back in force during the overnight session today, after the initial, negative sounding US/China trade headlines from SCMP ignited a risk-off bid to gold prices.  The price spike in December gold up to the $1520 level got EURUSD back above its trend-line support zone in the 1.0965-1.0975 area, and we think this gave fuel to the chart technicians and buy stop hunters when Europe got going.  A break above the psychological 1.1000 resistance level then triggered yet even more buying and before you know it EURUSD was tackling its next major resistance level in the 1.1020s.
This morning's 7:30amET release of the ECB Minutes showed the dissent amongst "a number of" policymakers surrounding Mario Draghi's decision to re-launch QE (largely expected we would say), but we think the governing council's overarching consensus for more forceful and pre-emptive monetary policy action is coming across as a slightly more dovish development for markets this morning…hence another reason why EURUSD could be stalling here.  The full minutes of the meeting can be read here.  All this being said though, we still think Christine Lagarde has a problem to fix at the ECB.  So long as the rift of dissent and lack of unanimity grows on every major policy topic, we think the new ECB President will be hard pressed to announce any further easing measures.  
The FT reported this morning that Mario Draghi and the governing council ignored in-house advice from the central bank's monetary policy committee when deciding to restart QE last month.  More here.
EURUSD DAILY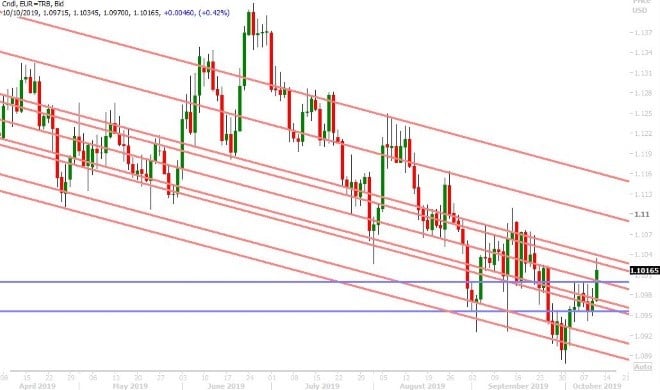 EURUSD HOURLY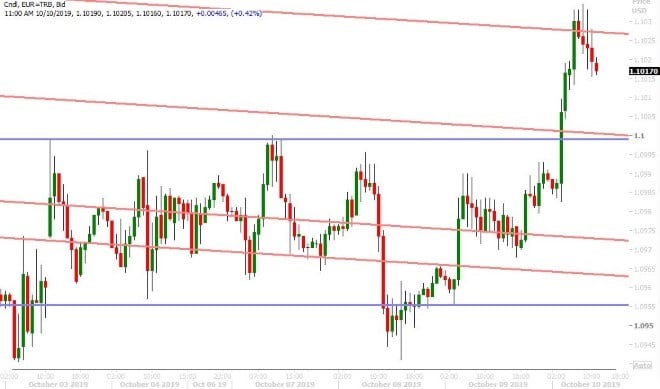 DEC GOLD DAILY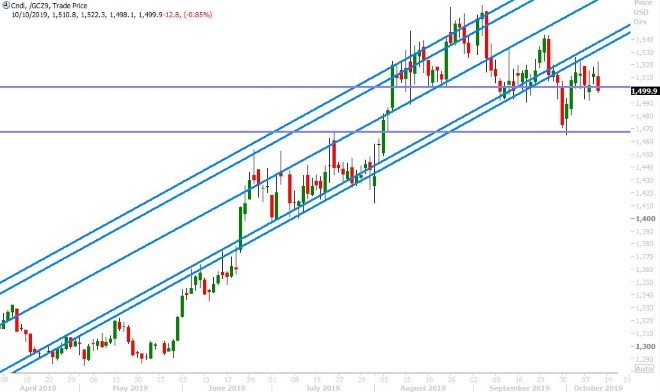 ---
GBPUSD
Sterling is treading water once again around familiar chart resistance in the 1.2230-40s, but with some more negative momentum now as it gave up gains above this level earlier today.  We'd argue this morning's UK data dump was largely a non-event for markets as the focus remains on Brexit.
UK GDP (Aug) -0.1% vs flat exp.  +1.1% YoY vs +0.9% exp 
UK Industrial Output (Aug) -0.6% MoM vs -0.1% exp
UK Manufacturing Output (Aug) -0.7% MoM vs flat exp.
We think traders will be watching Boris Johnson's meeting today with Irish PM Leo Varadkar for more clues.  More here from the BBC.  We think a NY close below the 1.2230s will reaffirm confidence for the funds, who remain net-short the market.
GBPUSD DAILY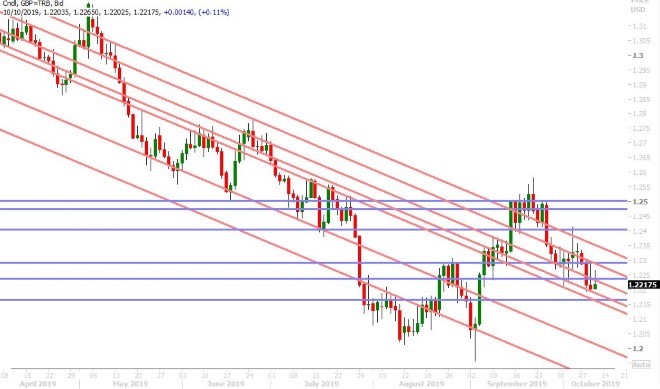 GBPUSD HOURLY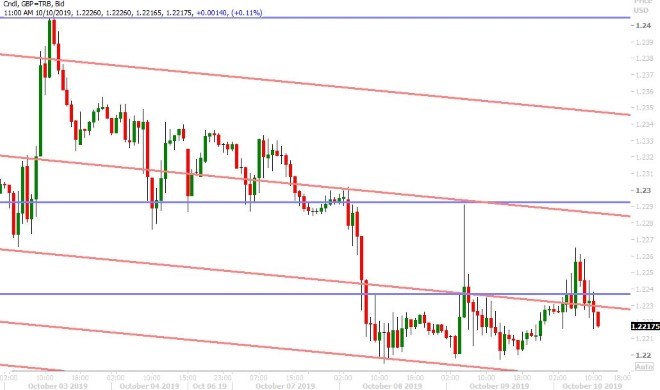 EURGBP DAILY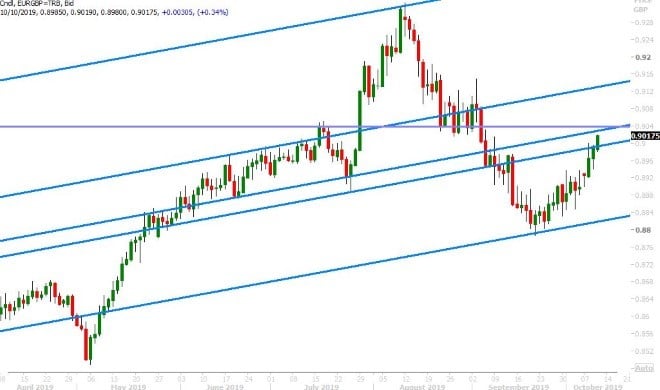 ---
AUDUSD
Australian dollar and Chinese yuan traders appeared to focus on the positives from last night's barrage of conflicting US/China trade headlines during the overnight session, with the most notable moves in both currencies occurring after the Whitehouse's denial of the SCMP story.  Both the AUD and CNH maintained an upward trajectory throughout early European trade today, and we think EURUSD's rally through 1.1000 added some fuel to the fire.  However, these moves are reversing somewhat now as the US 10yr yield breaks above 1.60% and the German bund yield moves back above -0.50%.  We're not quite sure yet what's driving this hit to the "Fed rate cut trade" at the start of NY trade here, as the Fed's Kaplan said an hour ago that he's "open-minded" on further easing.
AUDUSD DAILY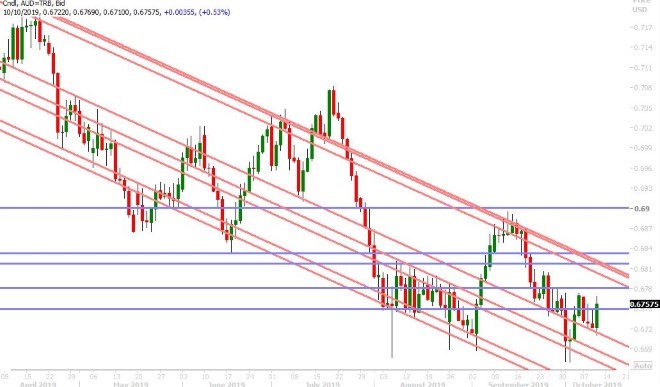 AUDUSD HOURLY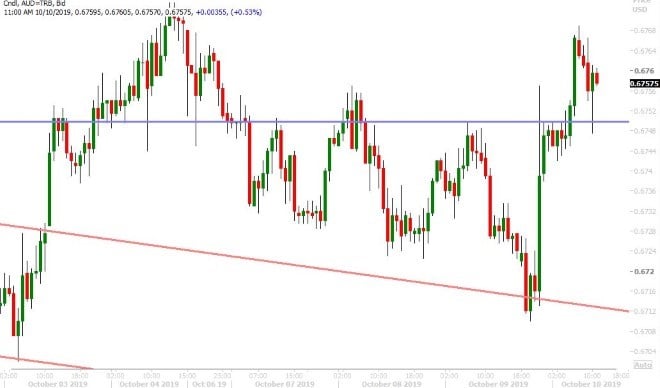 USDCNH DAILY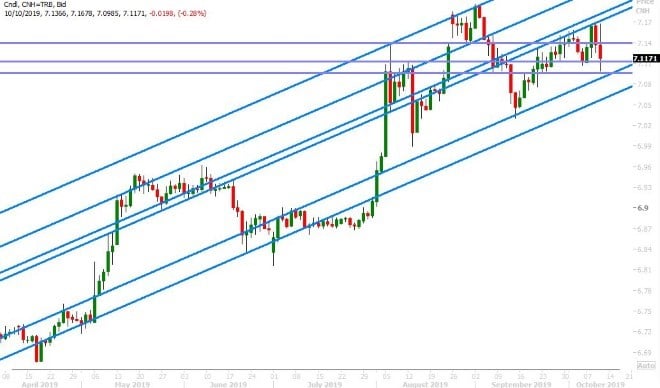 ---
USDJPY
Dollar/yen is shooting higher here above the key 107.50 level as US and German yields break higher.  The moves are still fresh and the headlines continue to pour in.  Perhaps we're going to see a positive US/China trade development shortly?  Stay tuned on Twitter @EBCTradeDesk.
USDJPY DAILY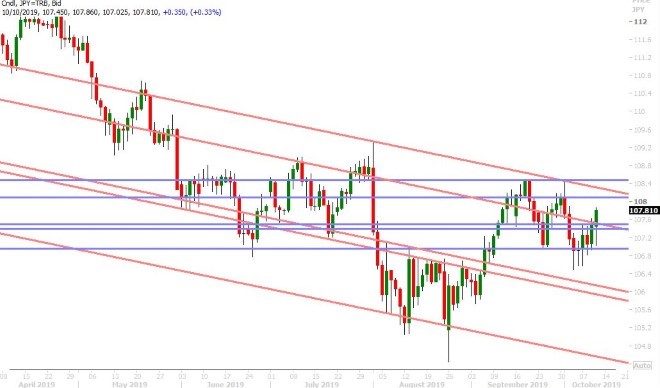 USDJPY HOURLY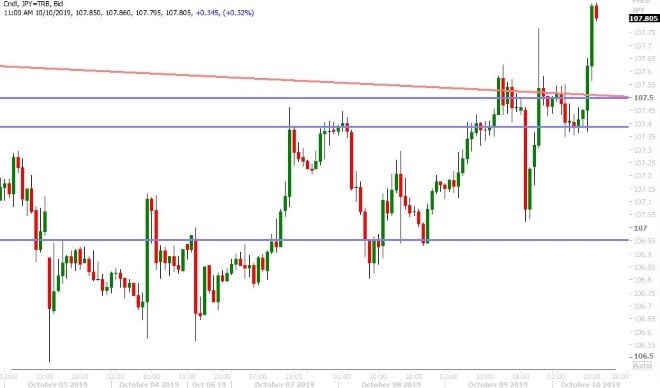 US 10YR BOND YIELD DAILY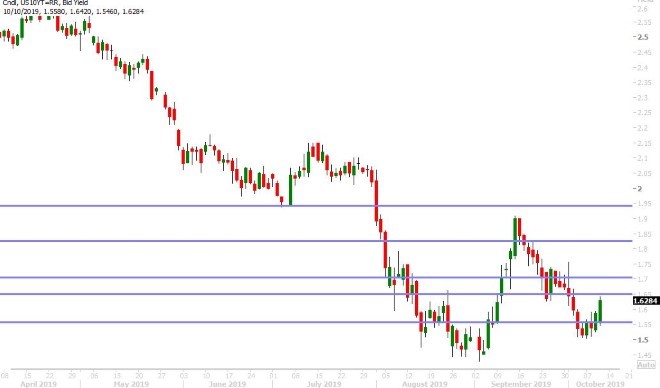 Charts: Reuters Eikon
---
About the Author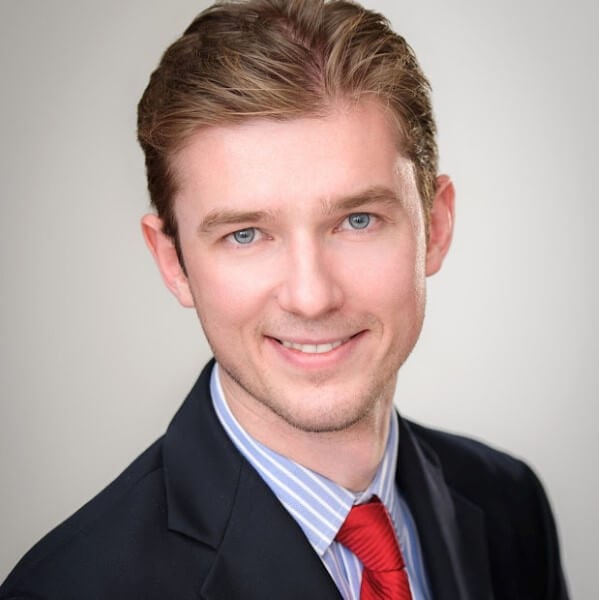 About Currency Exchange International
Currency Exchange International, CXI, is the leading provider of comprehensive foreign exchange services, risk management solutions and integrated international payments processing technology in North America. CXI's relationship-driven approach ensures clients receive tailored solutions and world-class customer service. Through innovative and trusted FX software platforms, CXI delivers versatile foreign exchange services to our clients, so that they can efficiently manage and streamline their foreign currency and global payment needs. CXI is a trusted partner among financial institutions, corporations and retail markets around the world. To learn more, visit: www.ceifx.com
This publication has been prepared by Currency Exchange International for informational and marketing purposes only. Opinions, estimates and projections contained herein are our own as of the date hereof and are subject to change without notice. The information and opinions contained herein have been compiled or arrived at from sources believed reliable, but no representation or warranty, express or implied, is made as to their accuracy or completeness and neither the information nor the forecast shall be taken as a representation for which Currency Exchange International, its affiliates or any of their employees incur any responsibility. Neither Currency Exchange International nor its affiliates accept any liability whatsoever for any loss arising from any use of this information. This publication is not, and is not constructed as, an offer to sell or solicitation of any offer to buy any of the currencies referred to herein, nor shall this publication be construed as an opinion as to whether you should enter into any swap or trading strategy involving a swap or any other transaction. The general transaction, financial, educational and market information contained herein is not intended to be, and does not constitute, a recommendation of a swap or trading strategy involving a swap within the meaning of U.S. Commodity Futures Trading Commission Regulation 23.434 and Appendix A thereto. This material is not intended to be individually tailored to your needs or characteristics and should not be viewed as a "call to action" or suggestion that you enter into a swap or trading strategy involving a swap or any other transaction. You should note that the manner in which you implement any of the strategies set out in this publication may expose you to significant risk and you should carefully consider your ability to bear such risks through consultation with your own independent financial, legal, accounting, tax and other professional advisors. All Currency Exchange International products and services are subject to the terms of applicable agreements and local regulations. This publication and all information, opinions and conclusions contained in it are protected by copyright. This information may not be reproduced in whole or in part, or referred to in any manner whatsoever nor may the information, opinions and conclusions contained in it be referred to without the prior express written consent of Currency Exchange International.