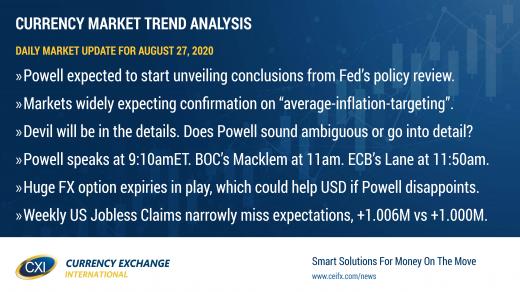 Take control of your international payments with CXI FX Now.
• Low transfer fees & great rates
• Fast international payments
• Safety and security
• Unparalleled customer service
• Consultative approach
Interested in creating a custom foreign exchange trading plan?
Contact us
or call EBC's trading desk directly at
1-888-729-9716.
Get real-time market coverage on twitter at @EBCTradeDesk or sign up to currency insider here.
SUMMARY
Powell expected to start unveiling conclusions from Fed's policy review.

Markets widely expecting confirmation on "average-inflation-targeting".

Devil will be in the details. Does Powell sound ambiguous or go into detail?

Powell speaks at 9:10amET. BOC's Macklem at 11am. ECB's Lane at 11:50am.

Huge FX option expiries in play, which could help USD if Powell disappoints.

Weekly US Jobless Claims narrowly miss expectations, +1.006M vs +1.000M.



ANALYSIS
USDCAD
The broader USD is trading mildly bid this morning as traders tread cautiously ahead of Jerome Powell's speech at the Kansas City Fed's annual Jackson Hole symposium. The Fed chairman will start speaking at 9:10amET and he is now widely expected to start unveiling conclusions from the central bank's 36-month-long Review of Monetary Policy Strategy; and the overwhelming consensus right now is that the Fed will adopt a new policy centered around "average-inflation-targeting" that will allow inflation to overshoot the 2% target for a period of time. We think the bar has been set very high for Powell to surprise the markets this morning and we feel that anything short of fully-fledged specifics on this new expected path forward will be deemed a disappointment and could see risk sentiment deteriorate and the USD bounce.
Some large option expiries are in play in USDCAD this morning (600M at 1.3100 and 1.1BLN between 1.3200-1.3250), which could suggest a knee jerk reaction lower for the market (excitement) as Powell begins speaking and perhaps a reversal higher if he disappoints into the NY options cut by 10amET. The leveraged funds continue to lose money on their net long USDCAD position going into Powell's speech and we reckon they may finally puke if the Fed chairman truly surprises markets today with an even more dovish and more detailed than expected path forward. The Bank of Canada's Tiff Macklem will speak at Jackson Hole at 11amET. Stay tuned @EBCTradeDesk on Twitter for full coverage.
US JOBLESS CLAIMS FELL TO 1,006,000 AUG 22 WEEK (CONSENSUS 1,000,000) FROM 1,104,000 PRIOR WEEK (PREVIOUS 1,106,000)
US PRELIM Q2 GDP -31.7 PCT (CONSENSUS -32.5 PCT), PREV -32.9 PCT; FINAL SALES -28.5 PCT, PREV -29.3 PCT
USDCAD DAILY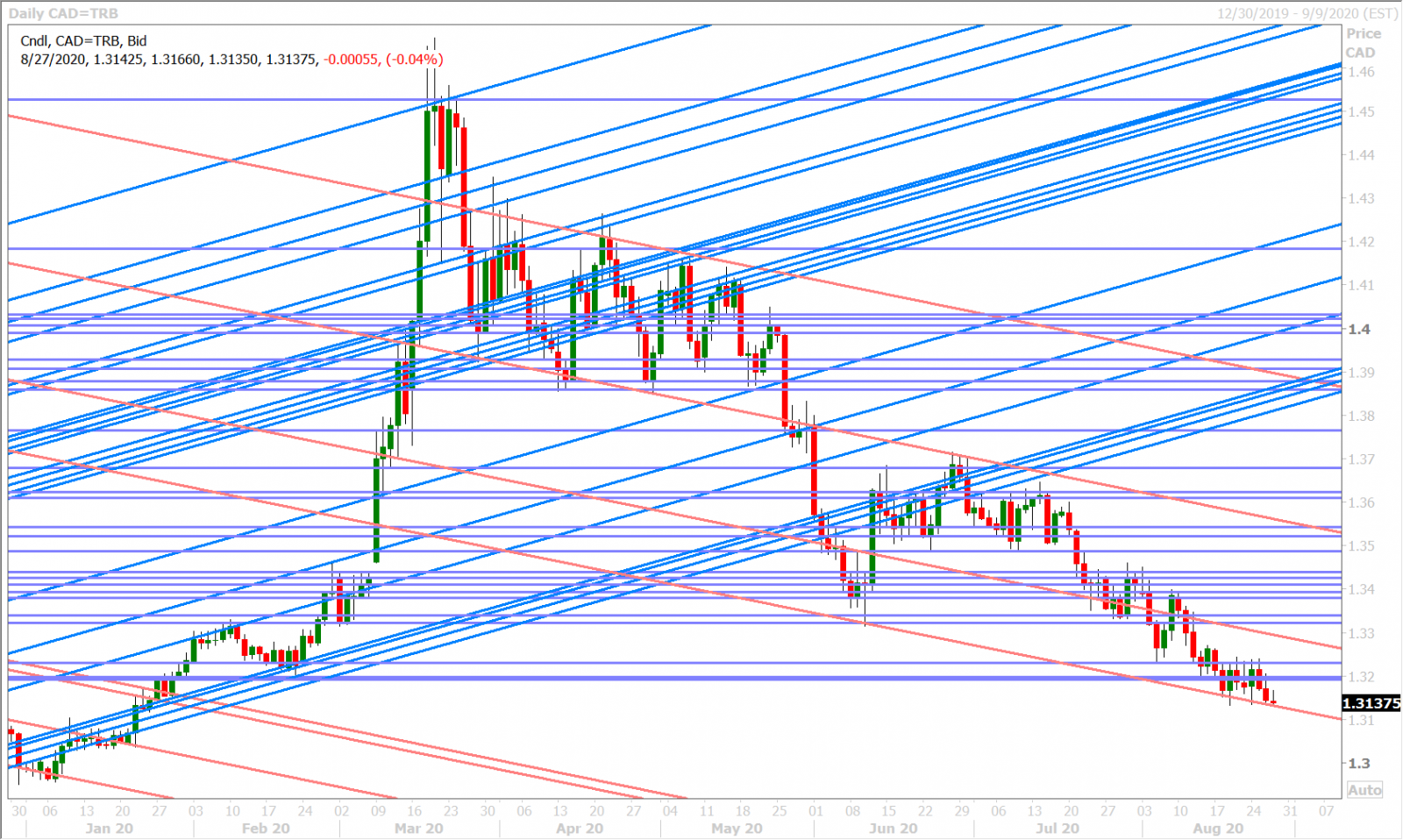 USDCAD HOURLY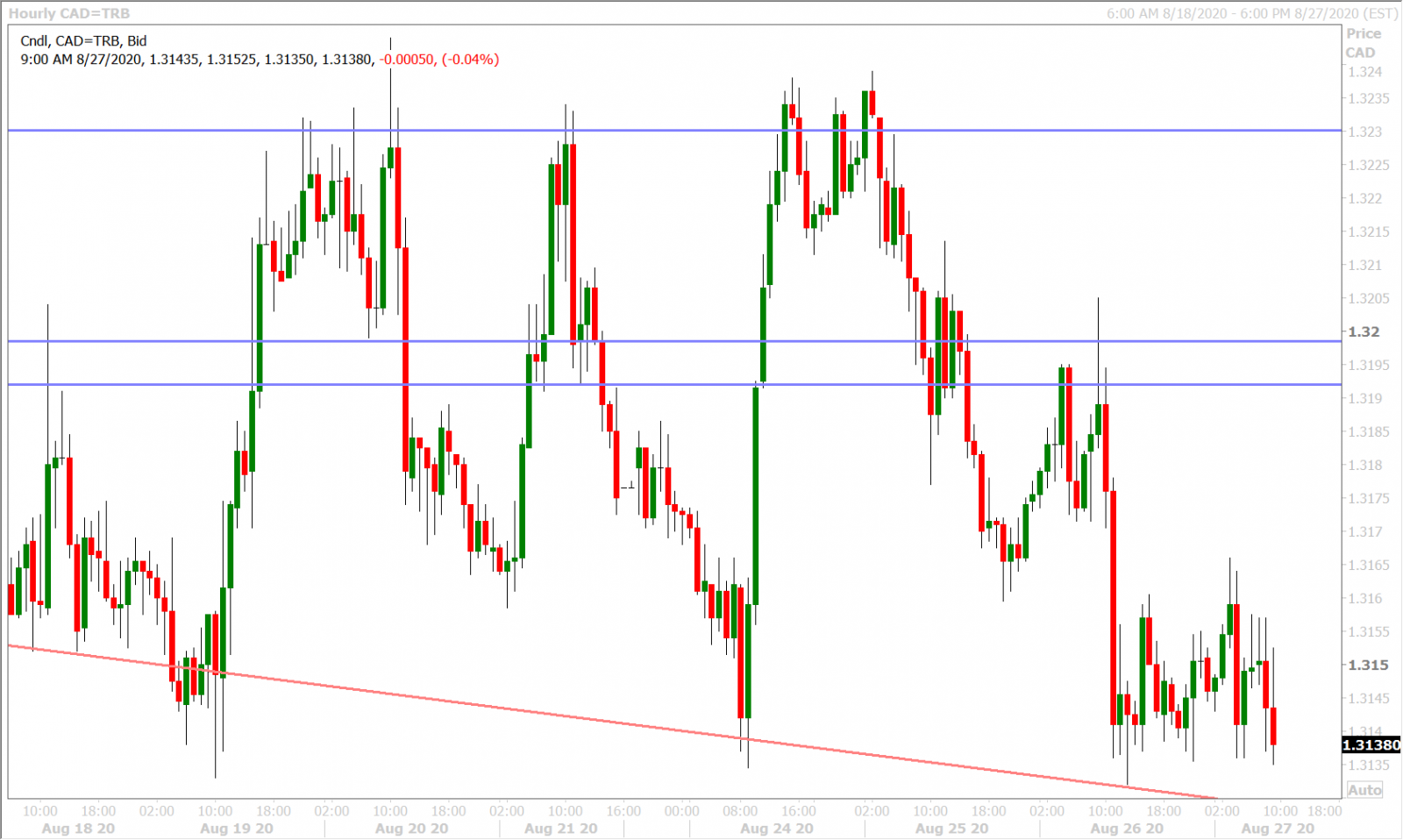 OCT CRUDE OIL DAILY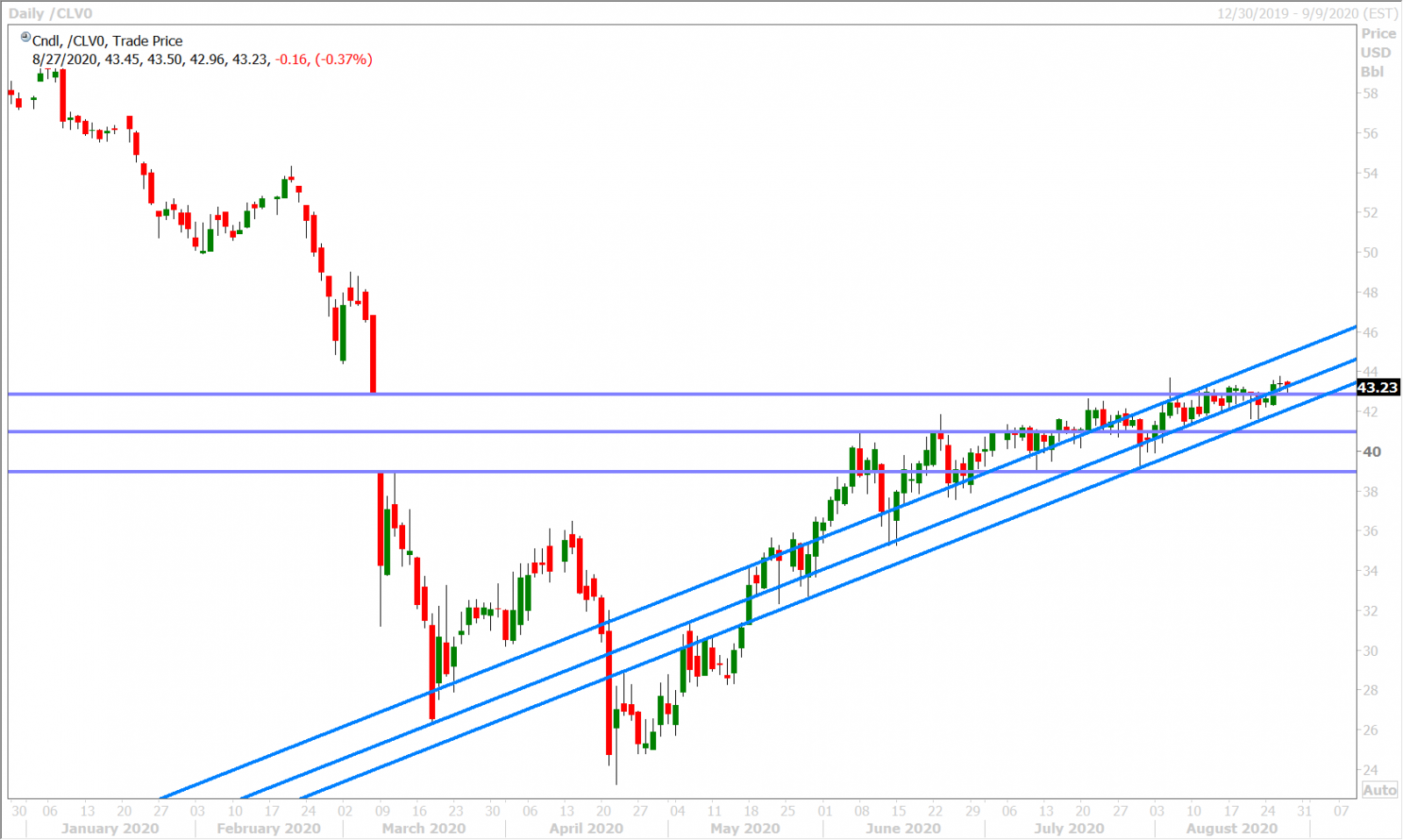 ---
EURUSD
Euro/dollar re-tested the top end of this week's range in the 1.1840s overnight, but it has now settled back just above the 1.18 handle as traders await Powell's speech at 9:10amET. The ECB's Philip Lane said this morning on CNBC that the European Central Bank is "ready to do more as needed" and it sounds like he may reiterate this when it's his turn to speak at the Jackson Hole symposium at 11:50amET.
This morning's option expiries are massive for EURUSD (3.3BLN 1.1750-1.1800 and 2.5BLN 1.1825-75), which makes sense given today's level of event risk, but we think the higher notional amounts expiring below the market could tip the scales towards EURUSD sales into 10amET, especially if Powell sounds ambiguous on the path forward.

EURUSD DAILY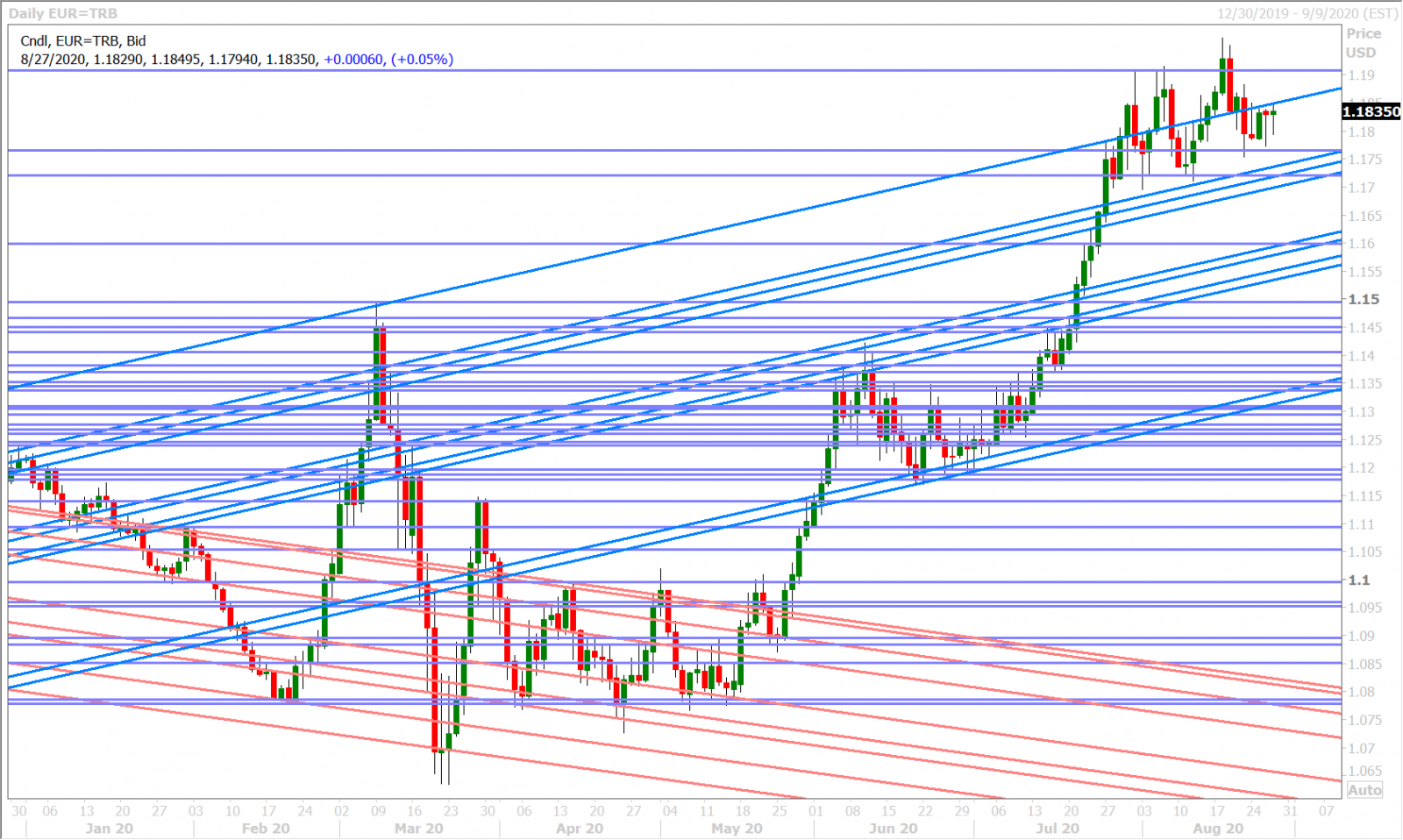 EURUSD HOURLY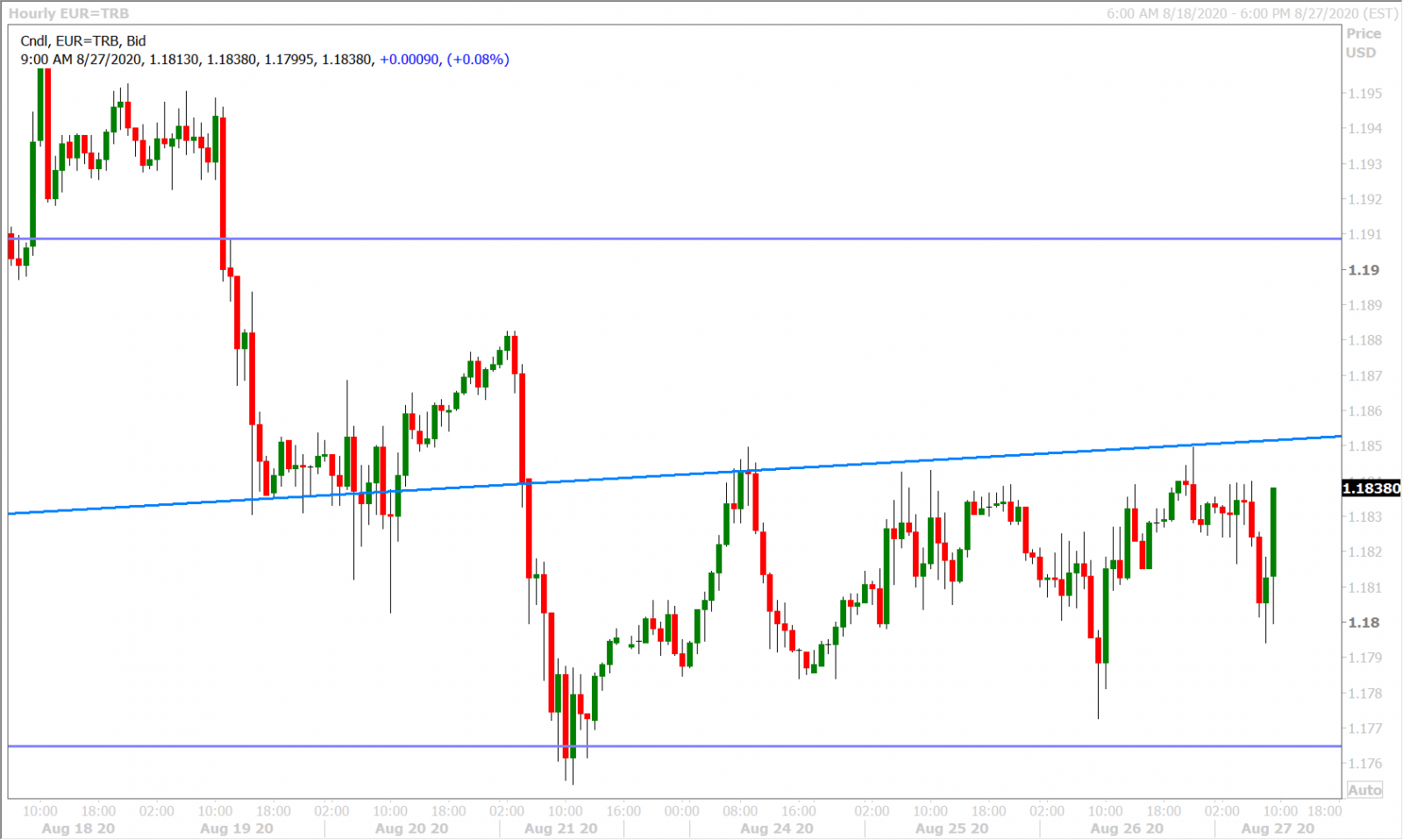 SPOT GOLD DAILY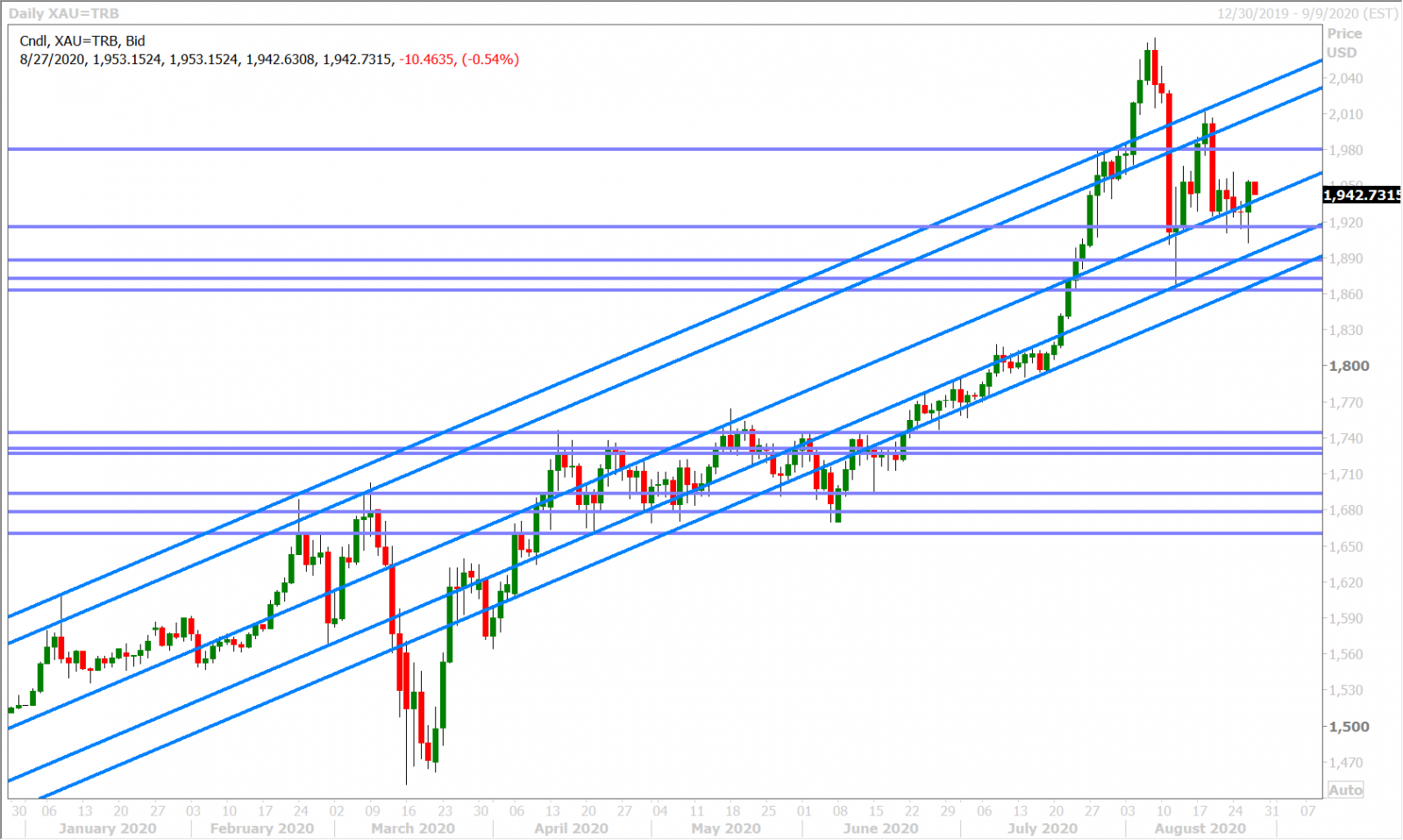 ---
GBPUSD
Sterling's risk-on rally from yesterday ran out of steam overnight as buyers failed multiple times to get GBPUSD above the 1.3210s resistance level. This technical weakness, along with some broad pre-Powell cautiousness, has now seen the market pull back below the 1.3200 handle. Over 700M worth of GBPUSD options expire between the 1.3100 and 1.3150 strikes at 10amET, which again like EURUSD's setup this morning, could exacerbate sterling sales should Powell disappoint.
GBPUSD DAILY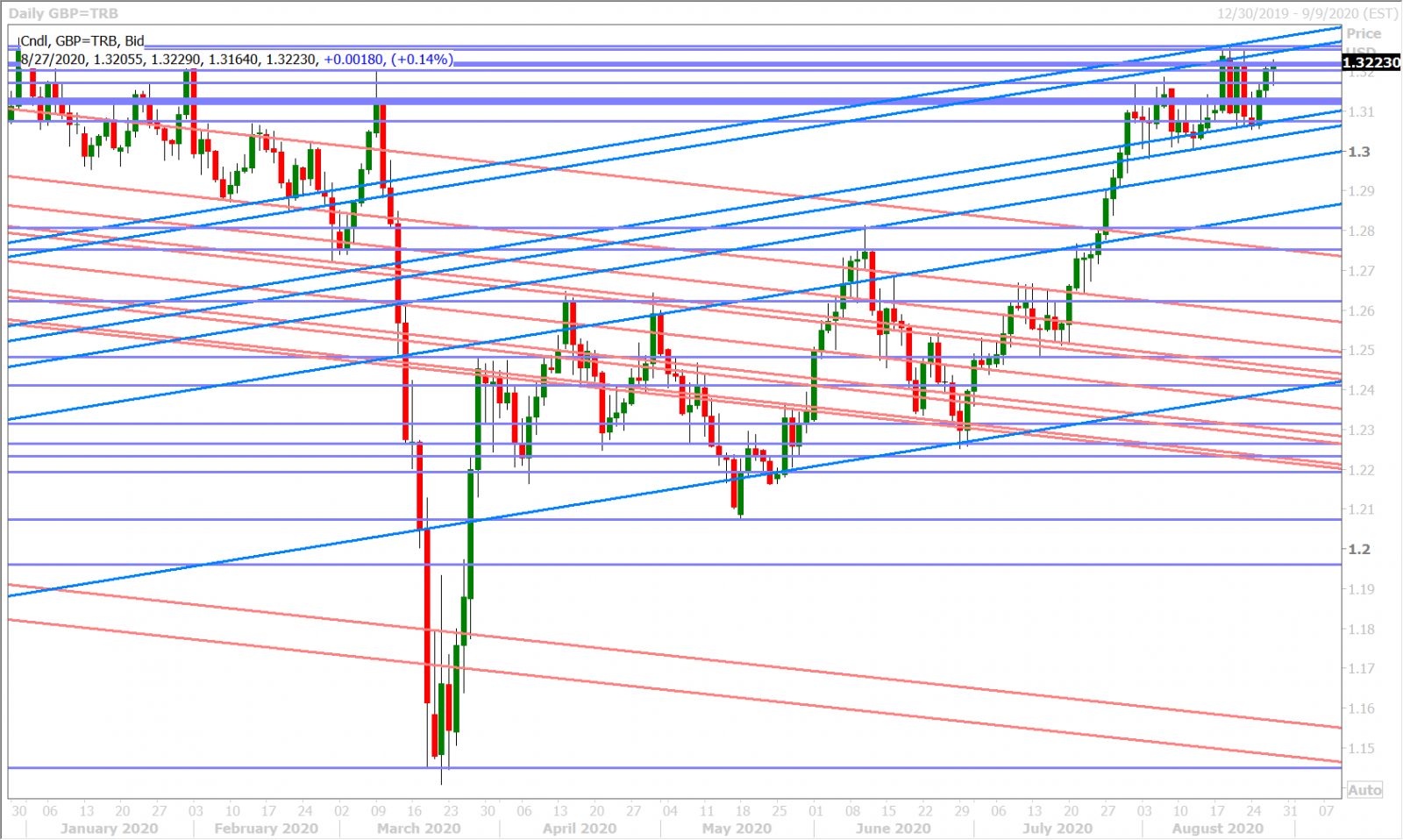 GBPUSD HOURLY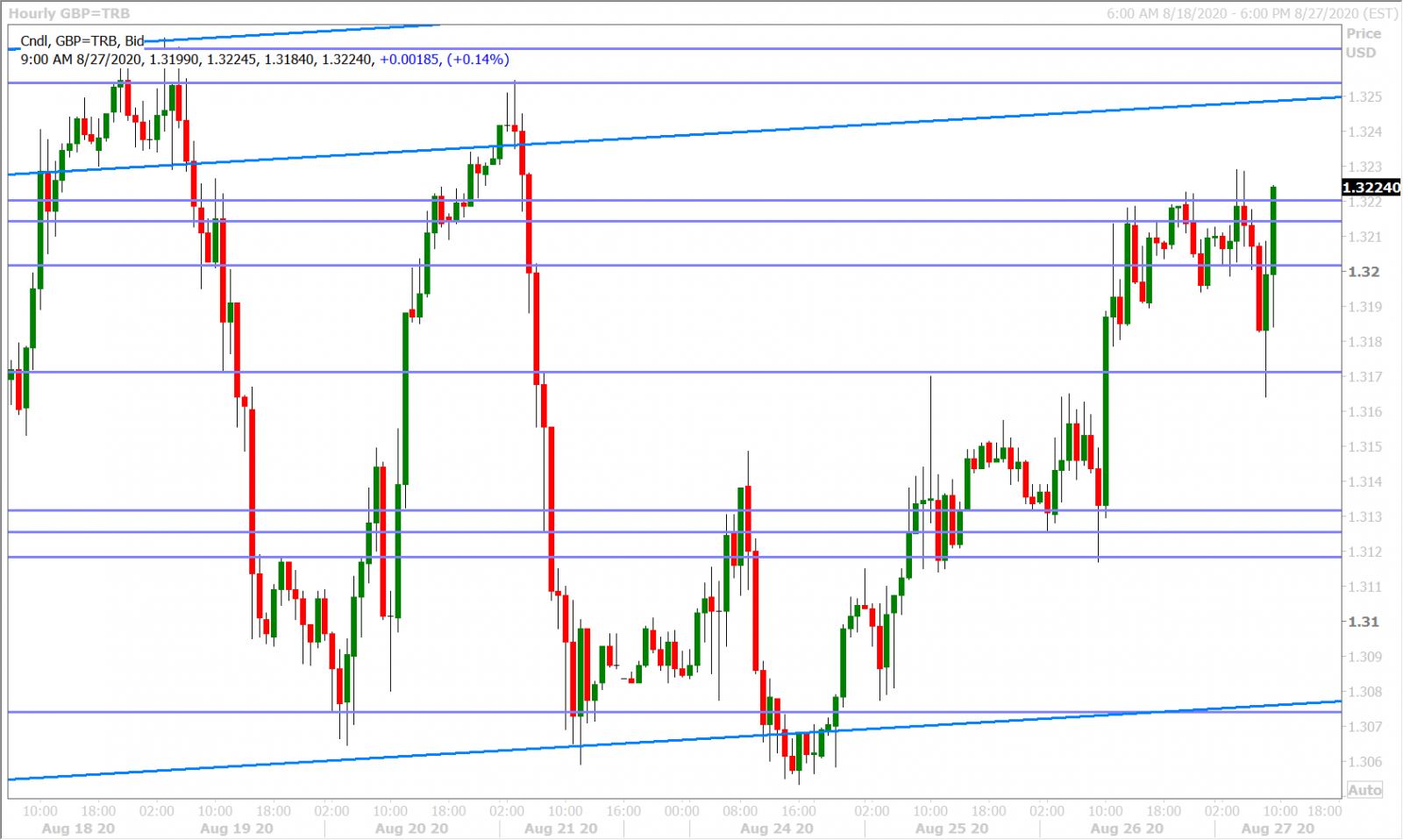 EURGBP DAILY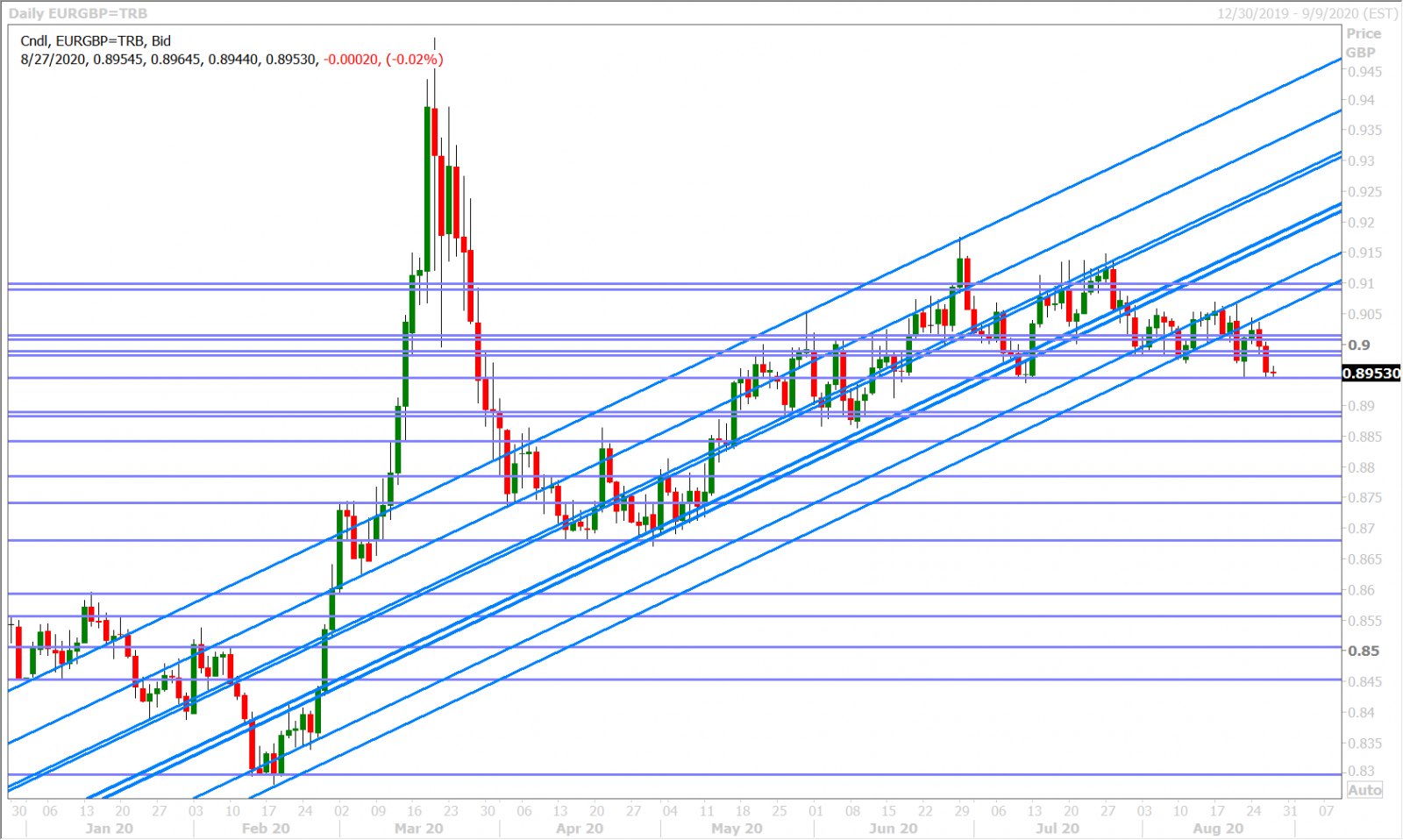 AUDUSD
The Australian dollar is the standout outperformer this morning going into Powell's speech at Jackson Hole, and we think this is largely because of technical strength. The market closed NY trade yesterday above the key 0.7230 resistance level, and buyers defended this level on a re-test in Asia last night. Over 1.1BLN worth of AUDUSD options will be expiring at 0.7150-0.7200 this morning, which could very easily come into play if Powell leaves traders hanging.

AUDUSD DAILY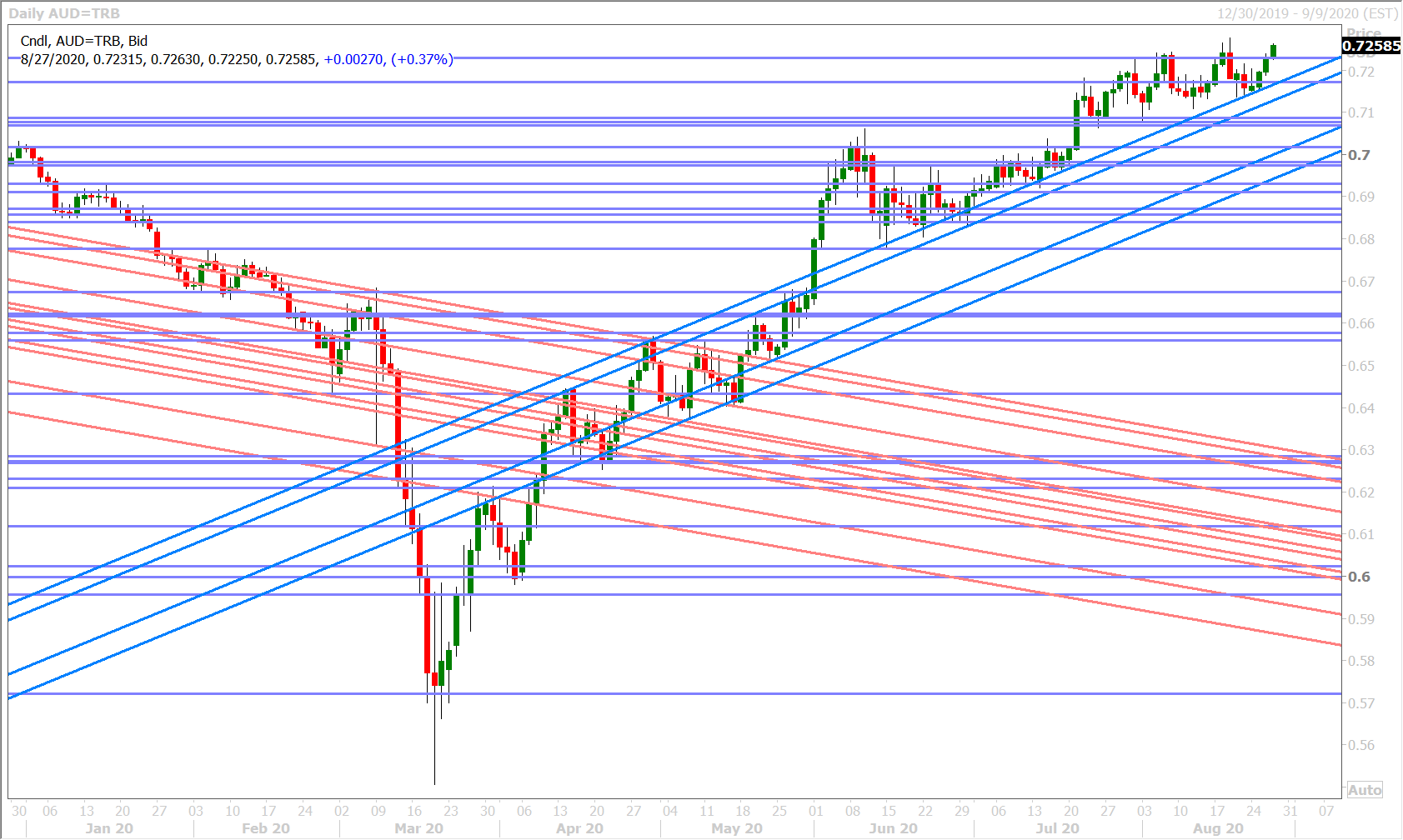 AUDUSD HOURLY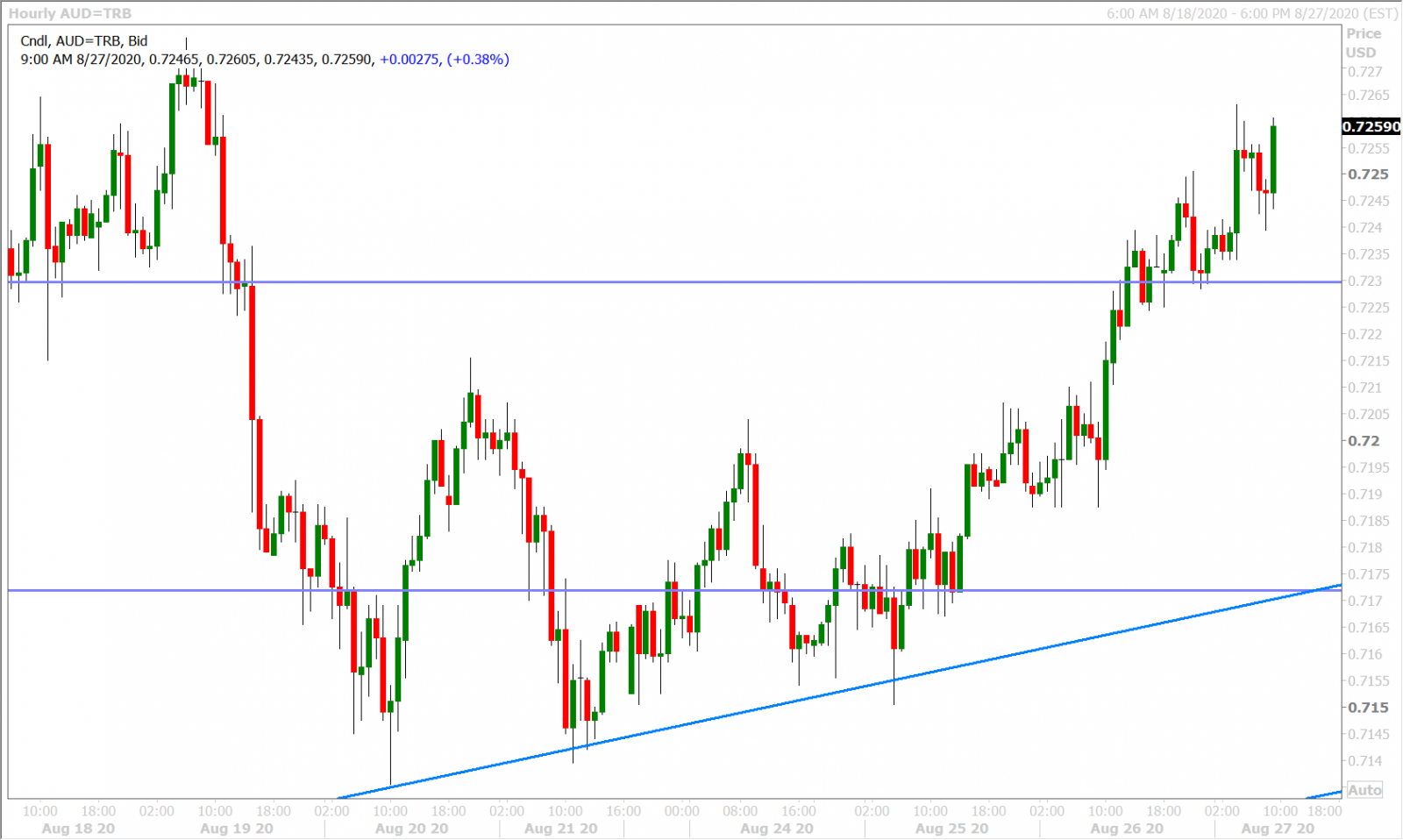 USDCNH DAILY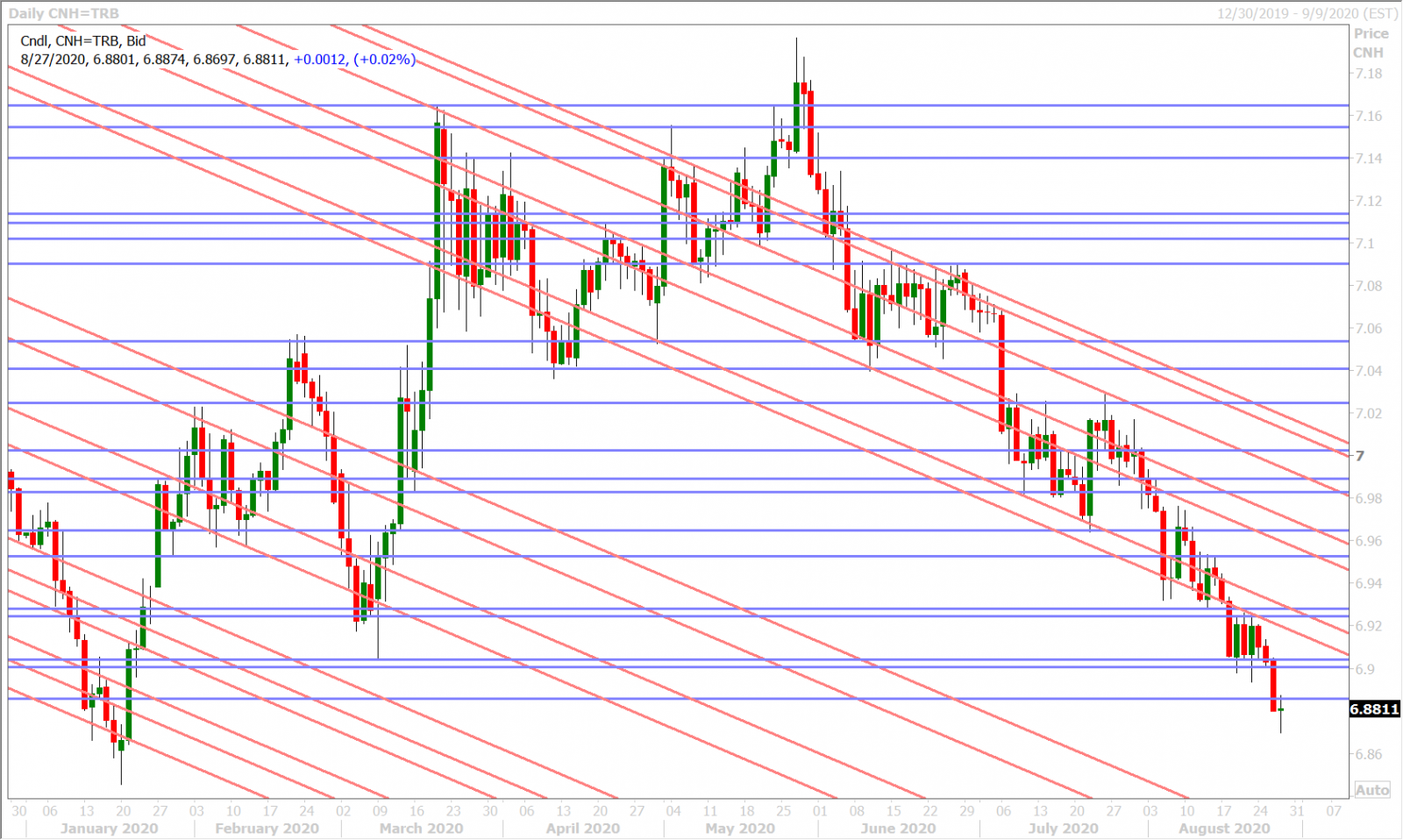 ---
USDJPY
Dollar/yen bounced off the 105.60-80 support zone overnight and has gone bid with the broader USD ahead of today's Jackson Hole event. This morning's NY options cut also features 4.3BLN of USDJPY expiries between 105.50 and 106.00, which could very much add to a risk-off, yield-crushing, move lower in the market should Jerome Powell fail to deliver full details on the Fed's path forward today. Traders are also talking tomorrow's 4amET press conference from Shinzo Abe, where the Japanese Prime Minister is expected to make an announcement about his health.
USDJPY DAILY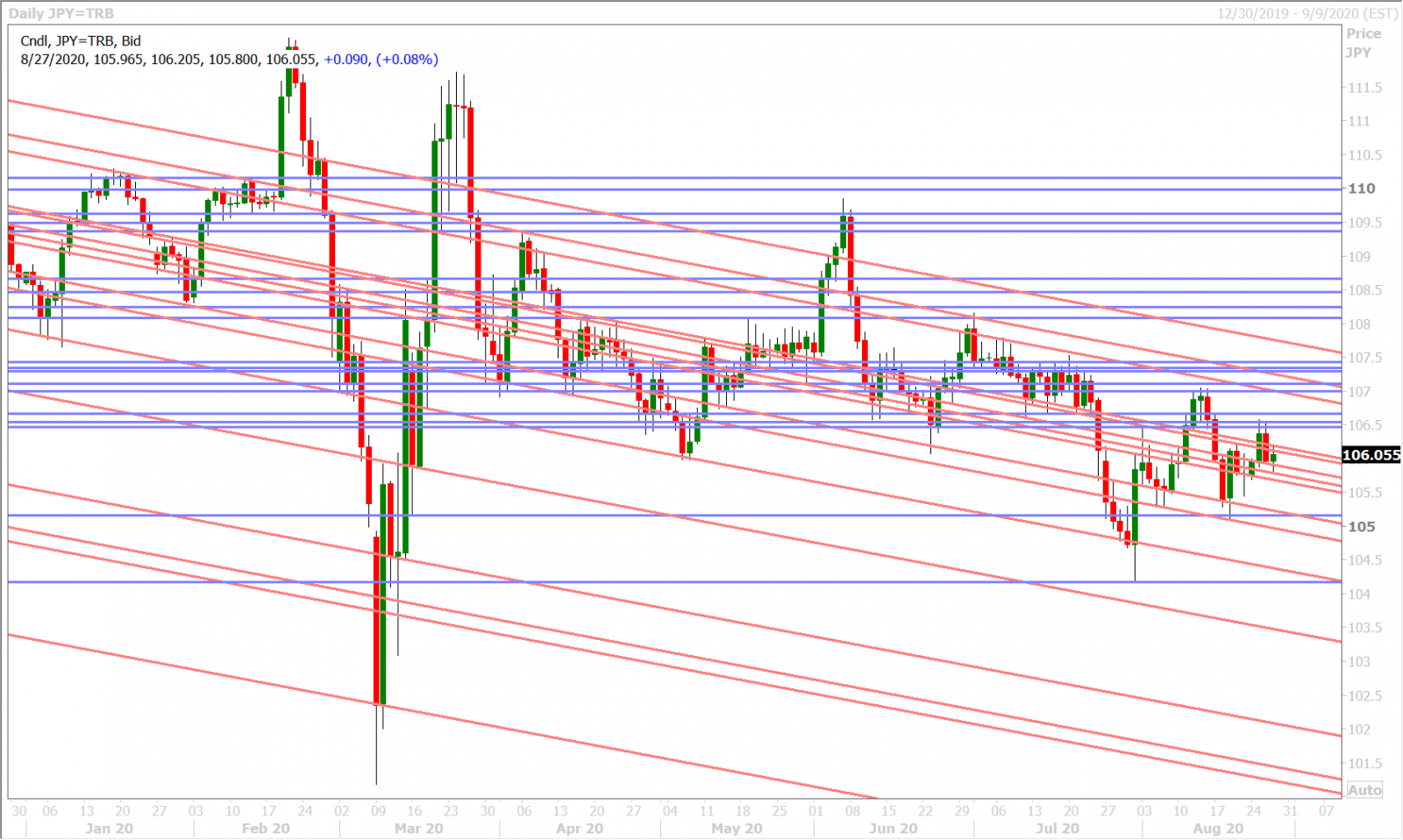 USDJPY HOURLY


US 10YR BOND YIELD DAILY
Charts: Reuters Eikon
---
About the Author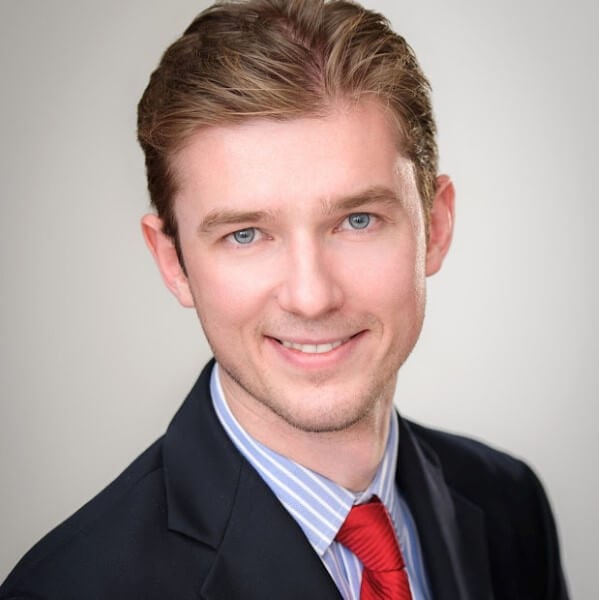 Erik Bregar - Director, Head of FX Strategy
Erik works with corporations and institutions to help them better navigate the currency markets. His desk provides fast, transparent, and low cost trade execution; up to the minute fundamental and technical market analysis; custom strategy development; and post-trade services -- all in an effort to add value to your firm's bottom line. Erik has been trading currencies professionally and independently for more than 12 years. Prior to leading the trading desk at EBC, Erik was in charge of managing the foreign exchange risk for one of Canada's largest independent broker-dealers.
Interested in creating a custom foreign exchange trading plan? Contact us or call CXI's trading desk directly at 1-833-572-8933.
About Currency Exchange International
Currency Exchange International, CXI, is the leading provider of comprehensive foreign exchange services, risk management solutions and integrated international payments processing technology in North America. CXI's relationship-driven approach ensures clients receive tailored solutions and world-class customer service. Through innovative and trusted FX software platforms, CXI delivers versatile foreign exchange services to our clients, so that they can efficiently manage and streamline their foreign currency and global payment needs. CXI is a trusted partner among financial institutions, corporations and retail markets around the world. To learn more, visit: www.ceifx.com