Euro/dollar's reversal off 1.20 sparks broad USD bounce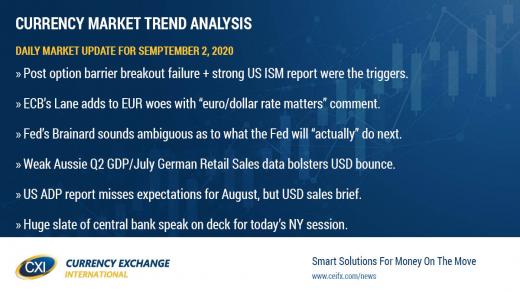 Take control of your international payments with CXI FX Now.
• Low transfer fees & great rates
• Fast international payments
• Safety and security
• Unparalleled customer service
• Consultative approach
Interested in creating a custom foreign exchange trading plan?
Contact us
or call EBC's trading desk directly at
1-888-729-9716.
Get real-time market coverage on twitter at @EBCTradeDesk or sign up to currency insider here.
SUMMARY
Post option barrier breakout failure + strong US ISM report were the triggers.

ECB's Lane adds to EUR woes with "euro/dollar rate matters" comment.

Fed's Brainard sounds ambiguous as to what the Fed will "actually" do next.

Weak Aussie Q2 GDP/July German Retail Sales data bolsters USD bounce.

US ADP report misses expectations for August, but USD sales brief.

Huge slate of central bank speak on deck for today's NY session.



ANALYSIS
USDCAD
Dollar/CAD traders tried to build upon yesterday's constructive NY close back above the 1.3040s and while we feel that the Aussie's GDP-driven pullback and the Euro's German Retail Sales-driven decline helped them with this endeavor early today, this morning's much weaker than expected US ADP report for July might now put a dent in that (+428k vs +950k). The EU's Barnier is providing another somber update on Brexit negotiations as we speak, but sterling/dollar is showing a very muted reaction.
The rest of today's NY session will be an extremely busy one as we'll get US Factory Orders for July at 10amET, the weekly EIA oil inventory report at 10:30amET…plus a whole ton of central bank speak (BOE's Bailey at 9amET, Fed's Williams at 10amET, BOE's Broadbent at 10:30amET, BOE's Haldane at 11:30amET, Fed's Mester at 12:00pmET, Fed's Kashkari and Beige Book report at 2pmET).

USDCAD DAILY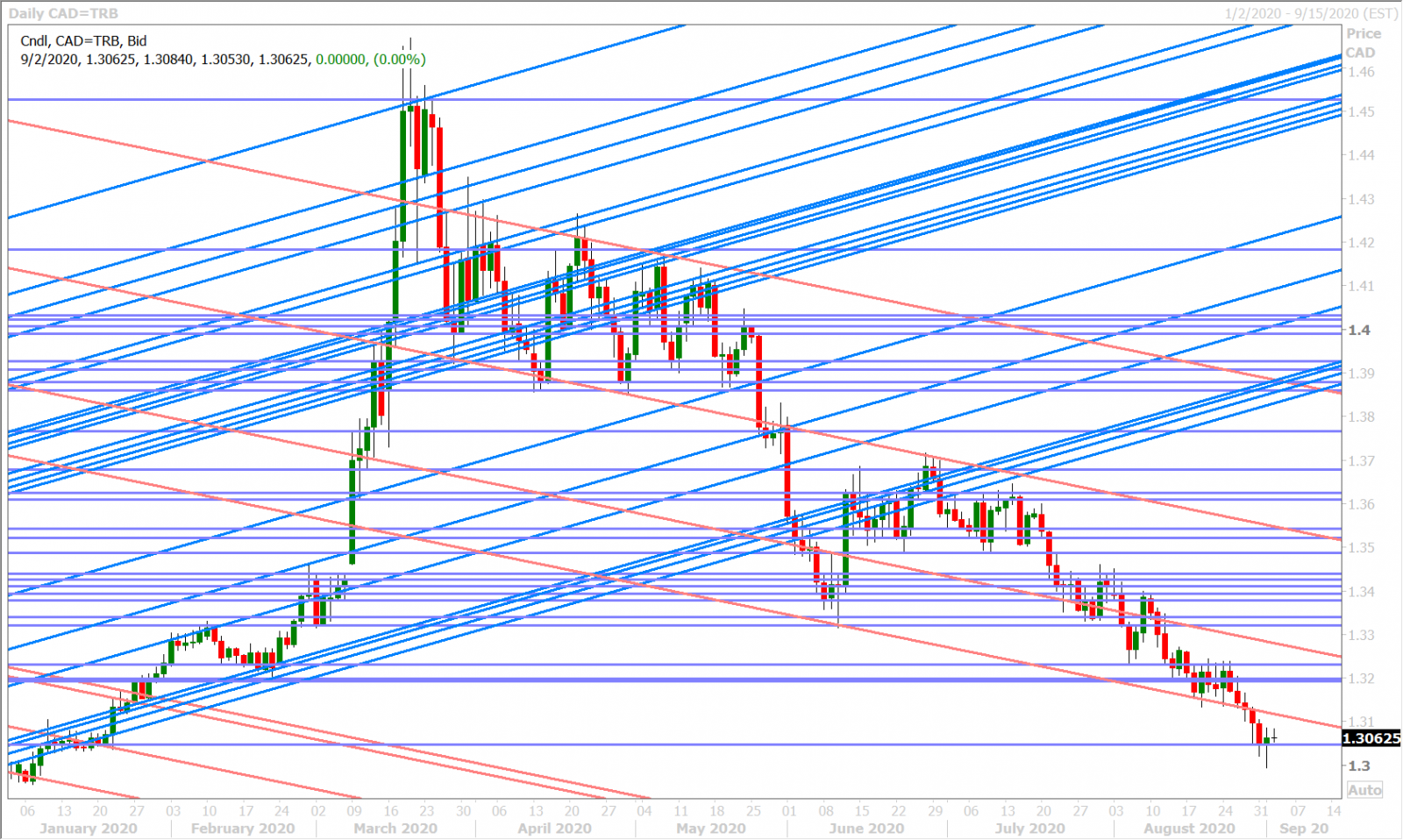 USDCAD HOURLY
OCT CRUDE OIL DAILY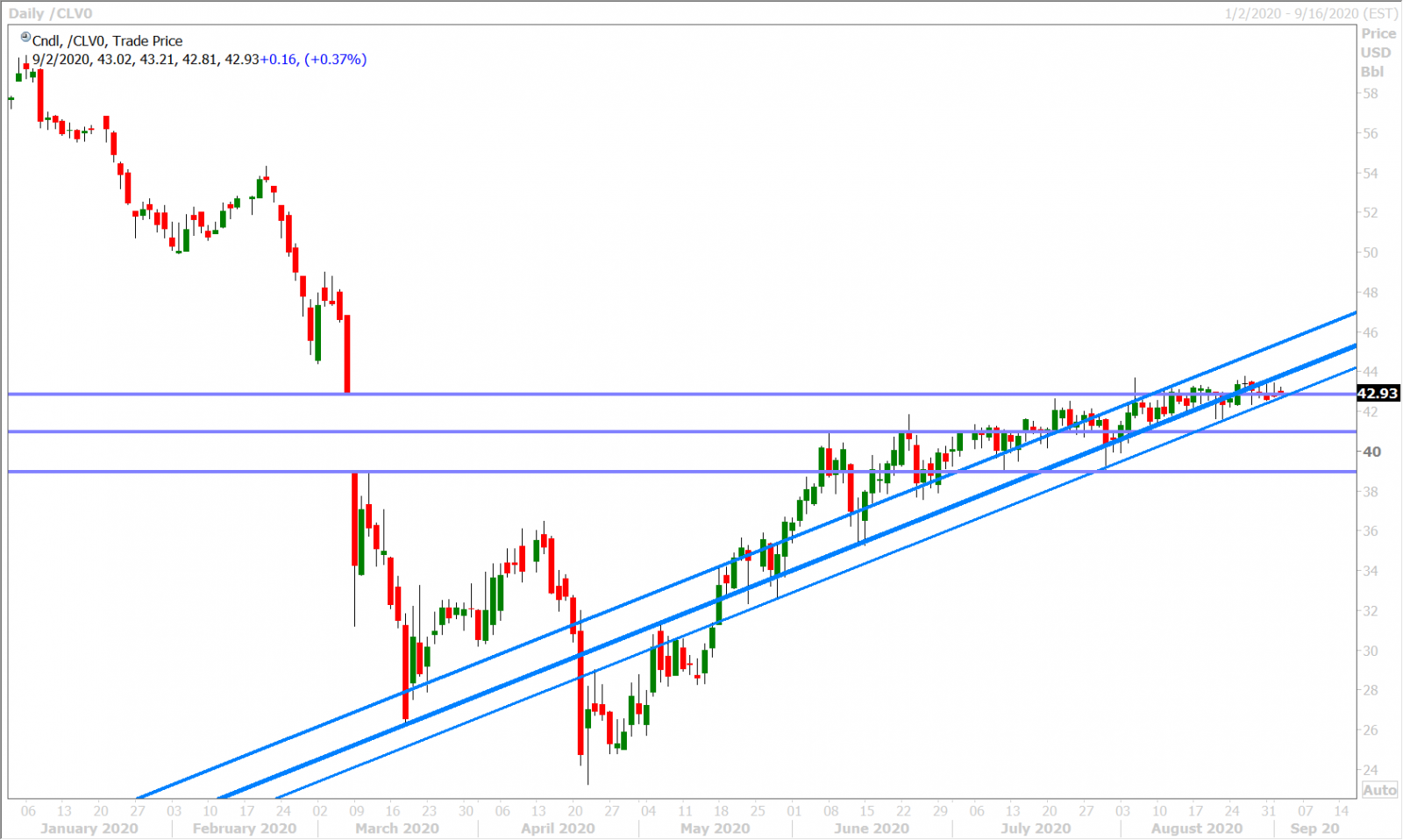 ---
EURUSD
Euro/dollar continues its decline this morning after reversing strongly off new 2-year highs yesterday. The catalysts were the failed upside breakout following the tripping of 1.2000 strike barrier options and the much stronger than expected US ISM report for August (which all occurred within the span of 15 minutes). The ECB's Philip Lane then said that the "euro/dollar rate matters" (because of its deflationary impact), which caused some speculation that the central bank might start to talk down the market at its next policy meeting on September 10. We also felt that the Fed's Brainard didn't help the situation by sounding purposefully ambiguous as to what the FOMC will "actually" do next.
Yesterday's NY close, right at 1.0910s support, was depressing from a technical perspective. Last night's Australian GDP-driven AUDUSD sales then saw EURUSD pull below this level and this morning's much weaker than expected German Retail Sales Report for July (-0.9% MoM vs +0.5%) triggered another wave of Euro selling. The market has now lost trend-line support in the 1.1860s as well, and has failed to regain it after the weak US ADP report, which is not very encouraging.

EURUSD DAILY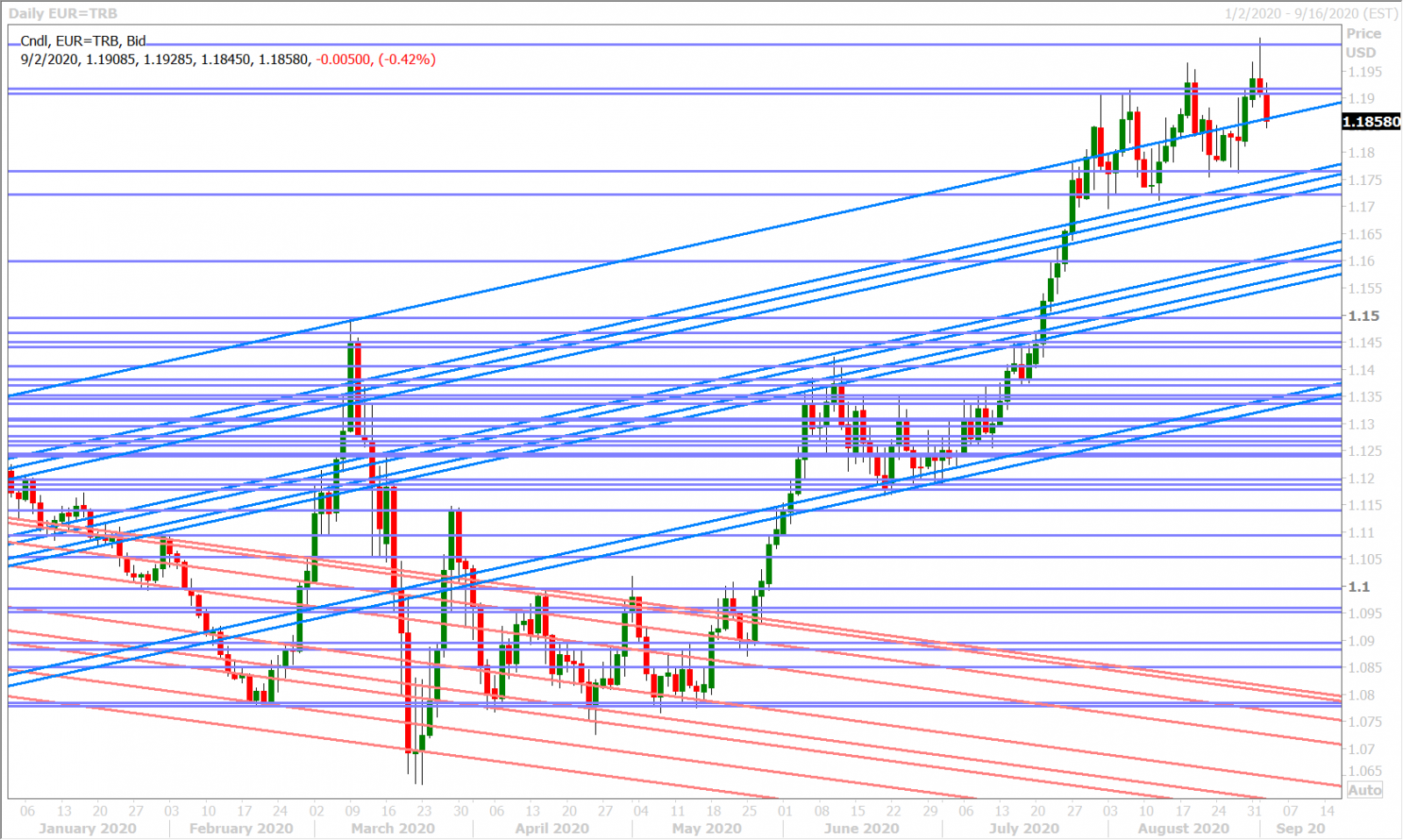 EURUSD HOURLY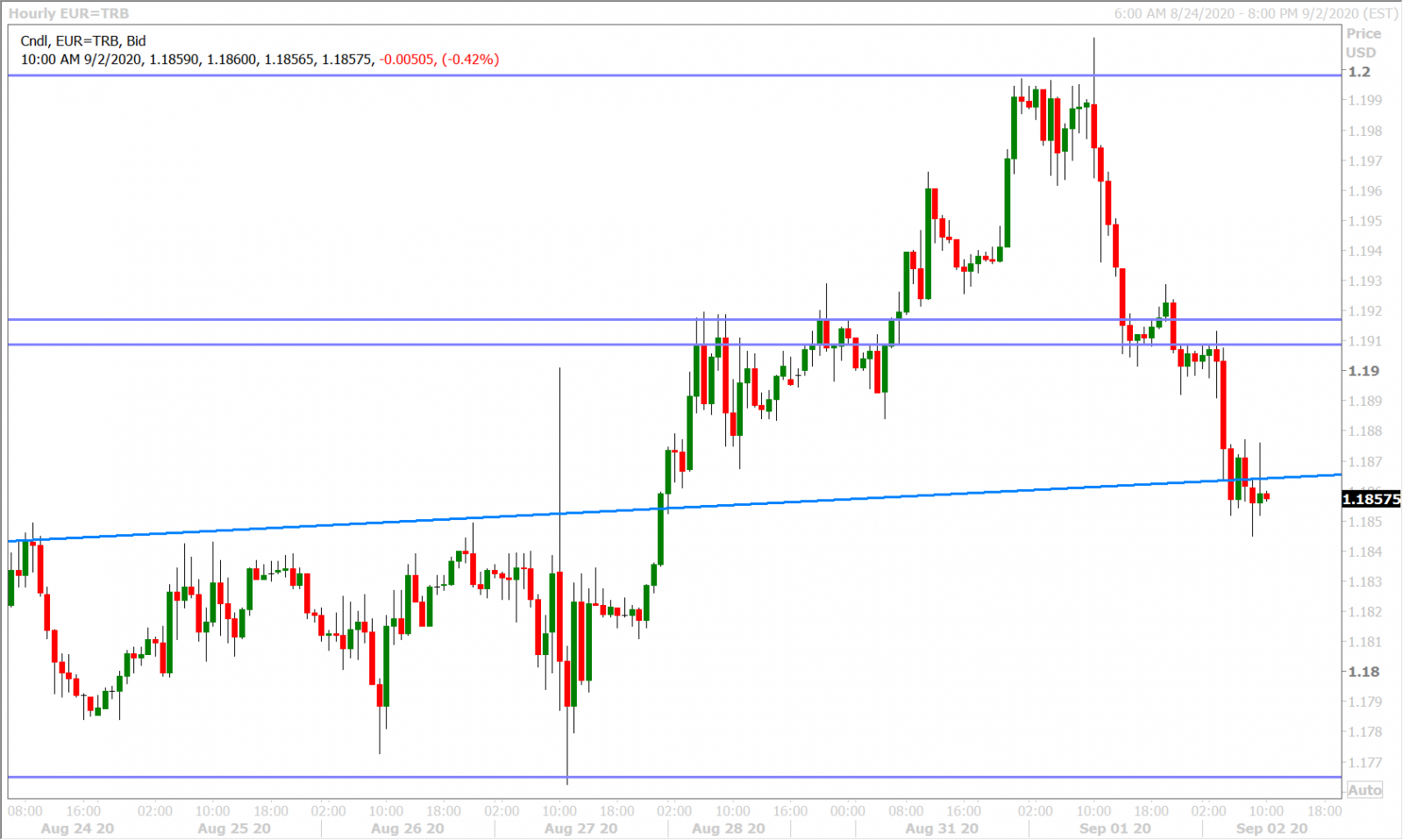 SPOT GOLD DAILY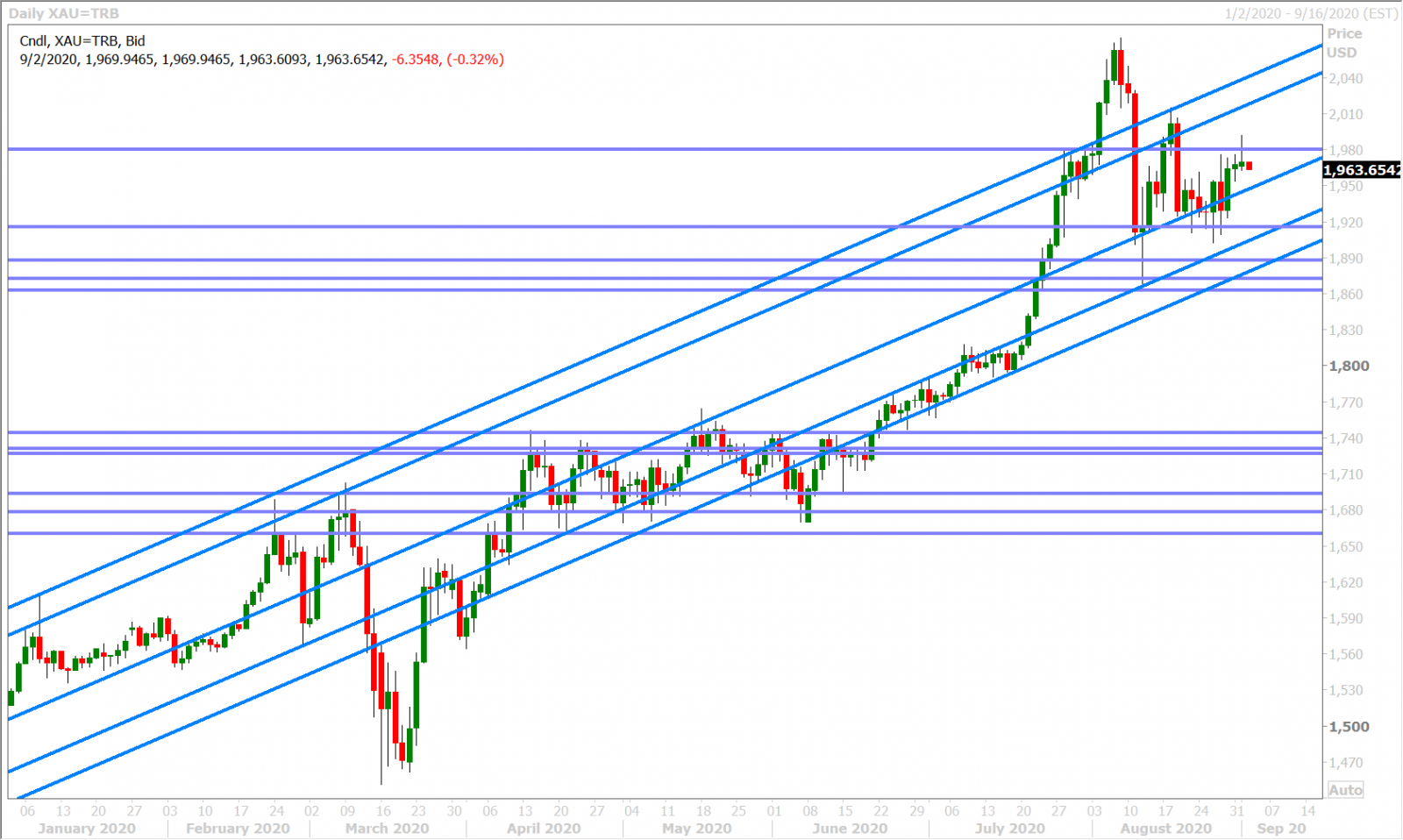 ---
GBPUSD
Sterling has pretty much followed the euro lower over the last 24hrs, but it seems to be getting some help over the last few hours as EURGBP traders force another retest of the 0.8880 support level. The EU's Michel Barnier is now providing another depressing update on the state of Brexit trade deal negotiations, but the market's muted reaction so far suggests "yes we know that, what else is new?"

GBPUSD DAILY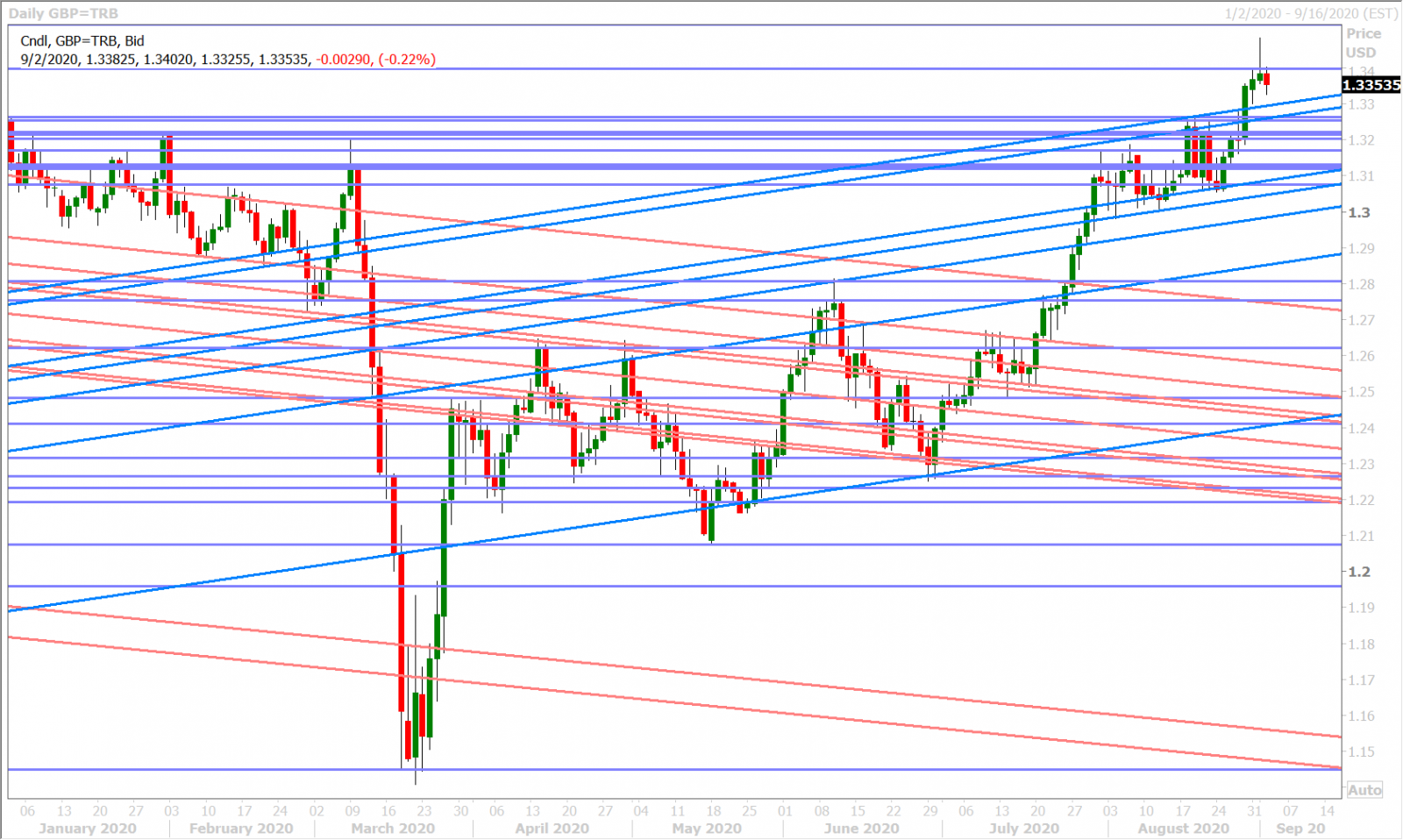 GBPUSD HOURLY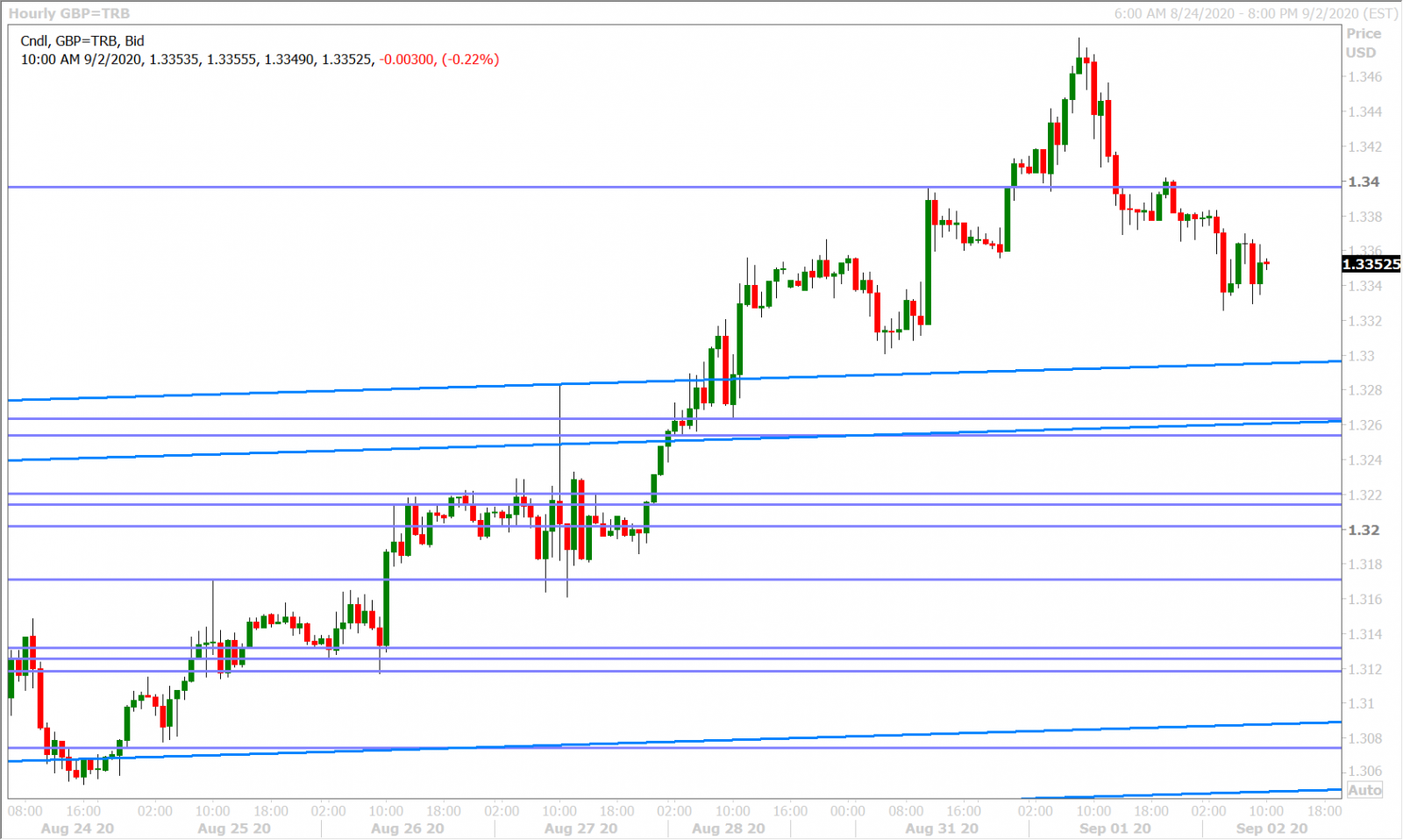 EURGBP DAILY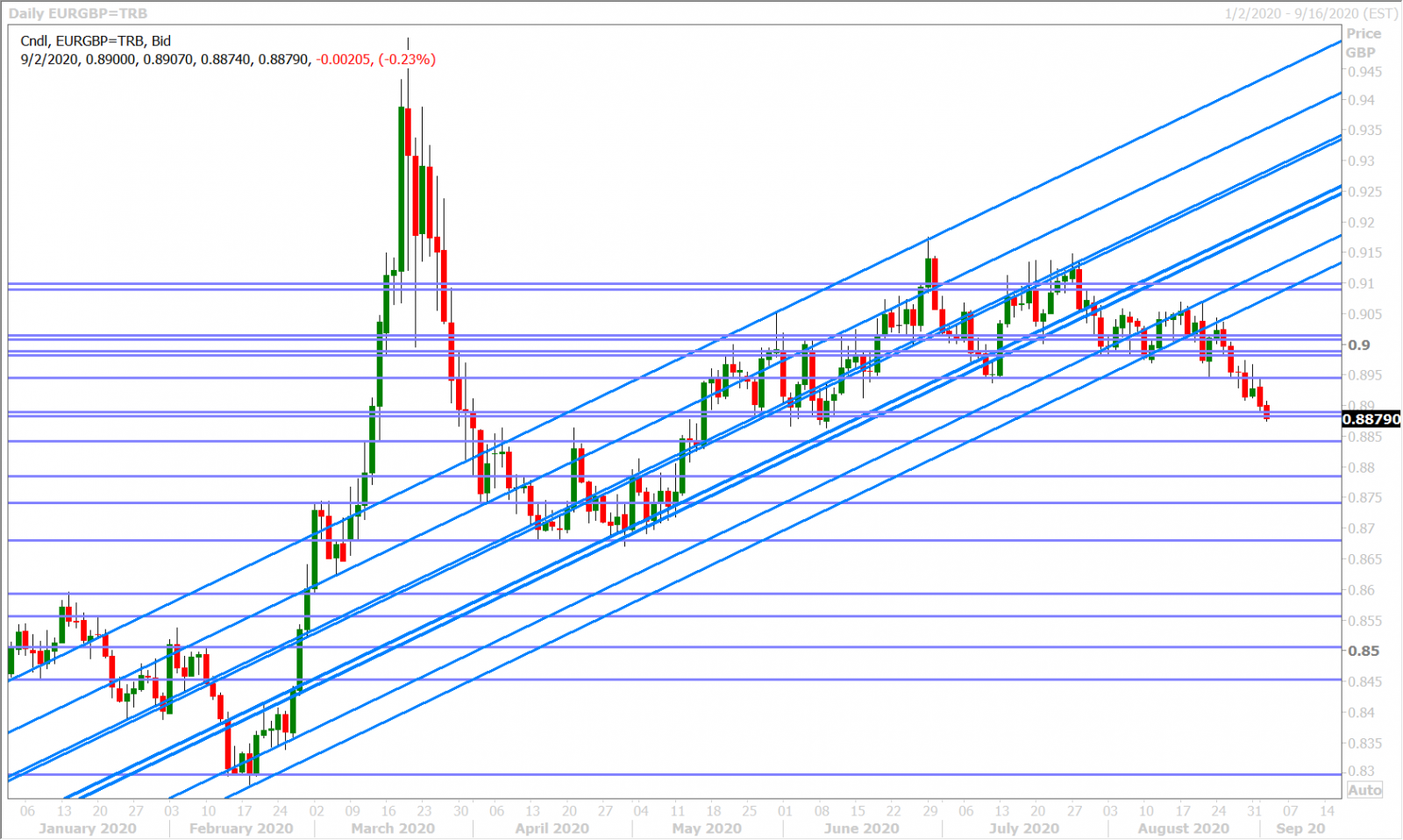 AUDUSD
The Aussie's NY close yesterday was just as depressing as the Euro's, and we think this technical setup precipitated the market's over-reaction to Australia's weaker than expected, albeit dated, GDP print for Q2 (-7.0% QoQ vs -5.9%). Yesterday's bearish reversal in December copper futures was also noteworthy in our opinion. We think this morning's 700M+ of option expiries between the 0.7325 and 0.7350 is also contributing to AUDUSD's heavy tone.

AUDUSD DAILY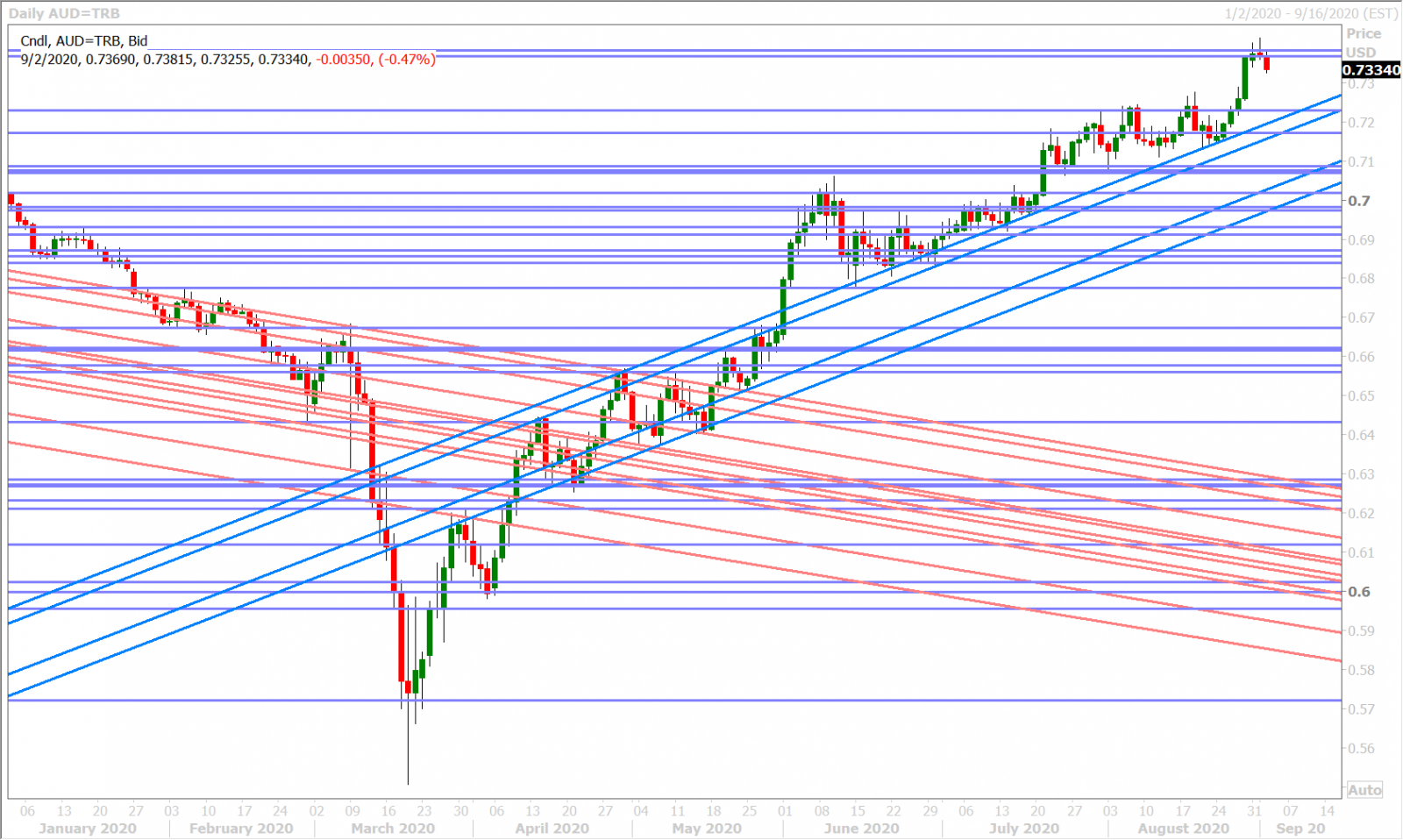 AUDUSD HOURLY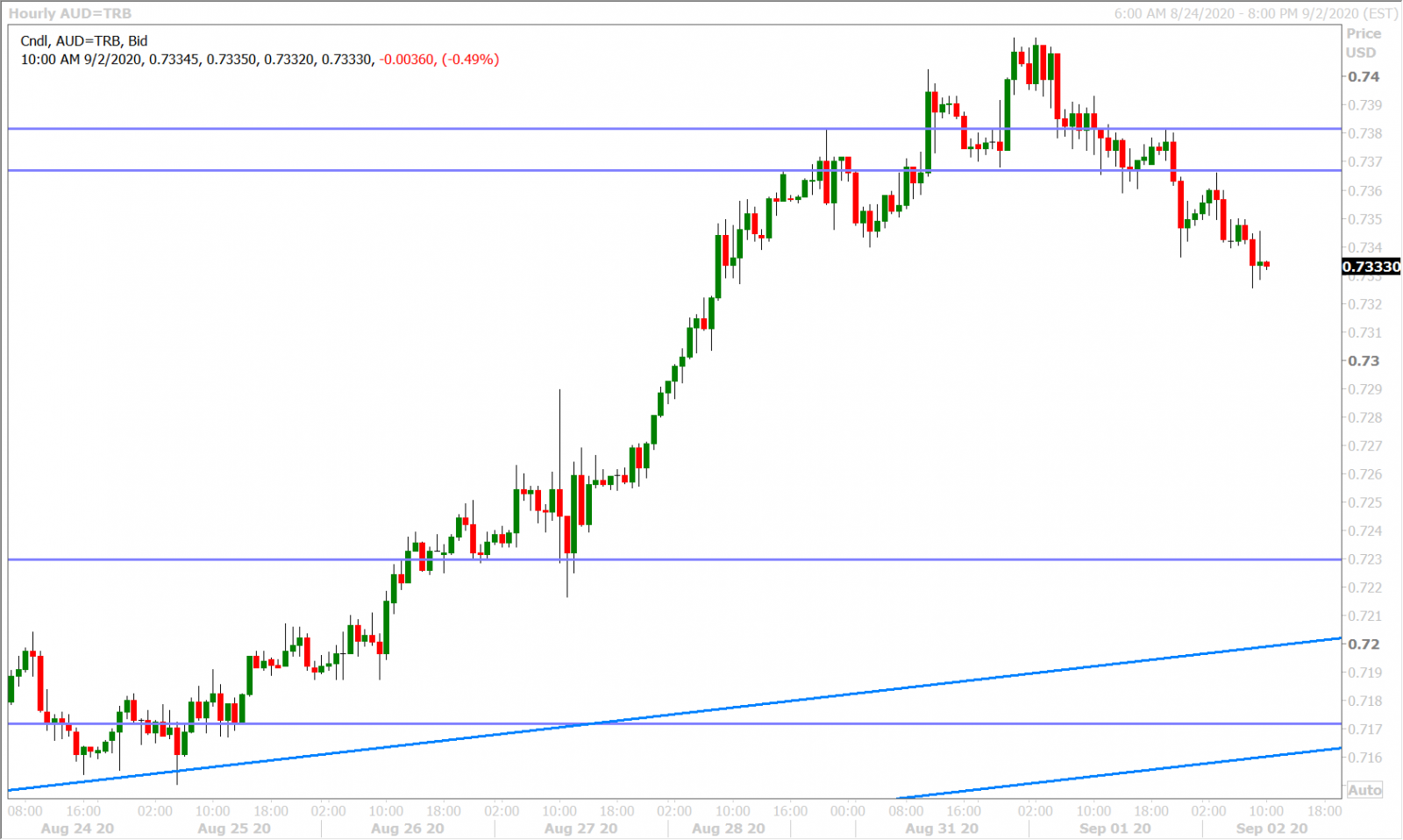 USDCNH DAILY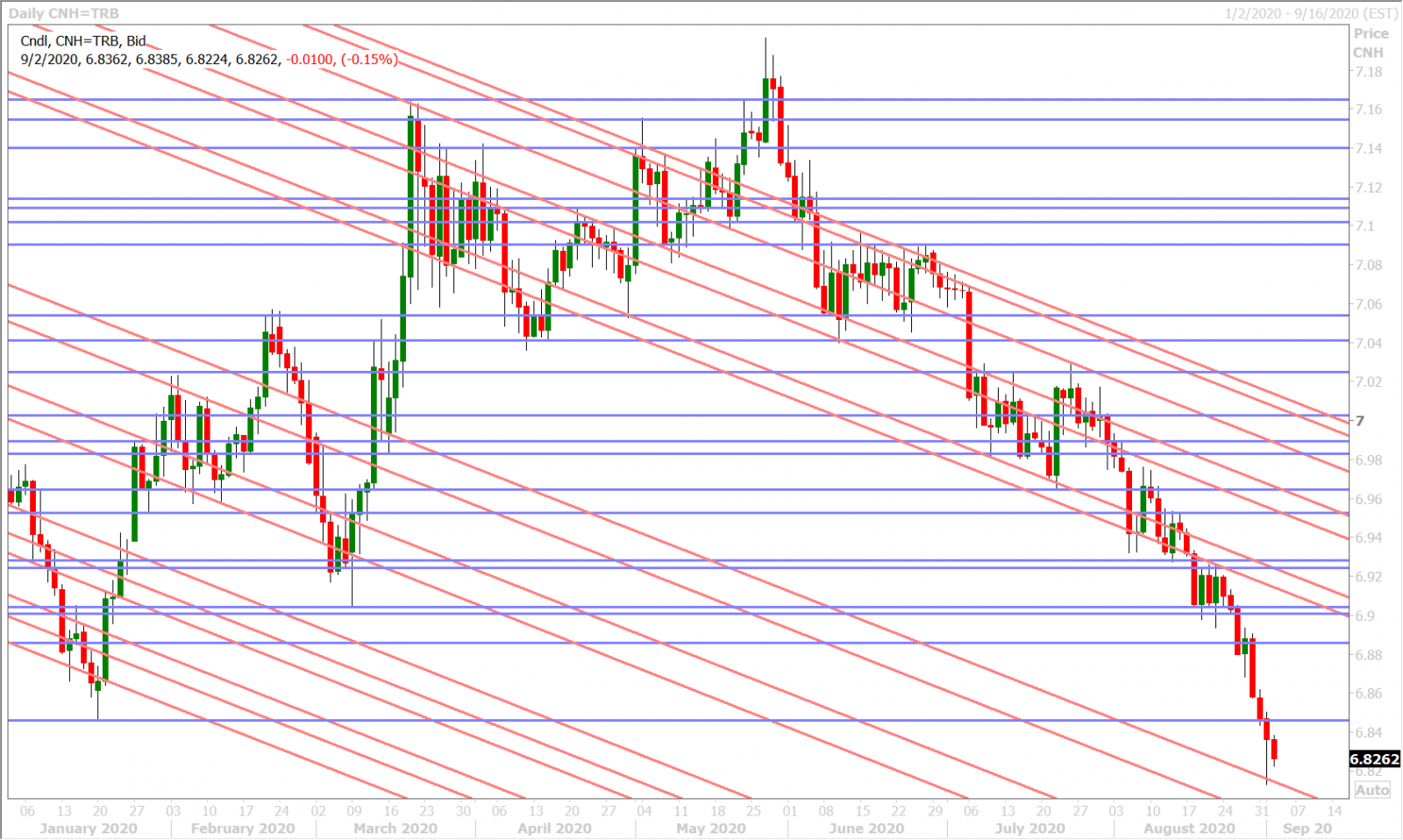 ---
USDJPY
Recent dollar/yen buyers got a much needed boost from yesterday's better than expected US ISM report and it was interesting to see good US economic data ignite broad USD strength for a change. A lot of analysts are saying that this positive print won't affect the Fed's uber-dovish thinking going into the next FOMC meeting on September 16. The consensus view still expects the Fed to announce something new, from an "actual" policy tool perspective, in pursuit of its new strategic framework that allows for inflation-overshooting…and we think this is one of the reasons why US yields continue to drip lower from their post-Jackson Hole highs.
Dollar/yen has noticeably de-coupled from US yields since Shinzo Abe's resignation announcement on Friday however and we think this is noteworthy. The market is trading more off the broader USD tone now and the prospects for Yoshihide Suga to win the LDP leadership race, which if we combine with today's break above 106.10, argues from more USDJPY strength. Topside option expiries are plentiful into week's end (3.5BLN between 106.50 and 106.75).

USDJPY DAILY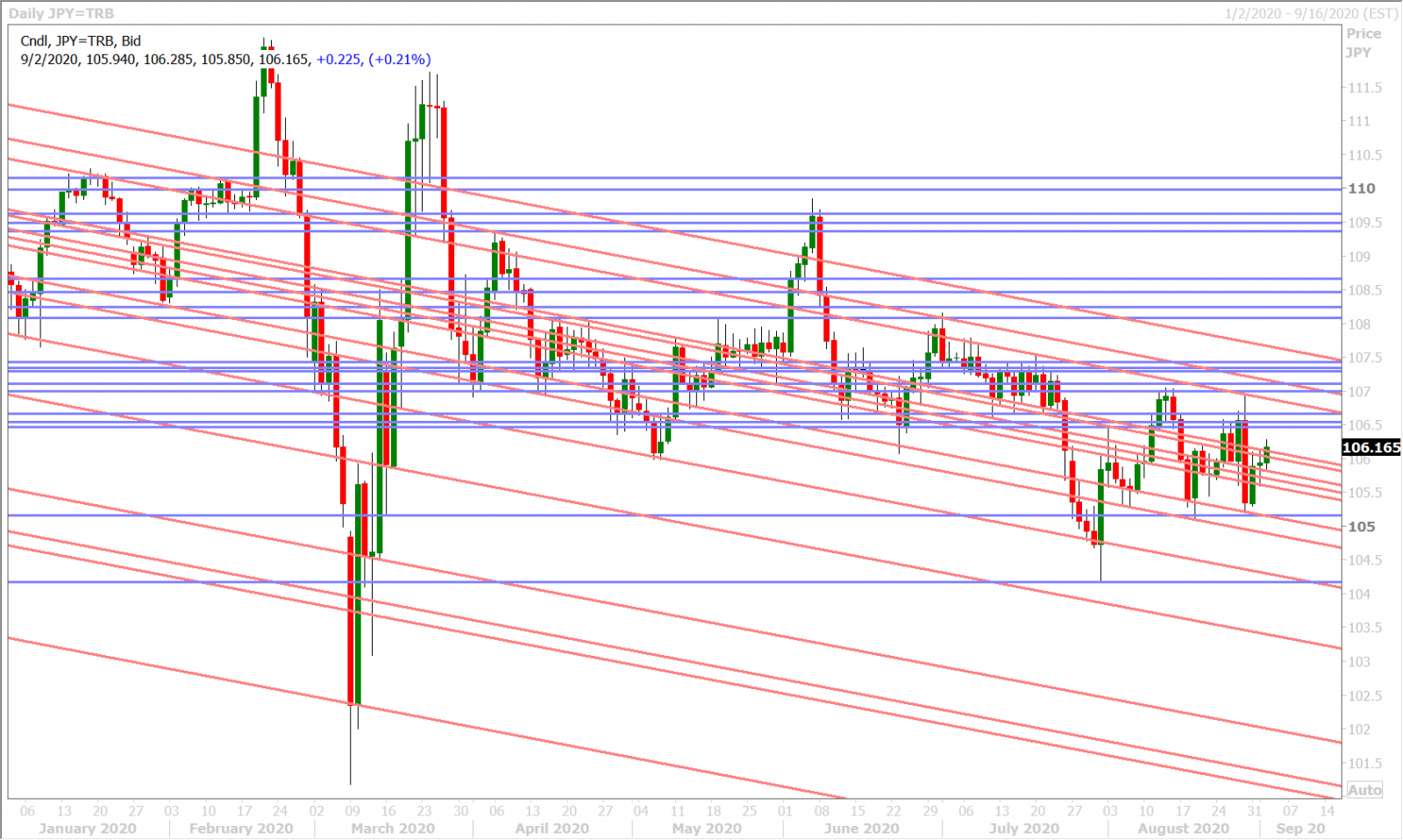 USDJPY HOURLY


US 10YR BOND YIELD DAILY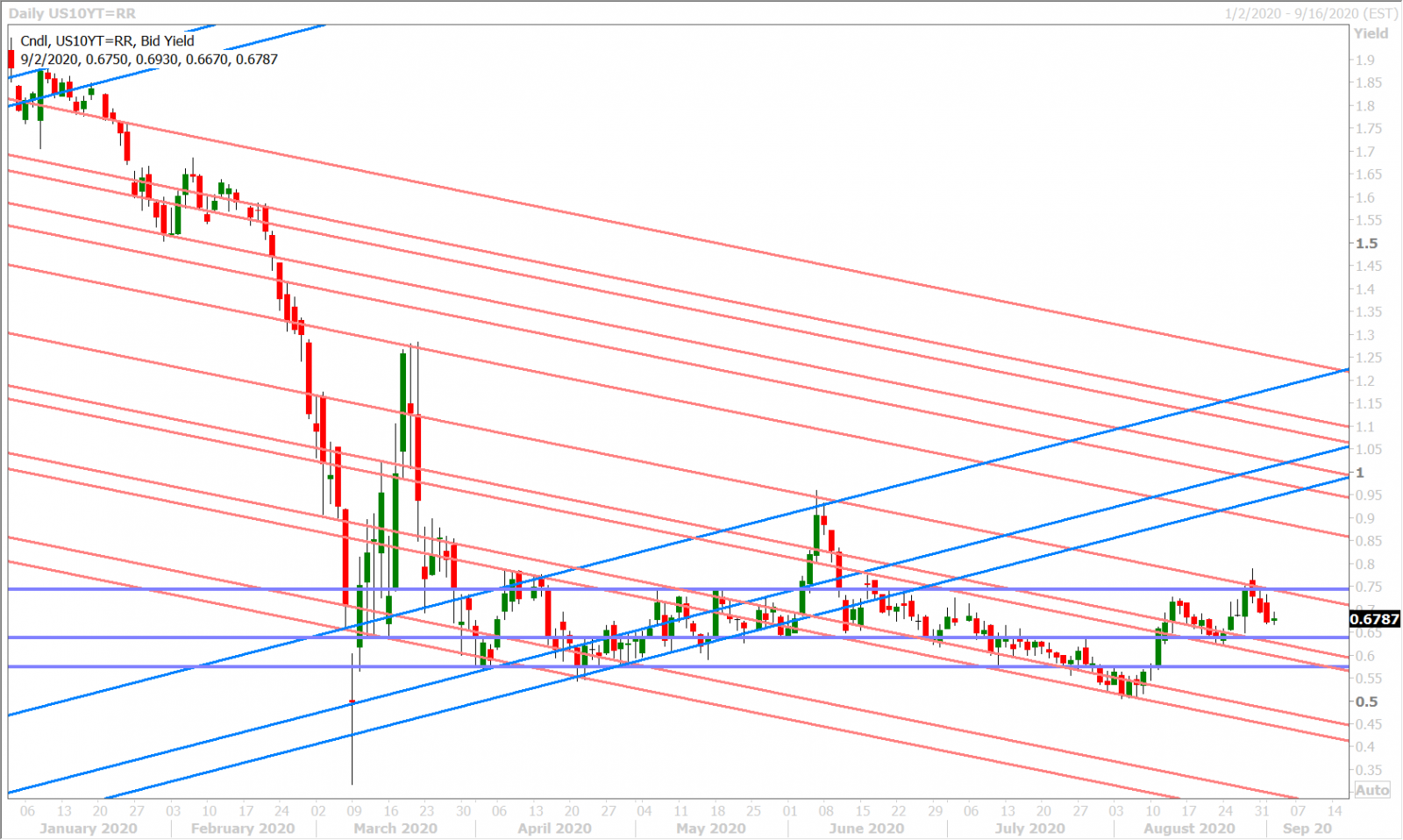 Charts: Reuters Eikon
---
About the Author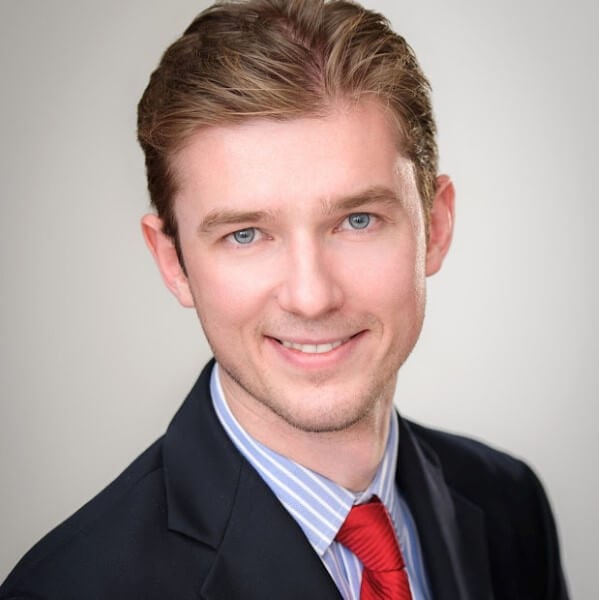 Erik Bregar - Director, Head of FX Strategy
Erik works with corporations and institutions to help them better navigate the currency markets. His desk provides fast, transparent, and low cost trade execution; up to the minute fundamental and technical market analysis; custom strategy development; and post-trade services -- all in an effort to add value to your firm's bottom line. Erik has been trading currencies professionally and independently for more than 12 years. Prior to leading the trading desk at EBC, Erik was in charge of managing the foreign exchange risk for one of Canada's largest independent broker-dealers.
Interested in creating a custom foreign exchange trading plan? Contact us or call CXI's trading desk directly at 1-833-572-8933.
About Currency Exchange International
Currency Exchange International, CXI, is the leading provider of comprehensive foreign exchange services, risk management solutions and integrated international payments processing technology in North America. CXI's relationship-driven approach ensures clients receive tailored solutions and world-class customer service. Through innovative and trusted FX software platforms, CXI delivers versatile foreign exchange services to our clients, so that they can efficiently manage and streamline their foreign currency and global payment needs. CXI is a trusted partner among financial institutions, corporations and retail markets around the world. To learn more, visit: www.ceifx.com