Fed's Clarida says new average inflation target is an "aspiration"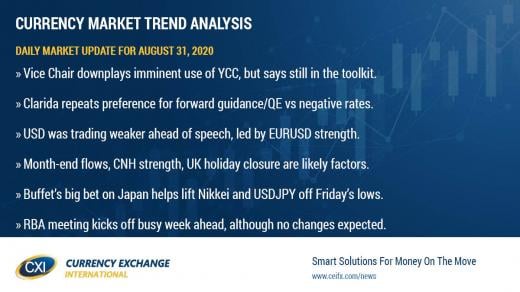 Take control of your international payments with CXI FX Now.
• Low transfer fees & great rates
• Fast international payments
• Safety and security
• Unparalleled customer service
• Consultative approach
Interested in creating a custom foreign exchange trading plan?
Contact us
or call EBC's trading desk directly at
1-888-729-9716.
Get real-time market coverage on twitter at @EBCTradeDesk or sign up to currency insider here.
SUMMARY
Vice Chair downplays imminent use of YCC, but says still in the toolkit.

Clarida repeats preference for forward guidance/QE vs negative rates.

USD was trading weaker ahead of speech, led by EURUSD strength.

Month-end flows, CNH strength, UK holiday closure are likely factors.

Buffet's big bet on Japan helps lift Nikkei and USDJPY off Friday's lows.

RBA meeting kicks off busy week ahead, although no changes expected.



ANALYSIS
USDCAD
A big investment from Warren Buffet's Berkshire Hathaway into five Japanese companies seemed to help the Nikkei and USDJPY bounce last night, and while the broader USD went along for the ride higher in late Asian/early European trade today, this bid has now petered out as EURUSD breaks above the 1.1910s resistance level. We can't point to a specific factor driving Euro out-performance this morning but we would note continued strength in the Chinese yuan after China reported decent August PMI data last night and we think the absence of liquidity into today's month-end fix, because of the UK's Late Summer Bank Holiday, is also playing a factor. Dollar/CAD continues to leak lower after failing to get above the 1.3120s on Friday and the leveraged funds added ever so slightly to their losing net long position during the week ending August 25, which continues to hurt the prospects for a market bounce in our opinion.
This week's calendar will be quite eventful for the broader USD as we'll get the RBA meeting tomorrow, the final European PMIs and the US ISM reports for August (tomorrow and Thursday), the US and Canadian employment reports for August (Friday) and a whole lot of Fed-speak along the way. Vice Chair Richard Clarida said this morning that the Fed's new average 2% inflation target represents an "aspiration" and "does not tether policy to any formula or rule". He also hinted at forward guidance, refinements to the Fed's dot-plot projections, and asset purchases as the preferred policy tools as opposed to negative rates and yield curve control, although he didn't rule out the latter completely by saying it's still in the "toolkit".

USDCAD DAILY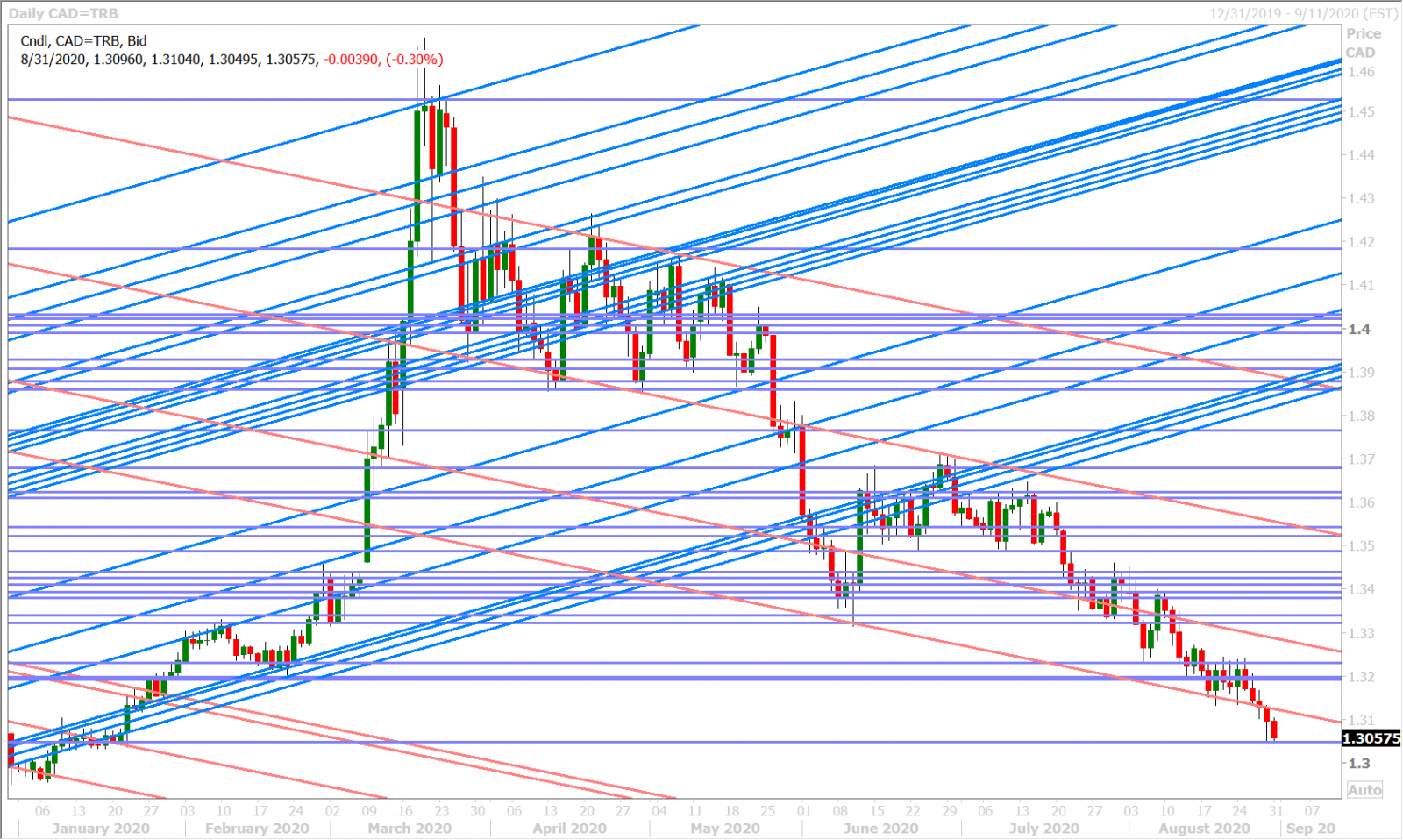 USDCAD HOURLY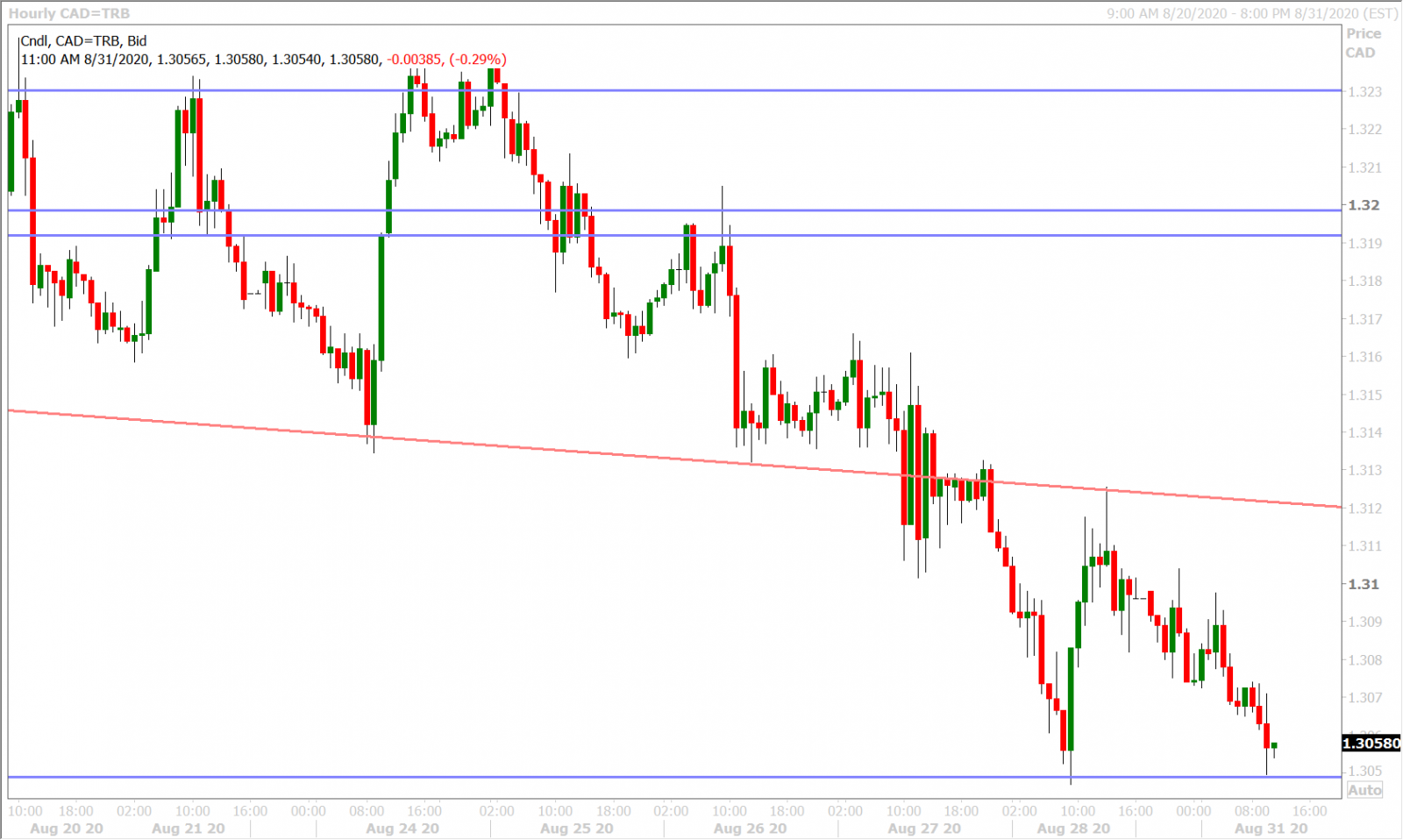 OCT CRUDE OIL DAILY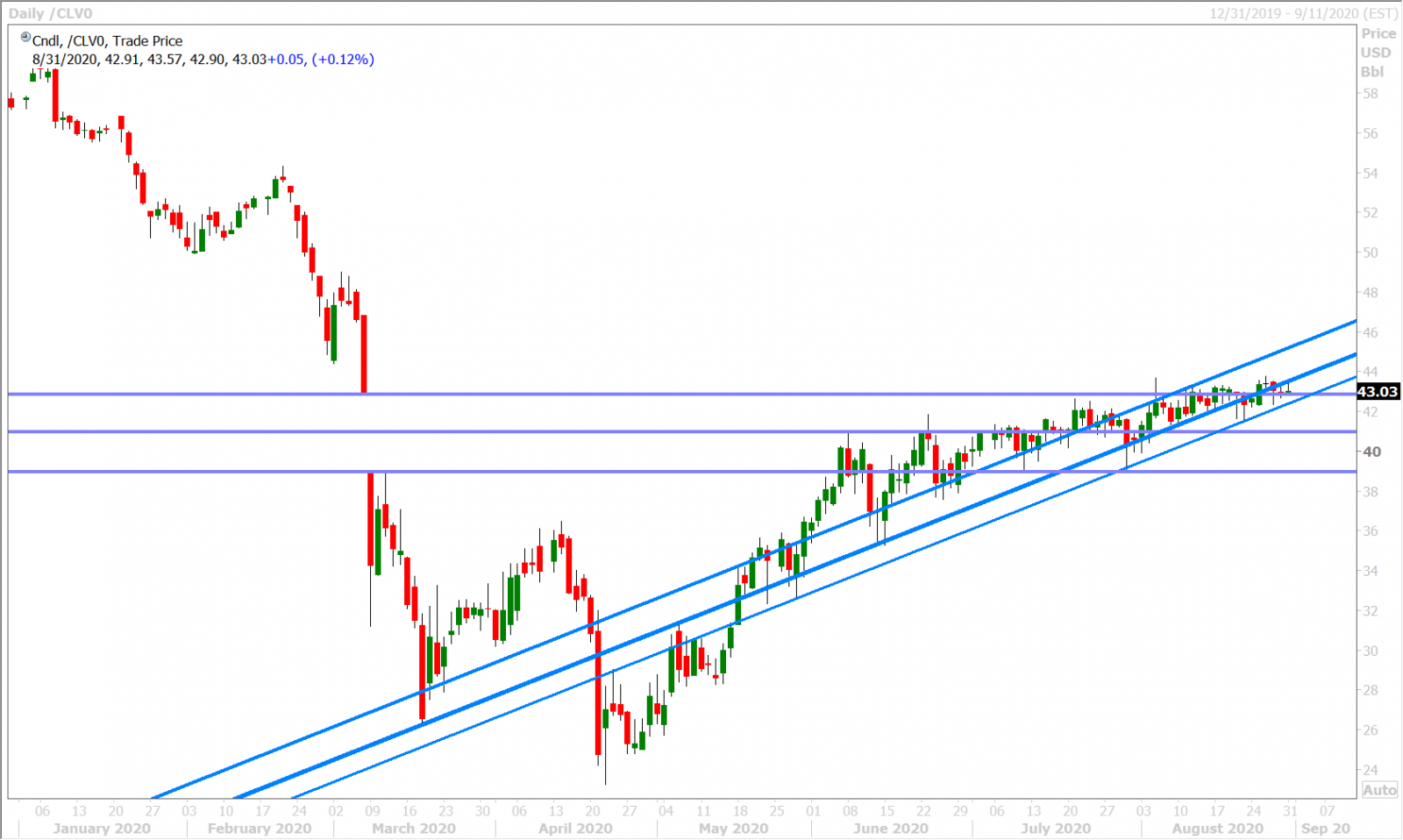 ---
EURUSD
Euro/dollar has punched above the 1.1910s this morning, although we have to say the move feels month-end flow related more than anything else. The leveraged funds extended their net long EURUSD position to a new record high during the week ending August 25, but this continues to be a non-factor as these bets continue to work. The overall risk tone now feels a little glum following Clarida's speech and we think this explains EURUSD slight descent off session highs.

EURUSD DAILY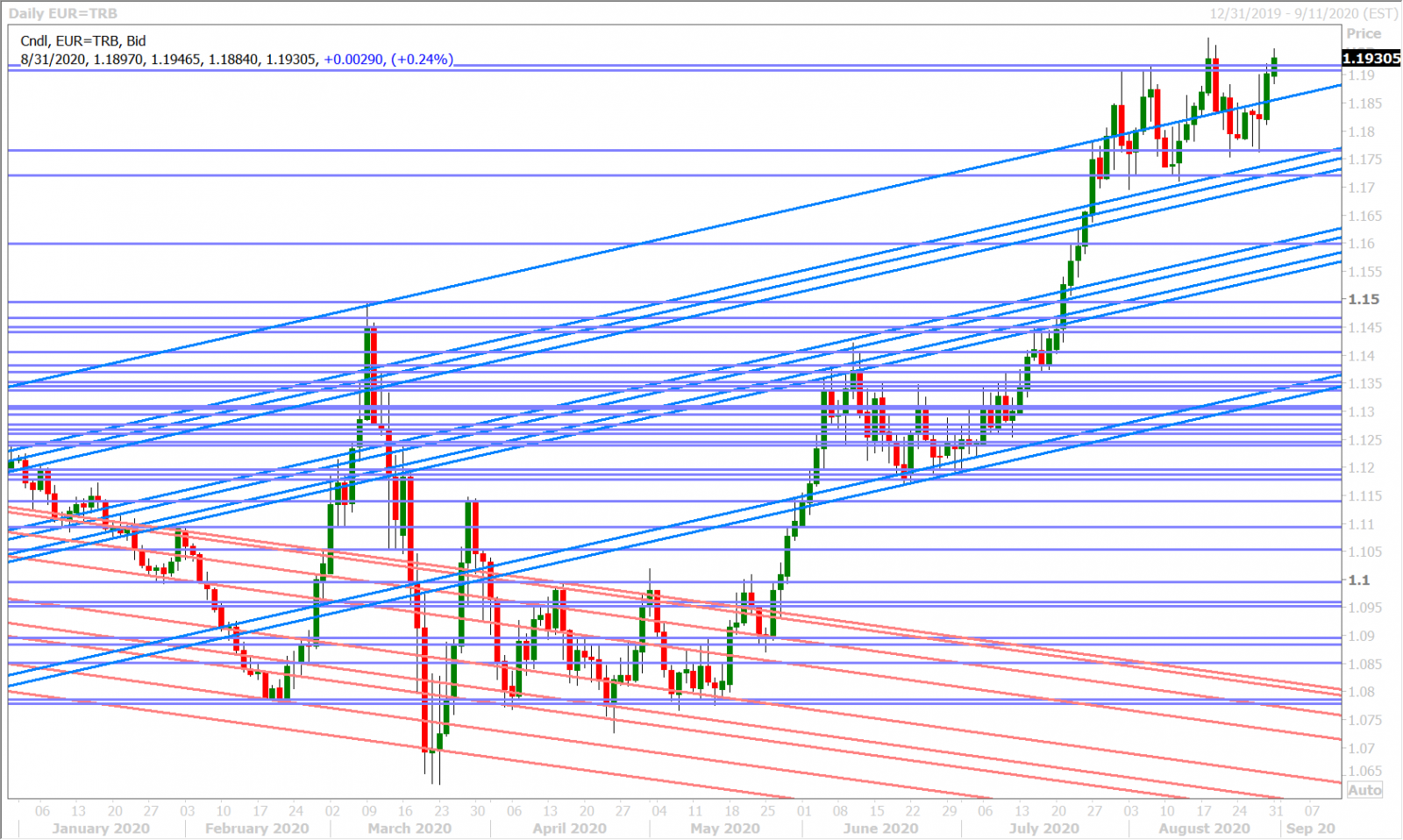 EURUSD HOURLY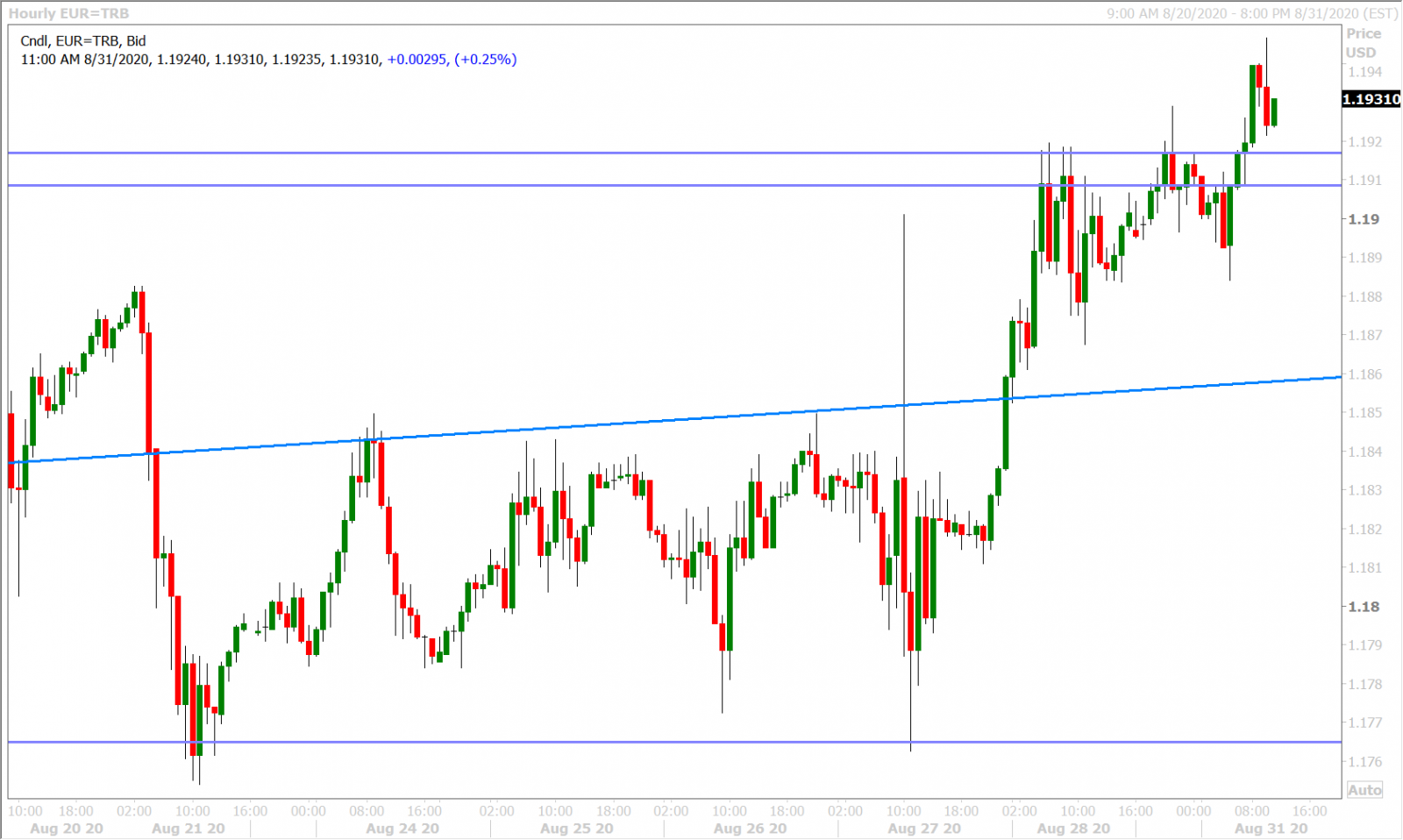 SPOT GOLD DAILY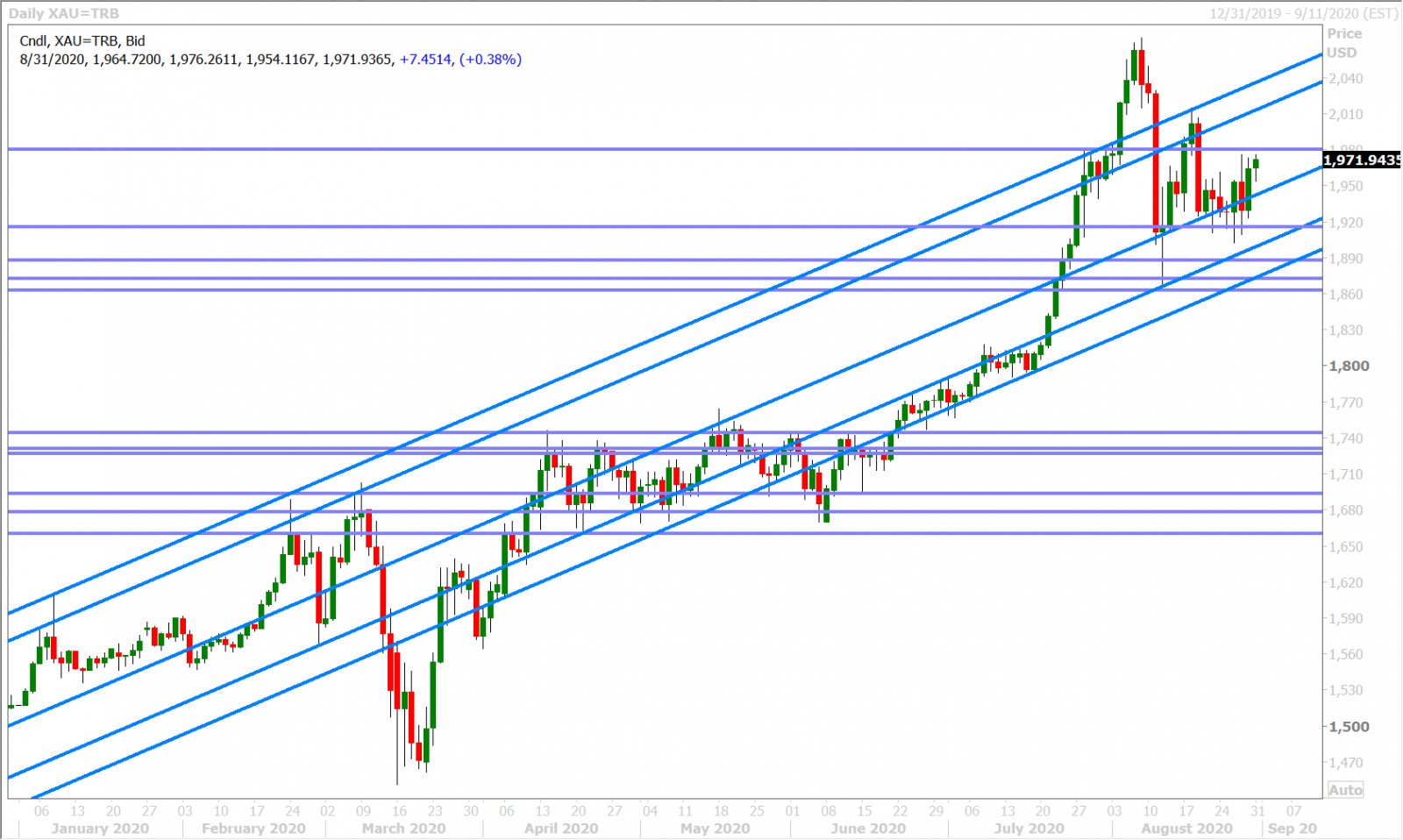 ---
GBPUSD
Sterling/dollar is pulling back moderately today after scoring a bullish NY close above the 1.3290s on Friday. The UK produced some negative headlines over the weekend (Treasury mulling tax hikes and David Frost ready to walk away from Brexit talks), but we think today's weakness has more to do with month-end EURGBP flows. The funds were busy liquidating both long and short GBPUSD positions during the week ending August 25, leaving their new net long position slightly smaller than it was the week before.
GBPUSD DAILY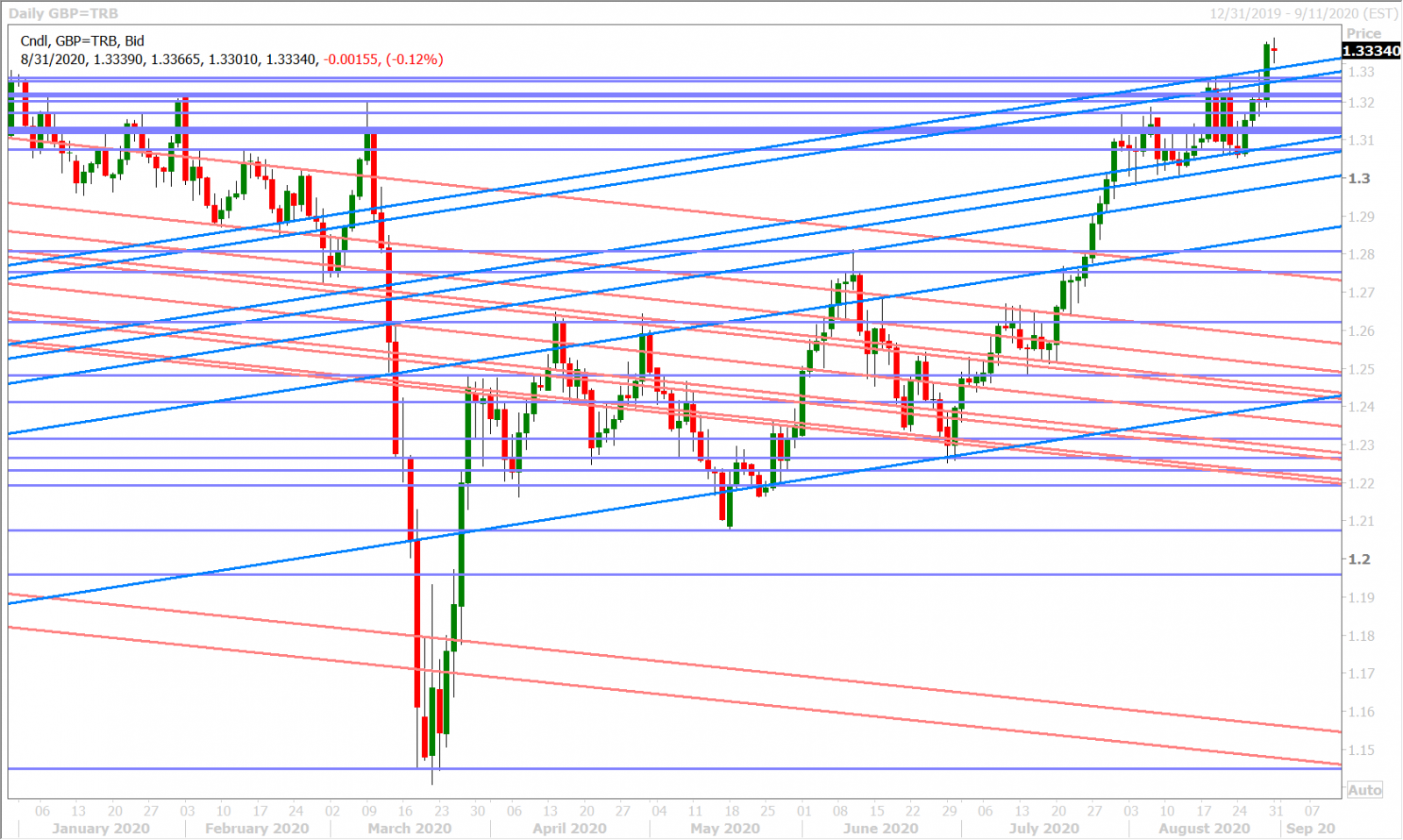 GBPUSD HOURLY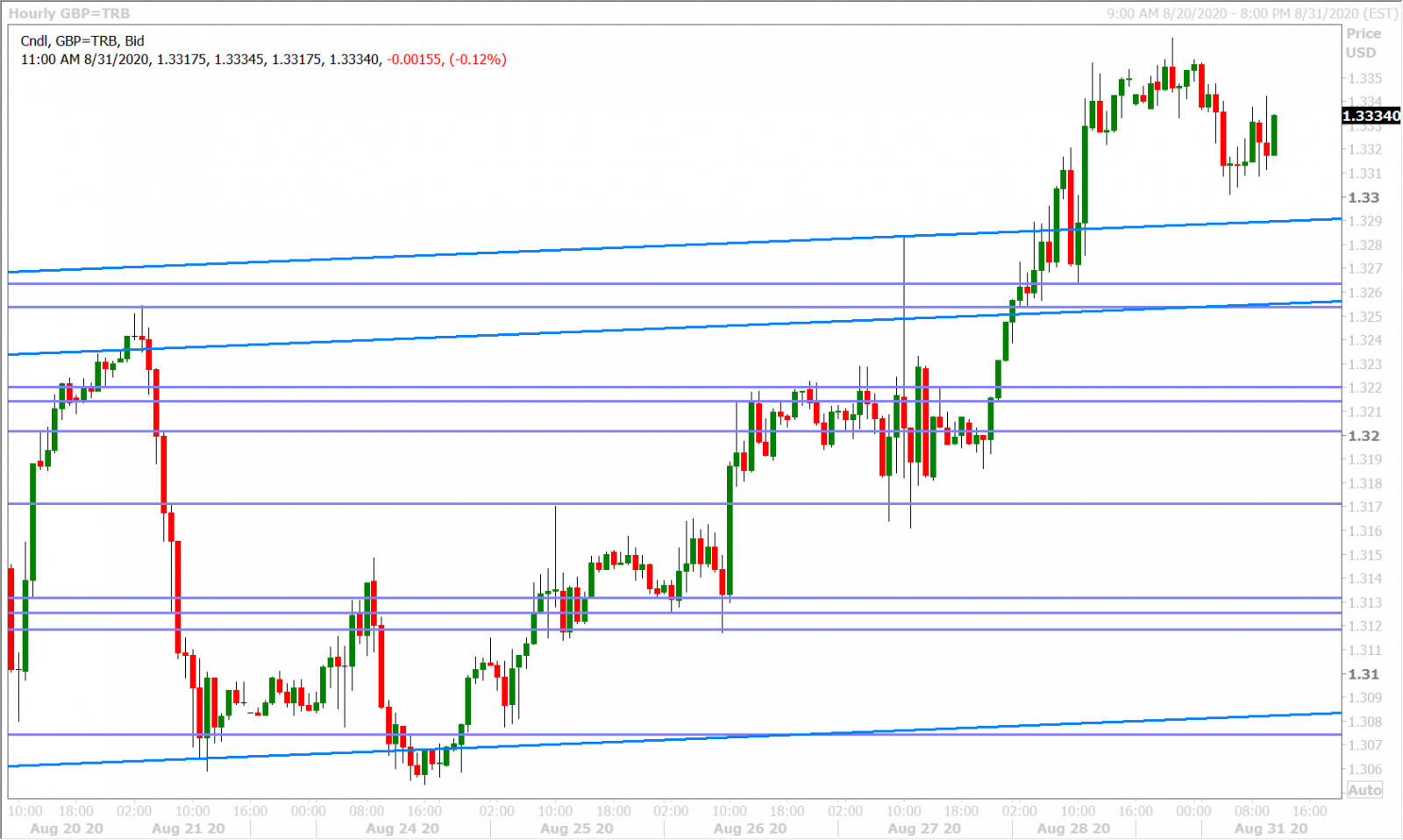 EURGBP DAILY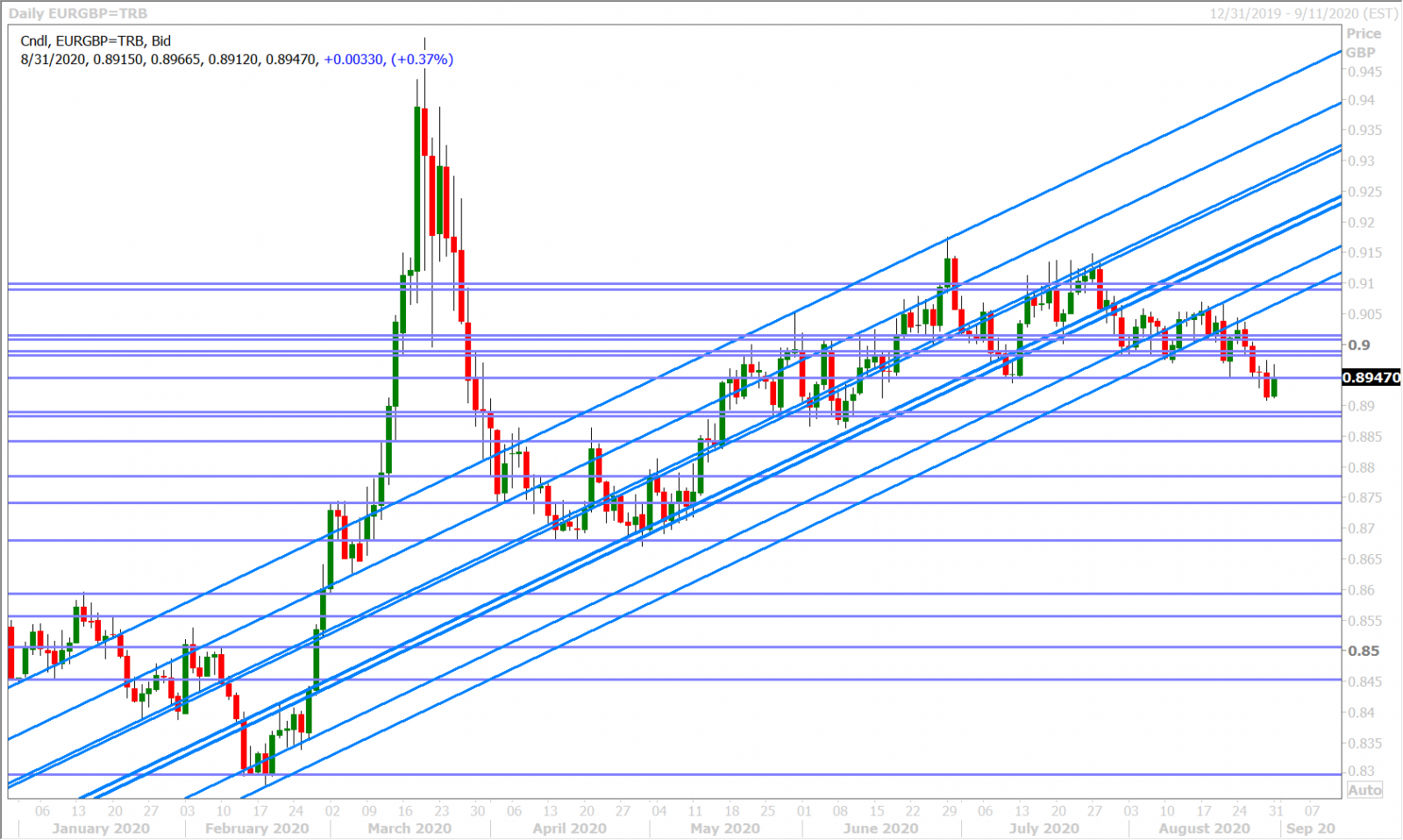 AUDUSD
The Australian dollar has a buoyant tone this morning as both the CNH and EUR extend their gains from last week. The funds maintained a small net short AUDUSD position for the sixth week in row during the week ending August 25; a factor which we now think added fuel to last Wednesday's strong push above the 0.7230s. Tonight's RBA meeting (12:30amET) is expected to be a non-event. Australia reports Q2 GDP tomorrow night, its July Trade Balance numbers on Wednesday night, and its July Retail Sales figures on Thursday night.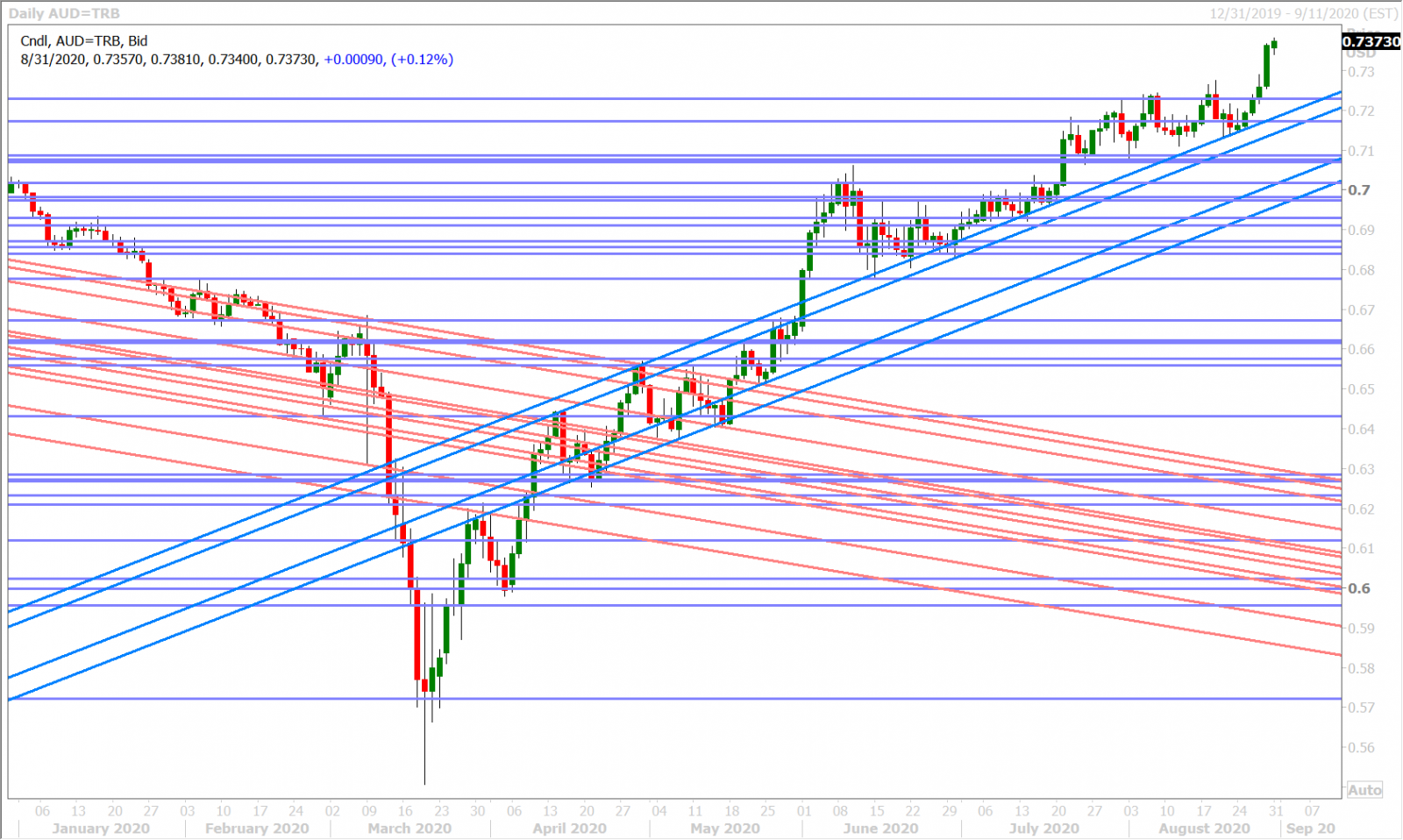 AUDUSD HOURLY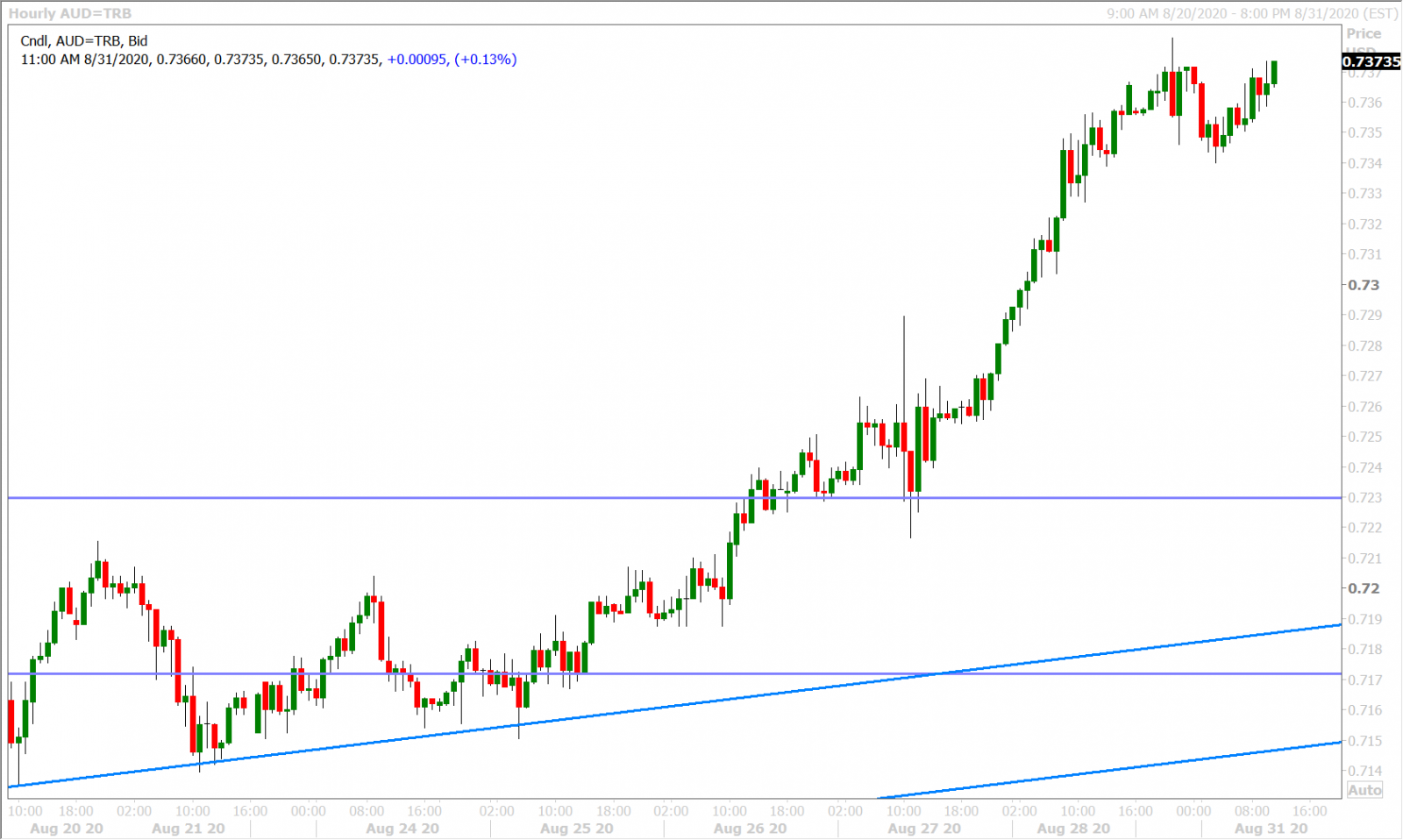 USDCNH DAILY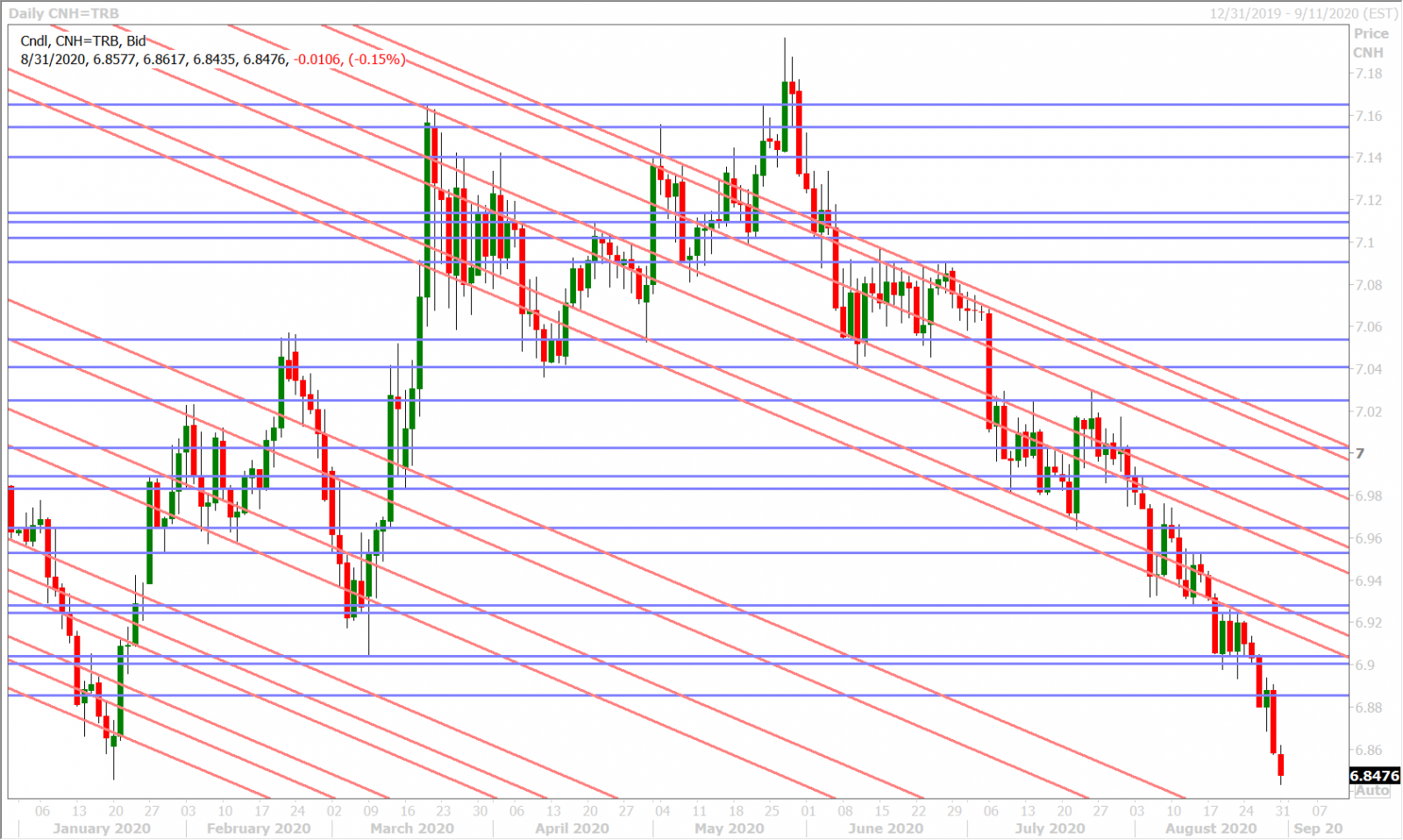 ---
USDJPY
Dollar/yen has recovered almost half of its losses from Friday and it feels as though Buffet's surprise new $6bln bet on Japanese trading companies was the key driver. We've also read many opinion pieces this morning that have thrown cold water on the idea that "Abenomics" will end following Shinzo Abe's resignation. An LDP party leadership election is expected to take place on September 14.
We think the market could now easily erase Friday's bearish daily reversal pattern with a NY close above the 106.10s and we believe tomorrow's large topside option expiries could quickly come into play should that happen ($2.6BLN between 106.00 and 106.50). The funds added to their net short USDJPY position during the week ending August 25.

USDJPY DAILY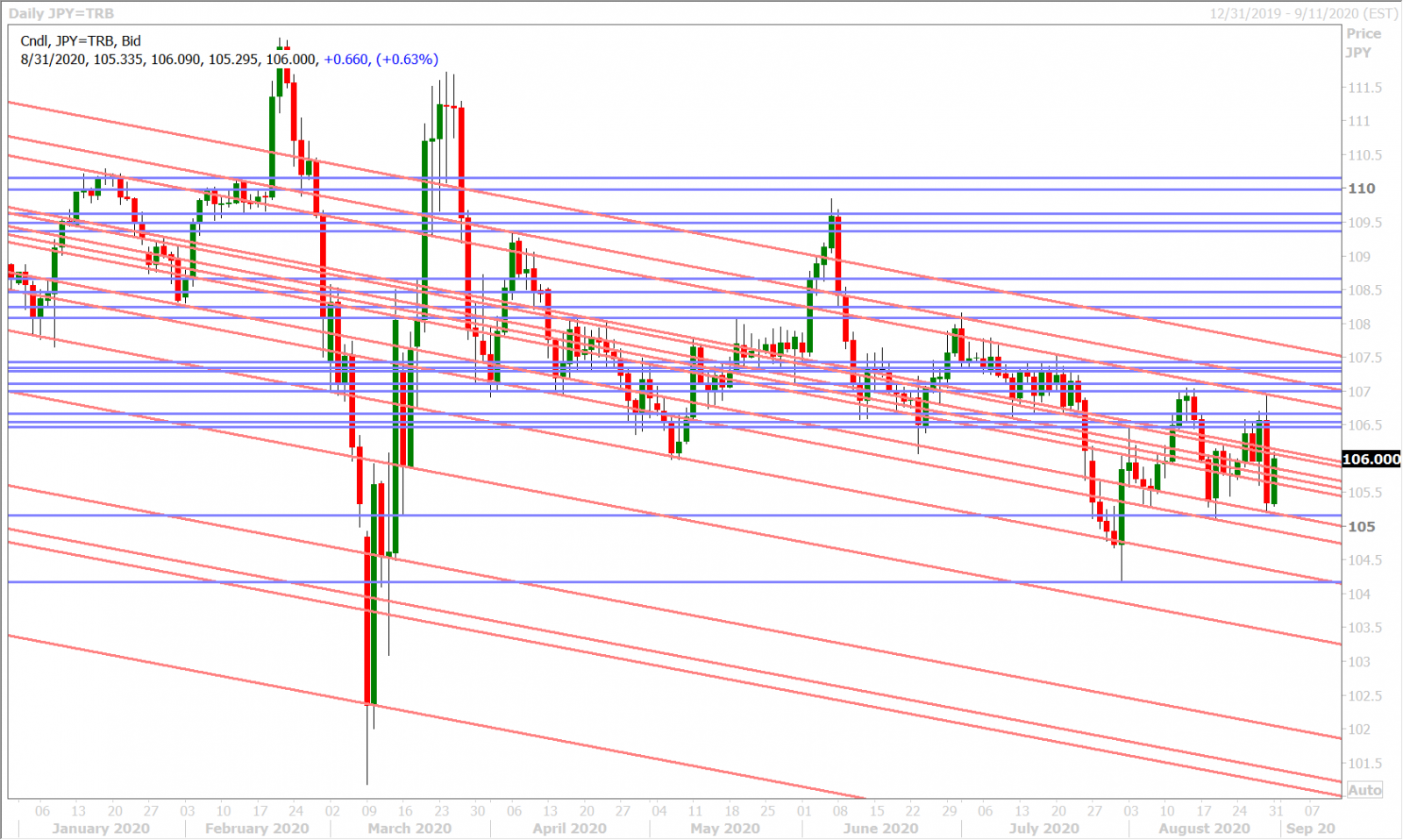 USDJPY HOURLY


US 10YR BOND YIELD DAILY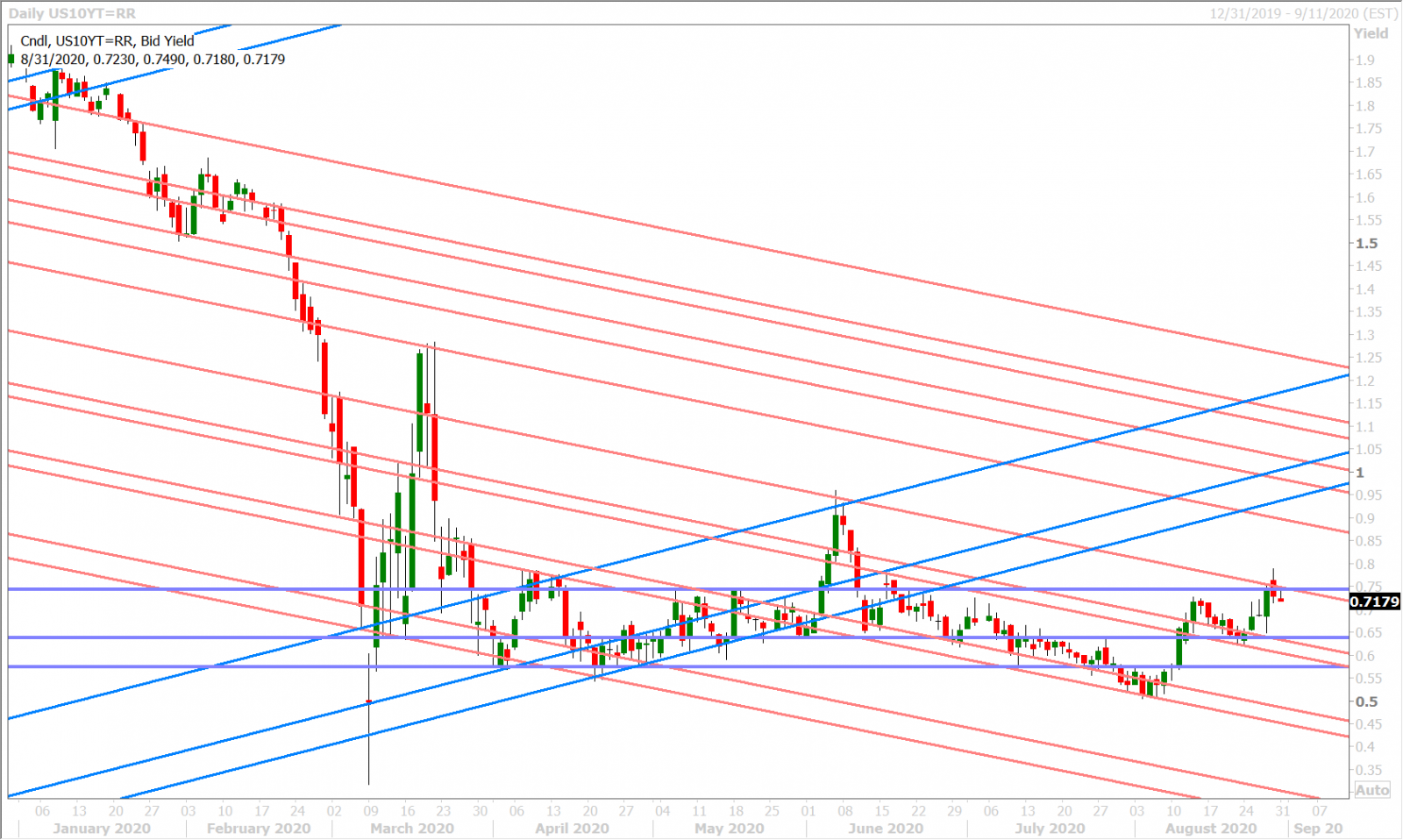 Charts: Reuters Eikon
---
About the Author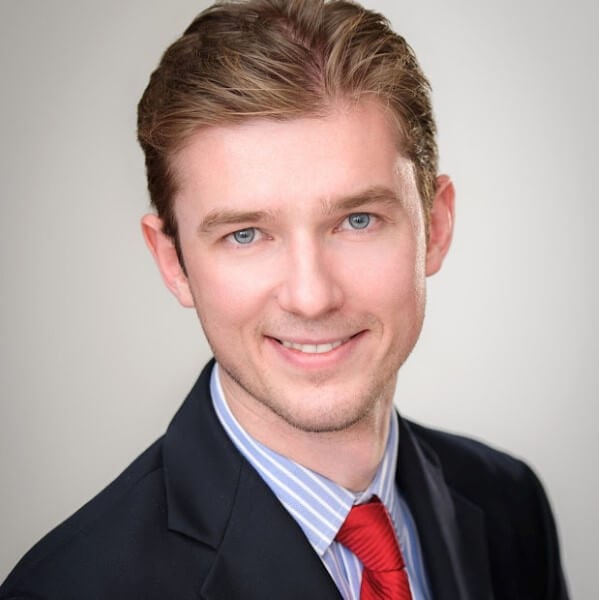 Erik Bregar - Director, Head of FX Strategy
Erik works with corporations and institutions to help them better navigate the currency markets. His desk provides fast, transparent, and low cost trade execution; up to the minute fundamental and technical market analysis; custom strategy development; and post-trade services -- all in an effort to add value to your firm's bottom line. Erik has been trading currencies professionally and independently for more than 12 years. Prior to leading the trading desk at EBC, Erik was in charge of managing the foreign exchange risk for one of Canada's largest independent broker-dealers.
Interested in creating a custom foreign exchange trading plan? Contact us or call CXI's trading desk directly at 1-833-572-8933.
About Currency Exchange International
Currency Exchange International, CXI, is the leading provider of comprehensive foreign exchange services, risk management solutions and integrated international payments processing technology in North America. CXI's relationship-driven approach ensures clients receive tailored solutions and world-class customer service. Through innovative and trusted FX software platforms, CXI delivers versatile foreign exchange services to our clients, so that they can efficiently manage and streamline their foreign currency and global payment needs. CXI is a trusted partner among financial institutions, corporations and retail markets around the world. To learn more, visit: www.ceifx.com