Global risk sentiment recovers as oil prices bounce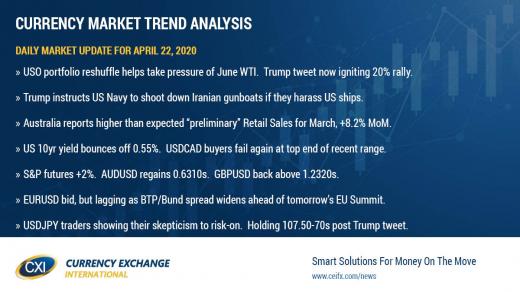 Take control of your international payments with CXI FX Now.
• Low transfer fees & great rates
• Fast international payments
• Safety and security
• Unparalleled customer service
• Consultative approach
Interested in creating a custom foreign exchange trading plan? Contact us or call EBC's trading desk directly at 1-888-729-9716.gvf
Get real-time market coverage on twitter at @EBCTradeDesk or sign up here.

SUMMARY
USO portfolio reshuffle helps take pressure of June WTI. Trump tweet now igniting 20% rally.

Trump instructs US Navy to shoot down Iranian gunboats if they harass US ships.

Australia reports higher than expected "preliminary" Retail Sales for March, +8.2% MoM.

US 10yr yield bounces off 0.55%. USDCAD buyers fail again at top end of recent range.

S&P futures +2%. AUDUSD regains 0.6310s. GBPUSD back above 1.2320s.

EURUSD bid, but lagging as BTP/Bund spread widens ahead of tomorrow's EU Summit.

USDJPY traders showing their skepticism to risk-on. Holding 107.50-70s post Trump tweet.
ANALYSIS
USDCAD
Global risk sentiment is getting a moderate boost this morning and we think this is largely because June WTI oil prices appear to have stabilized for the moment. The May contract is now off the board and the June contract is trading +16% at this hour after crashing 43% lower yesterday. Nothing encouraging came out of yesterday's OPEC+ conference call, but we would note the US Oil Fund's announcement to move 55% of its WTI portfolio to the July contract along with the option to diversify into farther dated WTI contracts + other petroleum based derivatives. This news alleviated yesterday's fears about the world's largest oil EFT going belly up (USO rallied into the NY close) and we think this could be taking some of the pressure off June WTI prices this morning. President Trump's 8:08amET tweet about threatening Iranian gunboats is now seeing the June contact surge 20% higher: "I have instructed the United States Navy to shoot down and destroy any and all Iranian gunboats if they harass our ships at sea."
We would note important technical developments on many charts at the start of European trade as contributory factors to some "risk-on" flows as well. The US 10yr yield bounced confidently off the 0.55% support level as sellers failed; AUDUSD broke back above the 0.6310 level that it lost early yesterday; and USDCAD buyers failed once again at the 1.4240s resistance level (top end of its recent range). European stock markets are trading anywhere from 0.5% to 1.5% higher at this hour. The S&P futures are up 2% on the session.
Canada just released its CPI data for the month of March and the numbers were softer than expected (see below)…a non-event and not truly surprising in our opinion though, given the consumer demand shock that started rippling across the world last month.
CANADA MARCH CONSUMER PRICES -0.6 PCT ON MONTH(VS -0.4% EXP); +0.9 PCT ON YEAR (VS +1.2% EXP)
Canadian CPI Core Median (Y/Y) Mar: 2.0% (exp 2.0%; prev 2.1%)



USDCAD DAILY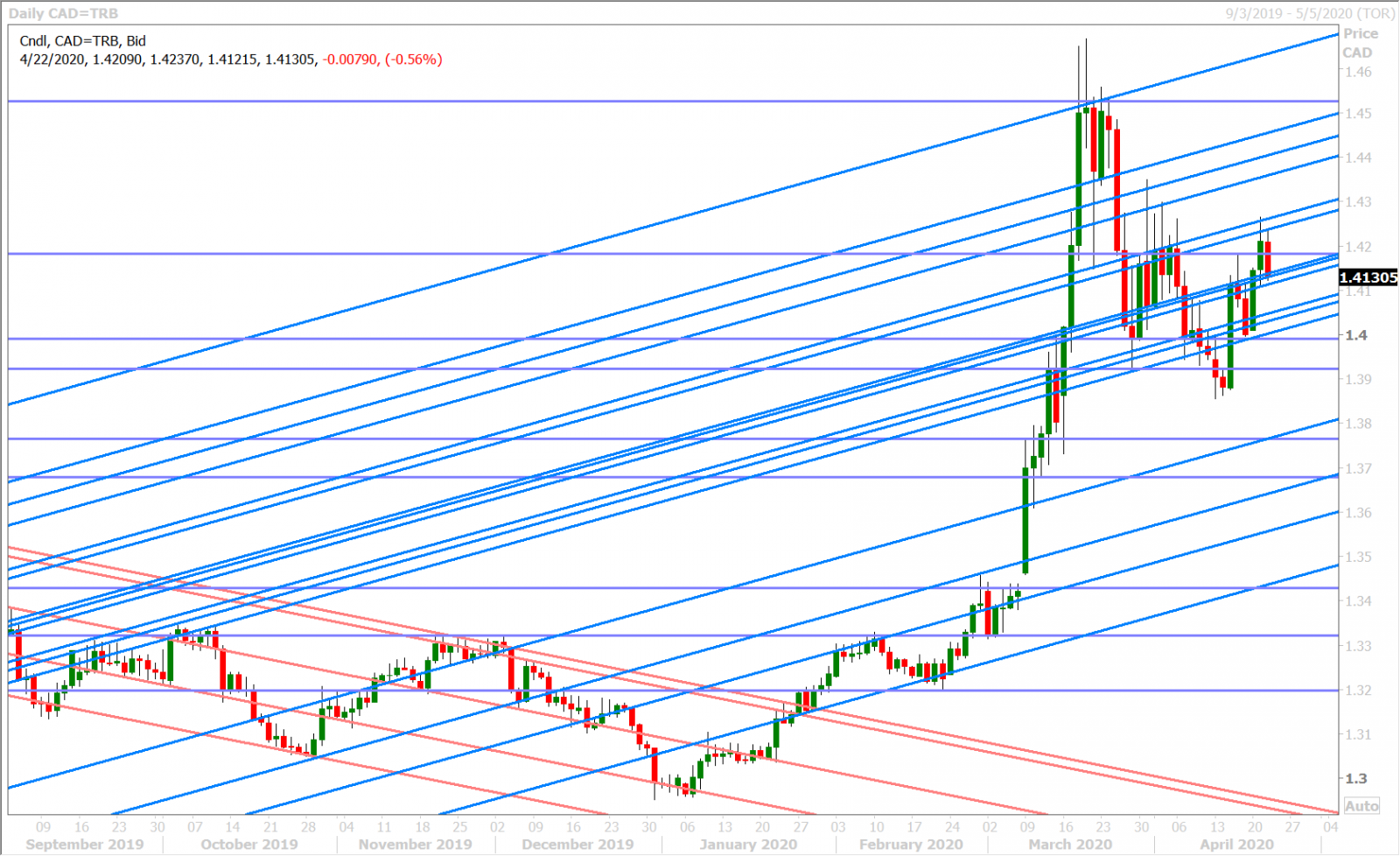 USDCAD HOURLY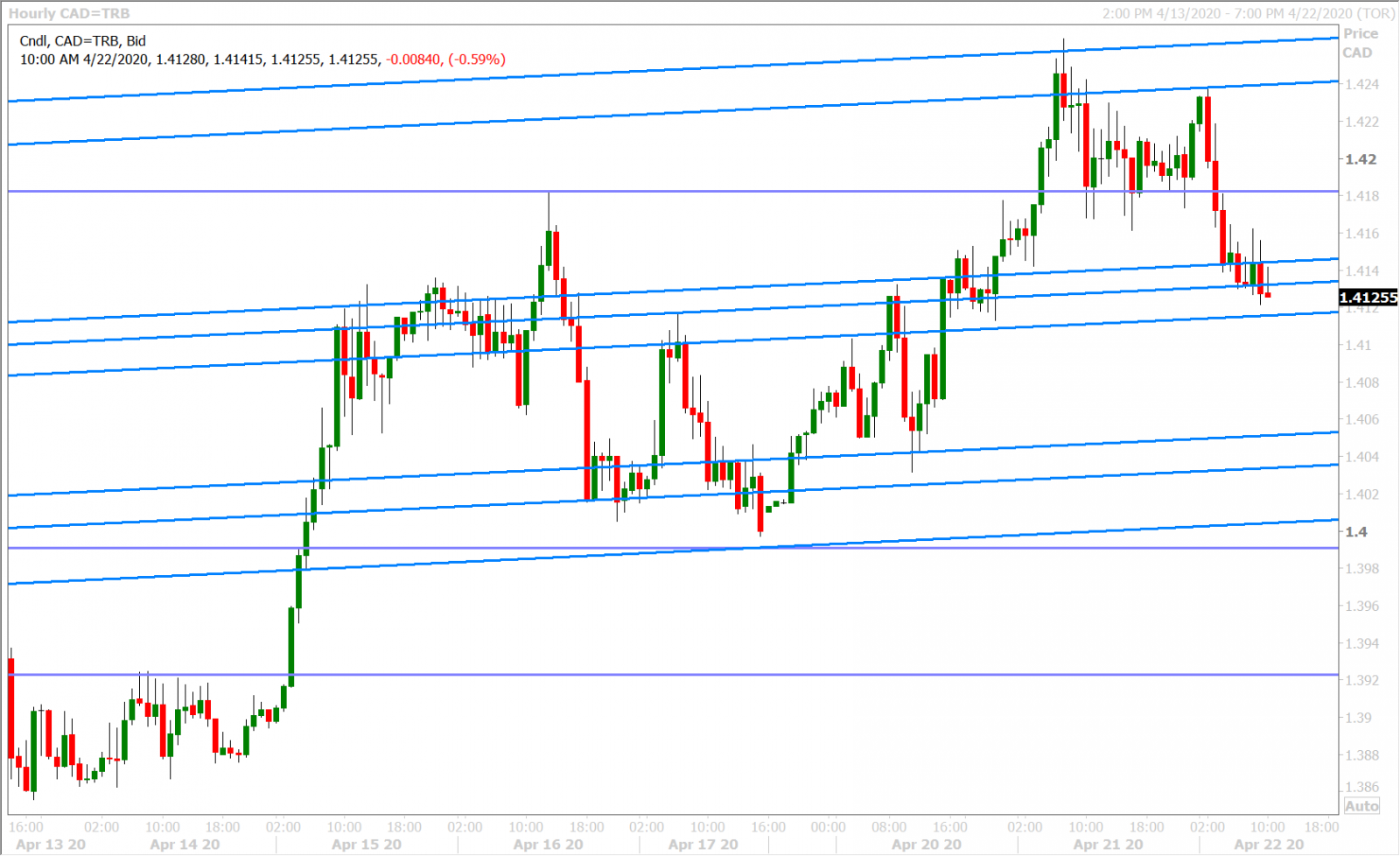 JUNE CRUDE OIL DAILY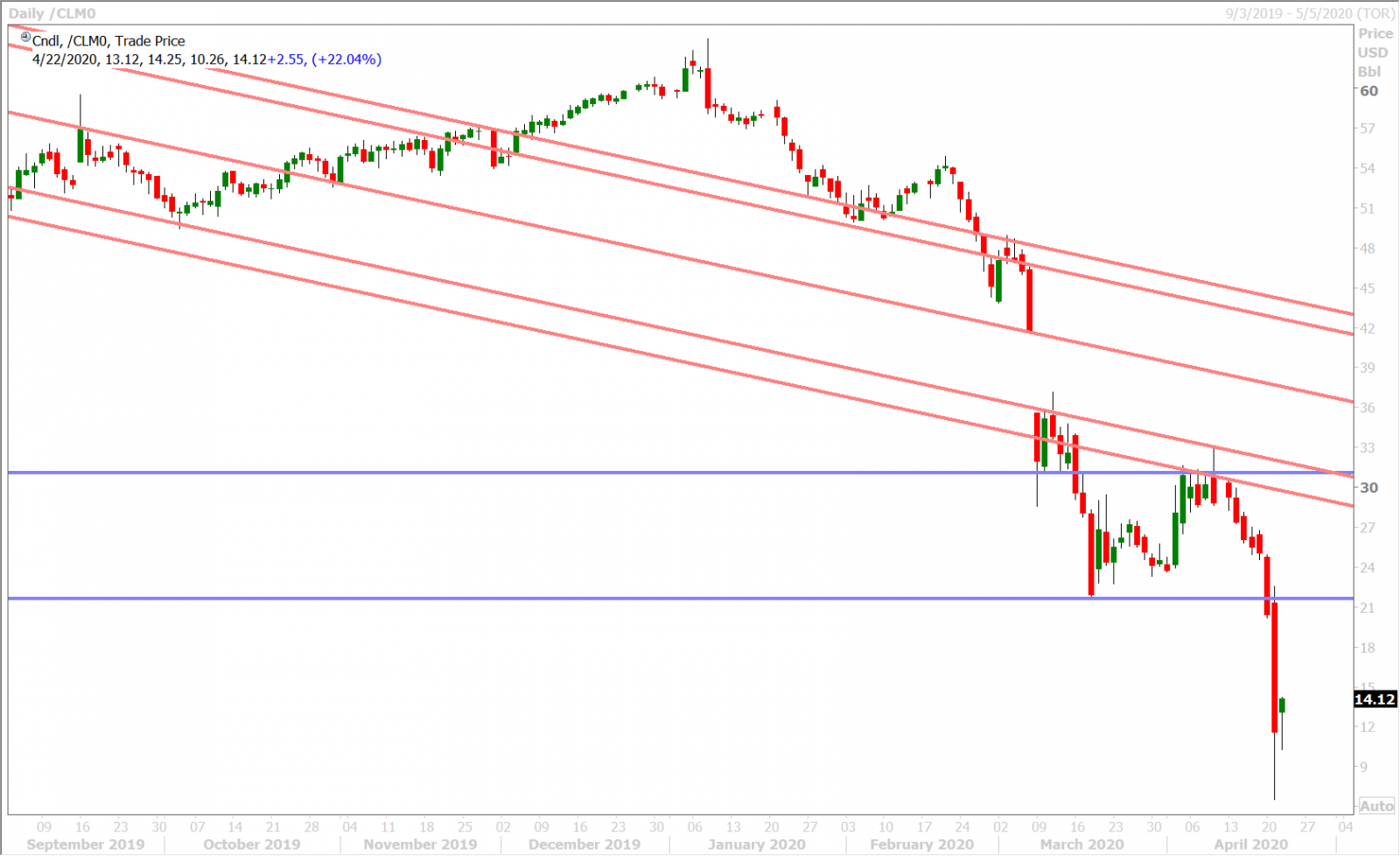 ---
EURUSD
Euro/dollar buyers made a stand once again at trend-line chart support in the 1.0810s yesterday. This technical development, along with some attempts by OPEC+, President Trump and the US Oil Fund to boost oil market sentiment appeared to be enough to get EURUSD back above the 1.0850s level by the NY close.
The euro has a moderate bid tone to it this morning as the improvement in global risk sentiment knocks the USD broadly lower, but we think it's lagging its G7 peers because of the continued rise in peripheral European bond yields ahead of tomorrow's EU Summit. The widely followed BTP/Bund yield spread traded to a new swing high of +271bp over the last hour. Spot gold prices have reclaimed the $1,700 mark. Trump's tweet isn't helping now either as the USD recovers.

EURUSD DAILY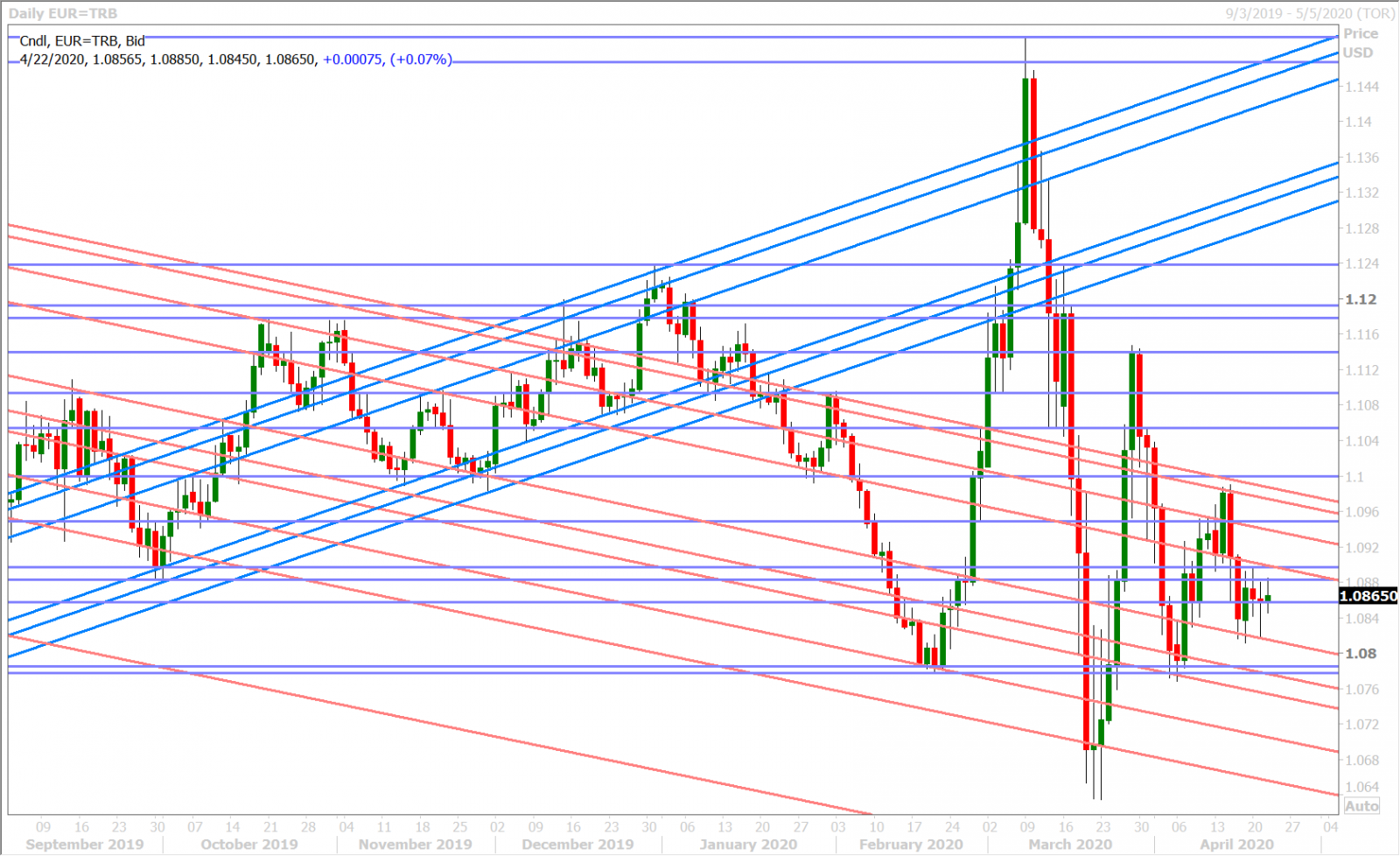 EURUSD HOURLY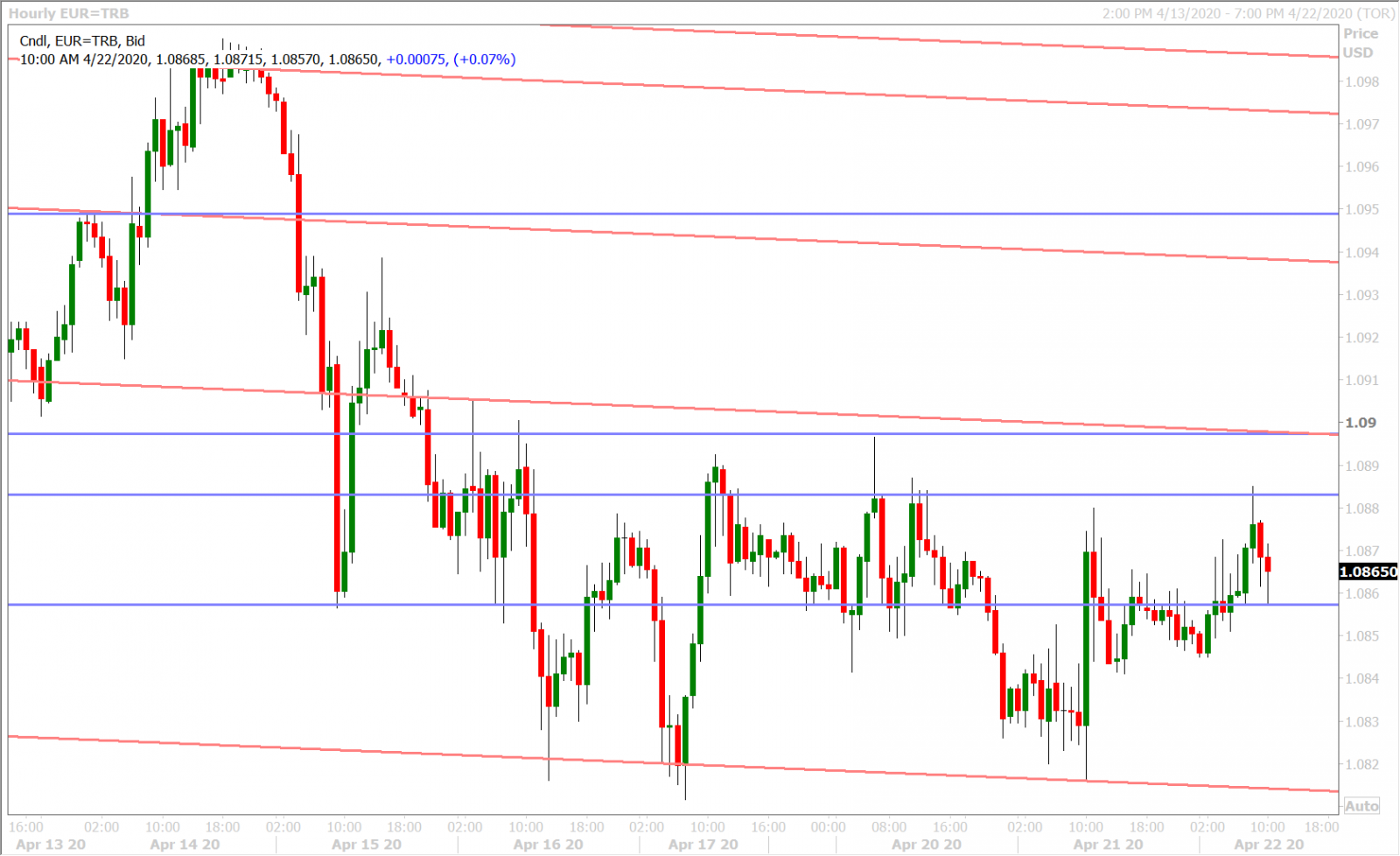 SPOT GOLD DAILY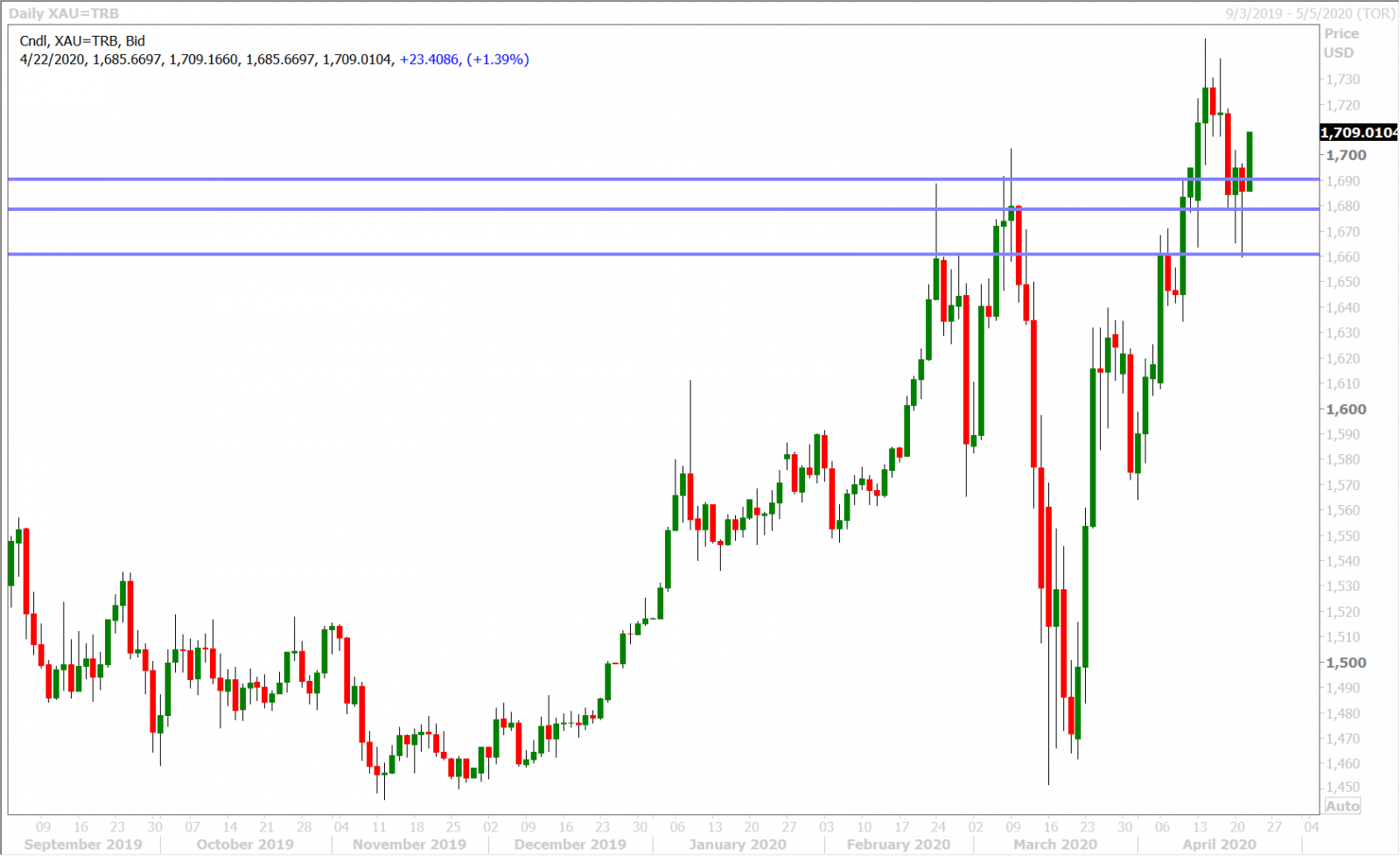 ---
GBPUSD
Yesterday's breakdown below the 1.2430s for GBPUSD has brought back some higher beta (volatility) into the sterling trade. We're seeing that on display this morning too with the pound's relative outperformance vis a vis the euro and yen (funding currencies). Today's bounce for GBPUSD has also corresponded with a defense of chart support in the 1.2280s and a regain of the 1.2320s which was lost yesterday. The UK reported in-line CPI figures for the month of March earlier this morning (details below):
UK Mar Core CPI YY, 1.6%, 1.6% f'cast, 1.7% prev

UK Mar CPI YY, 1.5%, 1.5% f'cast, 1.7% prev



GBPUSD DAILY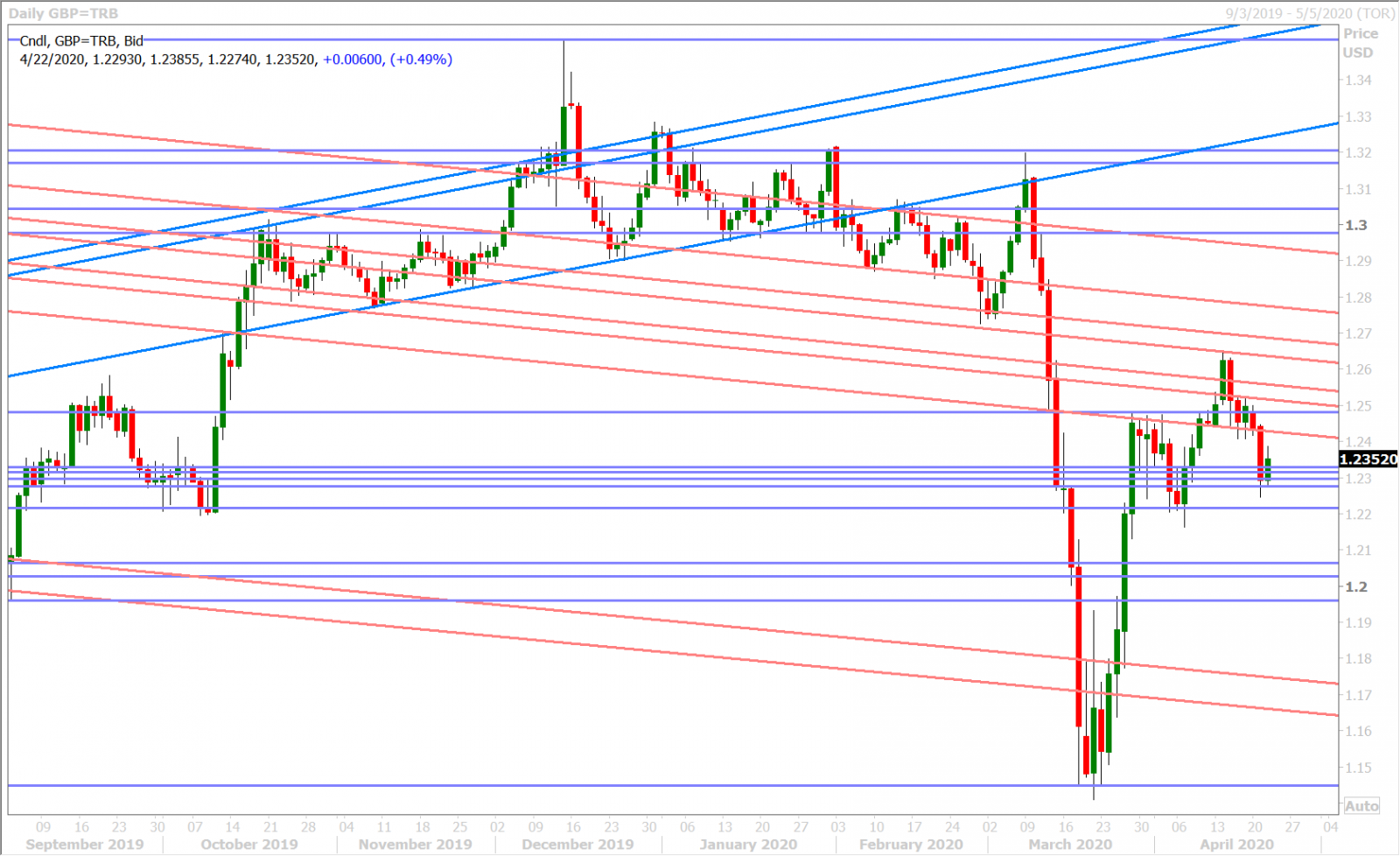 GBPUSD HOURLY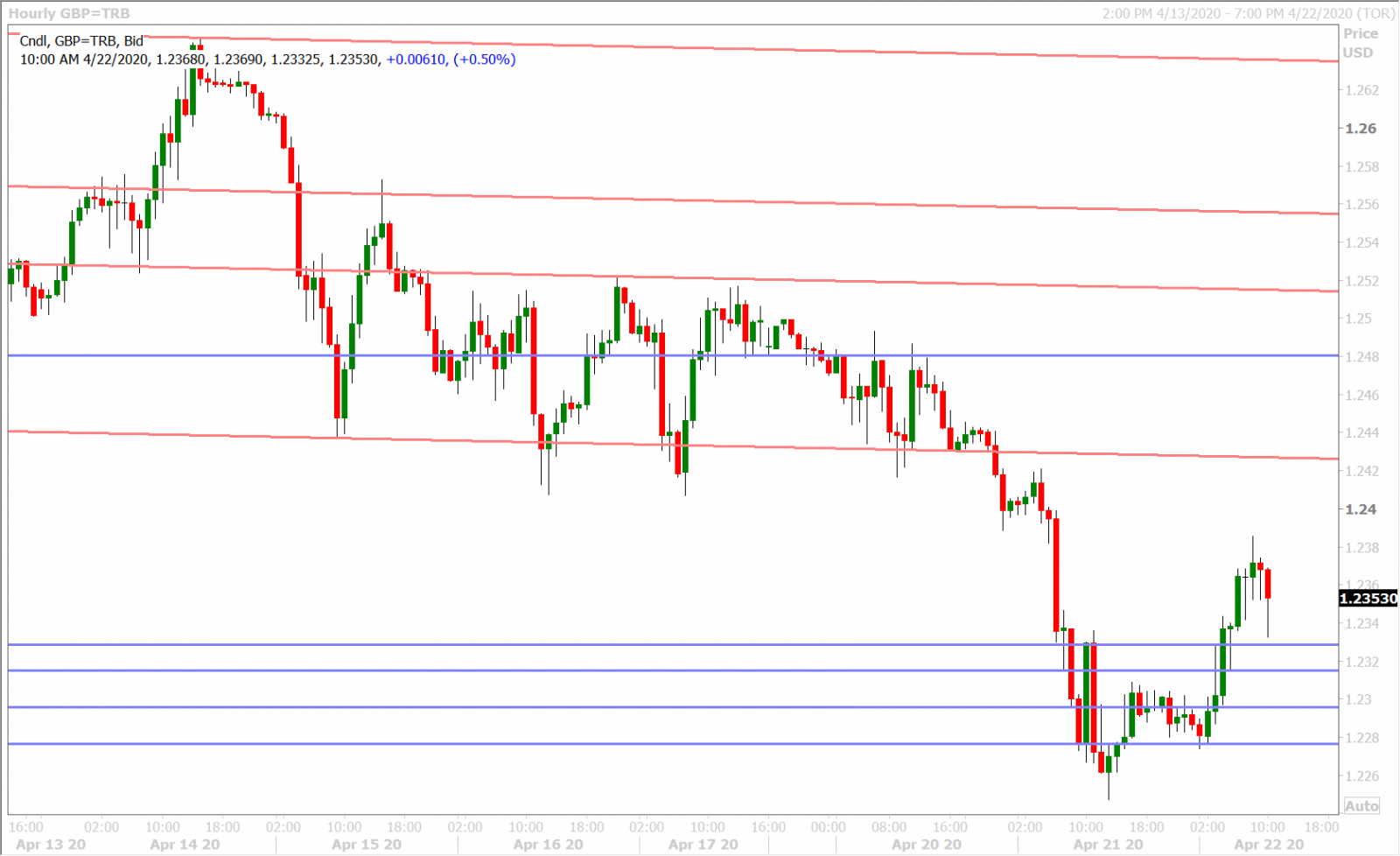 EURGBP DAILY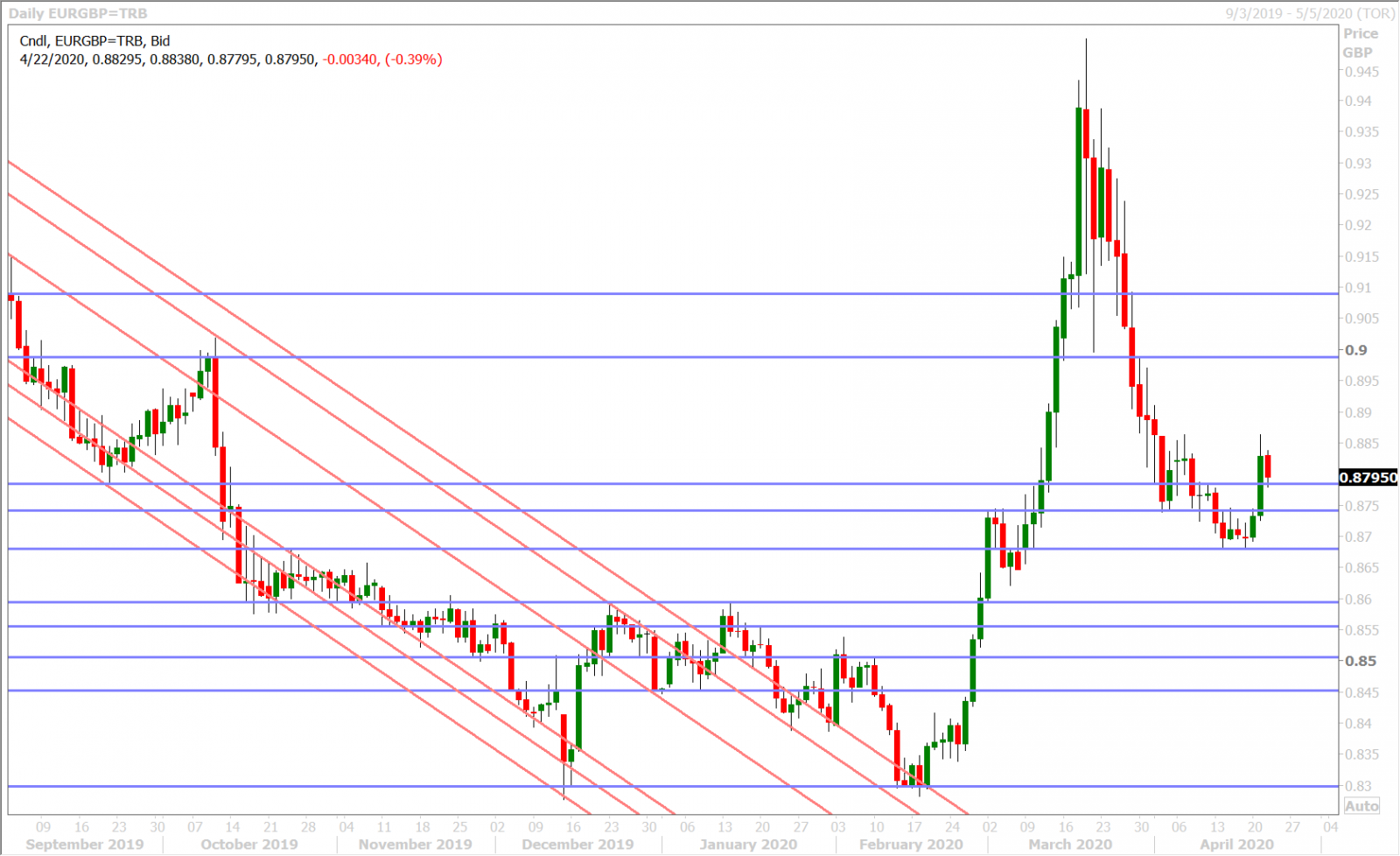 AUDUSD
So the Australian Bureau of Statistics has started releasing "preliminary" data for a number of its economic indicators, to help provide a picture of how the economy is responding in a more timely fashion. The first of these figures come out last night with March Retail Sales, which showed a surprise +8.2% MoM gain. Analysts had been expecting a gain due to panic stockpiling of food/consumer goods/work-from-home products ahead of the coronavirus lockdowns, but this number seemed to be almost double the consensus estimate.
The AUDUSD market hesitated initially, but soon shot higher to the mid-0.63s as a result. While these gains faded, we think the sharp move back above the 0.6310s allowed a "buy-the-dip" mentality to ensue heading into European trade today. The Aussie is now trading back within Wednesday's 0.6310-0.6340 price range ahead of tonight's April flash PMI numbers out of Australia at 7pmET and Trump's Iran threat is adding some pressure here.

AUDUSD DAILY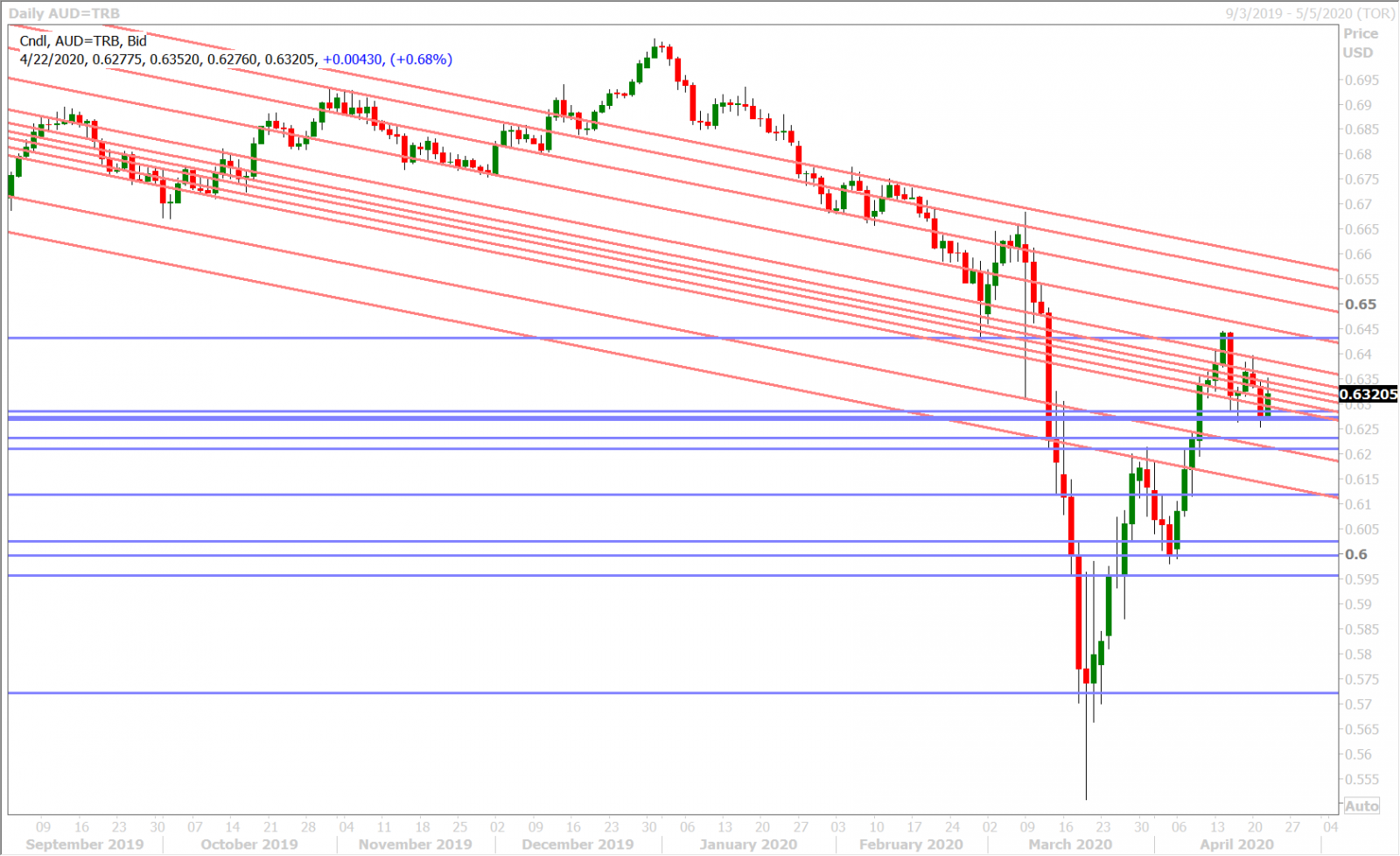 AUDUSD HOURLY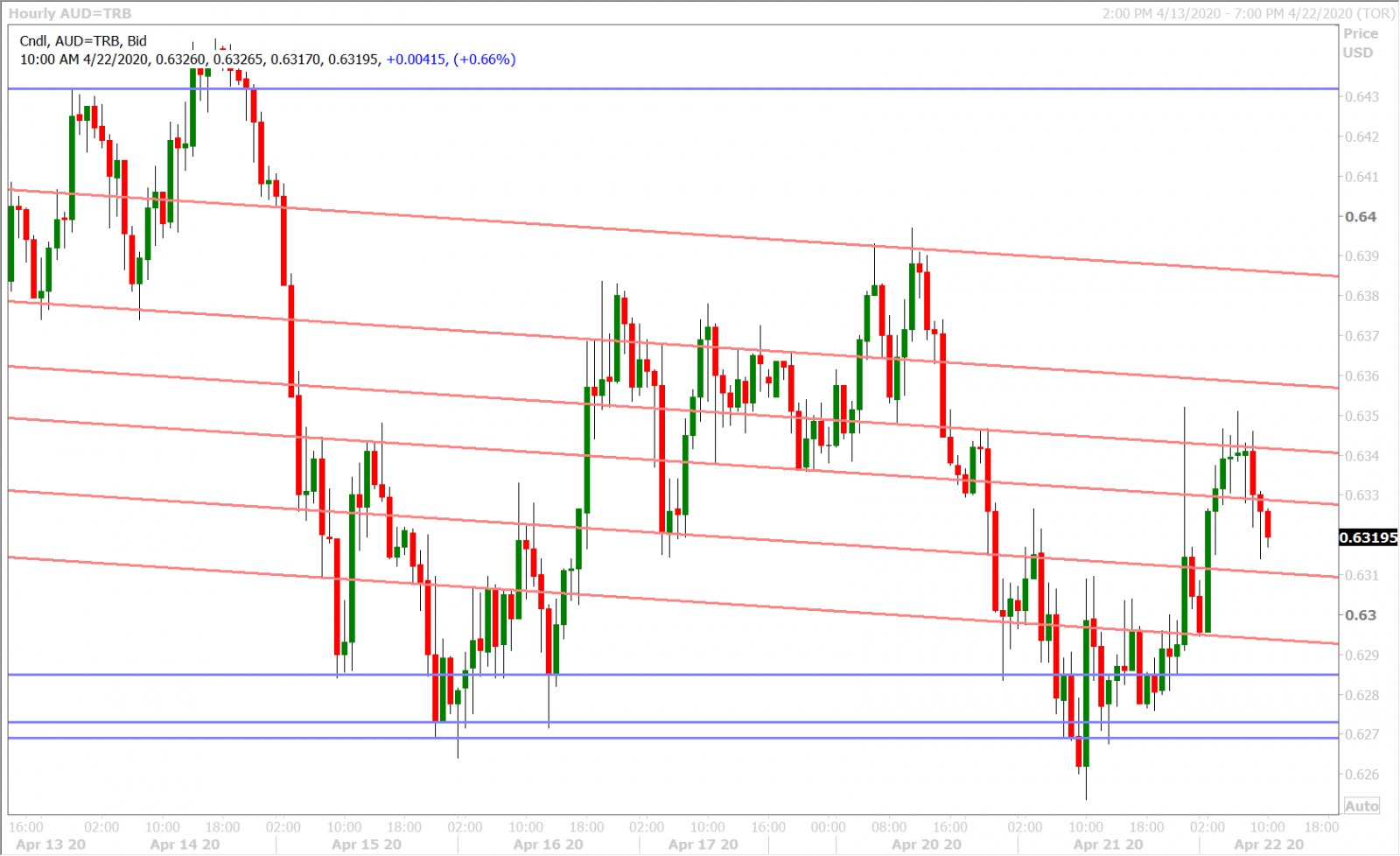 USDCNH DAILY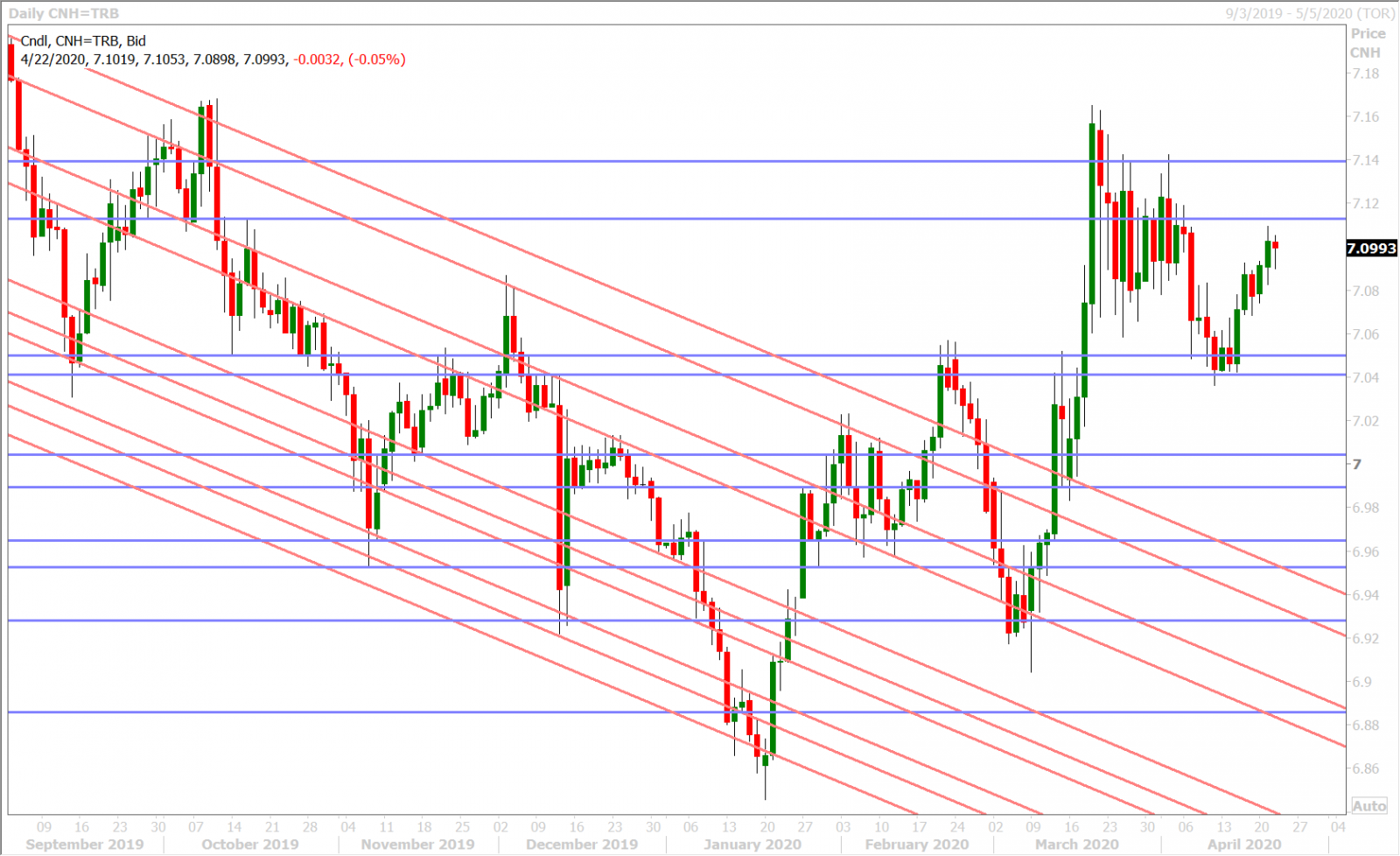 ---
USDJPY
Global markets are feeling a whole lot better this morning because the June WTI oil price is not falling. It's actually rising 20% at this hour and, while one could argue there's nothing positive about Trump's threat to Iran this morning, the oil markets are badly in need of bullish news to counter the 30mln+ bpd of demand destruction that has reverberated across the globe this month.
Dollar/yen traders are showing their skepticism this morning however as they hold prices within the upper bounds of the 107.50-70 band which was regained yesterday. The broader USD has also recovered a bit since the Trump tweet came out. Japan reports its April flash PMIs tonight at 8:30pmET.

USDJPY DAILY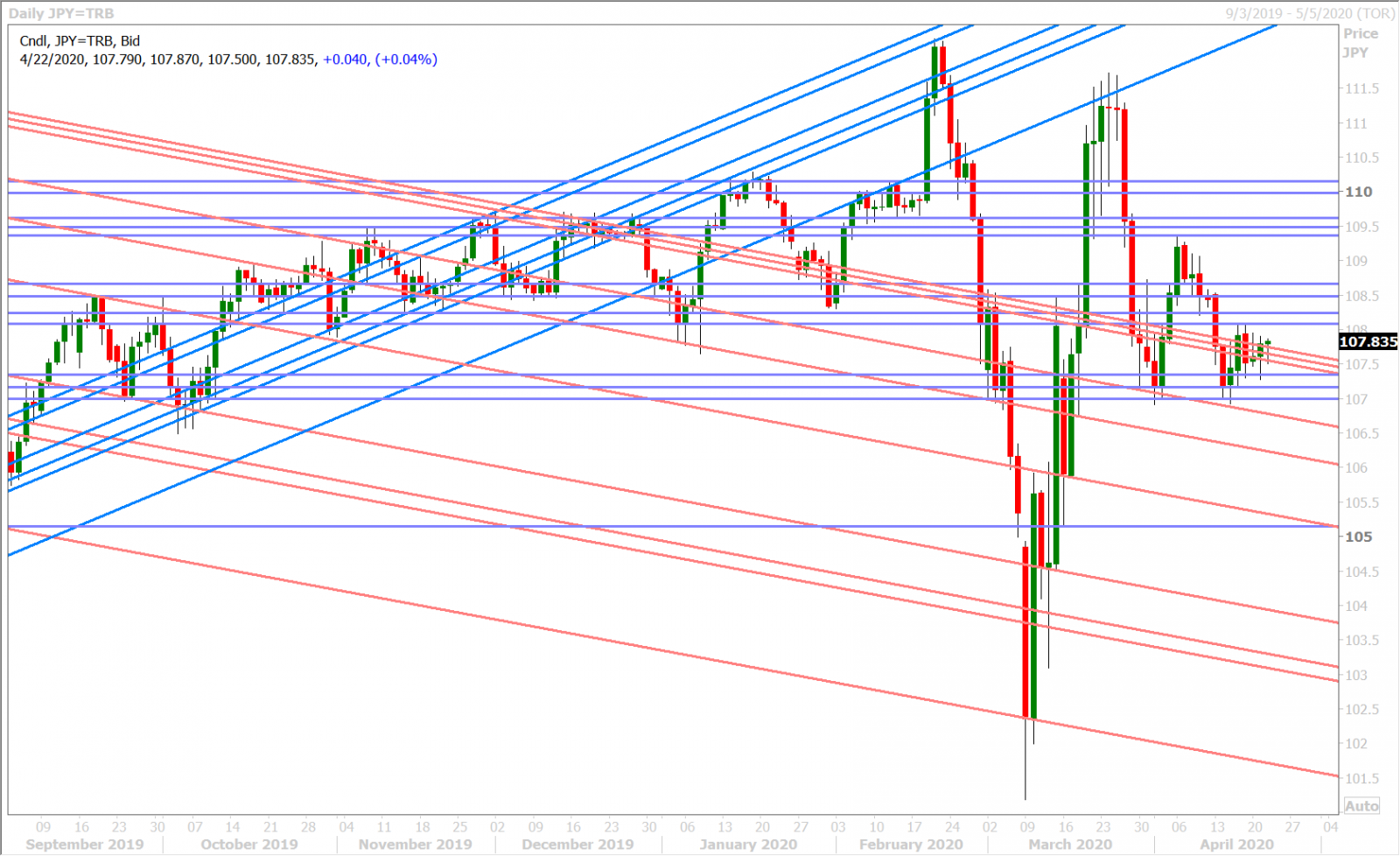 USDJPY HOURLY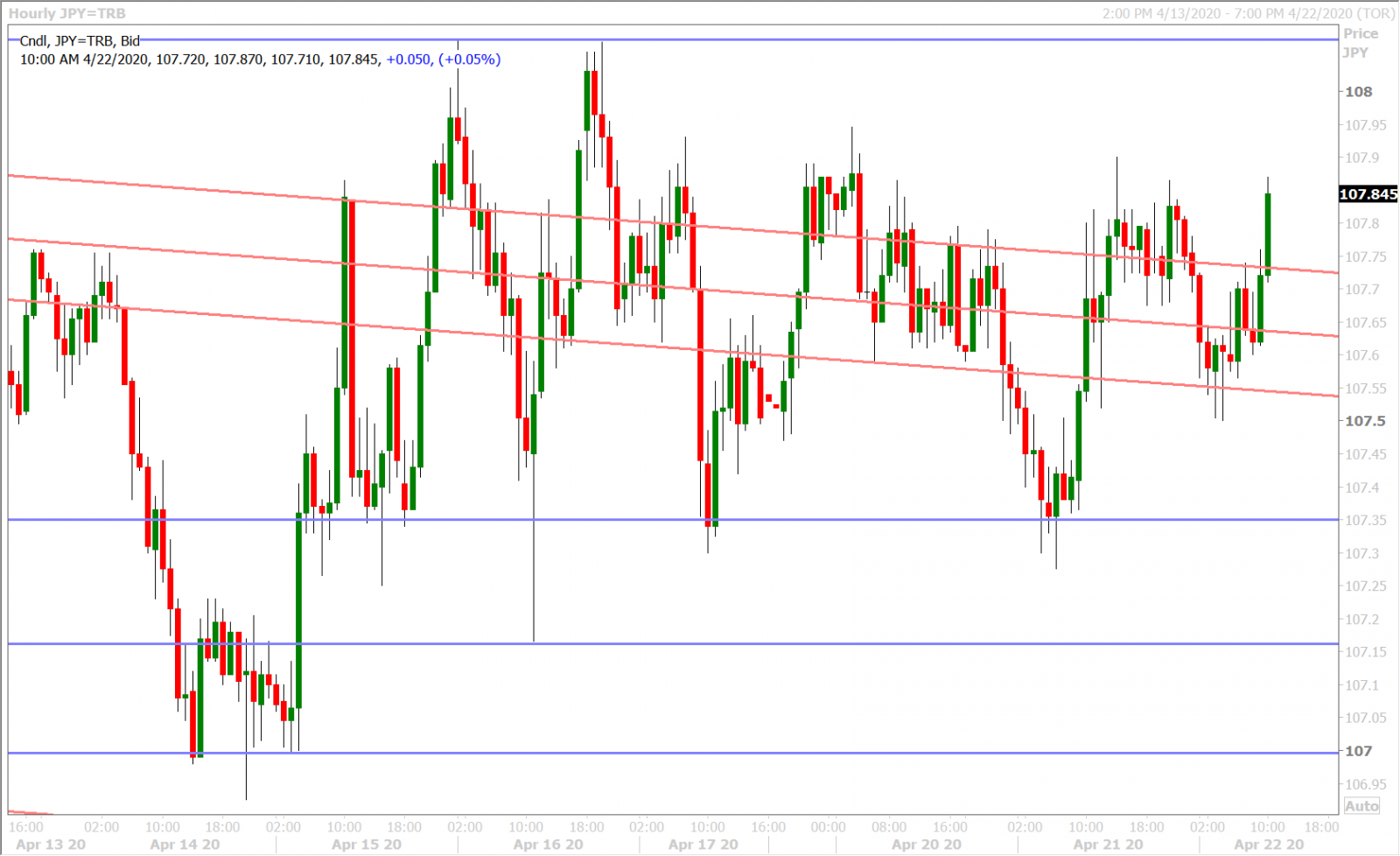 US 10 YR YIELD DAILY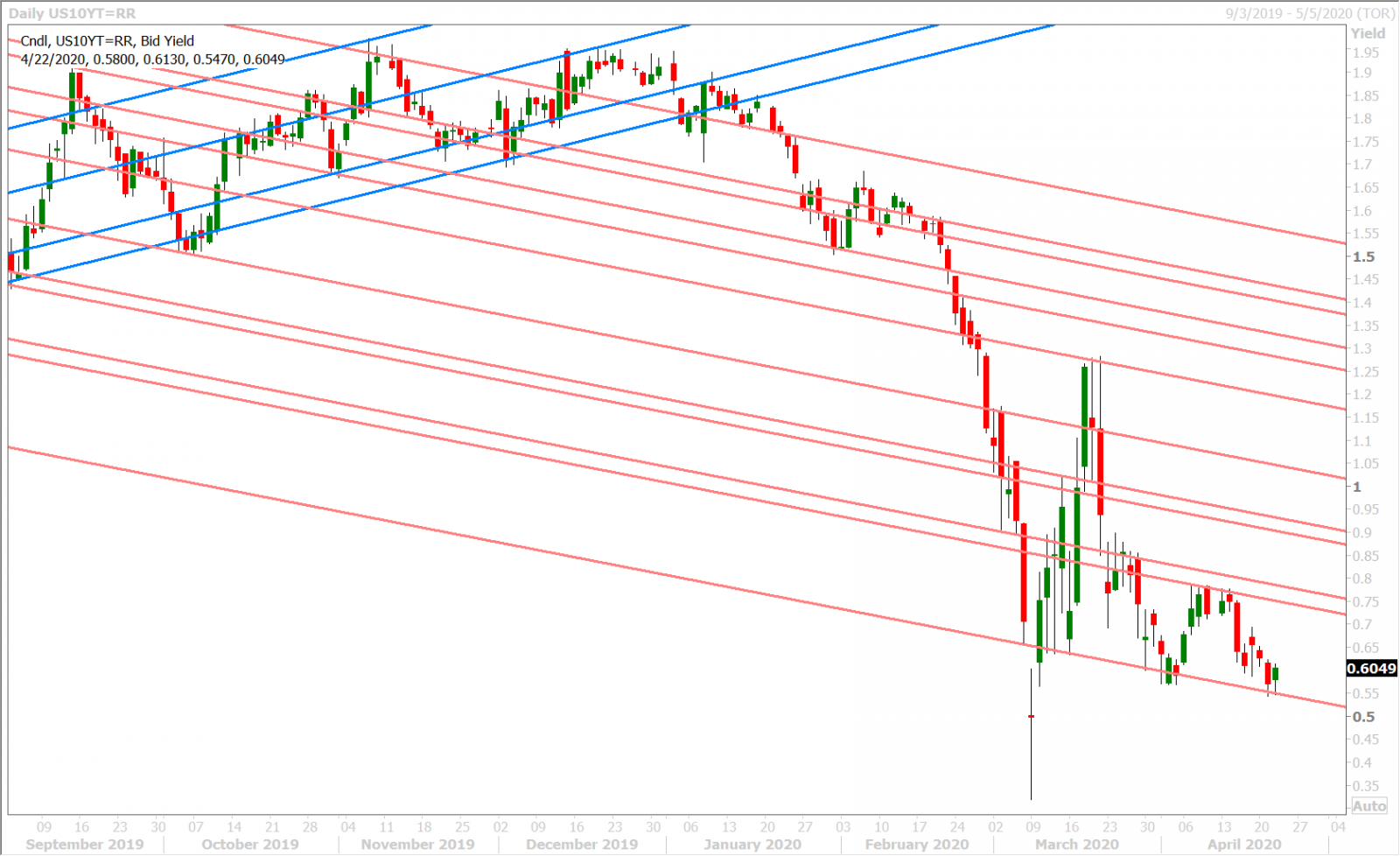 Charts: Reuters Eikon
---
About the Author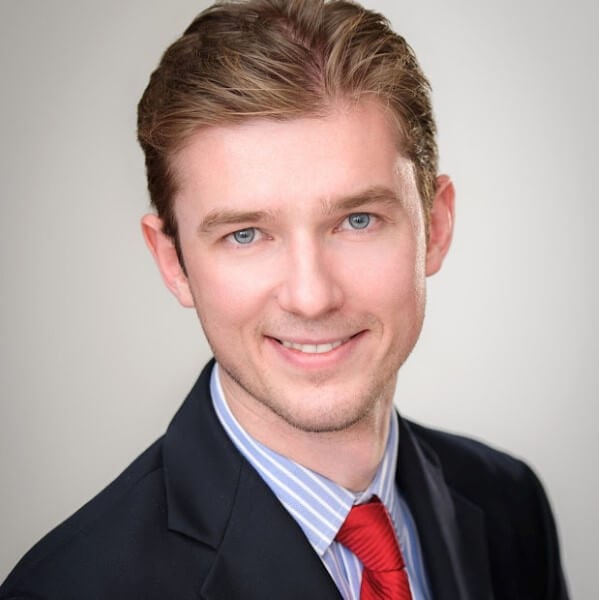 Erik Bregar - Director, Head of FX Strategy
Erik works with corporations and institutions to help them better navigate the currency markets. His desk provides fast, transparent, and low cost trade execution; up to the minute fundamental and technical market analysis; custom strategy development; and post-trade services -- all in an effort to add value to your firm's bottom line. Erik has been trading currencies professionally and independently for more than 12 years. Prior to leading the trading desk at EBC, Erik was in charge of managing the foreign exchange risk for one of Canada's largest independent broker-dealers.
Interested in creating a custom foreign exchange trading plan? Contact us or call CXI's trading desk directly at 1-833-572-8933.
About Currency Exchange International
Currency Exchange International, CXI, is the leading provider of comprehensive foreign exchange services, risk management solutions and integrated international payments processing technology in North America. CXI's relationship-driven approach ensures clients receive tailored solutions and world-class customer service. Through innovative and trusted FX software platforms, CXI delivers versatile foreign exchange services to our clients, so that they can efficiently manage and streamline their foreign currency and global payment needs. CXI is a trusted partner among financial institutions, corporations and retail markets around the world. To learn more, visit: www.ceifx.com