National Plan for Vacation Day: Looking Ahead to Brighter Days
Jacquelyn
January 19th, 2021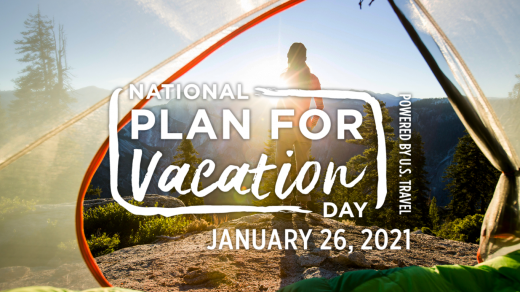 Ordering foreign currency is contactless with OnlineFX.
Currency Exchange International is excited to announce it is supporting National Plan for Vacation Day (NPVD), the annual day for Americans to plan their vacation for the entire year at the start of the year, on January 26.
Though many Americans are not ready or able to take a trip just yet, there is a wealth of information that says simply planning a vacation can increase happiness. In fact, 97% of survey respondents say having a trip planned makes them happier—and that's exactly what we will encourage Americans to do this year.
If you're searching for some travel inspiration, check out These 50 Countries Have Lifted US Travel Restrictions (or Will Be Soon). You can also see these Coronavirus Travel Restrictions and Important Resources You Need to Know to help you travel confidently.
American workers left an average of 33% of their paid time off on the table last year.
NPVD is joining forces with the Let's Go There initiative to encourage Americans to still plan—or even book—future vacations, or to simply keep their travel flame lit and dream of their next getaway.
Let's Go There is led by a coalition of businesses and organizations, including many of the most recognizable U.S. brands from both within and outside the travel sector. We encourage you to share where you plan to travel this year (or next).
The straightforward mission of Let's Go There is perfectly aligned with NPVD: As you plan your future trips, the travel industry is ready to safely welcome you back—when you are ready.
In 2020, the constraints of the pandemic resulted in Americans using, on average, just 6.8 earned vacation days for travel. Survey data shows that 84% of Americans are excited to plan a vacation in the next six months, indicating an impending surge in travel demand once conditions improve.
With so many great travel deals to be had, savvy vacation planners who are able to book future trips now would be wise to take advantage of these offers—before demand picks up. 2020 has been one for the record books. Thank you for being the best part of our year. See our reflections on 2020 and the year ahead for international travelers.
63% More than six in 10 feel they desperately need a vacation.
Importantly, Currency Exchange International is encouraging Americans to continue to adhere to healthy travel practices—whether one is planning a vacation in the short term or for later this year. U.S. Travel Association's Travel Confidently toolkit has a wealth of resources and guidance to encourage safe and healthy travel, which includes wearing a mask, frequent hand washing, maintaining physical distance when possible, and staying home if feeling sick.
This year's NPVD is taking place amid challenging times, but we can still look forward to—and plan for—brighter days. On January 26, use the hashtag #PlanForVacation and tag us on social media to tell us where you're dreaming of traveling to next.
Please visit here to learn more about National Plan for Vacation Day, and visit here to learn more about the Let's Go There initiative.
About Currency Exchange International
Currency Exchange International, CXI, is the leading provider of comprehensive foreign exchange services, risk management solutions and integrated international payments processing technology in North America. CXI's relationship-driven approach ensures clients receive tailored solutions and world-class customer service. Through innovative and trusted FX software platforms, CXI delivers versatile foreign exchange services to our clients, so that they can efficiently manage and streamline their foreign currency and global payment needs. CXI is a trusted partner among financial institutions, corporations and retail markets around the world. To learn more, visit: www.ceifx.com