USD trading mixed into large EURUSD expiries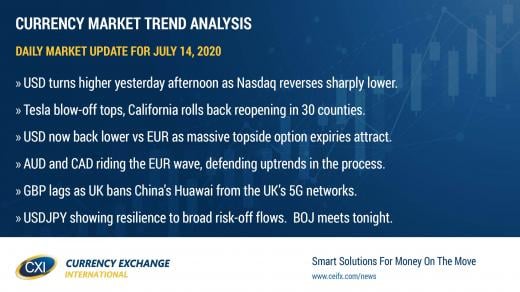 Take control of your international payments with CXI FX Now.
• Low transfer fees & great rates
• Fast international payments
• Safety and security
• Unparalleled customer service
• Consultative approach
Interested in creating a custom foreign exchange trading plan?
Contact us
or call EBC's trading desk directly at
1-888-729-9716.
Get real-time market coverage on twitter at @EBCTradeDesk or sign up to currency insider here.
SUMMARY
USD turns higher yesterday afternoon as Nasdaq reverses sharply lower.

Tesla blow-off tops, California rolls back reopening in 30 counties.

USD now back lower vs EUR as massive topside option expiries attract.

AUD and CAD riding the EUR wave, defending uptrends in the process.

GBP lags as UK

bans China's Huawai from the UK's 5G networks.

USDJPY showing resilience to broad risk-off flows. BOJ meets tonight.



ANALYSIS
USDCAD
Risk sentiment spiked higher during the New York AM yesterday as Tesla and some other large US technology stocks continued their parabolic rise, and this invited some broad USD selling into the London close. We felt that some gloomy comments from the Fed's Kaplan subsequently put a halt to the optimism and before we knew it everybody was watching Tesla's stock price collapse in what felt like a blow-off top after too much speculative excess. The Nasdaq and US yields reversed lower and the USD turned higher. We learned later in the afternoon that some brokerages were getting set to increase day trading margin requirements for Tesla (which explains a lot of the price action) but before traders could digest this California's Governor Gavin Newsom had dropped another tape bomb on the markets by announcing a rollback of reopening efforts in 30 counties after he said COVID-19 cases continued to spread at alarming rates.
The bearish outside day pattern that resulted for the Nasdaq into the NY close yesterday then brought about a "risk-off" tone which saw the broader USD edge higher in Asian trade last night, but this negativity has completely faded (at least in the FX world) as EURUSD traders now gravitate to this morning's 6blnEUR worth of option expiries between the 1.1300 and 1.1350 strikes. Dollar/CAD has given up its overnight breakout above the 1.3620s as a result, which is a technically negative development for the market heading into NY trade today…but we may need to wait until after the 10amET NY options cut to get a true sense of today's overall risk tone. This morning's slightly stronger than expected US CPI report for June (+0.6% vs +0.5%) was a non-event.

USDCAD DAILY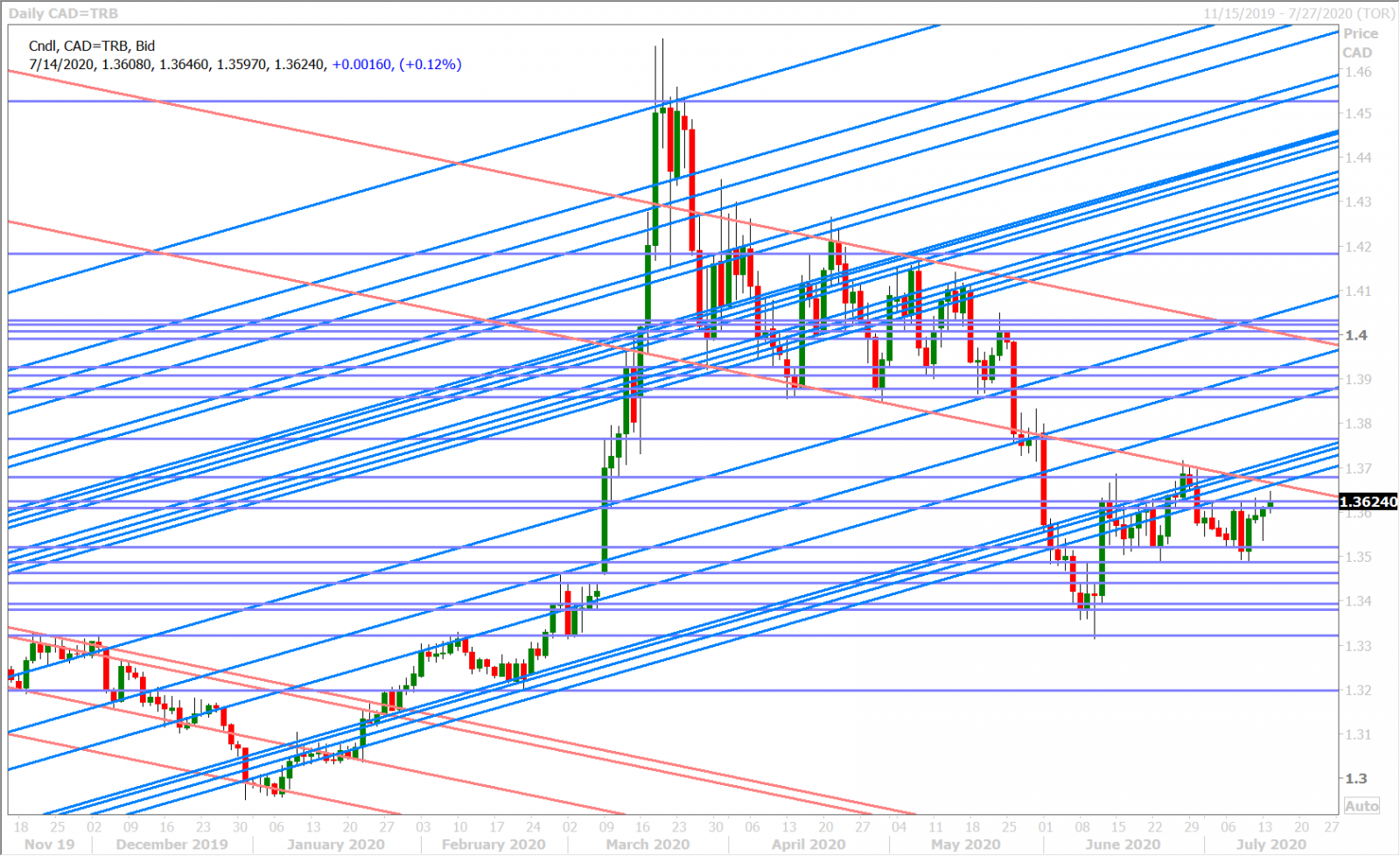 USDCAD HOURLY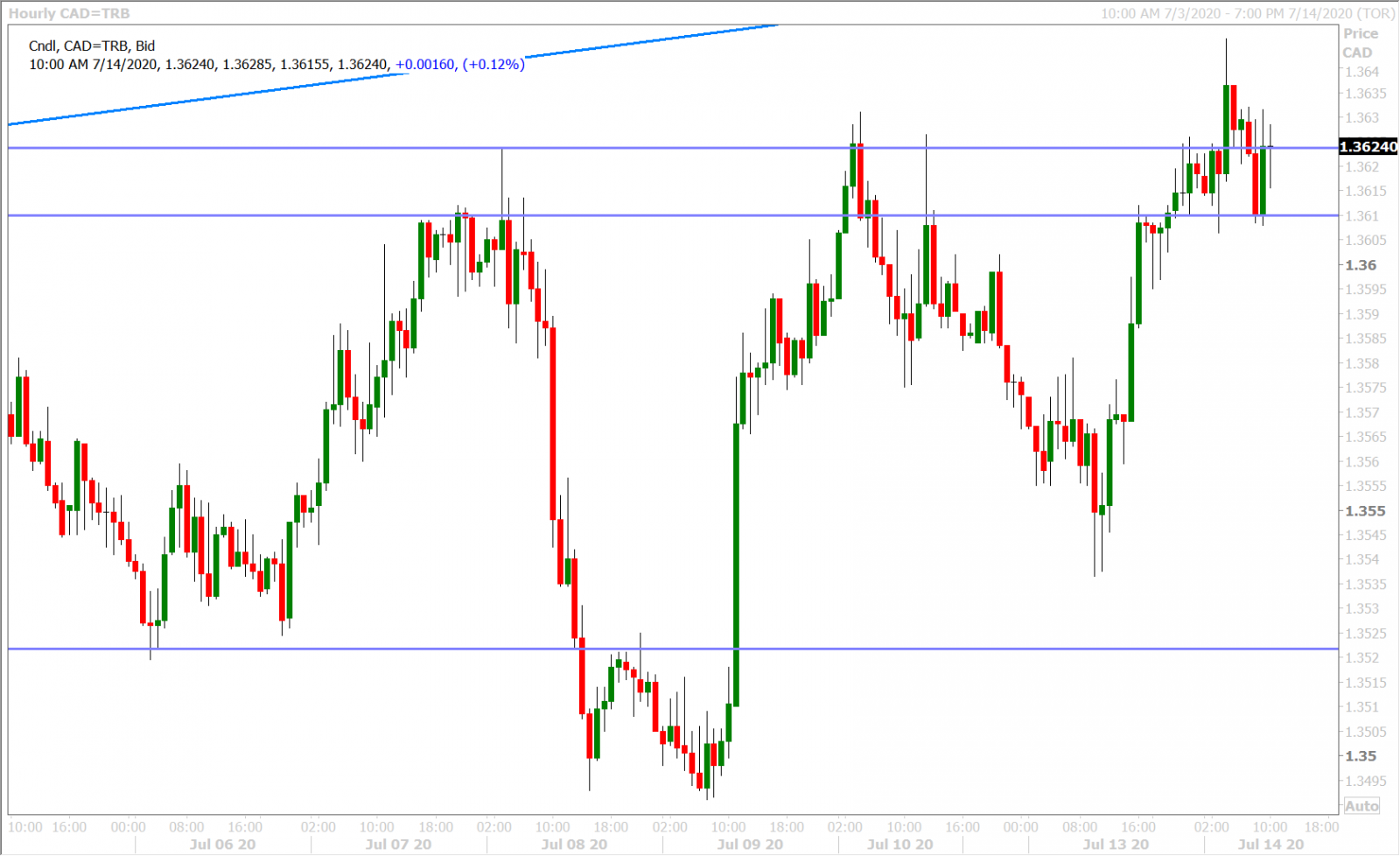 AUGUST CRUDE OIL DAILY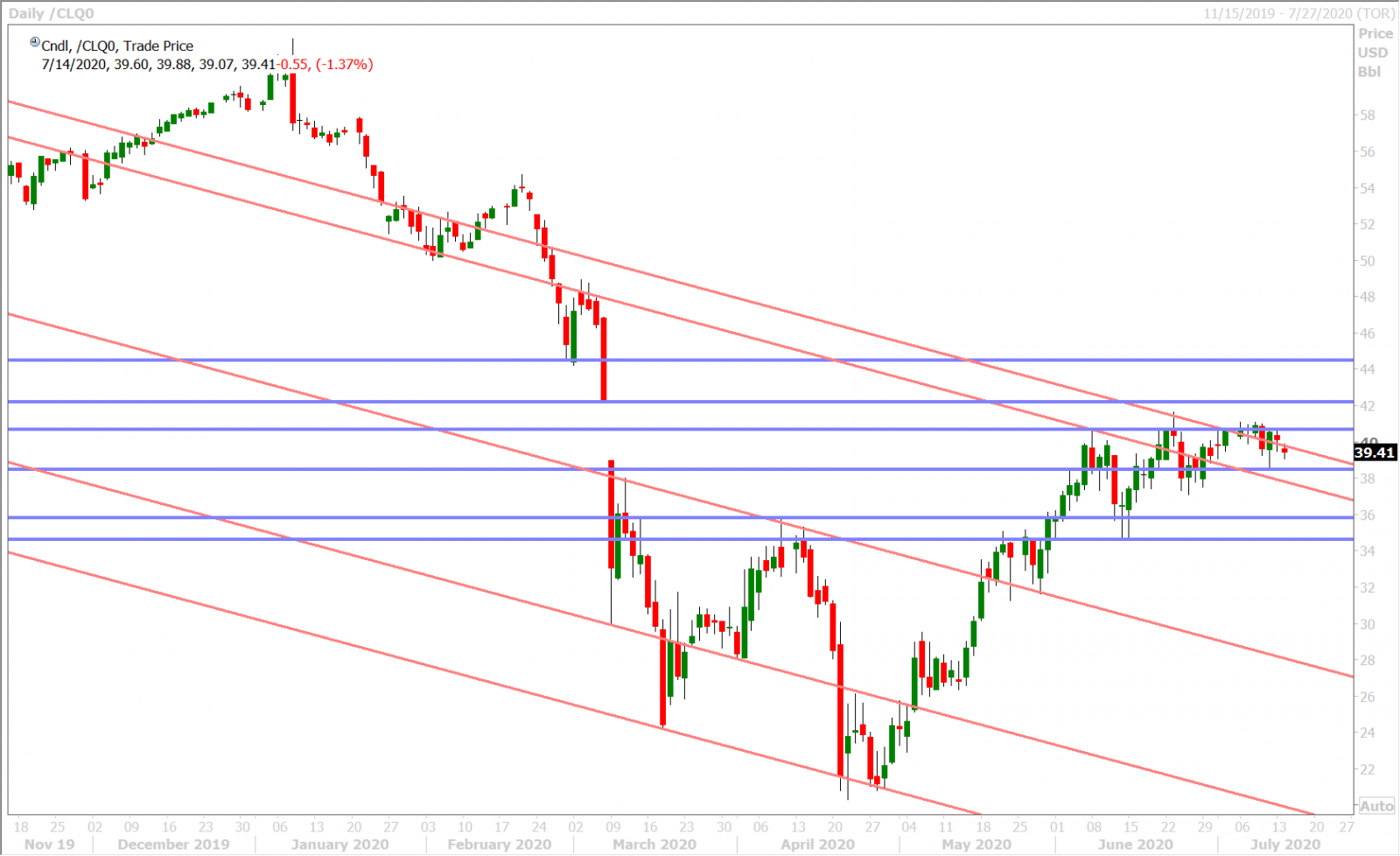 ---
EURUSD
Euro/dollar is pressing chart resistance in the 1.1370s again this morning, like yesterday's late day stock market selloff never happened, as the marketplace hedges a massive amount of options expiring on the 1.13 handle this morning. We expect the market to calm down a bit after 10amET, barring any positive surprises to broad market risk sentiment. Germany reported a slightly weaker than expected ZEW Economic Sentiment survey for the month of July (59.3 vs 60.0).

EURUSD DAILY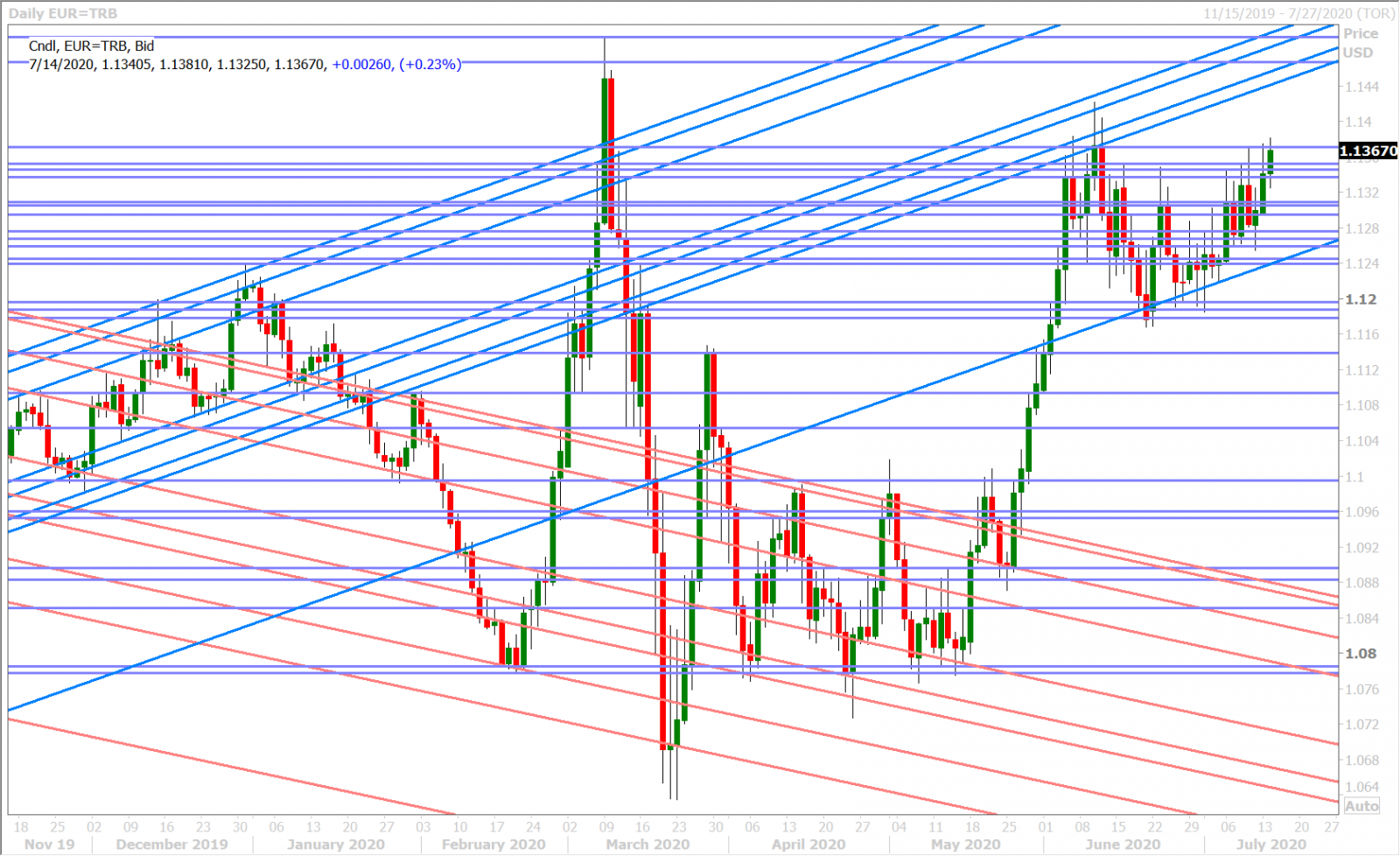 EURUSD HOURLY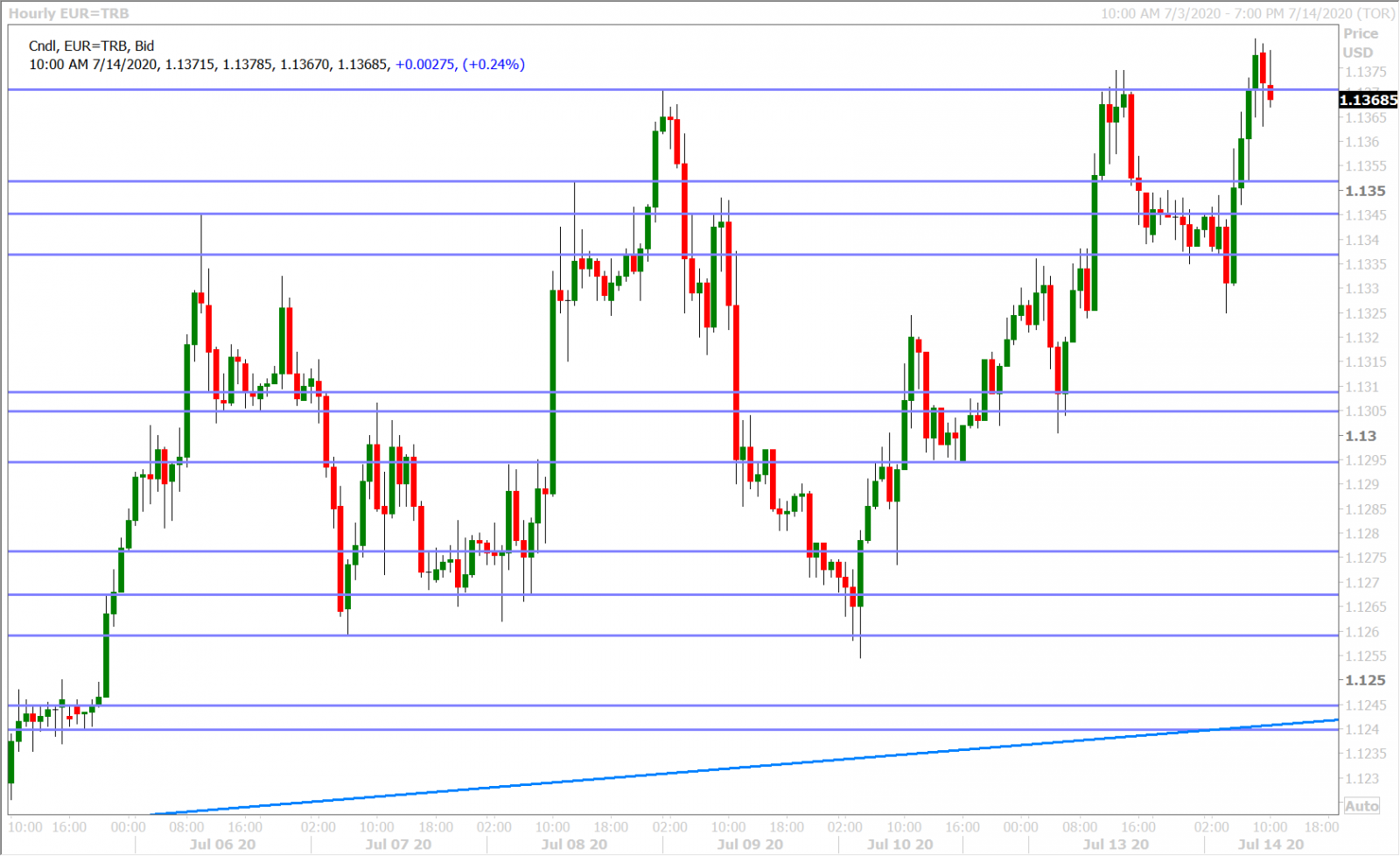 SPOT GOLD DAILY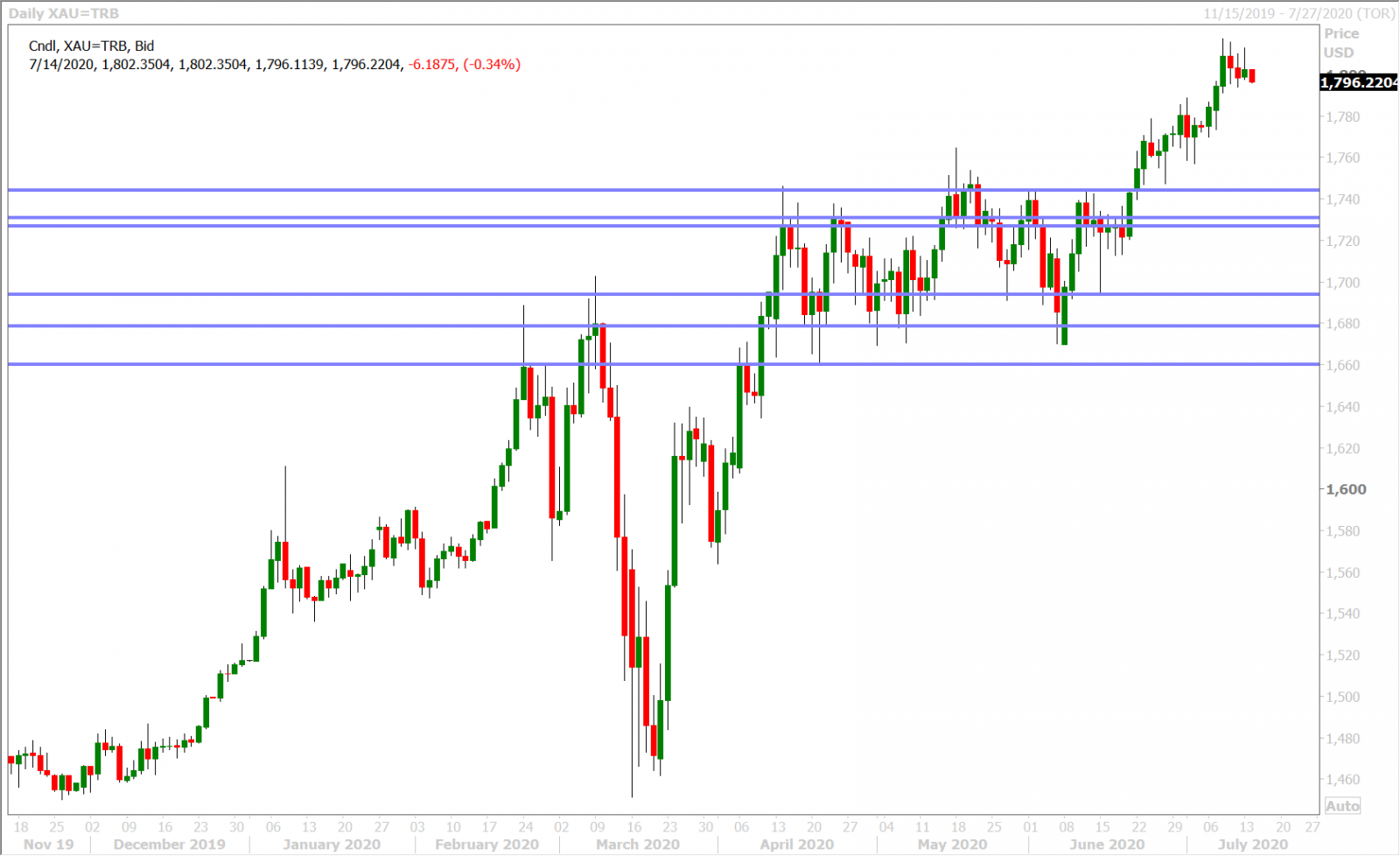 ---
GBPUSD
Sterling sellers can't get out of each other's way this morning and we think this is largely because of Boris Johnson's U-turn decision to ban China's Huawai from the UK's 5G networks starting at the beginning of 2021. More here from the Sun. Yes, this morning's May UK GDP print came in weaker than expected (-24% YoY vs -20.4%), but this was old news and the fact that we're now hearing market chatter of "UK/China tensions" is frankly a far more significant development. GBPUSD has fallen to trend-line support in the 1.2510s and EURGBP has extended its rally to trend-line resistance in the 0.9080s as a result.
UK May GDP est YY, -24.0%, -20.4% f'cast, -24.5% prev, -25.3% rvsd
UK May Industrial output YY, -20.0%, -20.8% f'cast, -24.4% prev, -23.8% rvsd
UK May Manufacturing output YY, -22.8%, -23.9% f'cast, -28.5% prev, -28.2% rvsd
GBPUSD DAILY
GBPUSD HOURLY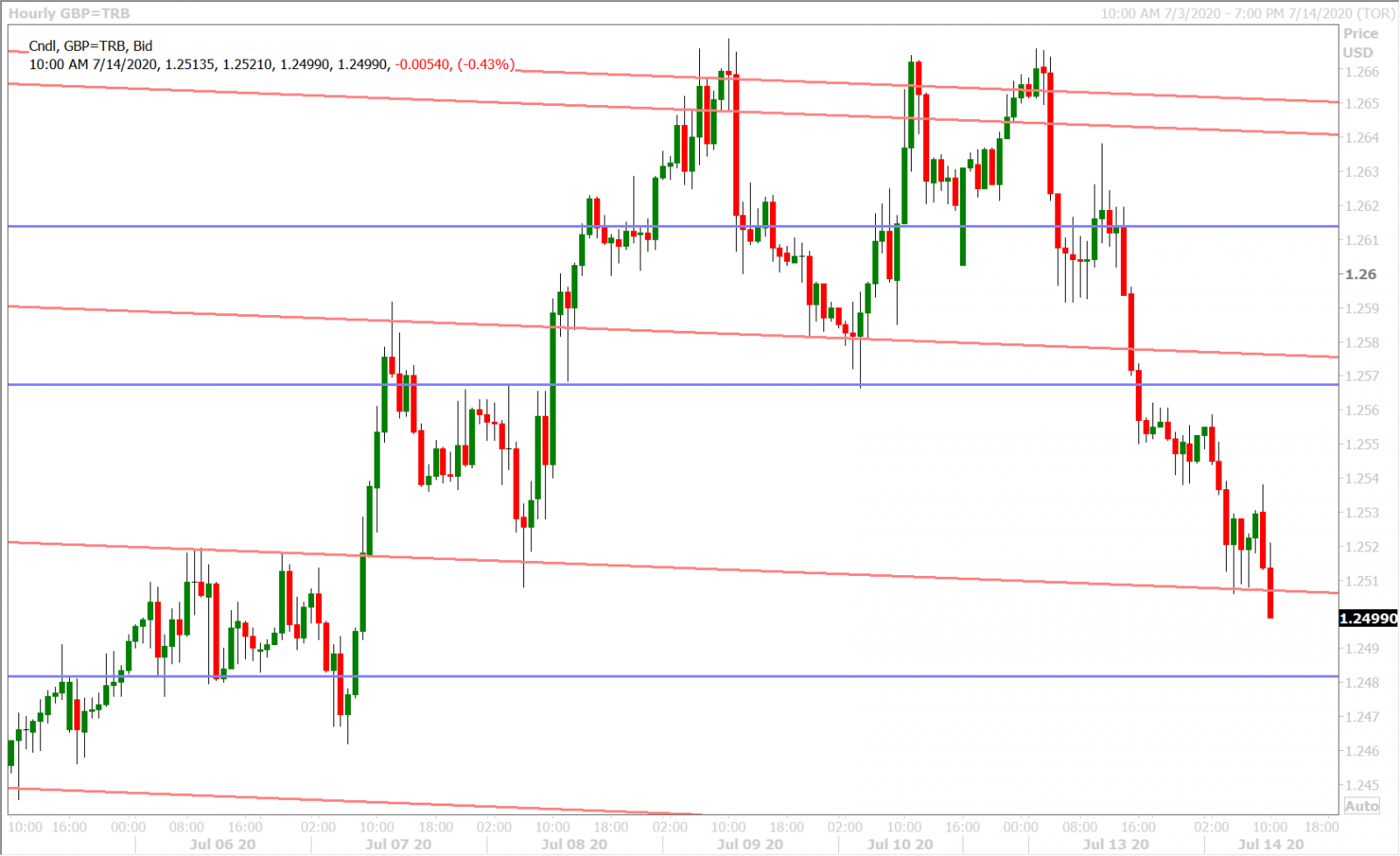 EURGBP DAILY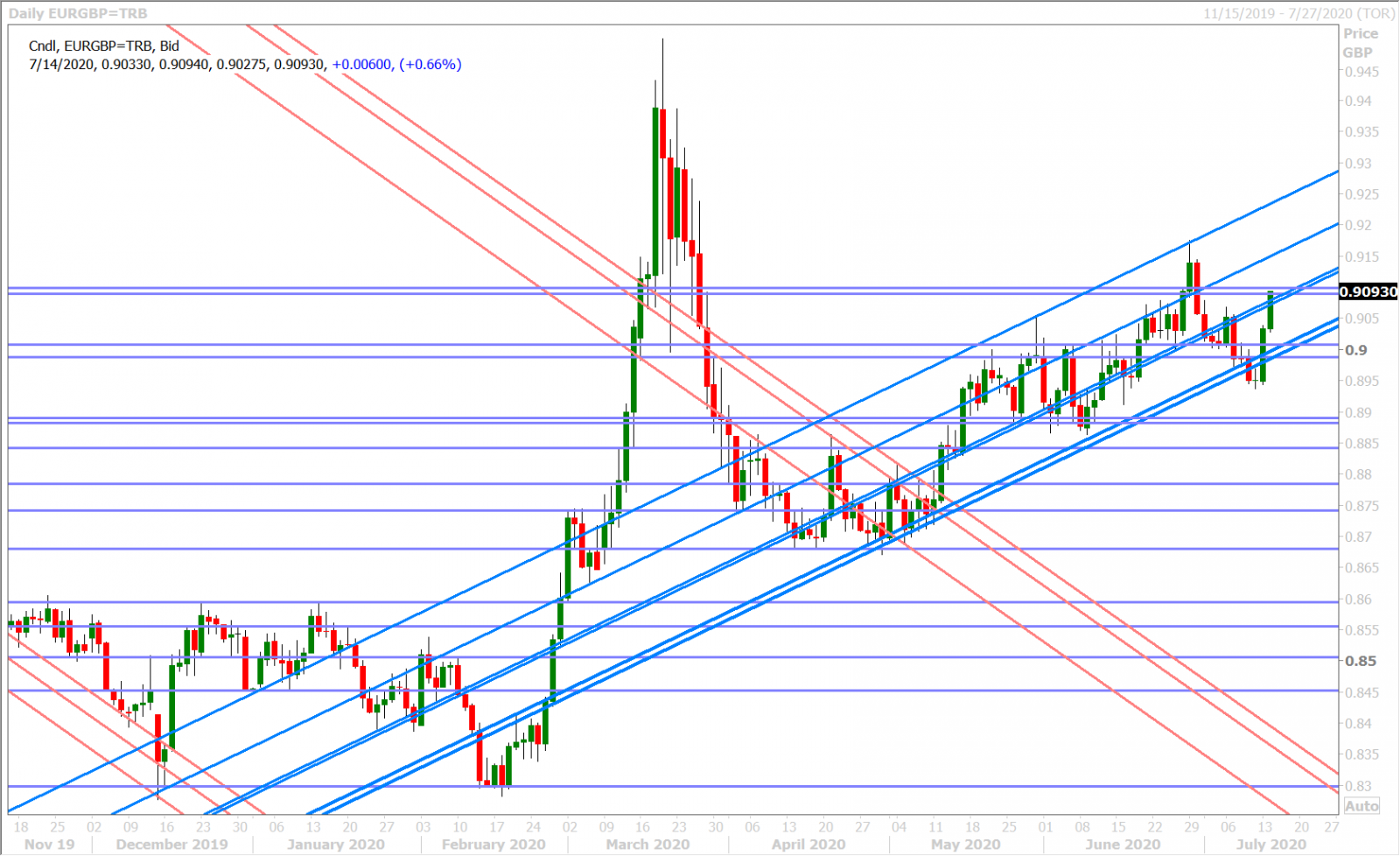 AUDUSD
The Australian dollar recorded a depressing-looking NY close yesterday that had us thinking AUDUSD's uptrend could be at risk today, but the Aussie buyers showed up in Europe today…right around the time EURUSD started moving higher. We think the market needs to hold the 0.6910-30 support zone in order to keep the AUD bull thesis alive and we'll think we'll know how strong this bounce really is after the passage of this morning's EURUSD option expiries. Traders don't appear to be too bothered by the tighter restrictions that Australian states put on movement today after Victoria reported 270 new COVID infections.
AUDUSD DAILY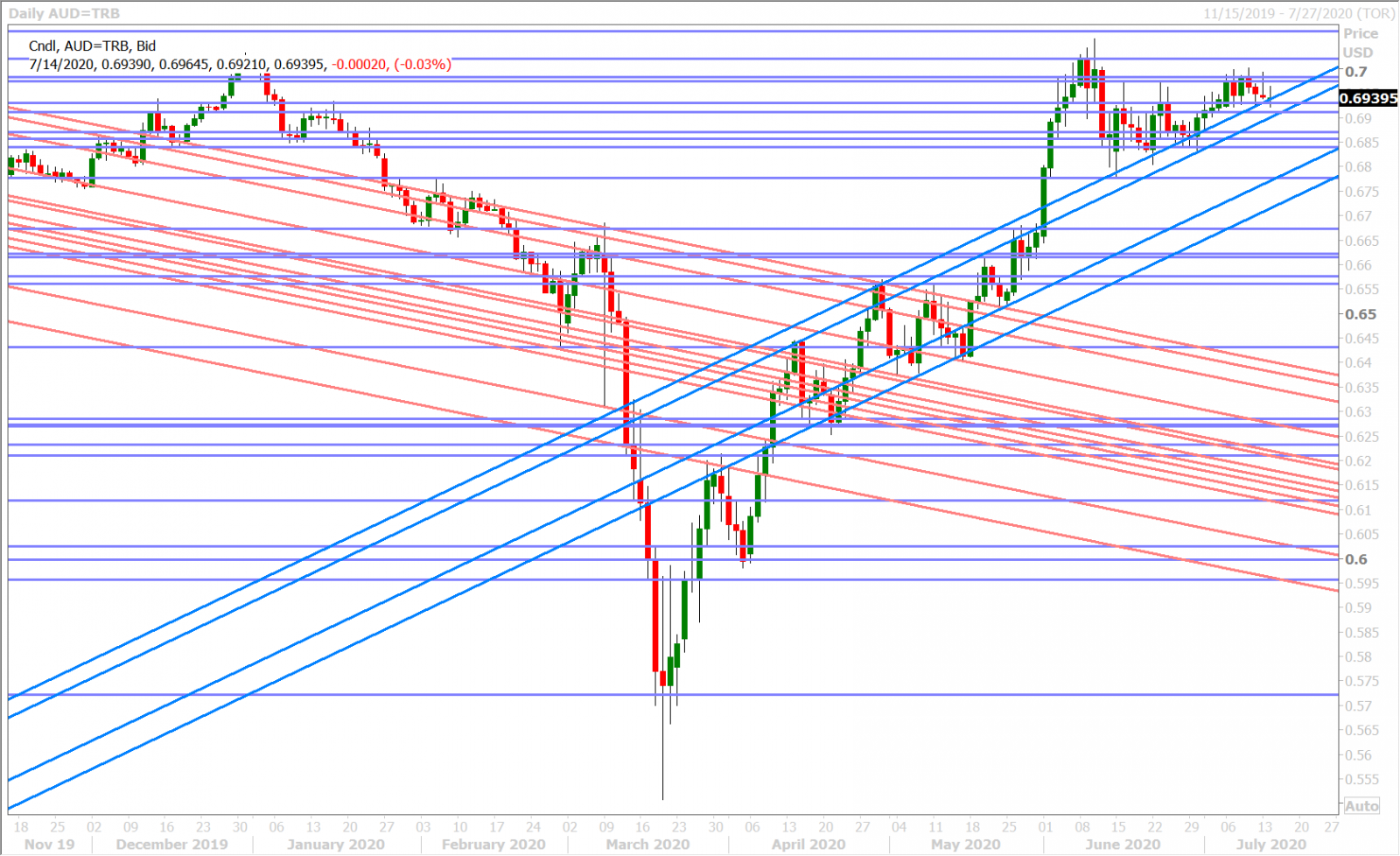 AUDUSD HOURLY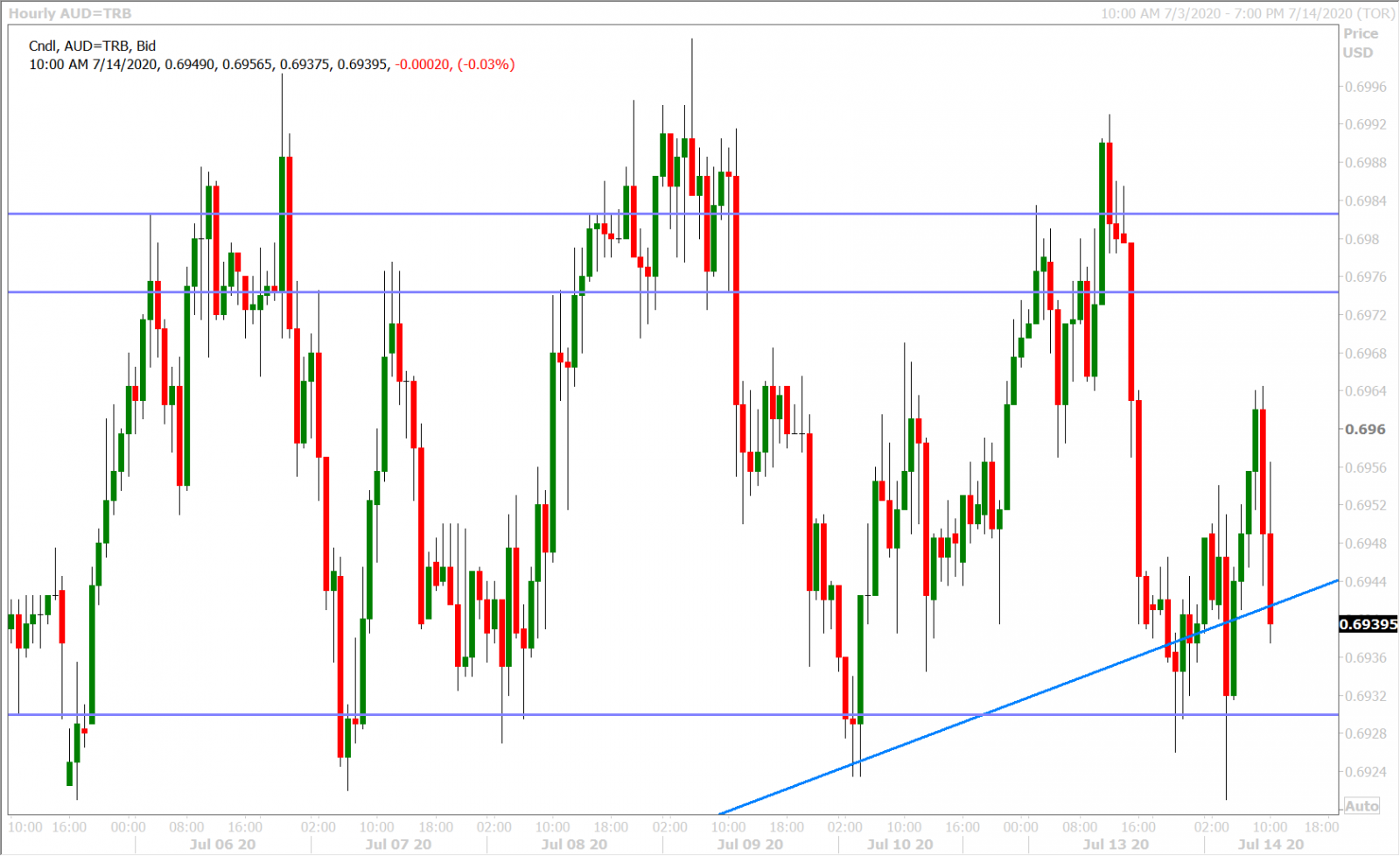 USDCNH DAILY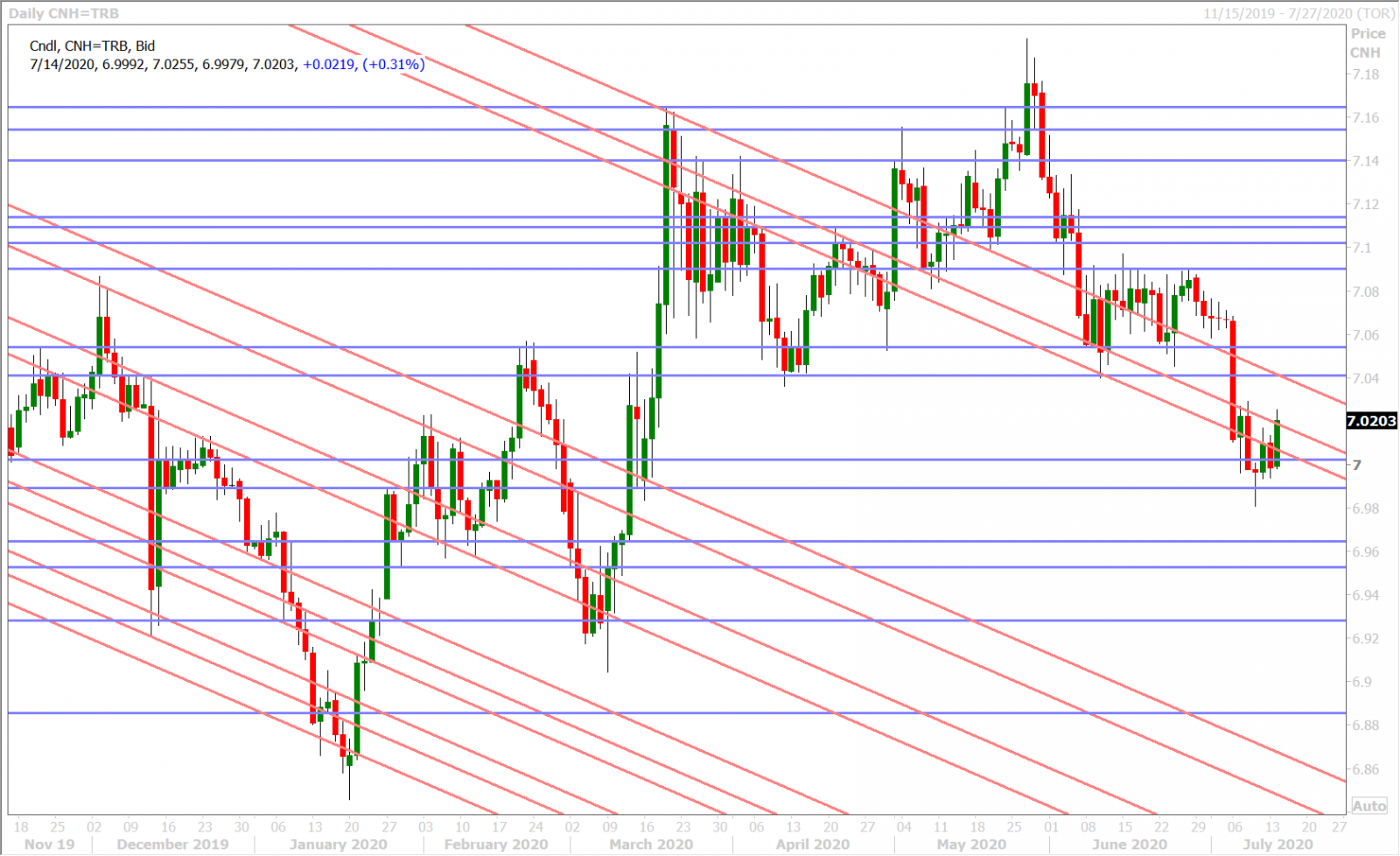 ---
USDJPY
Dollar/yen is not showing much directional bias today, but we think the ability for the market to withstand yesterday's "risk-off" move lower in US stocks/yields warrants attention. Around $2bln of option expiries in the low 107s over the next two days could keep the market close to current levels, but a move above the 107.50-60s resistance level could quickly spur interest in the $2bln+ of options expiring on the 108 handle this Friday. Could some surprise at the Bank of Japan's policy meeting tonight provide a catalyst? Nobody is expecting any change to the BOJ's current monetary policy measures or Kuroda's perennially dovish tone.

USDJPY DAILY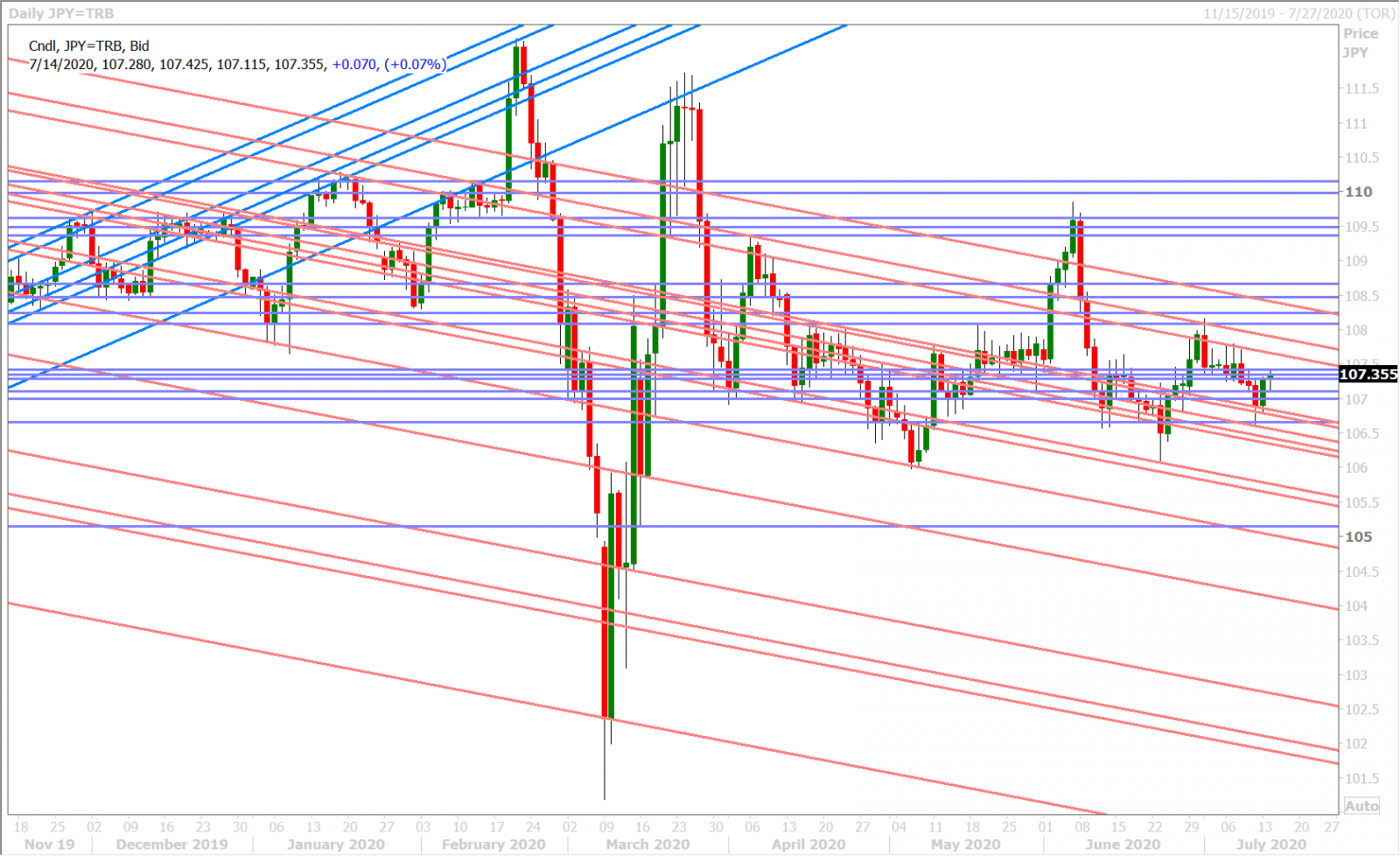 USDJPY HOURLY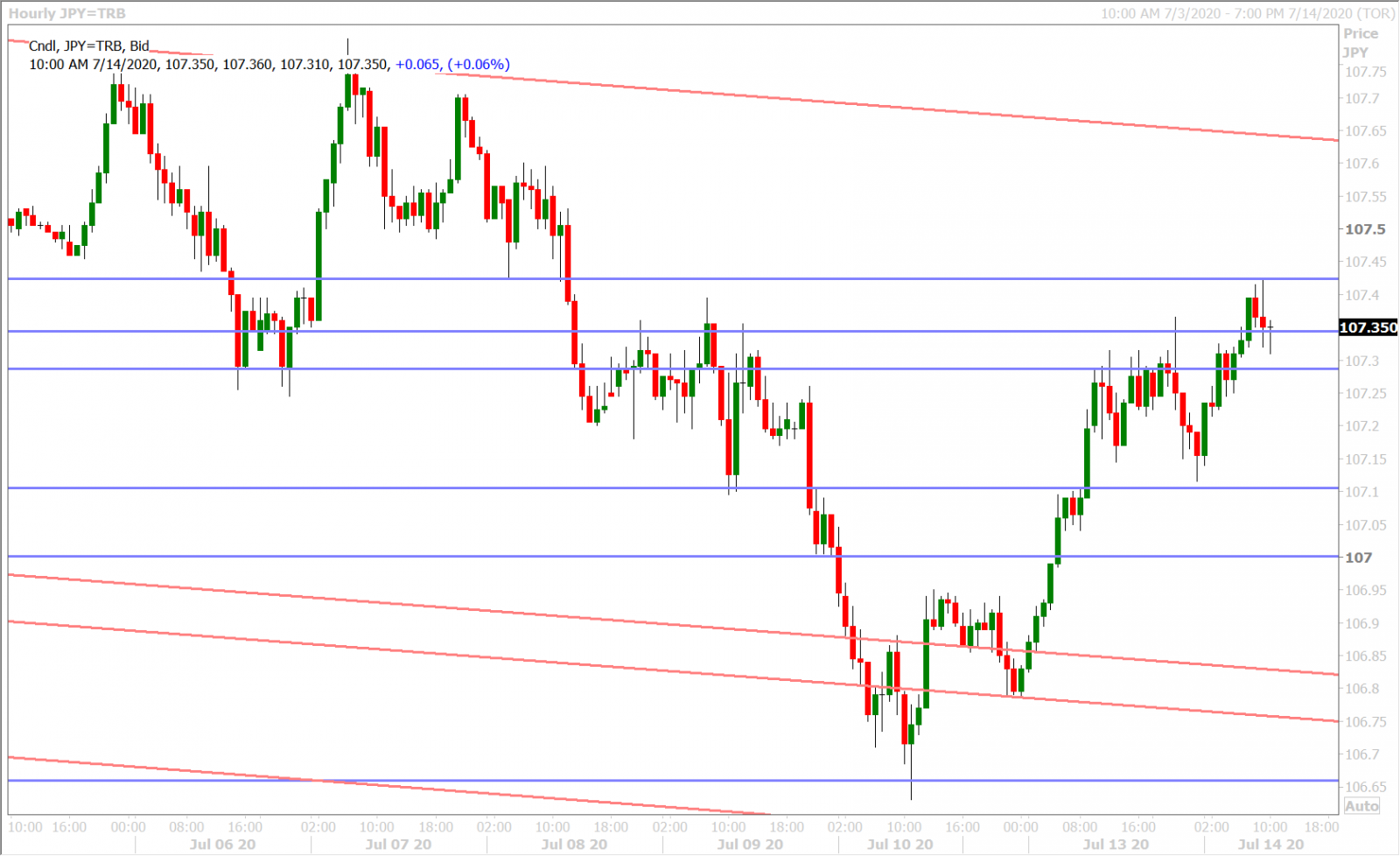 US 10-YR YIELD DAILY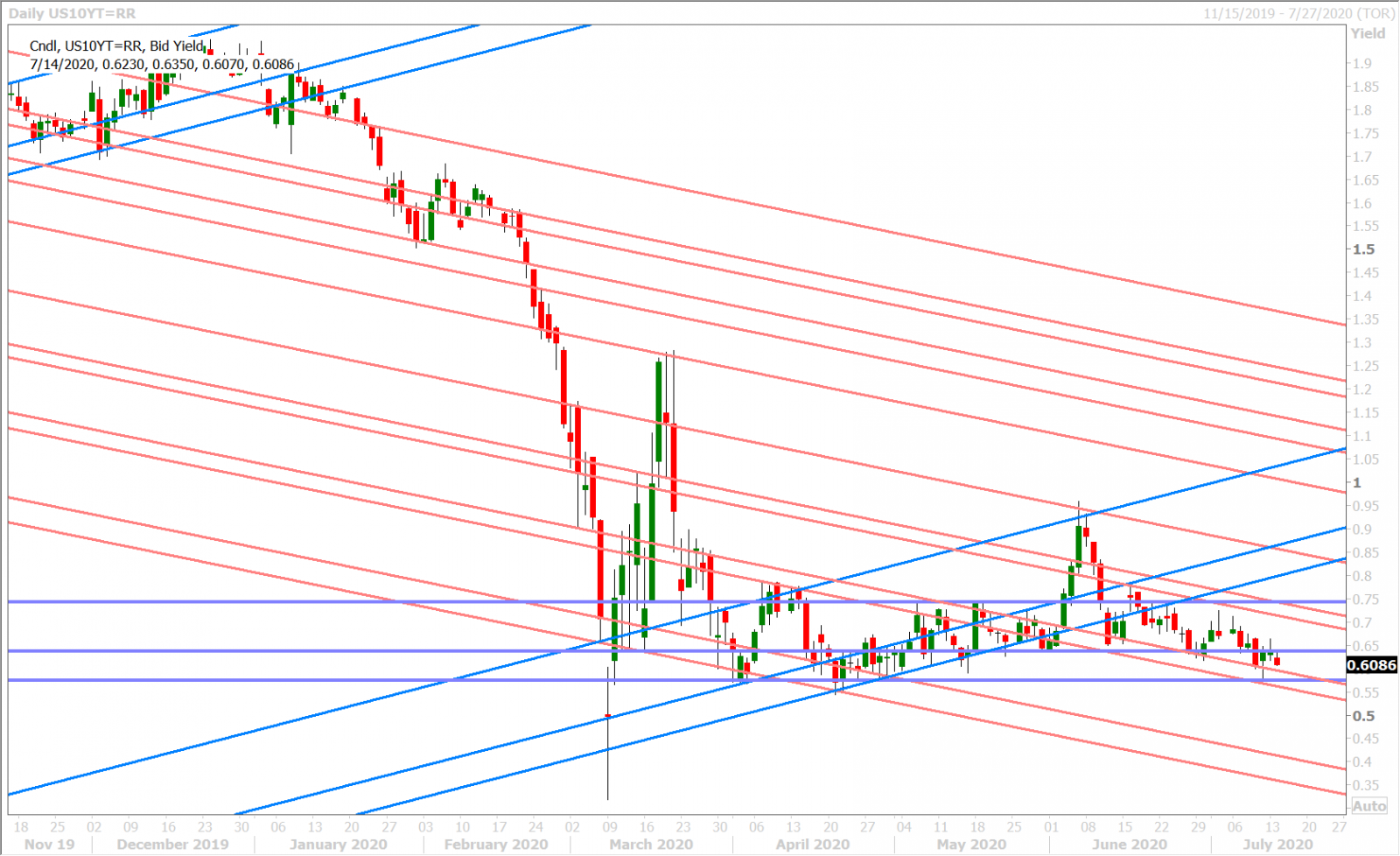 Charts: Reuters Eikon
---
About the Author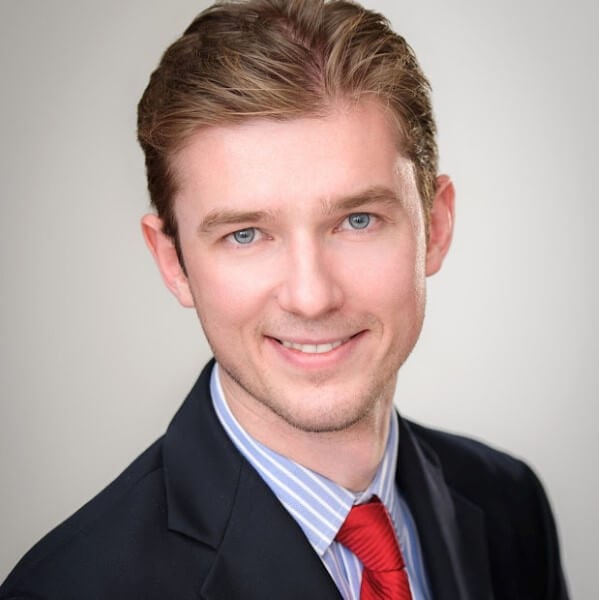 Erik Bregar - Director, Head of FX Strategy
Erik works with corporations and institutions to help them better navigate the currency markets. His desk provides fast, transparent, and low cost trade execution; up to the minute fundamental and technical market analysis; custom strategy development; and post-trade services -- all in an effort to add value to your firm's bottom line. Erik has been trading currencies professionally and independently for more than 12 years. Prior to leading the trading desk at EBC, Erik was in charge of managing the foreign exchange risk for one of Canada's largest independent broker-dealers.
Interested in creating a custom foreign exchange trading plan? Contact us or call CXI's trading desk directly at 1-833-572-8933.
About Currency Exchange International
Currency Exchange International, CXI, is the leading provider of comprehensive foreign exchange services, risk management solutions and integrated international payments processing technology in North America. CXI's relationship-driven approach ensures clients receive tailored solutions and world-class customer service. Through innovative and trusted FX software platforms, CXI delivers versatile foreign exchange services to our clients, so that they can efficiently manage and streamline their foreign currency and global payment needs. CXI is a trusted partner among financial institutions, corporations and retail markets around the world. To learn more, visit: www.ceifx.com