Why Opting-Out of Currency Price Protection Costing You?
Anne
September 28th, 2022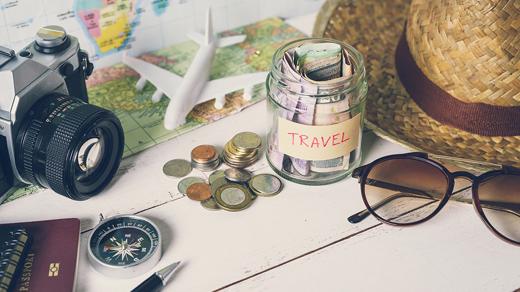 Ordering foreign currency is easy with OnlineFX.
Traveling can be filled with so many uncertainties, like flight delays, lost packages, culture shock, and more. We can't promise these things won't happen on your trip but we can guarantee your currency will be protected. Currency Exchange International provides Currency Price Protection (CPP) to help travelers save money and get more U.S. dollars than the standard buyback rate.
This offer is currently exclusively available at CXI's company-owned branches and allows customers to take advantage of CXI's ultimate buy-back rate when they return with foreign currency from their trip. Don't know what to do with your leftover currency? We help you decide before you leave for vacation by adding it to your foreign currency purchase.
When you purchase foreign currency from CXI, don't forget to get your currency protected. If you opt-out of Currency Price Protection, you're leaving money on the table that can be used on your trip. With a small fee of $5.95, we offer an exchange rate protection that's valid for 180 days after the original purchase. This allows you to sell any leftover currency back at our ultimate buy-back rate plus you receive no exchange fee upon your return.

How Much Money Will I Save With CXI's Currency Price Protection?



For those who like to say, "show me the money" let's look at a few examples. A customer that decided to purchase $5,000 USD worth of European euros can save up to $183.00 plus no buy-back fee upon their return ($3, $5, or $10 value). Take advantage of this huge saving opportunity during your next foreign currency transaction. For more information, ask our tellers during your transaction or learn more here.
This offer is not just available for European euros, you can use this for various currencies. Taking a trip to the top destination of the year? With the purchase of $2,000 USD worth of Mexican pesos, you can save up to $54.00 plus no buyback fee. We've even got you covered with how much currency to bring.

Saving More on Foreign Currency Exchange Exclusively with CXI

Did you know, since 2020, more than 11,000 foreign currency purchases have been protected under CXI's Currency Price Protection totaling more than $10 million in USD? Opting out of the Currency Price Protection benefit is costing you more than you think.
Now there is no need to fear having leftover currency, we have your currency protected before going abroad. There is no required minimum or maximum required to be ordered, however, only the currencies and amounts in your original CPP order will be eligible for the improved ultimate buyback rate. Reserve your foreign currency today for pick up at a CXI company-owned location and ask for Currency Price Protection.
Notes: The actual saving amounts may vary by day of the exchange and by location. These figures are calculated using rates obtained on Sept. 23, 2022. These sample figures are approximations only and are based on the buy-back rate value (not the sell rate). See teller for full CPP terms and conditions.
About Currency Exchange International
Currency Exchange International (CXI) is a leading provider of foreign currency exchange services in North America for financial institutions, corporations and travelers. Products and services for international travelers include access to buy and sell more than 90 foreign currencies, traveler's cheques and gold bullion coins and bars. For financial institutions and corporations, our services include the exchange of foreign currencies, international wire transfers, global EFT, the purchase and sale of foreign bank drafts, international traveler's cheques, and foreign cheque clearing through the use of CXI's innovative CEIFX web-based FX software www.ceifx.com