Main stumbling block to a Brexit deal has been removed, according to RTE.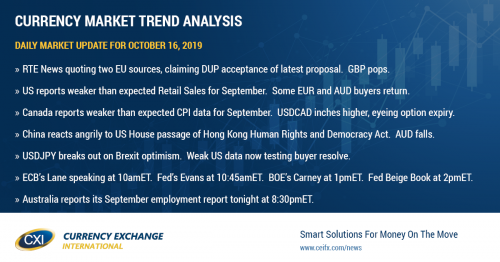 Take control of your international payments with CXI FX Now.
• Zero transfer fees & great rates
• Fast international payments
• Safety and security
• Unparalleled customer service
• Consultative approach
Learn more about CXI's international payment services for businesses or call our trading desk directly at 1-833-572-8933.
Get real-time market coverage on twitter at @EBCTradeDesk or sign up here.
SUMMARY
RTE News quoting two EU sources, claiming DUP acceptance of latest proposal. GBP pops.
US reports weaker than expected Retail Sales for September. Some EUR and AUD buyers return.
Canada reports weaker than expected CPI data for September. USDCAD inches higher, eyeing option expiry.
China reacts angrily to US House passage of

Hong Kong Human Rights and Democracy Act. AUD falls.
USDJPY breaks out on Brexit optimism. Weak US data now testing buyer resolve.
ECB's Lane speaking at 10amET. Fed's Evans at 10:45amET. BOE's Carney at 1pmET. Fed Beige Book at 2pmET.
Australia reports its September employment report tonight at 8:30pmET.
ANALYSIS
USDCAD
Dollar/CAD was quiet in the overnight session as a barrage of conflicting Brexit headlines kept GBPUSD and the broader USD in a choppy range. Some buyers were found at chart support in the 1.3190s while some sellers stepped in at the 1.3220s (the support level below which prices fell yesterday). Traders are now digesting some worse than expected September economic data out of both the US and Canada, which seems to be netting itself out in terms of its effect on USDCAD.
US Retail Sales: -0.3% MoM vs +0.3%, -0.1% MoM vs +0.2% ex-Autos
Canadian CPI: -0.4% MoM vs -0.2%, +1.9% YoY vs +2.1%
Over 1blnUSD in options expire between the 1.3235 and 1.3255 strikes at 10amET this morning and so we think this could play more of a factor on buyer minds. The weekly release of oil inventory data from the API and EIA has been delayed one day due to the Columbus Day holiday on Monday, and so watch out for these oil market headlines today at 4:30pmET and tomorrow morning at 11amET. November crude oil prices look stuck for the moment between 52.20 and 53.20.
USDCAD DAILY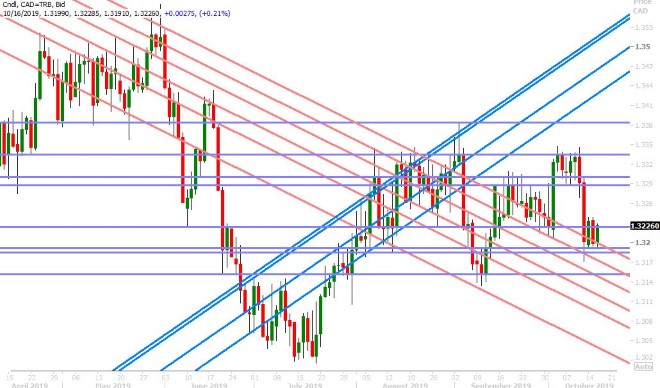 USDCAD HOURLY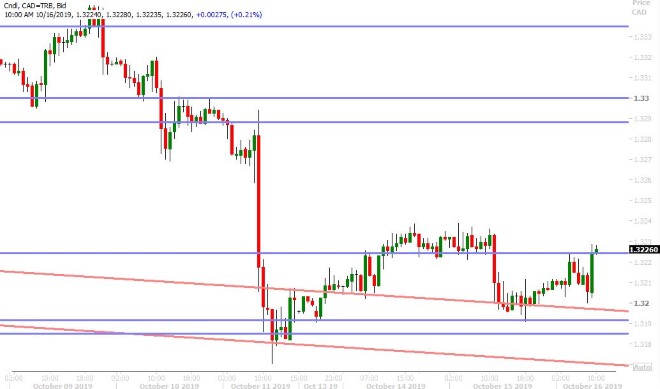 NOV CRUDE OIL DAILY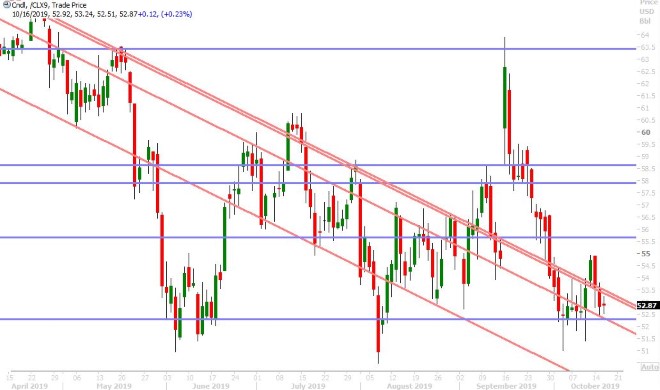 EURUSD
Euro/dollar was very choppy in overnight trading today as traders followed GBPUSD amid a lack of other European economic headlines. The market made two attempts to rally and stay above the 1.1030s, but these forays to the upside ultimately failed. The weaker than expected US Retail Sales figure just released is now trying to cancel out this negative technical development, and so we are watching closely. Sizable option expiries are plentiful in EURUSD for 10amET this morning, with 1.1blnEUR rolling off at 1.1025 and another 1.2blnEUR coming off the board at 1.1050-60.
EURUSD DAILY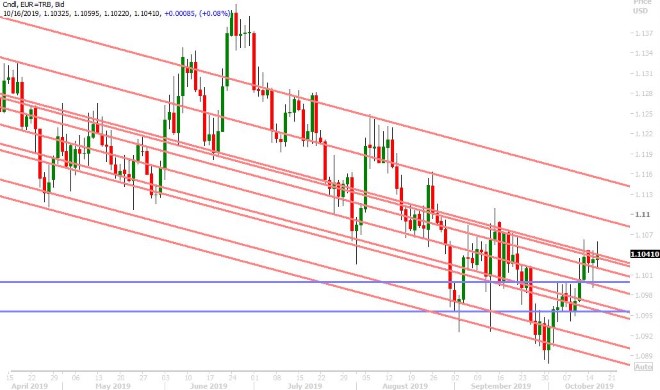 EURUSD HOURLY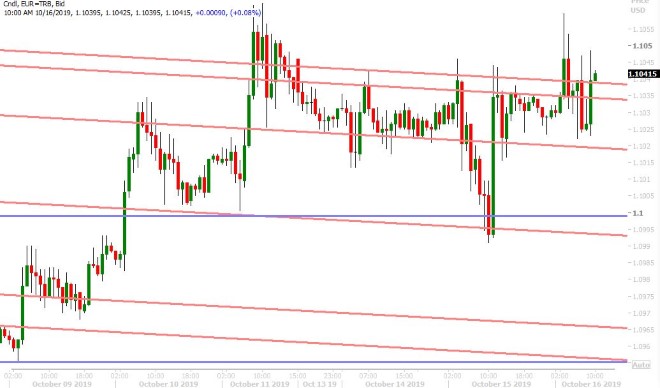 DEC GOLD DAILY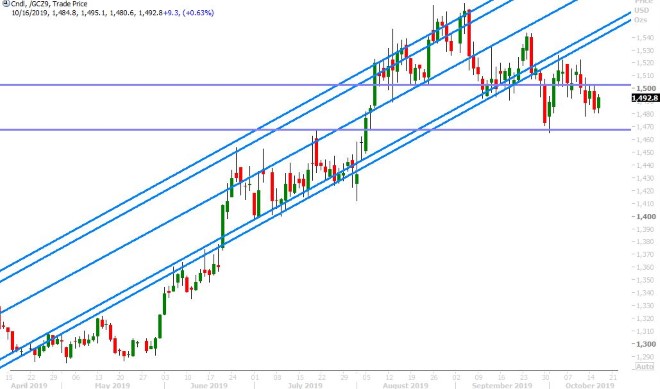 GBPUSD
Sterling has been all over the map this morning as a barrage of conflicting Brexit headlines floods the wires. Much of the talk today has centered around the DUP party from Northern Ireland and whether or not they'll support Boris Johnson's new plan. The market dipped on headlines about talks potentially collapsing on DUP resistance, but it has since rebounded on reports that the Northern Irish have privately accepted the PM's proposals. The EU's chief Brexit negotiator Michel Barnier is adding to the positive mood over the last couple hours by saying he's optimistic for getting a deal done today. The UK reported slightly weaker than expected CPI figures for the month of September this morning (+0.1% MoM vs +0.2% and +1.7% YoY vs +1.8%), but traders are not really paying attention. RTE News is now reporting that "two senior EU sources say the main stumbling block to a deal has been removed with the DUP accepting the latest proposals on consent" and with that GBPUSD has seen a brief pop above the 1.2800 level. The two-day EU summit begins tomorrow and if a deal cannot be formally struck by the end of it, the UK's new Benn Act requires Boris Johnson to write a letter to the EU by Saturday requesting a 3 month Brexit extension.
GBPUSD DAILY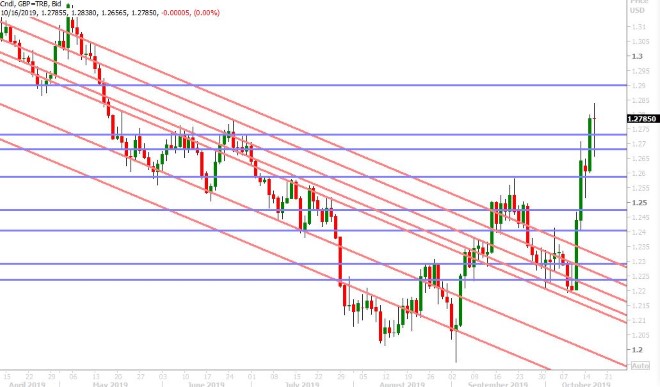 GBPUSD HOURLY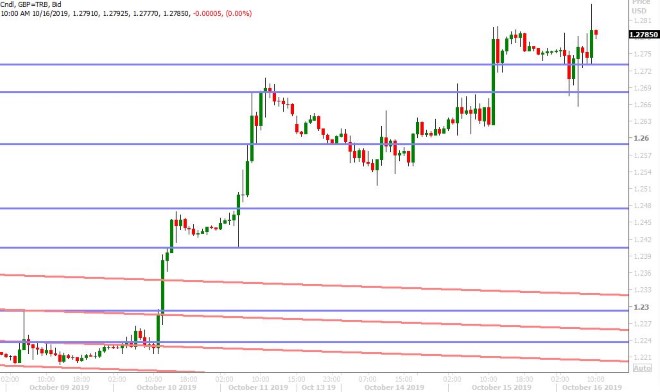 EURGBP DAILY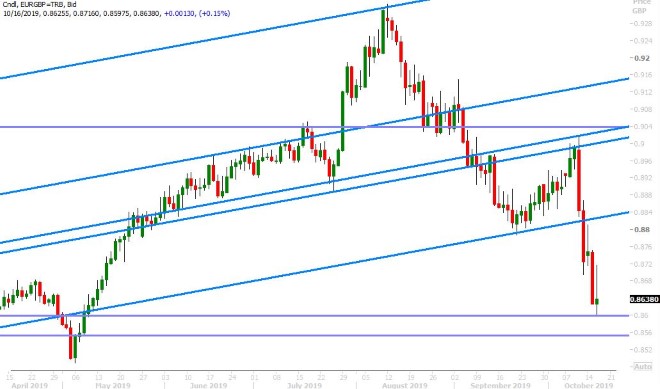 ---
AUDUSD
The Australian dollar is under pressure again this morning, but this time on the back of a "risk-off" headline from China last night. The US House of Representatives unanimously passed a bill in support of Hong Kong protestors called the Hong Kong Human Rights and Democracy Act, to which China then threatened retaliation. More here from the Washington Post". This sent the Chinese yuan and the China-sensitive AUD lower around the 9pmET hour, and we also saw US yields and USDJPY back up. AUDUSD fell below the 0.6750 level that held up prices in NY trade yesterday as a result, and while the weak US Retail Sales report just released has stemmed the selling for now, we think the AUD sellers are back in charge here. Australia reports its September employment report tonight at 8:30pmET, with traders expecting +15k jobs created and 5.3% on the unemployment rate.
AUDUSD DAILY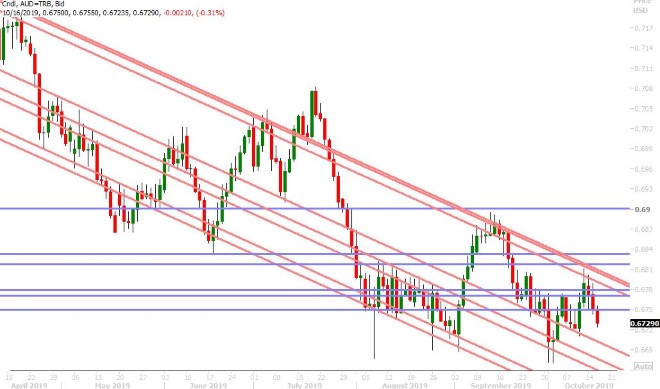 AUDUSD HOURLY
USDCNH DAILY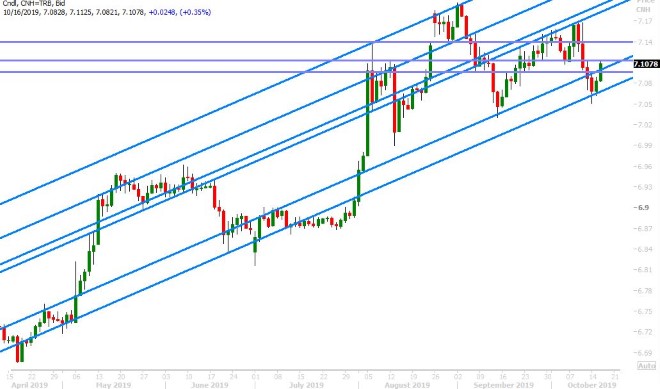 ---
USDJPY
Yesterday's big headline about EU/UK negotiators "closing in" on a draft Brexit deal was enough to see dollar/yen surge above the 108.40s, and with that we now have a confirmed upside breakout on the daily chart. The overnight headlines from China regarding Hong Kong brought about some selling in Asian trade, and traders are now wrestling RTE's positive Brexit headline against some weak US economic data as NY trade gets underway. We think another NY close above the 108.40s is very important in order to sustain the market's upward momentum.
USDJPY DAILY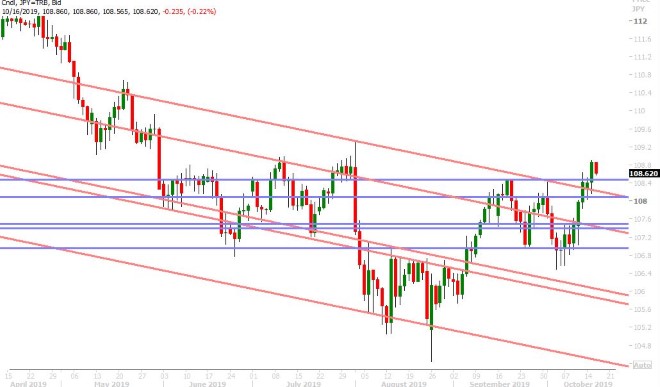 USDJPY HOURLY
US 10YR BOND YIELD DAILY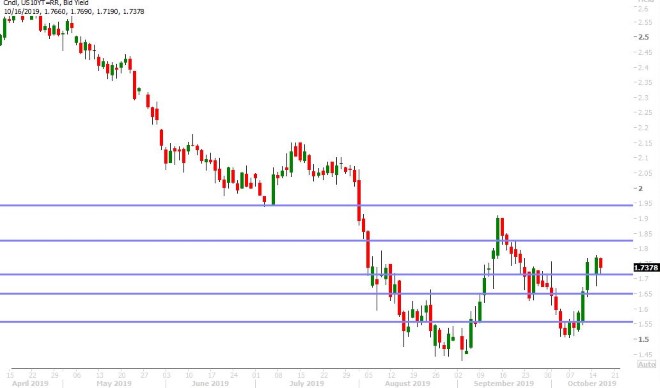 Charts: Reuters Eikon
---
About the Author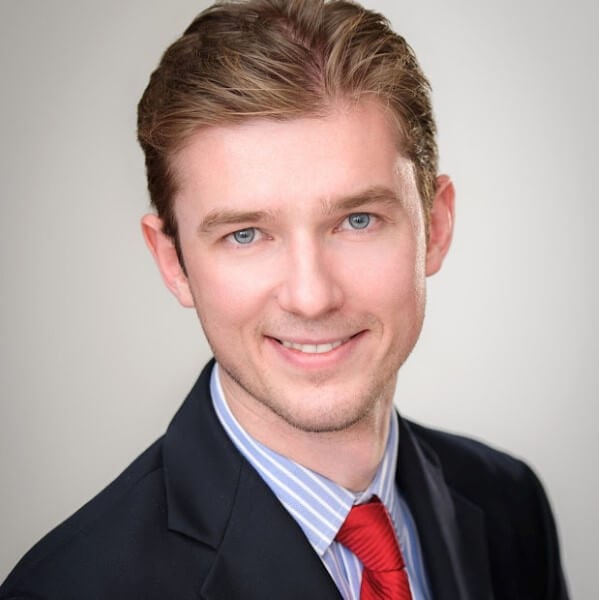 About Currency Exchange International
Currency Exchange International, CXI, is the leading provider of comprehensive foreign exchange services, risk management solutions and integrated international payments processing technology in North America. CXI's relationship-driven approach ensures clients receive tailored solutions and world-class customer service. Through innovative and trusted FX software platforms, CXI delivers versatile foreign exchange services to our clients, so that they can efficiently manage and streamline their foreign currency and global payment needs. CXI is a trusted partner among financial institutions, corporations and retail markets around the world. To learn more, visit: www.ceifx.com
This publication has been prepared by Currency Exchange International for informational and marketing purposes only. Opinions, estimates and projections contained herein are our own as of the date hereof and are subject to change without notice. The information and opinions contained herein have been compiled or arrived at from sources believed reliable, but no representation or warranty, express or implied, is made as to their accuracy or completeness and neither the information nor the forecast shall be taken as a representation for which Currency Exchange International, its affiliates or any of their employees incur any responsibility. Neither Currency Exchange International nor its affiliates accept any liability whatsoever for any loss arising from any use of this information. This publication is not, and is not constructed as, an offer to sell or solicitation of any offer to buy any of the currencies referred to herein, nor shall this publication be construed as an opinion as to whether you should enter into any swap or trading strategy involving a swap or any other transaction. The general transaction, financial, educational and market information contained herein is not intended to be, and does not constitute, a recommendation of a swap or trading strategy involving a swap within the meaning of U.S. Commodity Futures Trading Commission Regulation 23.434 and Appendix A thereto. This material is not intended to be individually tailored to your needs or characteristics and should not be viewed as a "call to action" or suggestion that you enter into a swap or trading strategy involving a swap or any other transaction. You should note that the manner in which you implement any of the strategies set out in this publication may expose you to significant risk and you should carefully consider your ability to bear such risks through consultation with your own independent financial, legal, accounting, tax and other professional advisors. All Currency Exchange International products and services are subject to the terms of applicable agreements and local regulations. This publication and all information, opinions and conclusions contained in it are protected by copyright. This information may not be reproduced in whole or in part, or referred to in any manner whatsoever nor may the information, opinions and conclusions contained in it be referred to without the prior express written consent of Currency Exchange International.