New 1,000 Franc Note Released By Swiss National Bank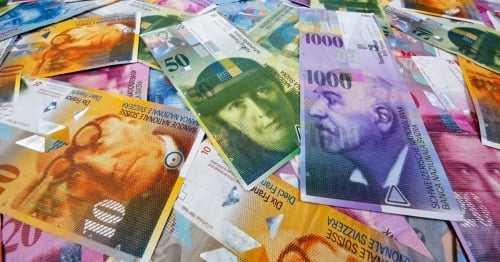 Ordering foreign currency online is easy with OnlineFX.
On March 13, 2019, the Swiss National Bank issued new 1,000 franc notes. These new lilac-colored banknotes have come with a bit of controversy.
Large Note Controversy
Many countries are phasing out banknotes of higher values, due to the fact that it is easier to contribute to money laundering and criminal activity with higher valued currency.
We've seen this in some euro zone countries where they are phasing out 500 euro banknotes. These counties are looking to avoid their currency being used for illegal deeds.
The Swiss National Bank has defended their actions by emphasizing the popularity of cash in Switzerland, and the fact that notes of this type is used for payments. However, they will be monitoring its use for strange activity.
The new 1000-franc note https://t.co/6uxJJogGIM pic.twitter.com/eMyeenD0Od

— Swiss National Bank (@SNB_BNS_en) March 5, 2019
The Banknote's Features
Like other Swiss notes, the new bills are a shade of purple. They are smaller and more simple to handle than other notes. 
The new banknote comes with advanced anti-counterfeiting measures and sophisticated security features that aid in the anti-fraud process. 
Other Swiss Bills
Currently, we exchange the following denominations of Swiss francs 1,000, 200, 100, 50, 20, and 10. Recently, the 200, 50, 20, 10 were launched as part of the new banknotes series. The new 1,000 note is also part of this series.
The idea behind these new banknotes is to showcase the 'many facets of Switzerland'. They each highlight a key motif in Swiss culture, including locations and graphic elements. 
About Currency Exchange International
Currency Exchange International (CXI) is a leading provider of foreign currency exchange services in North America for financial institutions, corporations and travelers. Products and services for international travelers include access to buy and sell more than 90 foreign currencies, multi-currency cash passport's, traveler's cheques and gold bullion coins and bars. For financial institutions and corporations, our services include the exchange of foreign currencies, international wire transfers, global EFT, the purchase and sale of foreign bank drafts, international traveler's cheques, and foreign cheque clearing through the use of CXI's innovative CEIFX web-based FX software www.ceifx.com