Super Mario unleashes dovish surprise ahead of Fed meeting tomorrow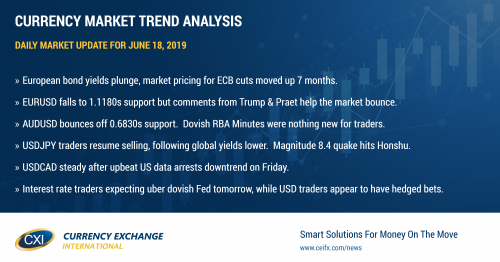 Take control of your international payments with CXI FX Now.
• Zero transfer fees & great rates
• Fast international payments
• Safety and security
• Unparalleled customer service
• Consultative approach
Learn more about CXI's international payment services for businesses or call our trading desk directly at 1-833-572-8933.
Get real-time market coverage on twitter at @EBCTradeDesk or sign up here.
SUMMARY
European bond yields plunge, market pricing for ECB cuts moved up 7 months.
EURUSD falls to 1.1180s support but comments from Trump & Praet help the market bounce.
AUDUSD bounces off 0.6830s support.  Dovish RBA Minutes were nothing new for traders.
USDJPY traders resume selling, following global yields lower.  Magnitude 8.4 quake hits Honshu.
USDCAD steady after upbeat US data arrests downtrend on Friday.
Interest rate traders expecting uber dovish Fed tomorrow, while USD traders appear to have hedged bets. 
ANALYSIS
USDCAD
Dollar/CAD is trading with a bid tone this morning as EURUSD selling leads the USD broadly higher, and this selling has come in the wake of some surprisingly dovish comments from the ECB's Mario Draghi at the Sintra Forum today.  The European central bank chief said additional stimulus will be required if the outlook doesn't improve and that rate cuts remain part of the ECB's toolkit.  Bloomberg then added to the dovish mood with a report suggesting ECB officials prefer rate cuts as the primary policy tool for any new stimulus (as opposed to quantitative easing).  European equities have shot up in price as traders celebrate the prospect of more easy money and European bonds yields are plunging (German bund trade to new lows < -0.32%, French 10s below 0% for the first time and EIONA curve now looking for 10bp ECB rate cut by October 2019).  President Trump has even responded this morning by saying the resulting move lower in the Euro is "making it unfairly easier for them [Europe] to compete against the USA" and that "they have been getting away with this for years, along with China and others".  We think the sharp rally higher in USDCAD on Friday, fueled by upbeat US Retail Sales and Industrial Production data, broke the near-term downtrend lower for the market and we think this now opens things up for a potentially volatile 1.3370-1.3500 trading range going into the Fed meeting tomorrow.  Looking at plunging US treasury yields, rising gold prices, and a still lofty price for December Eurodollar interest futures would suggest the Fed goes uber dovish tomorrow, but it appears USD traders have already reversed or un-winded these bets.  Canada reported weaker than expected Manufacturing Sales data for the month of April (-0.6% MoM vs +0.4%).
USDCAD DAILY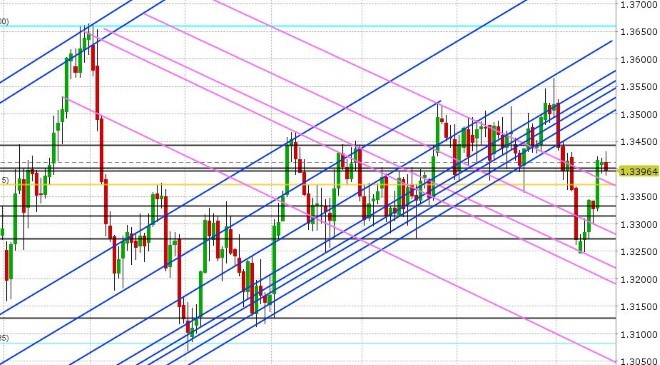 USDCAD HOURLY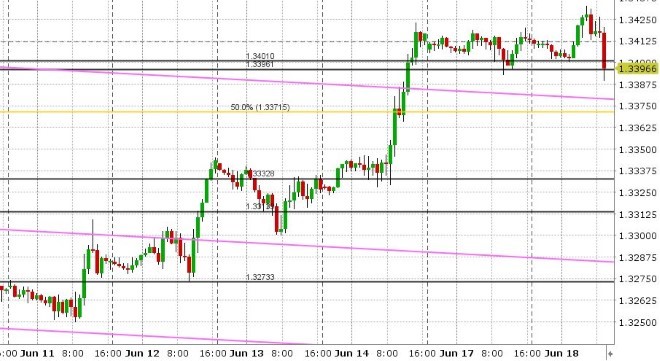 JUL CRUDE OIL DAILY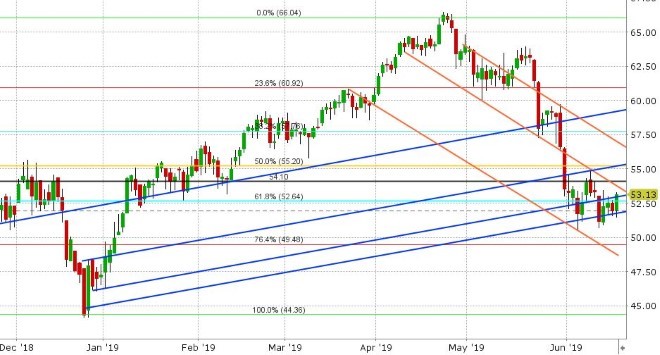 EURUSD
Euro/dollar fell hard this morning after Mario Draghi unleashed a little bit of chaos for markets that are normally used to being quiet before a big Fed meeting.  The market resumed its near-term downtrend and broke chart support in 1.1210 area.  President Trump's tweet saw EURUSD spike higher in attempt to regain the level, but that move fizzled out.  We're now seeing bids return however after some comments from former ECB chief economist Praet about today's market move being a bit exaggerated given improving wages and inflation in the Eurozone.  We think over 2blnEUR in option expiries between 1.1195 and 1.1205 should keep EURUSD contained here this morning and after that we'll get a sense of how strong chart support in the 1.1180s really is.  Germany reported a much weaker than expected Economic Sentiment reading in its June ZEW Survey.
EURUSD DAILY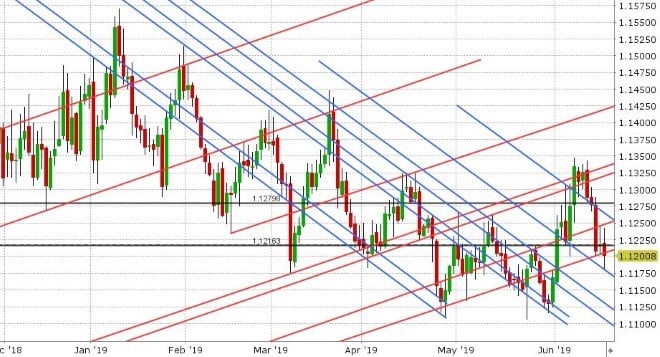 EURUSD HOURLY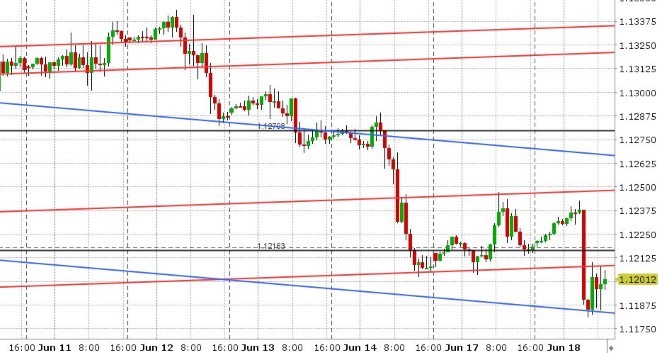 AUG GOLD DAILY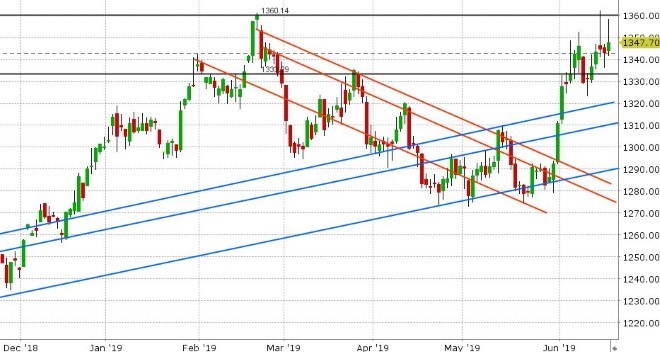 GBPUSD
Sterling has continued its slip lower following the break below trend-line chart support in the 1.2580s yesterday.  Buyers appear to be stepping in at the next support level just above the 1.2500 level and EURGBP saw a swift wave of selling earlier on Mario Draghi's comments, and it now looks like this will hinder the cross' ability to hold trend-line support in the 0.9840s (which could help GBPUSD a little bit).  Tory MPs will be casting a second round of ballots today to decide who will make it to the next stage of the Conservative leadership race.  More here from the BBC.
GBPUSD DAILY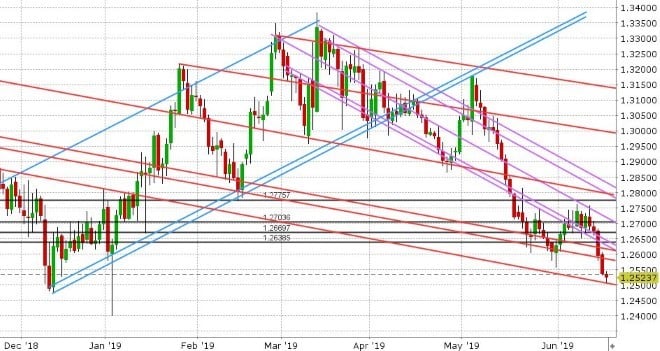 GBPUSD HOURLY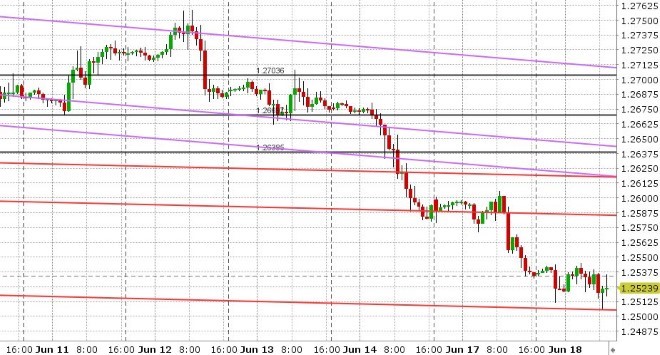 EURGBP DAILY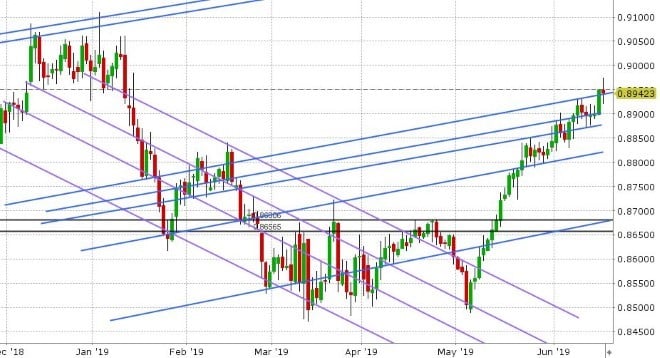 AUDUSD
The Aussie is bouncing off trend-line support in the 0.6830s this morning and it looks like six days of selling following the June 7/10 bearish reversal might finally take a pause here.  The RBA Minutes, released last night, confirmed that the Australian bank's next move was likely to be lower for interest rates, but this shouldn't come as a surprised for traders at this point we feel.
AUDUSD DAILY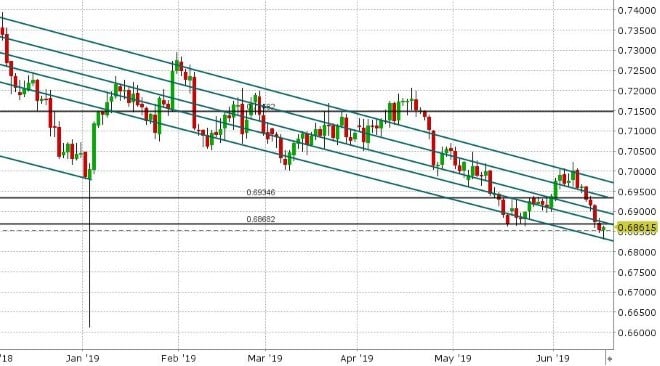 AUDUSD HOURLY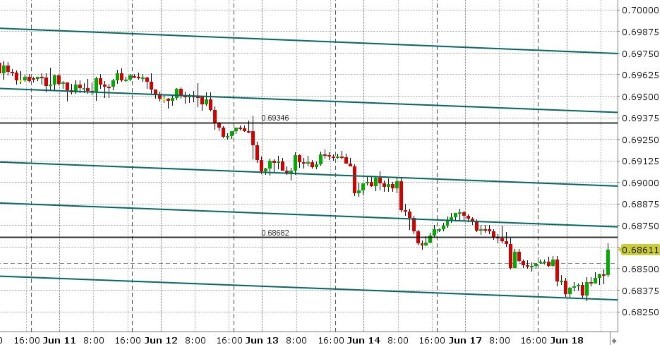 JULY COPPER DAILY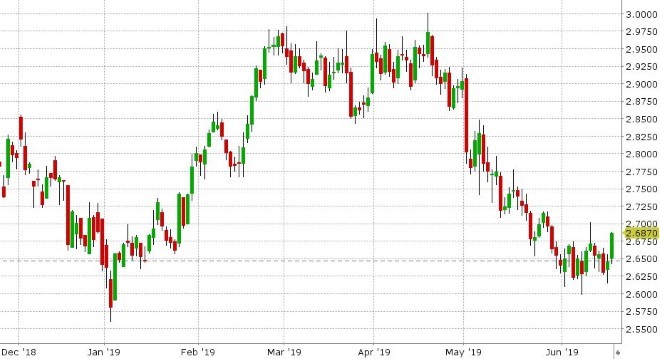 USDJPY
Dollar/yen benefited yesterday from it's Friday's close above the 108.50s, but the 108.70s was all the market could muster before further trend-line chart resistance capped prices.  Today's rush to buy bonds globally in the wake of Draghi's dovish comments is not doing any wonders for USDJPY and we think this puts the funds longs under pressure heading into tomorrow's Fed meeting.  An magnitude 8.4 earthquake has just struck Japan near the west coast of Honshu, and with that USDJPY has seen a quick 20pt move lower.
USDJPY DAILY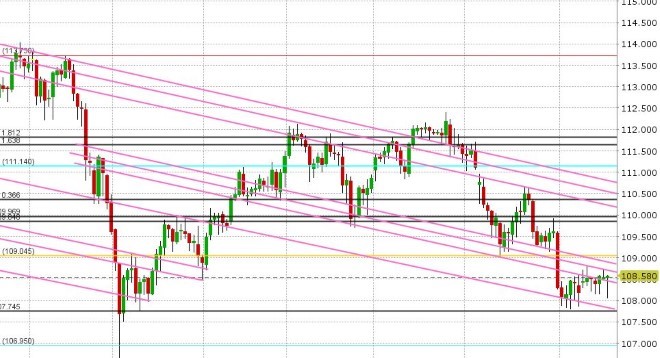 USDJPY HOURLY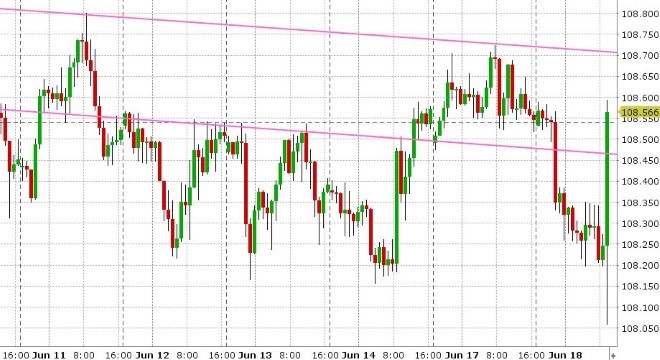 JUN S&P 500 DAILY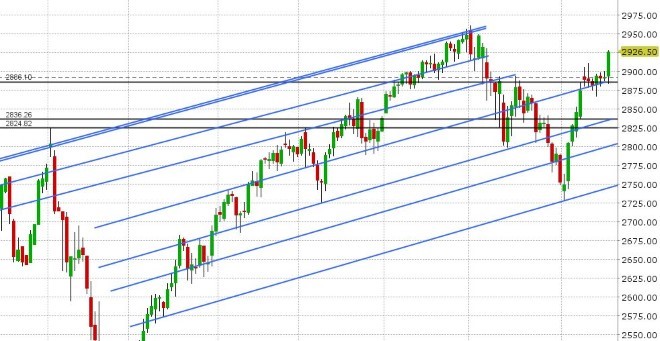 Charts: TWS Workspace
---
About the Author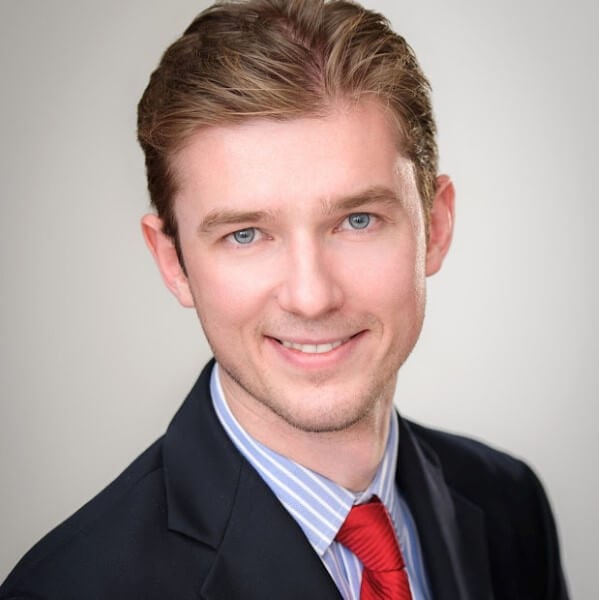 About Currency Exchange International
Currency Exchange International, CXI, is the leading provider of comprehensive foreign exchange services, risk management solutions and integrated international payments processing technology in North America. CXI's relationship-driven approach ensures clients receive tailored solutions and world-class customer service. Through innovative and trusted FX software platforms, CXI delivers versatile foreign exchange services to our clients, so that they can efficiently manage and streamline their foreign currency and global payment needs. CXI is a trusted partner among financial institutions, corporations and retail markets around the world. To learn more, visit: www.ceifx.com
This publication has been prepared by Currency Exchange International for informational and marketing purposes only. Opinions, estimates and projections contained herein are our own as of the date hereof and are subject to change without notice. The information and opinions contained herein have been compiled or arrived at from sources believed reliable, but no representation or warranty, express or implied, is made as to their accuracy or completeness and neither the information nor the forecast shall be taken as a representation for which Currency Exchange International, its affiliates or any of their employees incur any responsibility. Neither Currency Exchange International nor its affiliates accept any liability whatsoever for any loss arising from any use of this information. This publication is not, and is not constructed as, an offer to sell or solicitation of any offer to buy any of the currencies referred to herein, nor shall this publication be construed as an opinion as to whether you should enter into any swap or trading strategy involving a swap or any other transaction. The general transaction, financial, educational and market information contained herein is not intended to be, and does not constitute, a recommendation of a swap or trading strategy involving a swap within the meaning of U.S. Commodity Futures Trading Commission Regulation 23.434 and Appendix A thereto. This material is not intended to be individually tailored to your needs or characteristics and should not be viewed as a "call to action" or suggestion that you enter into a swap or trading strategy involving a swap or any other transaction. You should note that the manner in which you implement any of the strategies set out in this publication may expose you to significant risk and you should carefully consider your ability to bear such risks through consultation with your own independent financial, legal, accounting, tax and other professional advisors. All Currency Exchange International products and services are subject to the terms of applicable agreements and local regulations. This publication and all information, opinions and conclusions contained in it are protected by copyright. This information may not be reproduced in whole or in part, or referred to in any manner whatsoever nor may the information, opinions and conclusions contained in it be referred to without the prior express written consent of Currency Exchange International.