Fall Spotlight Destination: Doha, Qatar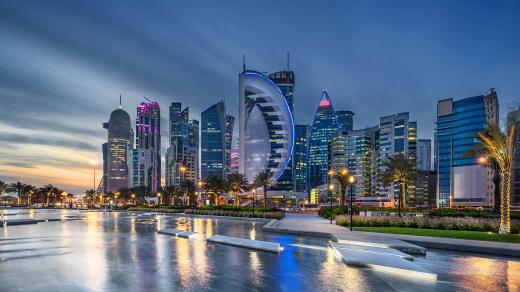 Ordering Qatari riyal is easy with OnlineFX.
Interested in visiting the beautiful city of Doha, Qatar to experience history in the making? This year for the first time, the FIFA World Cup will be taking place in the Middle East during the winter. Yes, you've heard that right - to avoid the intense Qatari summer heat, the matches, traditionally held in June and July will be taking place from November through December.
We've compiled a travel guide to help you know how much currency you need, places to visit, the best eateries, and more. Looking to explore another destination that won't break the bank? Check out the 20 Destinations Where You Will Get the Most Value for US Dollar.
Before you leave, reserve foreign currency online to save time on your branch pick-up. Or use CXI's OnlineFX Home Delivery to order foreign currency whenever, wherever.

What are the top places to Visit in Doha, Qatar?

Attending a FIFA match is a must-add activity on your trip. We've compiled an amazing list of tips to help you attend the FIFA World Cup this year. However, there is so much more happening in Doha. Doha, the capital of Qatar is known as the mini version of Dubai due to its many mosques and futuristic buildings so a vacation in Qatar will be an unforgettable one. Here are the top destinations to visit while in Doha, Qatar:
The Pearl Island

Pearl Island is a beautiful artificial island and the largest real-estate development in the Middle East. The island received the name the Pearl because it's built on one of Qatar's previous major pearl diving sites. There's so much to do and see from luxury dining spots, shops, entertainment, and more.

Check out this amazing virtual tour of the island!

Museum of Islamic Art

The Museum of Islamic Art is home to the world's largest collection of Islamic art dating back to the late 1980s. Immerse yourself in the rich history and culture of Qatar by visiting this museum.

Souq Waqif

The Souq Waqif is Doha's oldest market and is a major tourist destination. The souq sells traditional handcraft pieces and souvenirs. There you'll also find a range of eateries and lounges.

Aspire Park

Aspire Park is one of Doha's biggest parks and is a great way to spend quality time with family and friends while enjoying nature.

Katara Cultural Village

Katara Cultural Village has an array of activities to offer including the Katara beach, an amphitheater, a museum, shops, eateries, and more. Check out Visit Qatar website to learn about all the activities and prices.
What is the average cost of dinner for two in Doha, Qatar?

If you're a foodie who's looking for something new to try while you're enjoying your stay in Doha, then you're in for a real treat! Machboos, a popular rice dish made with either lamb or chicken is Qatar's national dish. On average $54.94 for a budget dinner for two in Doha. If you want to include some beverages, on average, you're looking at about $12.36 for a pint of beer.

To get some of the best food Doba has to offer, we recommend checking out Jiwan Restaurant, there you'll find the best Qatari cuisine with a modern flare.
Travel Tips for Doha Travelers

According to cheapflights.com, an average round-trip ticket is about $1,411. Monday is currently, on average, the cheapest day to fly to Qatar. Flying on Thursday will result in higher flight prices. Before you book that flight, check out everything you need to know about the five trusted travelers' programs in our video.
Coffee drinking is a big part of Qatari culture. Coffee cups are always held in the right hand and it is considered rude to refuse a cup.
Although a large majority of people in Qatar speak English, the official language is Arabic. The word for hello is 'marhaba' and thank you is 'shukran'.
Qatar is a relatively conservative country in the Middle East. It is recommended for both men and women to cover their shoulders and knees.
About Currency Exchange International
Currency Exchange International (CXI) is a leading provider of foreign currency exchange services in North America for financial institutions, corporations and travelers. Products and services for international travelers include access to buy and sell more than 90 foreign currencies, traveler's cheques and gold bullion coins and bars. For financial institutions and corporations, our services include the exchange of foreign currencies, international wire transfers, global EFT, the purchase and sale of foreign bank drafts, international traveler's cheques, and foreign cheque clearing through the use of CXI's innovative CEIFX web-based FX software www.ceifx.com